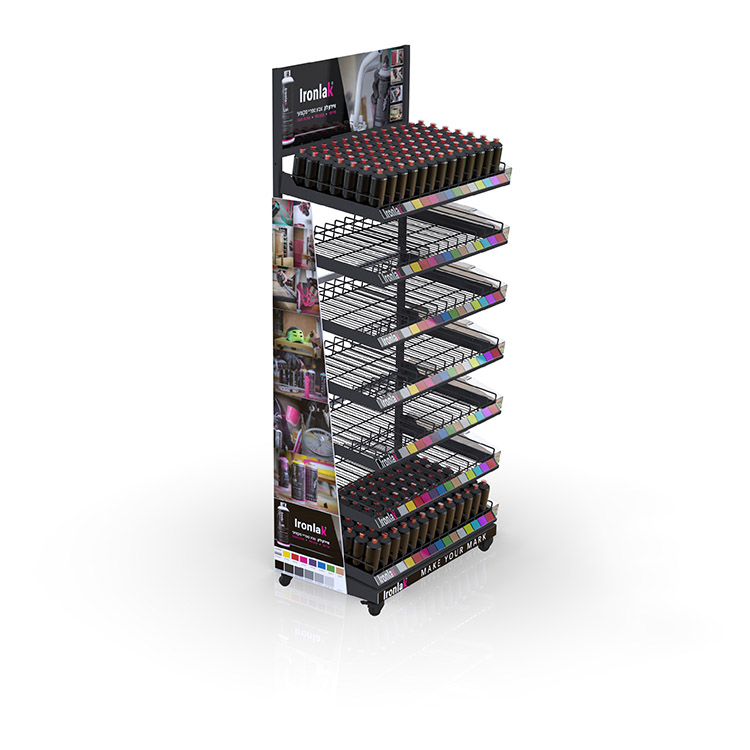 7 Tier Paint Display Rack Metal Floor Stand For Better Merchandising
Order(MOQ):50
Payment Terms:EXW, FOB Or CIF
Product Origin:China
Color:Black
Shipping Port:Shenzhen
Lead Time:30 Days
Service:Customization Service, Lifetime After-sales Service.
Paint display racks are designed to showcase spray paint, nail paint, and other coating products. The global paints and coatings market size was valued at $164.00 billion in 2022 & is projected to grow from $171.55 billion in 2023 to $241.32 billion by 2030. Paints and coatings are commonly used in the automotive, construction, wood, and transportation industries. They have a significant application in the construction sector, where they are used to protect structures from external damage.
Paints and coatings are used in numerous applications in the decoration of non-residential and residential buildings and infrastructures, automotive, marine, industrial wood, industrial plants, and others. There are many different brands of paints and coatings in the market. To win more market share, using a customized paint display rack can help you build your brand image and increase potential sales. Today, we are going to showcase a floor paint display rack for you.
What are the features of this paint display rack?
This paint display rack has these features. 1. Strong and stable. It is a floor-standing paint display rack which is made of metal wires and tubes in size of 985*350*2415mm. 2. Large capacity. It is a 7-tier paint display rack in black, which can hold more than 670 bottles of spray paint at the same time. 3. Movable. With 4 casters, this spray paint display rack is easy to place in different places to fit different display needs. 4. Brand merchandising. The brand's logos and graphics are shown on 3 sides of the display rack, top, bottom, and right. It is decorating the display rack and making it unique.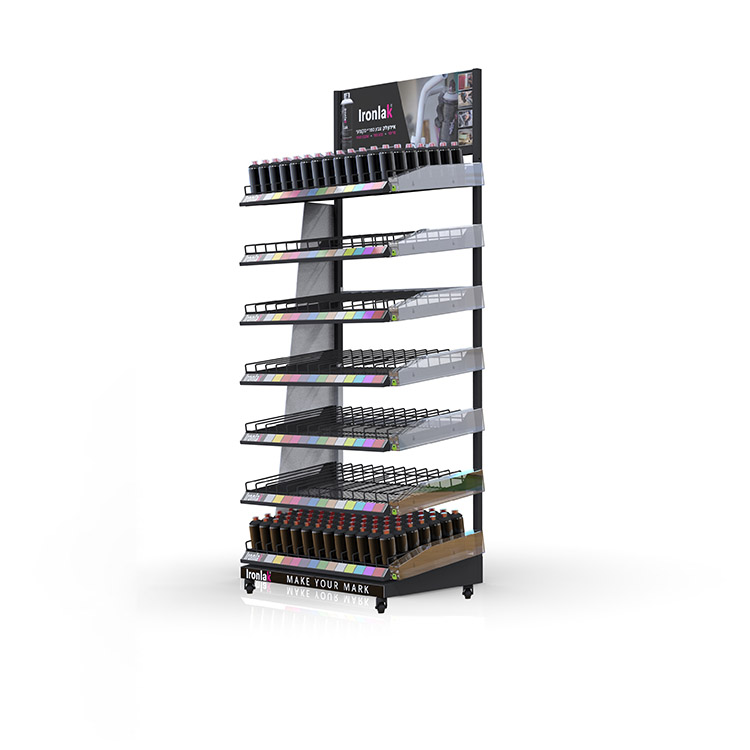 To showcase more paint bottles, there is an acrylic pocket for every layer. Besides, there is a color reference on every shelf fence. But this paint display rack has a small packing as it can be knocked down into 2 cartons. It only takes 3 to 5 minutes to set it up. Do you like this design? If you want to change the design, please tell us how you want to change it, no matter if you want to change the size, color, or other specifics. Here are more photos of this paint display rack.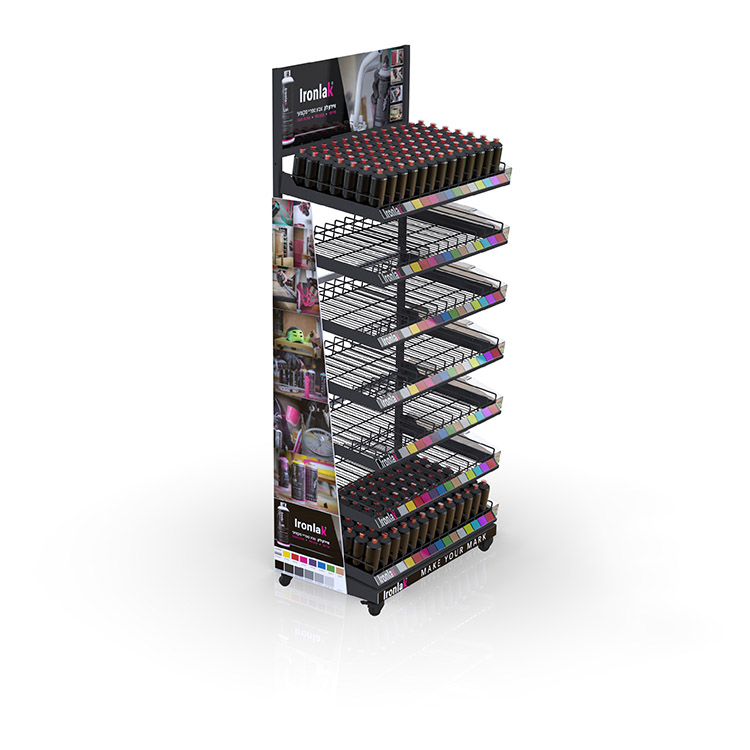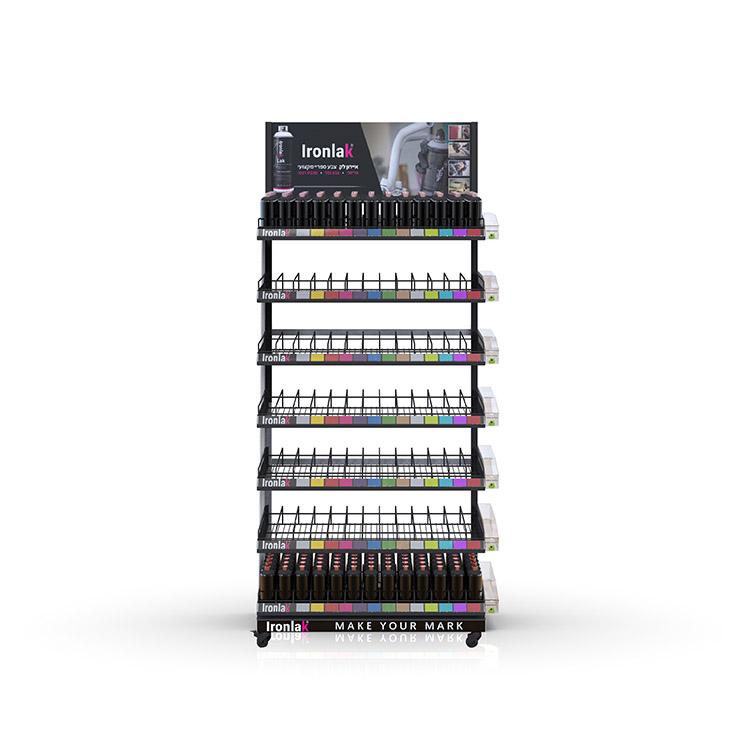 How to make your brand logo paint display rack?
All displays are made in the same general processes. Understand your needs, design & prototype, approve samples, and then arrange mass production, delivery and after-sales service. They are listed in detail below.
First of all, to customize your brand logo and innovative display stand, we need to know your requirements. What kind of display do you need, countertop or freestanding style? What material do you prefer? Metal, wood, acrylic, and cardboard are available. How many paints do you want to display? Of course, we need to know your product specifications first. You can tell us your product's dimensions and weight.
Secondly, we will provide you with rough drawings and 3D drawings so that you can check what it is like when your products are on after confirming your specific needs. If you need to change, we will update the drawing for you. Only after your approval and order, we will start to make a display sample for you. We have shown you the 3D rendering above.
Thirdly, when the sample is finished, we will assemble and check the dimensions, and finishing effect and test the sample. Of course, we will take photos and videos for you. It takes around 7 days to finish the sample.
Fourthly, When this sample is approved, we will arrange mass production. We will control production quality according to the sample. When production is finished, we will check all details to make sure these display racks meet your needs. The mass production takes around 25-30 days.
Fifthly, safety packing. Normally, displays are packed in a flat package, and we provide assembly instructions in the carton. So it is easy for you to assemble them on your side.
Sixthly, lifetime after-sales service. We will follow up and reply to you within 48 hours if you have any questions.
As a factory of custom displays with more than 20 years of experience, we can help you design and give you professional suggestions. Contact us now for your next project and let custom POP Displays help you sell more. Below are some displays we have made and our clients are happy with them. You will be one of them if you work with us.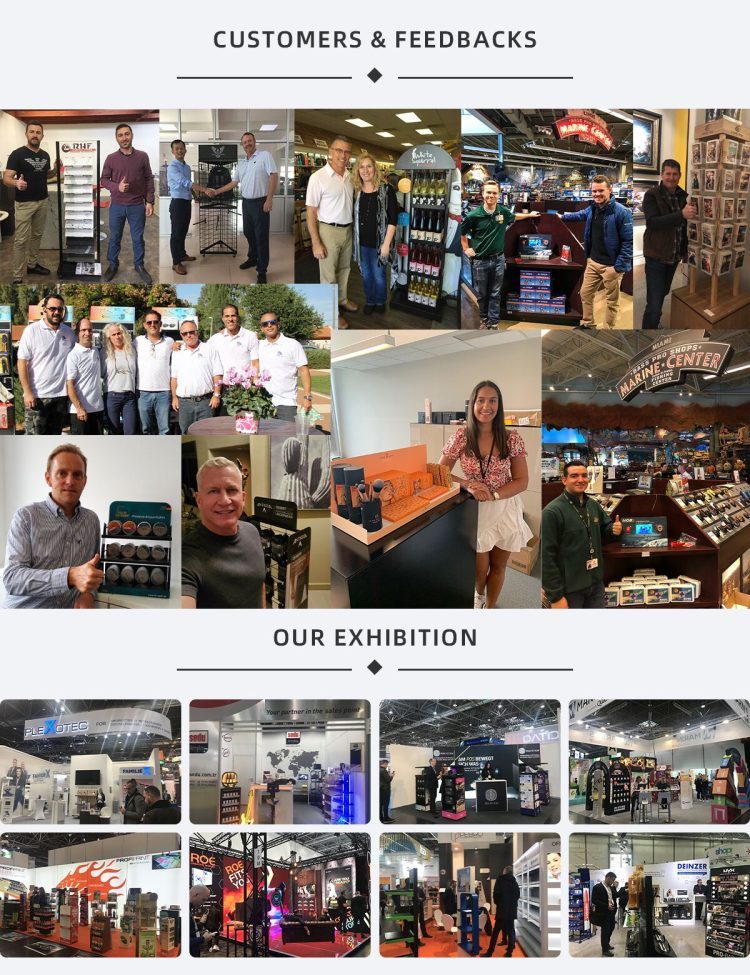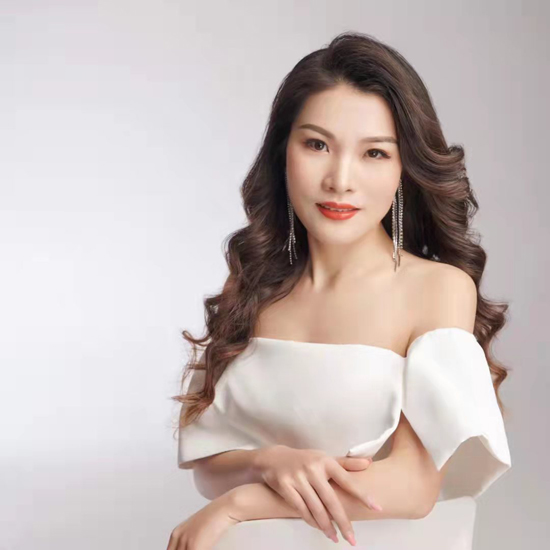 jessie huang
Love what we do and do what we love! Enjoy life, enjoy working in BWS DISPLAYS.