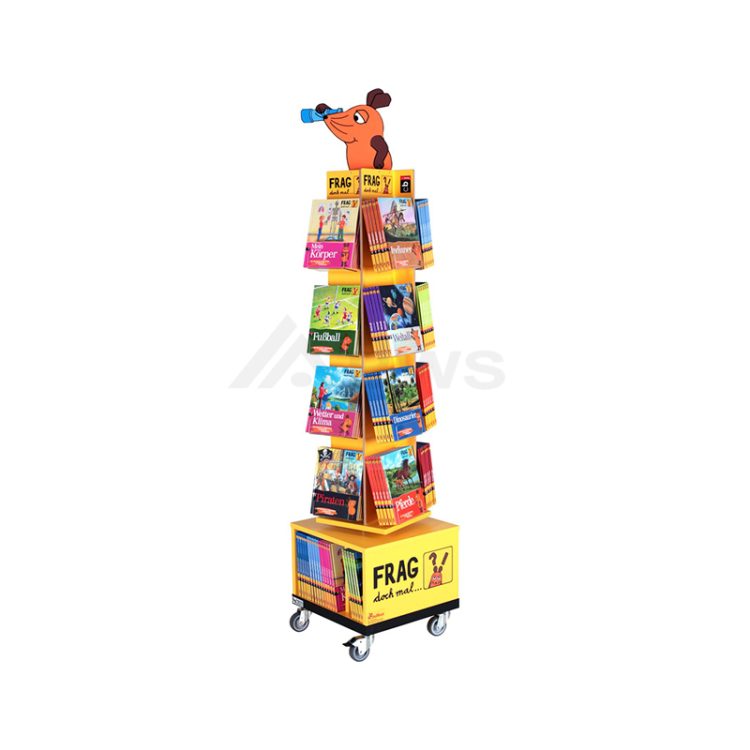 Rotatable 4-Tier Book Display Rack In Attractive Color Made of Wood
Order(MOQ):50
Payment Terms:EXW, FOB Or CIF
Product Origin:China
Color:Yellow
Shipping Port:Shenzhen
Lead Time:30 Days
Service:Customization Service, Lifetime After-sales Service.
What is a book display rack?
A book display rack is a rack that holds books. It is a great choice for your bookstore, library, hardware store, or anywhere selling larger-sized books. You can fill the book display rack with magazines, cards, leaflets, brochures, and more. A  book display rack can be made of wood, metal, acrylic, cardboard even plastic.
Book display racks are in many styles, such as literature displays, or rotating brochure holders will complement the decoration of your environment with their special designs. The rotating book display stands provide viewing all selections quickly and easily for your patrons. Besides, they can even be placed close to a wall, to save floor space, as the rotating design again allows for full viewing of materials.
Today, we are sharing with you a book display rack to get more attention to the books and increase sales.
What are the features of this book display rack?
First, this book display rack is rotatable, which is convenient for book buyers or readers to choose what they like. Second, the eye-catching color. This book display stand is painted yellow, which is conspicuous and a lovely color for kids. Third, this book display rack has a cute header, which is interesting and makes readers want to know more about the books.
Fourth, stable and strong. It is made of wood which has a long lifetime. Fifth, there is a drawer on the base, which can store more books. Besides, this book display rack is movable. There are 4 casters under the drawer, which make it easy to move this book display rack.
This book display rack is designed to be both attractive and functional, with the goal of drawing customers' attention to the books and enhancing the customer experience.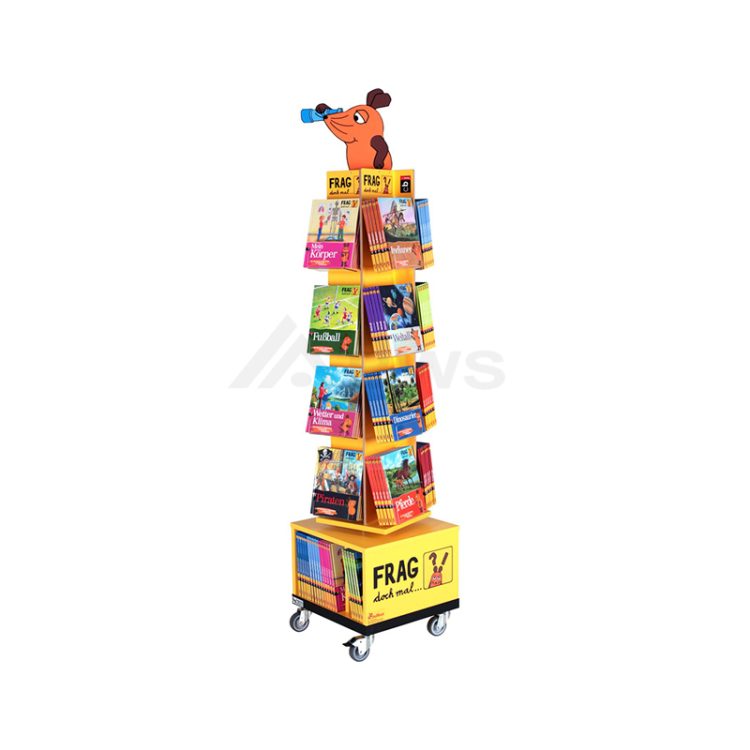 Where book display rack is used?
Book display racks are used in a variety of retail settings, including:
Supermarkets: There are book areas, and book display racks are used for merchandising new books. Besides, it also can hold some brochures when there is a new event.
Department stores: Department stores often cards or notebooks, so they are used to organize them and create a positive shopping environment.
Book stores: There is always a new book to attract buyers, and book display racks can showcase these new books in an attractive way.
Library: They are used to organize books and showcase the theme books.
In addition, book display racks can also be used at trade shows, pop-up shops, and other temporary retail locations to show product leaflets to help promote and sell their products.
2 types of book display racks
There are several types of book display racks, including:
Countertop displays: Countertop displays are compact and designed to fit on a counter or tabletop. They typically feature a compact design with pockets or book holders to hold the books and cards.
Freestanding displays: Freestanding displays are standalone fixtures that can be placed anywhere in a store. They are often larger than countertop displays and may feature several shelves or compartments for organizing and displaying a large number of books.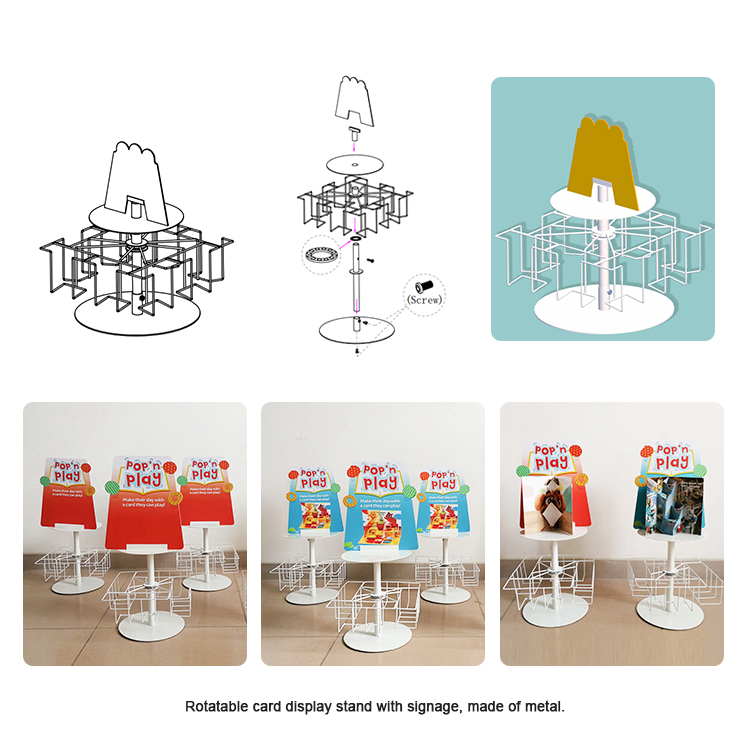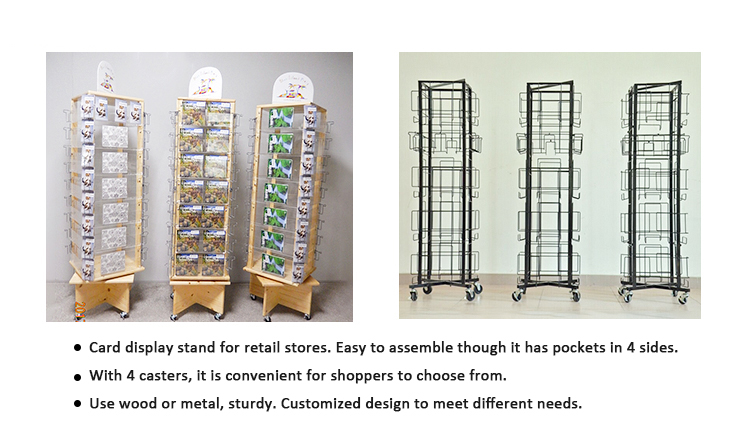 There are many materials to make book display racks. As above, there are metal, wood, and acrylic.
Acrylic displays: Acrylic displays are made of clear plastic, making it easy for customers to see the books on display. They can be designed in a variety of shapes and sizes and are often used to display lightweight books or cards.
Wooden displays: Wooden book display racks are made of wood and are ideal for stores with a more traditional or rustic aesthetic. They can be designed to match the store's decor and are often used to showcase large books.
Metal displays: Made of metal wire or metal tubes or metal sheets, these book display racks are stable and strong to display a large number of books or cards.
How to make your book display fixture?
Step 1. Understand your specific needs. You can share with us your display ideas with a photo, rough drawing or reference design, we will give you professional suggestions after we know more about your products, such as product specifications, brand culture and more. If you can send us samples, it will be more helpful.
Step 2. Design and offer drawings. We will design and provide renderings and drawings to you. Below is the rendering for this literature stand, with magazines and without magazines. You can make some changes or approve the design before we offer you a quotation.
We need to know what kind of literature and how many you need to display at one time, where you want to use it, what material you need, where to add the logo, how many pieces you need, etc before we quote the EX-work price to you. If you need FOB or CIF price, we need to know where these displays ship to.
Step 3. Make a sample. We will make a sample for you after you approve the design and price and place an order. We need to make sure the literature stand will increase your brand influence and sales. It always takes 7-10 days to finish the sample. And we will take HD photos and videos in detail, such as measuring the dimension, packing, logo, assembling, gross weight, net weight and more before we ship the sample out to you.
Step 4. Mass production. Our team will start mass production after you approve the sample. Our Qc team will control in detail to make sure mass production is as good as the sample. At the same time, our project manager will follow up and update regularly with photos and videos from laminating to packing.
In order to make the best use of a carton and keep your literature display safe, we also will design a package solution before packing. The package solution is up to the design and material. If you have an inspection team, they can come to our factory during the whole production process.
Step 5. Packing & container layout. We will give you a container layout after you agree with our package solution. Normally, we use foam and plastic bags for inner packages and strips even protecting corners for outer packages and put the cartons on pallets if necessary. A container layout is to make the best use of a container, it also saves shipping costs if you order a container.
Step 6. Arrange shipment. We can help you arrange the shipment. We can cooperate with your forwarder or find a forwarder for you. You can compare these shipping costs before you make a decision.
Step 7. After-sales service. We are not stopping after delivery. We will follow up on your feedback and solve your questions if you have any.
Remember, the goal of a book display fixture is to attract attention, make it easy for customers to find what they are looking for, and ultimately, drive sales.
Where to buy book display fixtures?
You can buy book display fixtures in different ways. For example, on retailers such as Alibaba, and Amazon.
Wholesale suppliers: Wholesale suppliers, such as Uline or Darice, offer a wide range of display stands and fixtures at bulk prices. This can be a good option if you are looking to purchase multiple displays or if you have a larger retail operation.
Custom manufacturers: If you are looking for a custom-made helmet display stand, you can work with a manufacturer to create a display that meets your specific needs and requirements. Custom manufacturers can be found through a Google search or by contacting trade associations such as the Retail Display and Fixture Association.
BWS Displays is a factory of custom displays, we can make your book display fixtures. With more than 20 years of experience, we can save your time and money. Before making a purchase, it is important to consider the size and style of the display you need, as well as your budget. You may also want to consider factors such as the material and durability of the display, as well as any additional features you may need.
5 advantages of Chinese book display racks
China is a major manufacturer of book display racks and has several advantages, including:
Cost-effective manufacturing: China has a large and established manufacturing industry, which allows for lower production costs and more competitive pricing. This can be a significant advantage for businesses looking to purchase sunglasses display stands at a lower cost.
Wide selection: China has a large number of manufacturers and suppliers that offer a wide range of sunglasses display stands, including custom-made options. This gives businesses the ability to choose from a variety of styles, materials, and sizes to meet their specific needs.
High-quality materials: China is known for producing high-quality products, including sunglasses display stands. Many manufacturers use advanced technology and materials, such as acrylic and metal, to produce displays that are both attractive and durable.
Fast production times: China's large manufacturing industry allows for fast production times, which can be an advantage for businesses that need their displays quickly.
Convenient shipping: China is located close to many major markets, which allows for fast and convenient shipping. This can be a significant advantage for businesses that need to receive their displays in a timely manner.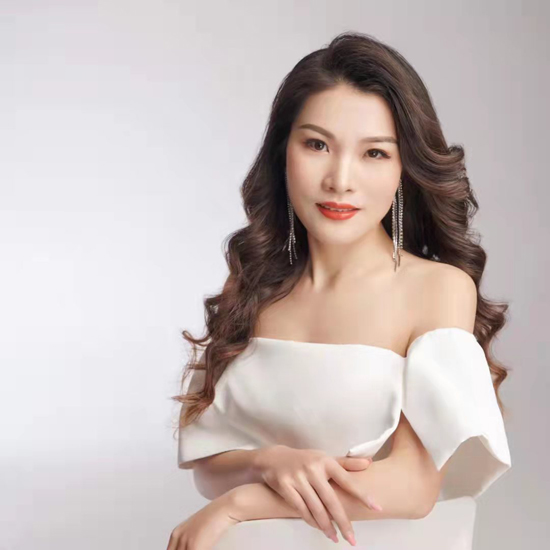 jessie huang
Love what we do and do what we love! Enjoy life, enjoy working in BWS DISPLAYS.