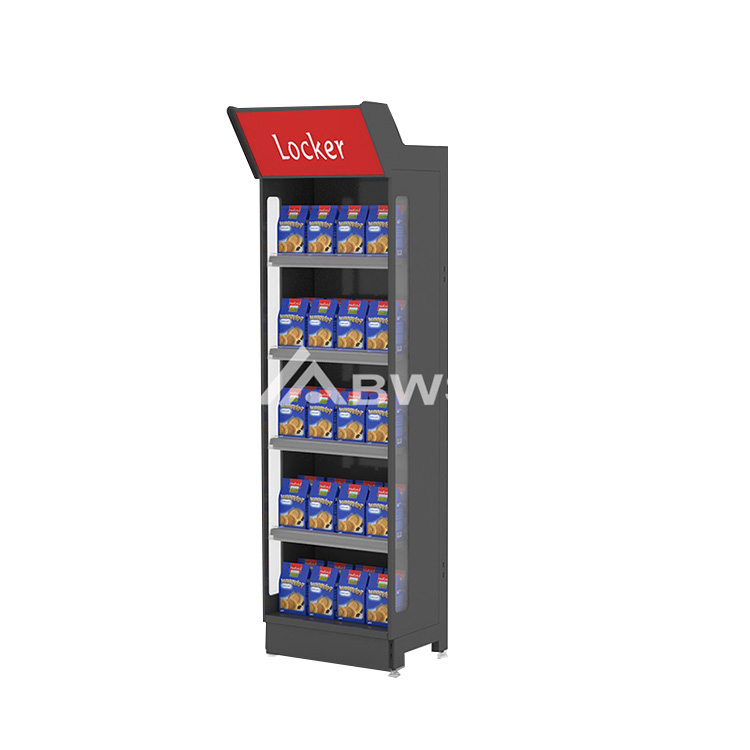 Free Standing Snack Display Rack 5-tier Made In Metal For Retail Shop
Order(MOQ):50
Payment Terms:EXW, FOB Or CIF
Product Origin:China
Color:Black
Shipping Port:Shenzhen
Lead Time:30 Days
Service:Customization Service, Lifetime After-sales Service.
How to display snacks?
A snack display rack is one of the efficient ways to display snacks, such as cookies, the most popular snack food( with 59 percent of snackers saying they eat sugary comfort food regularly), potato chips (58%), candy, popcorn, soft drinks, crackers, cake, milk, nuts and seeds, tea, and yogurt. Of course, you also can use snack display stands, snack display trays as well as snack display counters to showcase snack food.
A custom snack display rack is made according to your specific display needs, which is with your brand logo for brand merchandising. It is more than keeping your snack organized, but showcases the variety of snacks your business has to offer. Today, we are sharing with you a metal free-standing snack display rack which is more than a snack locker.
What are the features of this snack display rack?
These are the main features.
1. Large capacity. It is a 5-tier floor display rack that can display different snacks in every tier. In this photo, this snack display rack holds 40 bags of snacks.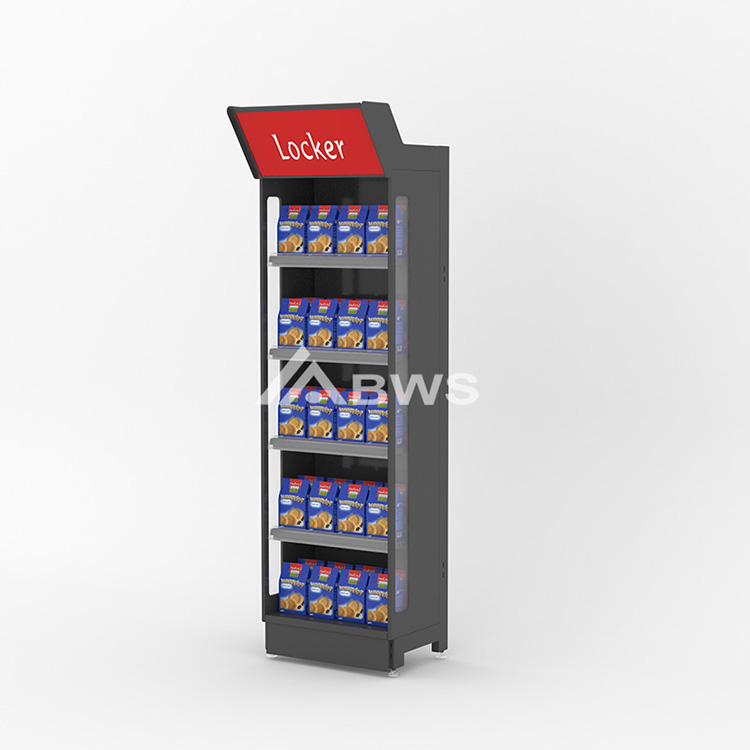 2. Logo can be added, the red part is for your brand logo or graphics, which is brand merchandising.
3. With price labels, there are price labels on every shelf, so shoppers can check prices easily, and the labels work as a fender too.
4. Stable and steady, there are 4 adjustable feet that make this snack display rack stay steady.
5. Strong and multi-usage. It is made of metal in black powder, it has a long lifetime. It can be used singly and combined to create an effective merchandising environment.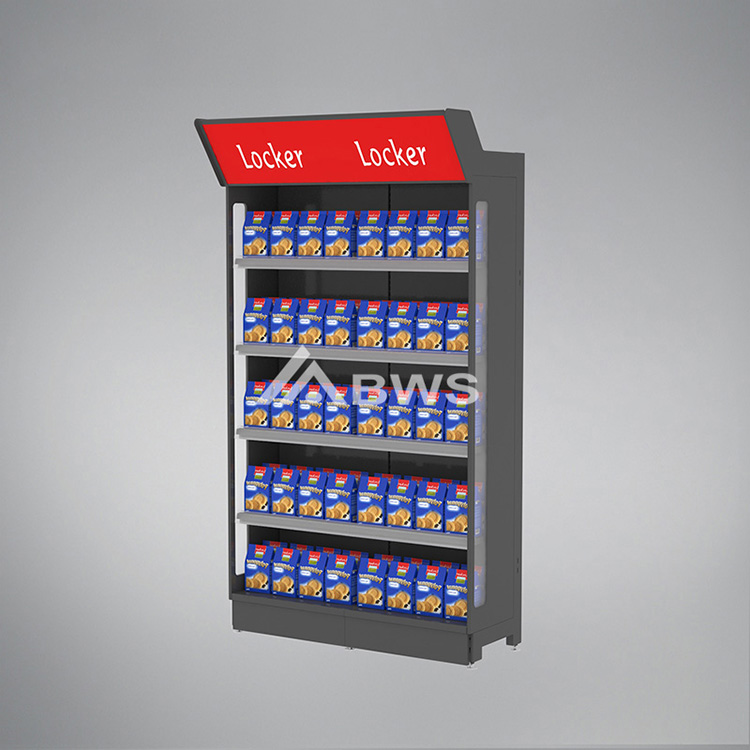 Of course, all display fixtures we made are customized, you decide the style, size, shape, color, material, tier, and logo as well as accessories such as shelves, hooks, pegs, and more. We can add locks, led lights, LCD players as well as other parts to meet your specific display needs.
How to make your brand snack display rack?
As a factory of custom displays with more than 10 years of experience, we know how to design and make custom snack display racks to fit your snacks and brand culture.
1. Understand your display needs. You can share with us your display ideas with a photo, drawing or reference design, we can give professional suggestions and reference designs after we know more about your products. If you can ship us samples, it will be more helpful to design and test these snack display racks. If not, you can take photos and share with us the specification of your snack package.
2. Design and drawings. We also need to know how many snacks you want to display at the same time, and what material you prefer, what kind of logo you like, etc, then we will design and provide renderings and drawings to you. Below is the rendering for this snack display rack, with snacks and without snacks. You can make some changes or approve the design before we offer you a quotation.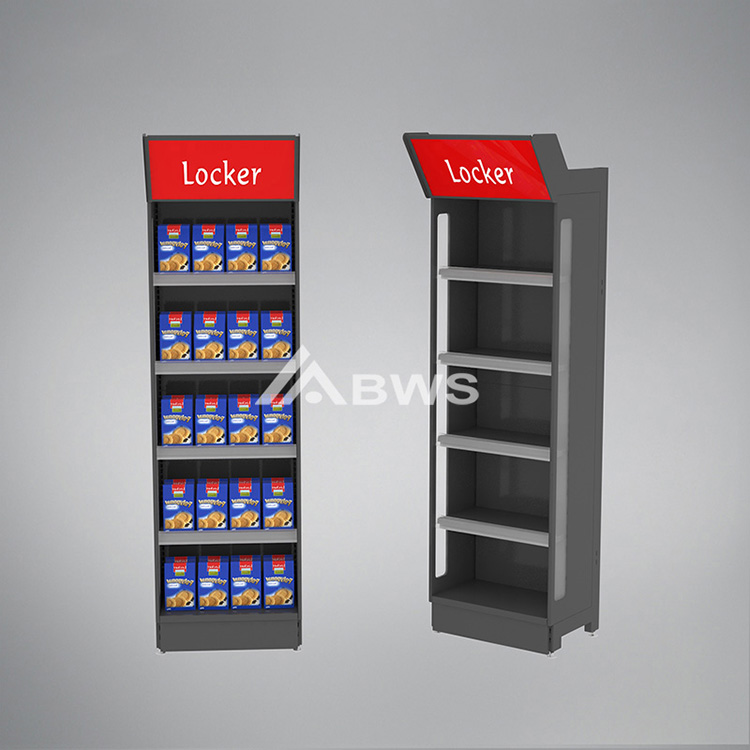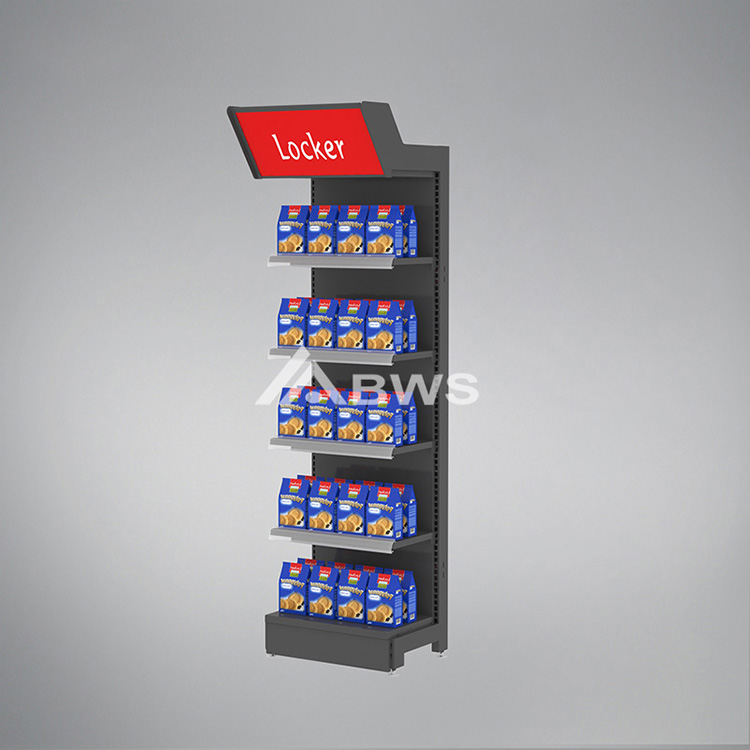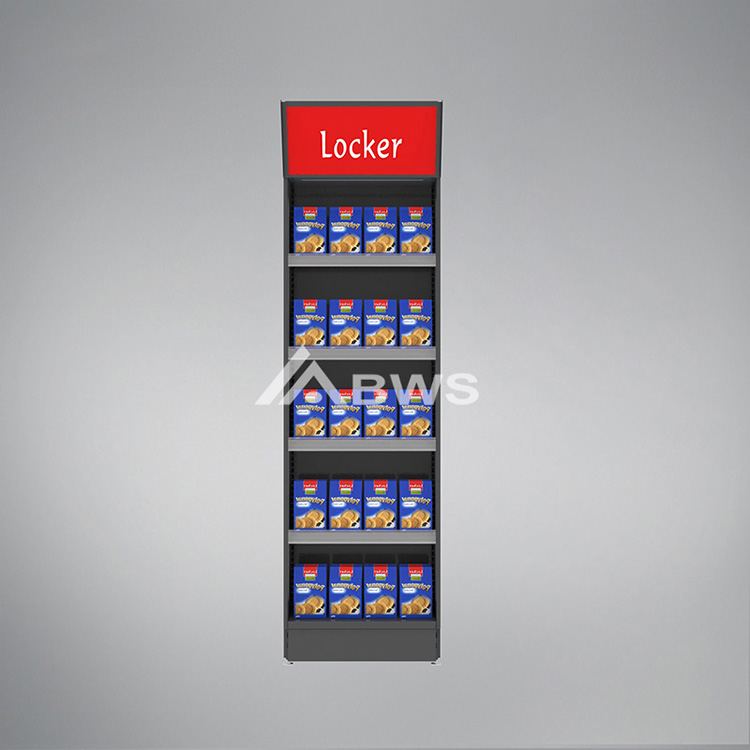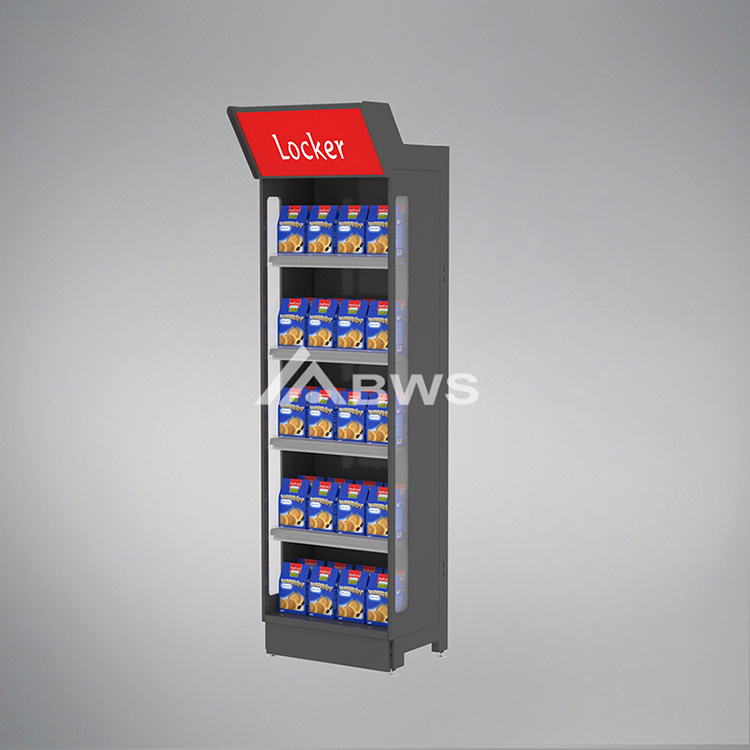 3. Make a sample. After you approve the design and price and place an order, we will make a sample for you. We will use quality material and spend 7-10 days finishing the sample. And we will take HD photos and videos before we ship the sample out to you. A sample is a useful tool to test functions and market whether this snack display rack is fit your store as well as increase your brand influence and sales.
4. Mass production. Our team will start mass production after you approve the sample. Our Qc team will control all details and our project manager will follow up and update regularly. In order to make the best use of a carton and keep your displays safe, we also will design a package solution before packing.
5. Packing & container layout. Normally, we use foam and plastic bags for inner packages and strips even protecting corners for outer packages and put the cartons on pallets if necessary. We will give you a container layout after you agree with our package solution. A container layout is to make full use of a container, it also saves shipping costs no matter if you have a full container or less than a container.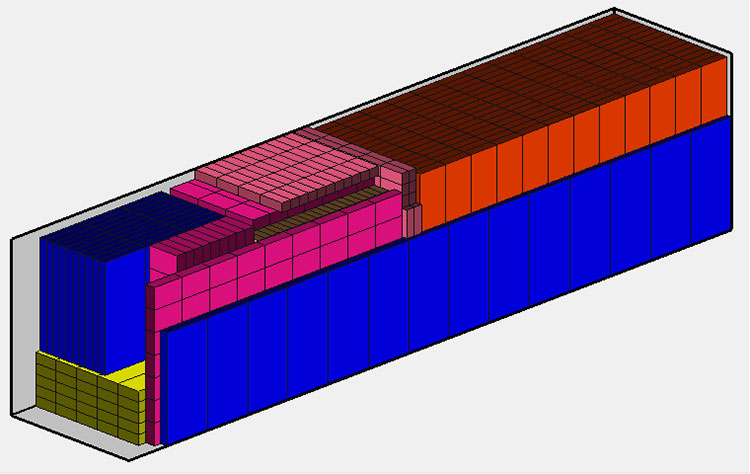 6. Arrange shipment. We also will help you arrange the shipment. We can cooperate with your forwarder or find a forwarder for you. You can compare these shipping costs before you make a decision.
7. After-sales service. We are not stopping after delivery. We will follow up on your feedback and solve your questions if you have any.
The global snacks market size was valued at USD 1,450.4 billion in 2021 and is expected to expand at a compound annual growth rate (CAGR) of 2.7% from 2022 to 2030. And snack display racks can help you stand out among competitors.
If you don't like this design, we can send you more designs that may help you get an idea for your displays.
Other Retail snack display racks
Below are 4 designs for your reference, all of them are perfect for retail stores, supermarkets, grocery stores and shops. If you need more designs, please feel free to contact us. We will be glad to help.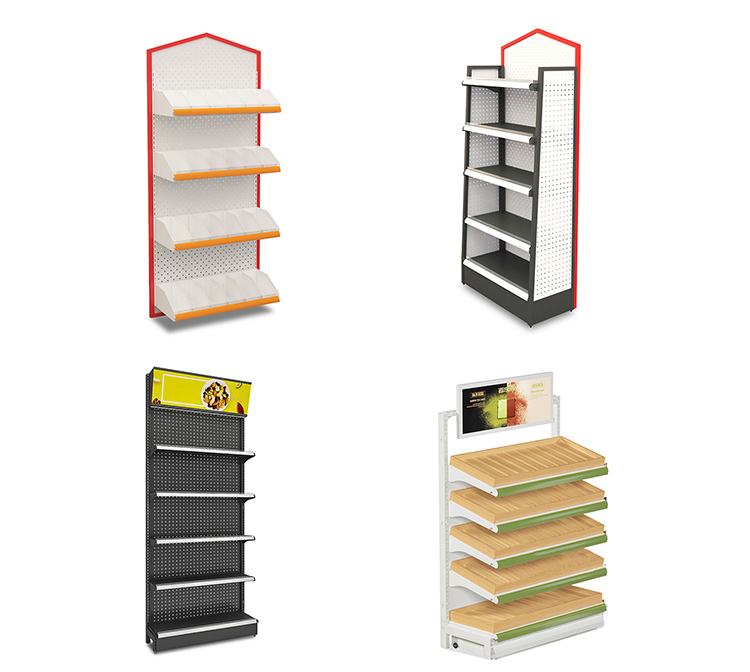 We have more than snack display fixtures, but custom displays for other products, such as clothing, socks, shoes, cosmetics, tools, tiles, sunglasses and more. Below are 4 of them.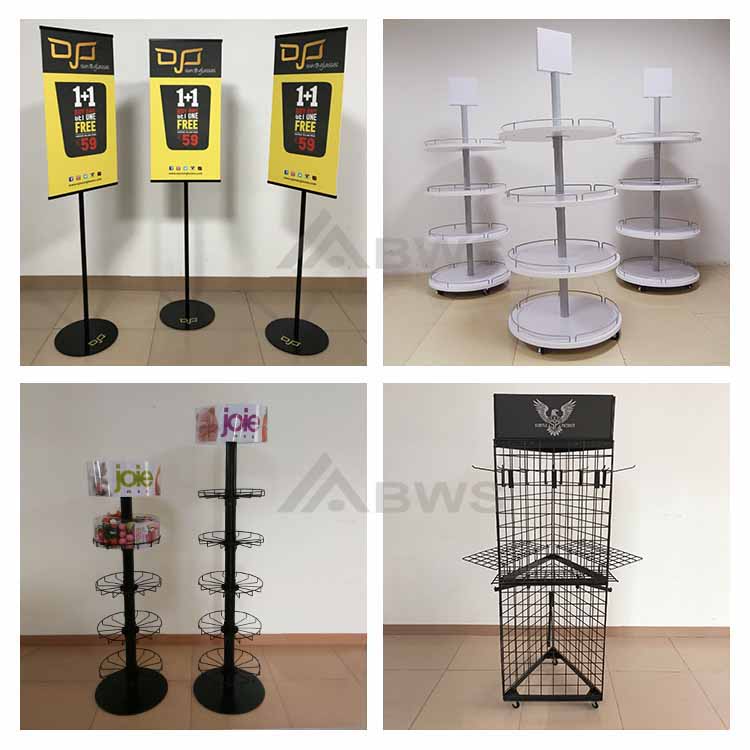 You will be happy when you work with us because we can make what you want in an efficient way.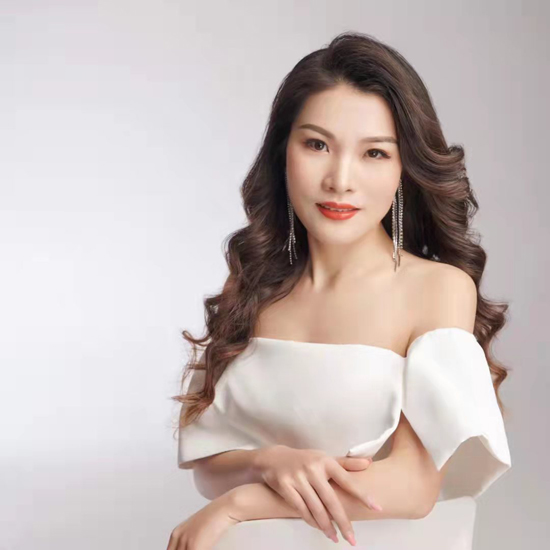 jessie huang
Love what we do and do what we love! Enjoy life, enjoy working in BWS DISPLAYS.