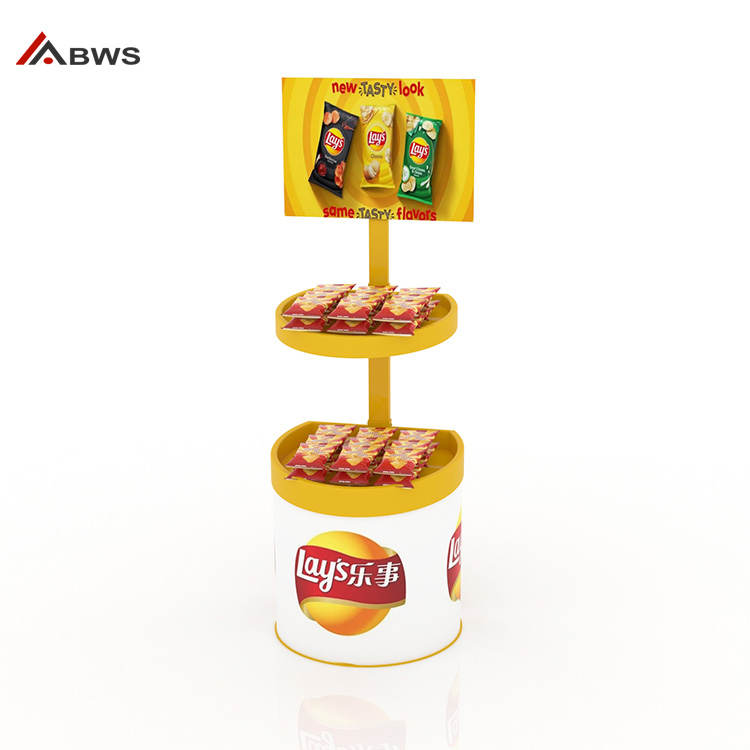 Attractive 2-tier Snack Display Stand Customized For Lay's
Order(MOQ):50
Payment Terms:EXW, FOB Or CIF
Product Origin:China
Color:Yellow
Shipping Port:Shenzhen
Lead Time:30 Days
Service:Customization Service, Lifetime After-sales Service.
How to display snacks?
Using a snack display stand to merchandise snacks is different from displaying snacks at home and displaying snacks for a party. Utilize inserts to keep your snack categories grouped and visible for displaying at home, while it is not effective in retail stores. Because in-store merchandising is to increase sales. Except for snack display stands, there are snack display racks,  snack display shelves, snack display cases and more that are useful merchandising fixtures. All of them are with custom brand logos and graphics.
We are a factory of custom display fixtures in China with more than 10 years of experience. You can build your commercial snack display, snack rack for countertop, hanging snack rack, wall mounted snack rack, or other snack display rack for sale at BWS, you can get some snack display ideas or reference designs from us too.
Why do we make snack displays?
Snacks can be an important part of your diet. They can provide energy in the middle of the day or when you exercise. A healthy snack between meals can also decrease your hunger and keep you from overeating at mealtime. And the snack markets are increasing. We want to help snack retailers who use custom displays to stand out among the competitors. Below we share you the trend of the snack market.
Globally, the demand for convenience foods is growing at a faster pace due to changes in social and economic patterns, as well as increased expenditure on food and beverage, awareness about healthy foods, changes in meal patterns and existing food habits, and the desire to taste new products. The United States is the largest market for convenience foods in the world, and the emerging markets of Asia-Pacific, the Middle East, and Latin America are projected to see future growth for the same.
Amid the COVID-19 crisis, the global market for Snack Foods estimated at US$493.4 Billion in the year 2020, is projected to reach a revised size of US$732.6 Billion by 2026, growing at a CAGR of 6.7% over the analysis period. Bakery Snacks, one of the segments analyzed in the report, is projected to record a 6.7% CAGR and reach US$307.8 Billion by the end of the analysis period.
And we know that custom display fixtures will make a big difference for visual merchandising, today we share with you the snack display stand for Lay's.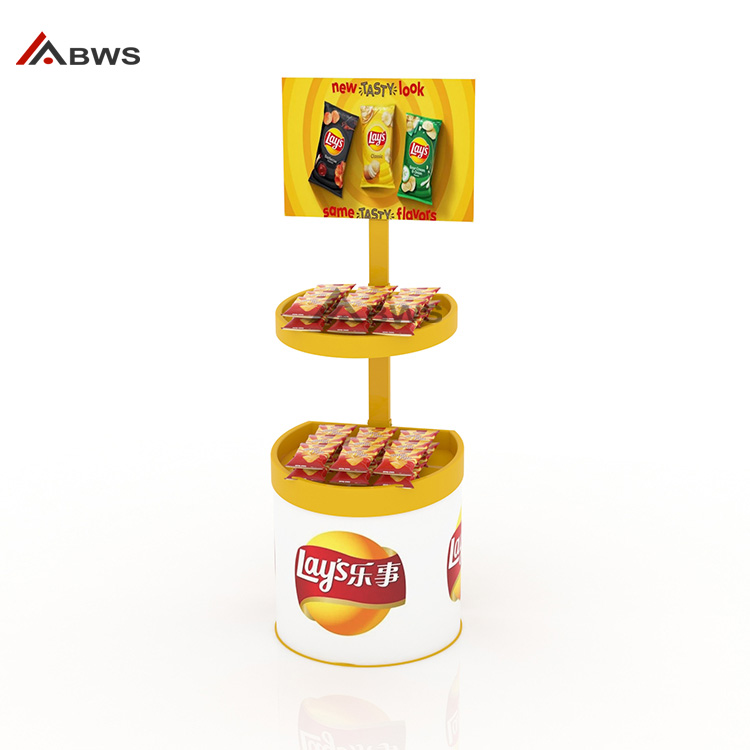 What are the features of this snack display stand for Lay's?
Lay's is a brand of potato chips, as well as the name of the company that founded the chip brand in the United States. Lay's has 75 years of history, wherever celebrations and good times happen, LAY'S® potato chips will be there. And it has a big market in China, and this display stand is made for China market, it works well in supermarkets, retail stores and shops. Asia-Pacific represents the largest and fastest-growing market for snack food products, followed by North America in size owing to the increasing demand from the developing countries of India and China.
This snack display stand is designed with Lay's brand logo, and with the color of the package of Lay's potato chips. It is obvious to get attention. It is a floor standing snack display with 2 tiers. It is made of metal with yellow powder coating which color cheers people up and makes people feel happy. The header is a nice place for presenting the potato chips. And so for the bottom. As it is made for China markets, the Chinese brand is shown. The whole display stand is nearly a round shape, it is special and eye-catching.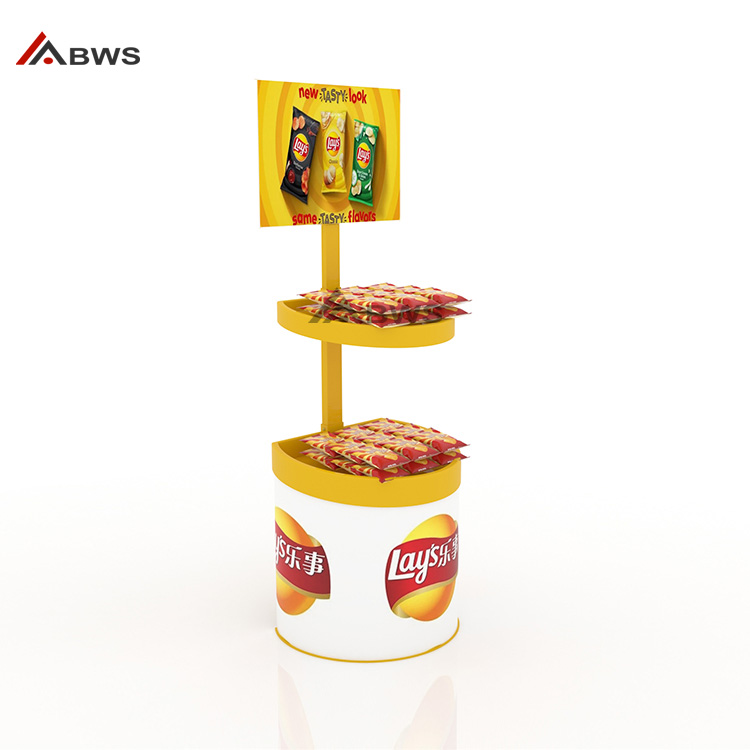 This is the left side of the snack display stand with products.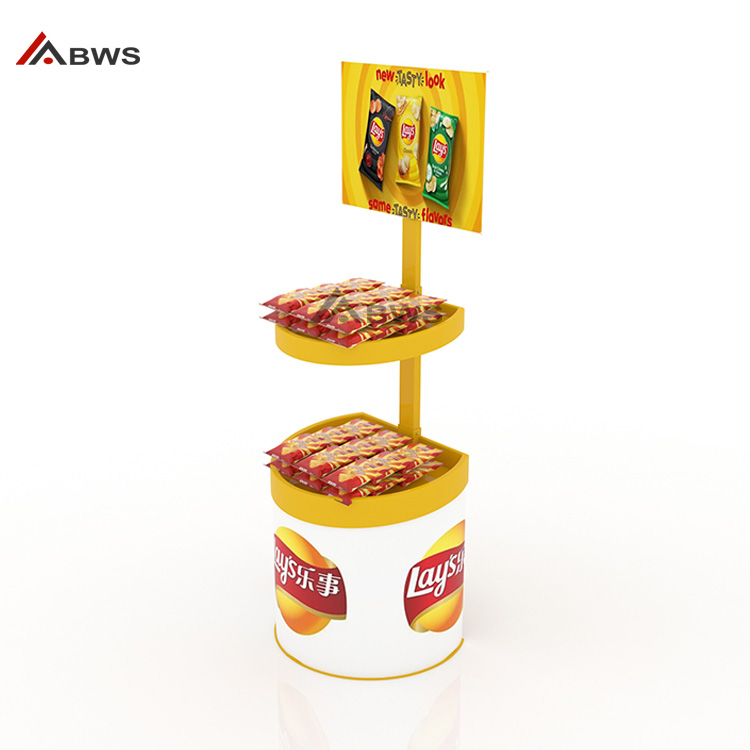 This is the right side of the snack display stand.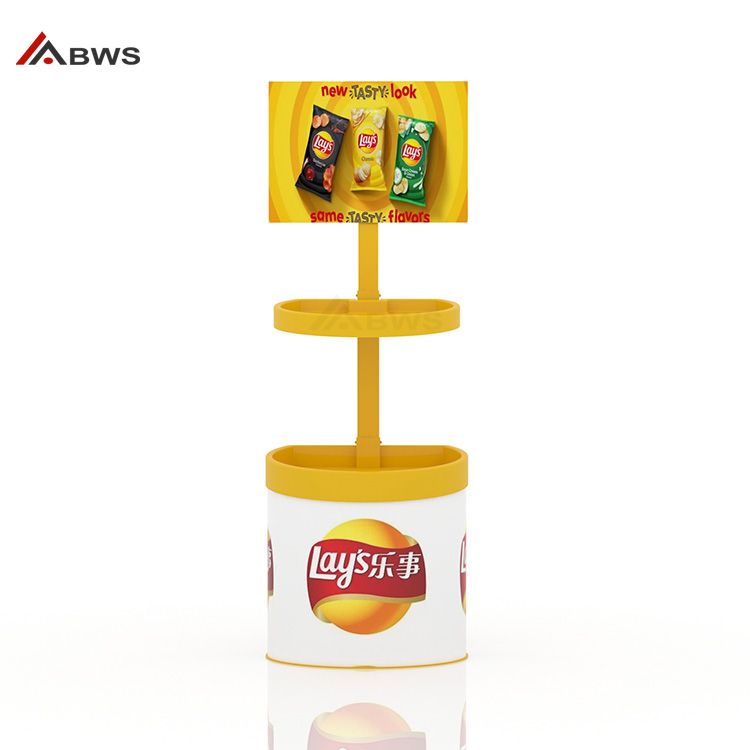 This is how it looks without snacks.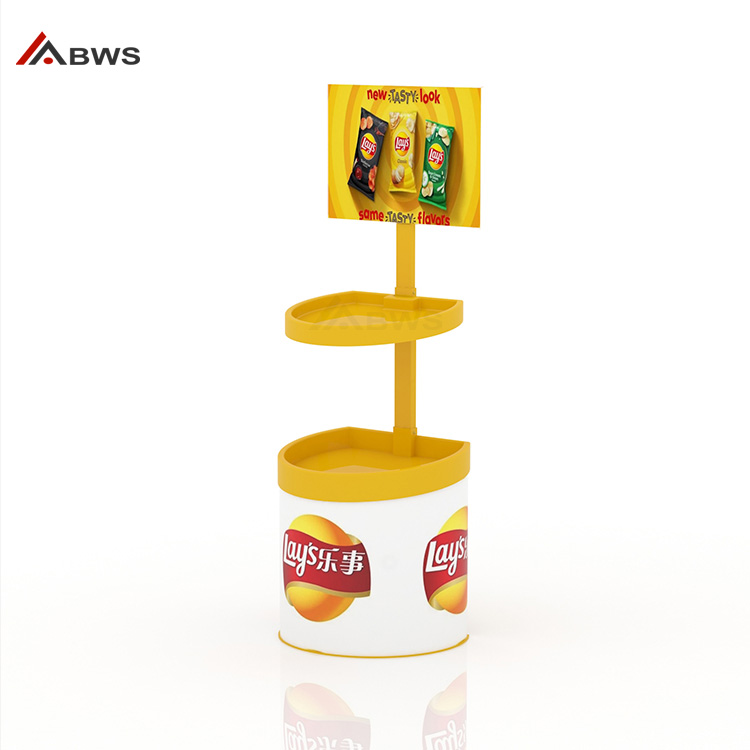 The half-circle shelves are special.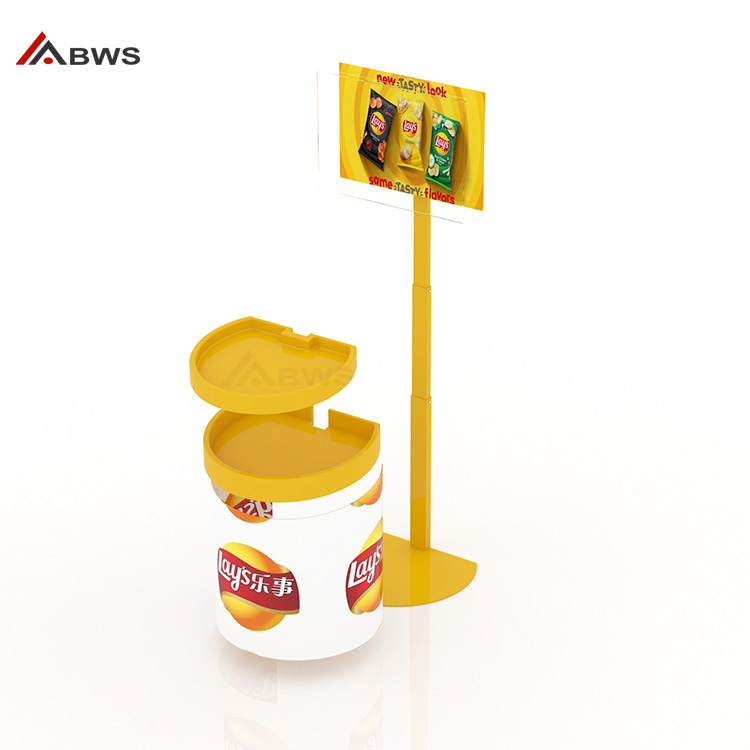 This shows the construction of the display stand, and the height of the shelves is adjustable.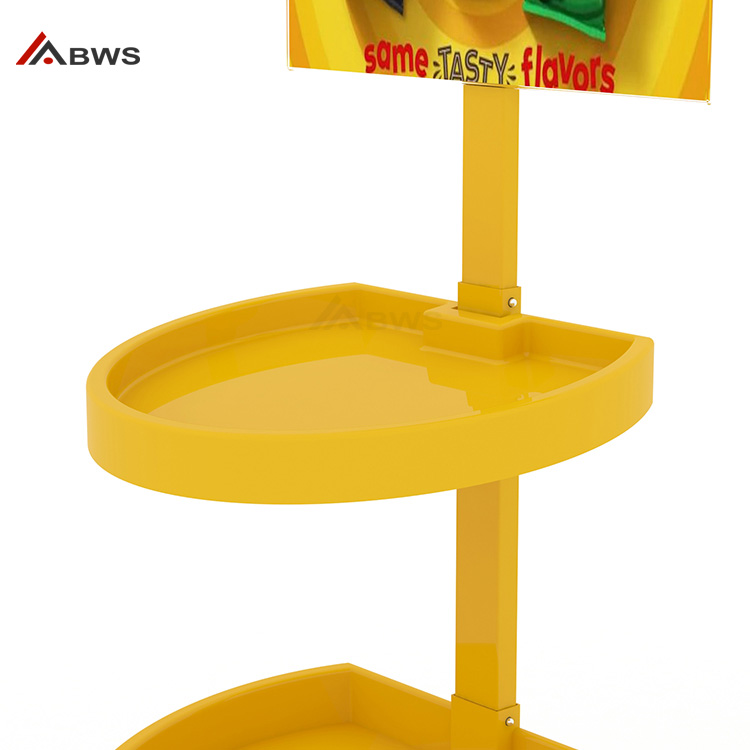 This shows how the shelves are fixed to the back metal tube frame.
How to make a snack display stand?
It is easy when you contact us to make a custom snack display stand, we will guide you step by step.
Firstly, we need to understand your products and what kind of display you like, floor standing or countertop, or wall-mounted. And you can decide the material, size, shape, style and more after you share with us your snack package and quantities that you want to display at the same time.
And we will provide the rough drawing and 3D rendering from different angles with products and without products to you to confirm whether the display meets all your needs.
Thirdly, if the design meets your needs, we will make a sample for you. Only the sample is approved, we will arrange the production according to the sample.
Fourthly, we assemble and test the snack display stand, and make sure everything is ok and then we will pack them and arrange the shipment for you.
Normally we suggest a knock-down package to save packing costs and shipping costs. But you do not need to worry about the assembly as we provide assembly instructions within the package.
If you want to know more about the display stand or want to try your next project with us, please contact us at any time.
What have we made?
Here are 9 custom displays we have made for your reference. If you need more display ideas or designs, contact us now.
Reference designs of snack displays
Below 6 designs for your reference, if you need more designs, contact us now.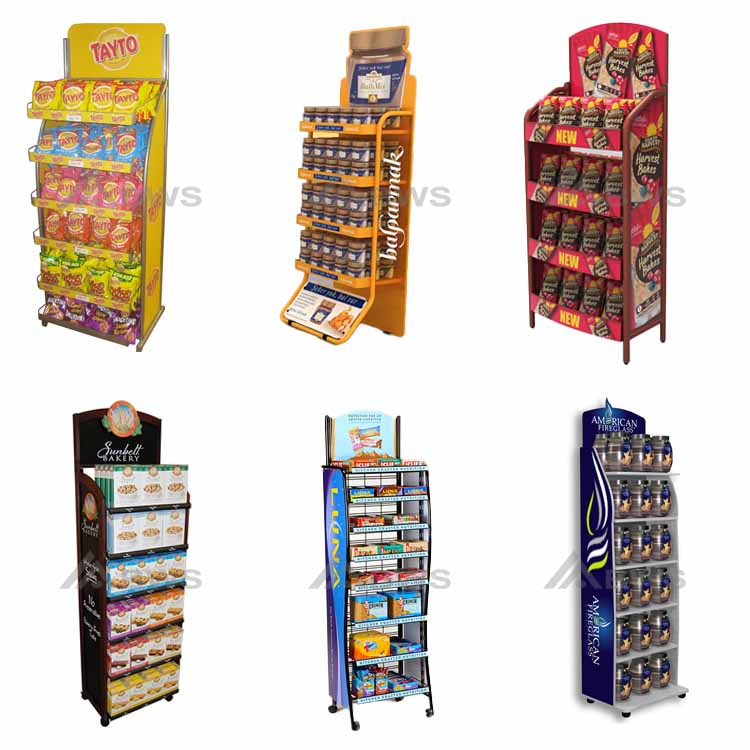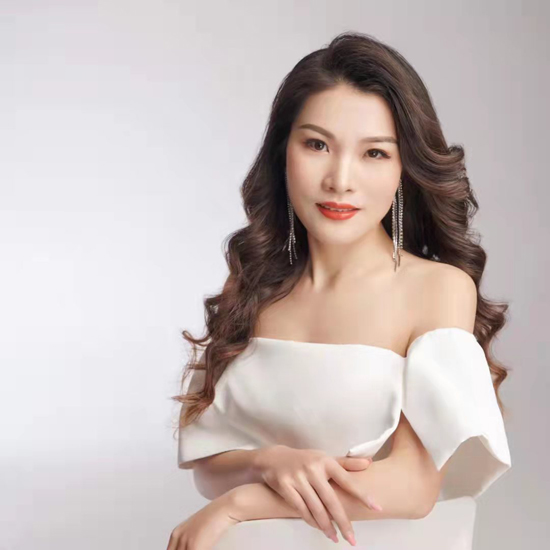 jessie huang
Love what we do and do what we love! Enjoy life, enjoy working in BWS DISPLAYS.