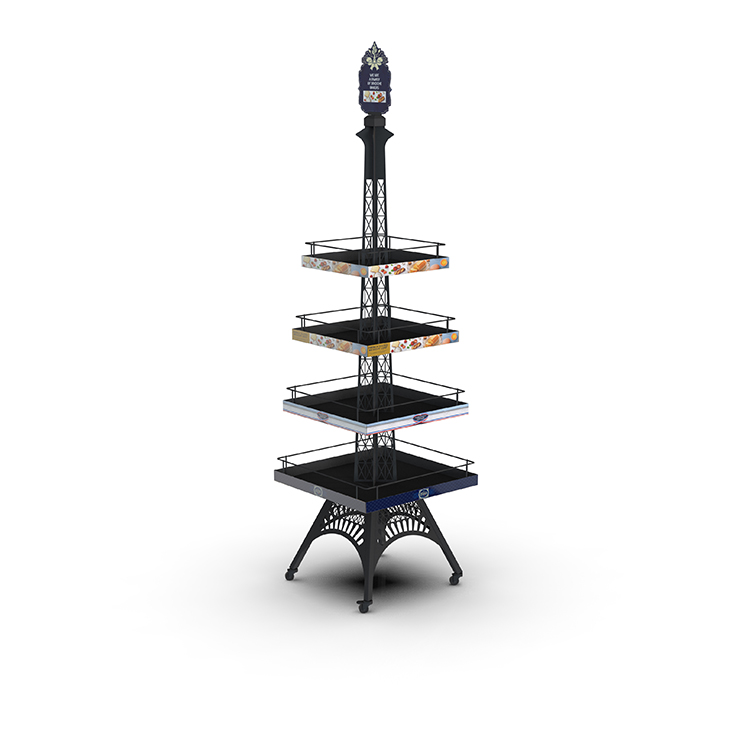 4 Tier Bakery Bread Display Stand Unique Tower Shape Increase Value
Order(MOQ):50
Payment Terms:EXW, FOB Or CIF
Product Origin:China
Color:Black
Shipping Port:Shenzhen
Lead Time:30 Days
Service:Customization Service, Lifetime After-sales Service.
Bakery and bread are our daily food, and they have a big market. Custom bakery bread displays are useful tools to showcase these products and win more market share. The global bakery products market reached a value of USD 480.95 billion in the year 2022. The bakery products industry is further expected to grow at a CAGR of 6.7% between 2023 and 2028. Europe currently represents the largest bakery products market.
Today we are going to share a unique bakery bread display stand that is like Effiel Tower. As we know, this tower is very famous as it was built by Gustave Eiffel for the 1889 Exposition Universelle, which was to celebrate the 100th year anniversary of the French Revolution. So the bakery bread display stand in this shape is a reminder of the Eiffel Tower which shoppers are more interested in.
What are the features of this bakery bread display stand?
Except for the unique shape, it also has these features.
1. Strong and durable. This display rack is made of metal and powdered black. The nice powder finish makes it easy to clean. 2. It has a large capacity. It has 4 tiers to showcase the bakery and bread. 3. It is brand merchandising and eye-catching. With custom graphics wrapping the shelves, it is visual merchandising. And you can add your brand logo on the top. 4. there are fence to protect the bakery from dropping down. 5. Easy to move around. There are 4 casters under the base, which is easy to move around. As for the packing, it is a knock-down design.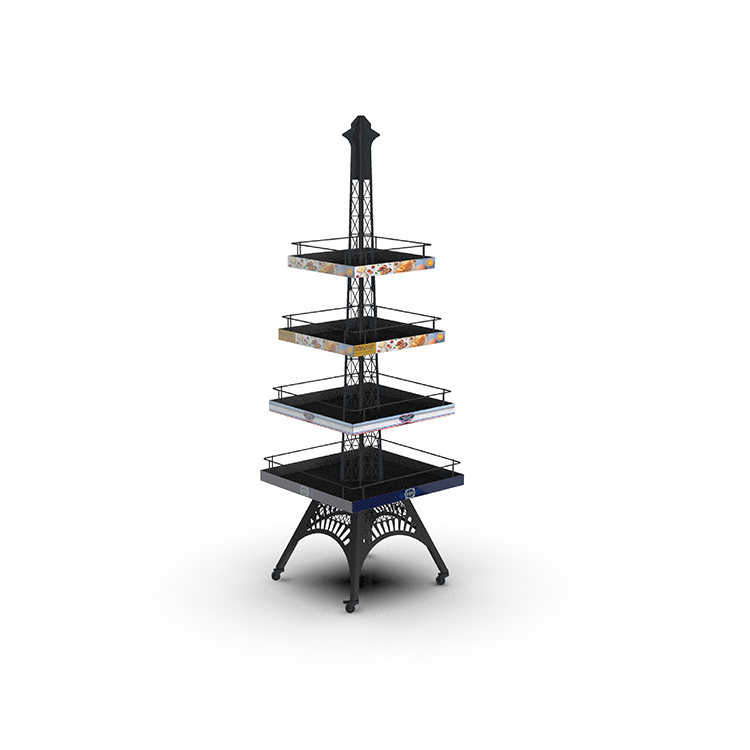 All the displays we made are according to clients' specific display needs. You can change the design, size, color, shape, logo, graphics and more to fit your brand culture and products.  You just need to send us a reference design or a draft, we will work out a solution for you.
BWS Displays is a factory with more than 20 years of experience, we can help you make the display you are looking for.
Below is how we make your brand bakery bread display.
1. We need to know your requirements first, such as what kind of bakery or bread you want to showcase and how many you need to showcase. What's the packing size and weight of the item? What material do you prefer, metal, wood, acrylic, cardboard, plastic, or mixed? We can make metal, wood, acrylic, and cardboard displays all in house. After you choose the material, what's the surface treatment? Powder coating or chrome, polishing or painting?
What's the structure? Floor standing, countertop, hanging. How many pieces you will need for potential? You send us your design or share with us your display ideas. And we can also make designs for you, too. BWS Displays can customize the design as per your request.
2. We will send you a rough drawing and 3D rendering with products and without products after you confirm the design. 3D drawings to explain the structure clearly. You can add your brand logo on the display, it can be stickier, printed, burned or lasered, gold stamped, or backlit. In this case, below is the drawing of the bakery bread display we made. After you confirm the design, we will quote you the exact price and prepare to make a sample for you.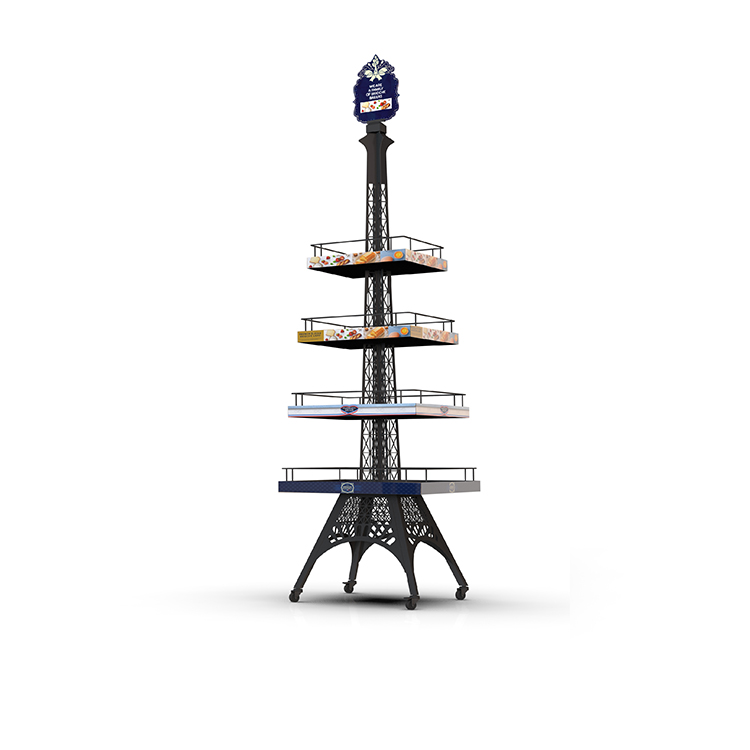 3. Making a bakery bread display sample is important because we need to make sure it meets your display needs. Our team will take photos and videos in detail and send them to you before delivering the sample to you. The sample will be finished within 7 days.
4. Express the sample to you and after the sample is approved, we will arrange the mass production according to your order. Mass production will be finished within 25-27 days. Normally, knock-down design is prior because it saves shipping costs.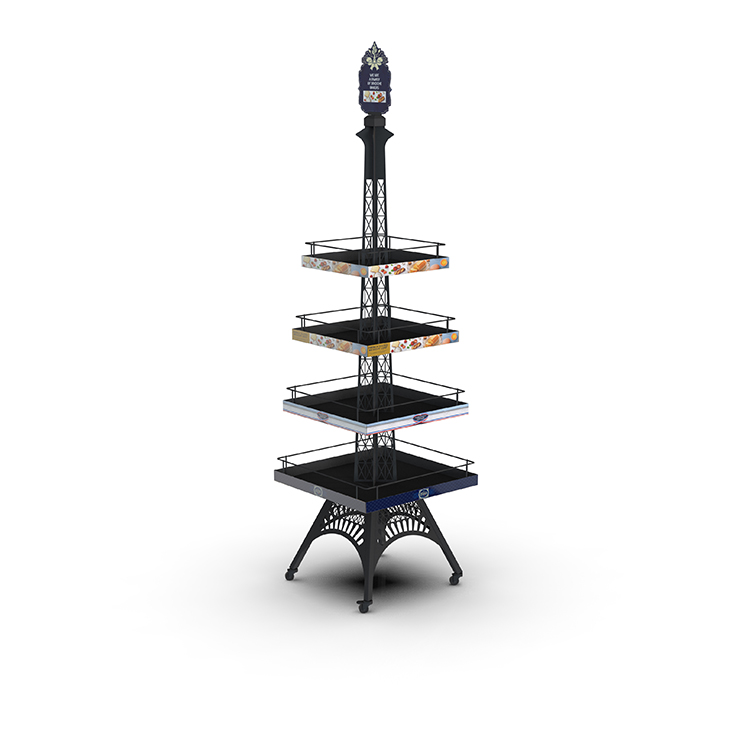 5. Control the quality and check all the specifications according to the sample, make a safe package, and arrange the shipment for you.
6. Packing & container layout. We will give you a container layout after you agree with our package solution. Normally, we use foam and plastic bags for inner packages and strips even protecting corners for outer packages, and put the cartons on pallets if necessary. A container layout is to make the best use of a container, it also saves shipping costs if you order a container.
7. Arrange shipment. We can help you arrange the shipment. We can cooperate with your forwarder or find a forwarder for you. You can compare these shipping costs before you make a decision.
8. We also provide photography, container loading, and lifetime after-sales service.
So if you have an idea for your bakery bread display, please feel free to contact us. We will be glad to help you turn your display idea into reality. If you do not have any idea, the below 6 other bakery bread displays may help you get some ideas to showcase your items.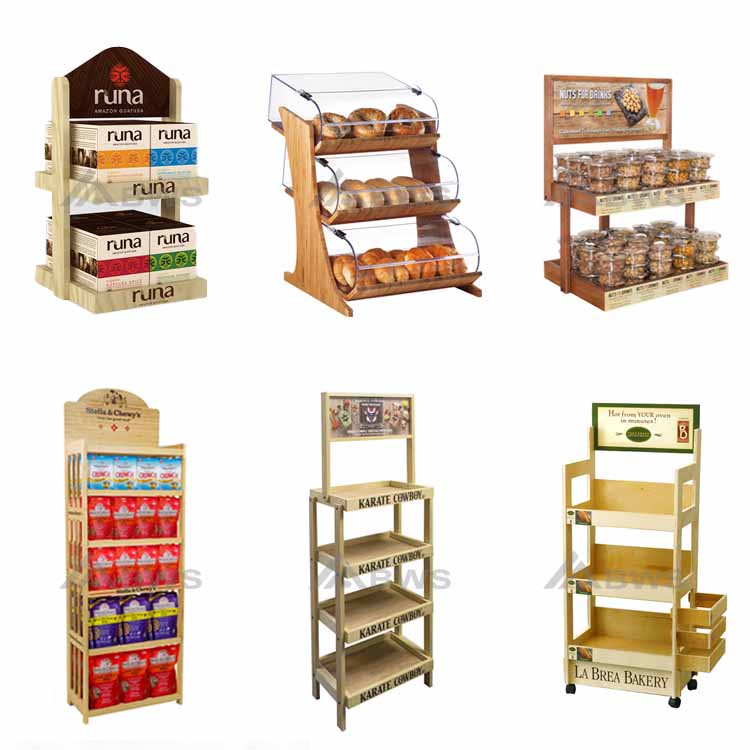 Contact us now, you will be happy if you work with us as they do.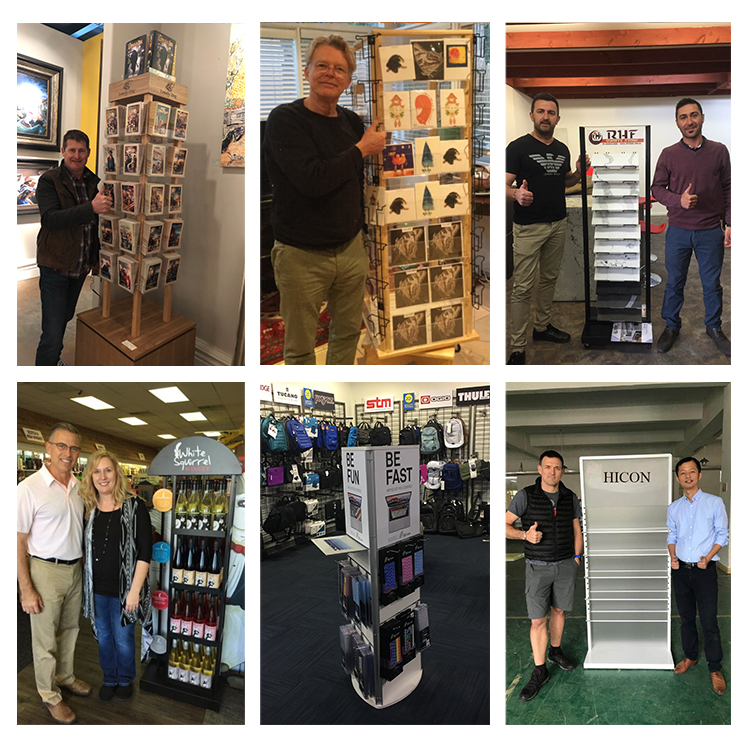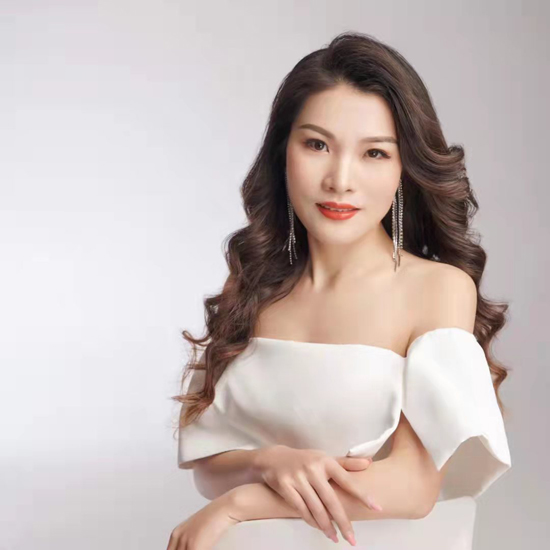 jessie huang
Love what we do and do what we love! Enjoy life, enjoy working in BWS DISPLAYS.