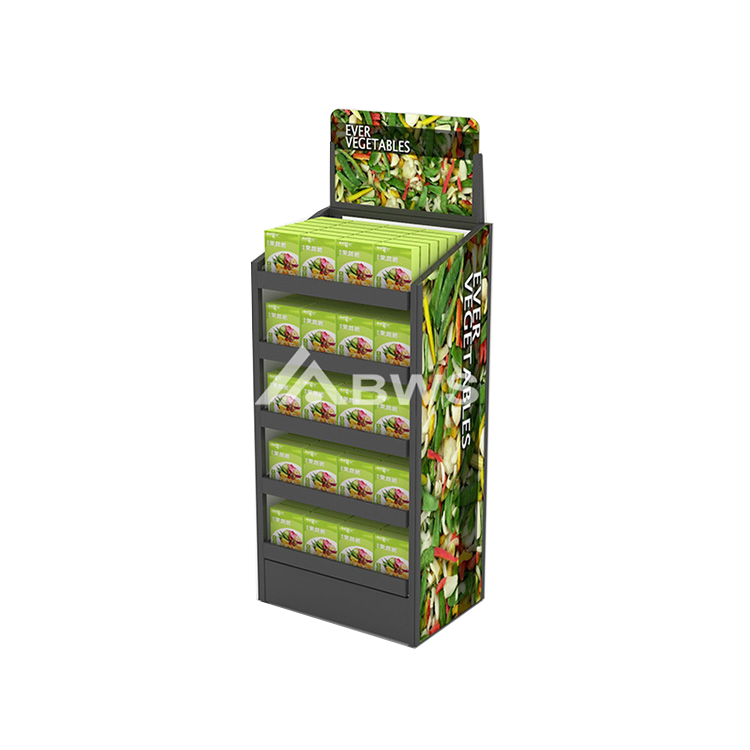 Safety Fruit And Vegetable Shop Displays 5-tier Food Display Stand
Order(MOQ):50
Payment Terms:EXW, FOB Or CIF
Product Origin:China
Color:Black
Shipping Port:Shenzhen
Lead Time:30 Days
Service:Customization Service, Lifetime After-sales Service.
How to display fruits and vegetables?
Fruit and vegetable shop displays are designed to showcase products in an attractive way. There are fresh fruits and vegetables, which keep them heaped up, filling every available space. Tilt containers and trays forward for visibility. And you also have some dry fruits which need to showcase in an eye-catching way. No matter what size your store is, your product sales are always going to be influenced by how you present your products.
Custom fruit and vegetable shop displays are efficient ways to present your products, they are also enhancing the look of your store. Today, we are going to share a 5-tier food display stand that can make a big difference in retail stores, it is not the same as commonly used fruit and vegetable shop displays.
In supermarkets or vegetable shops, use baskets tipped over on their side with produce spilling out onto the table to give an impression of abundance. Bring a set of clean produce boxes to stack together creating a two-tiered display table. But they need big floor space. On the contrary, this food display stand takes up small retail space but showcases more products.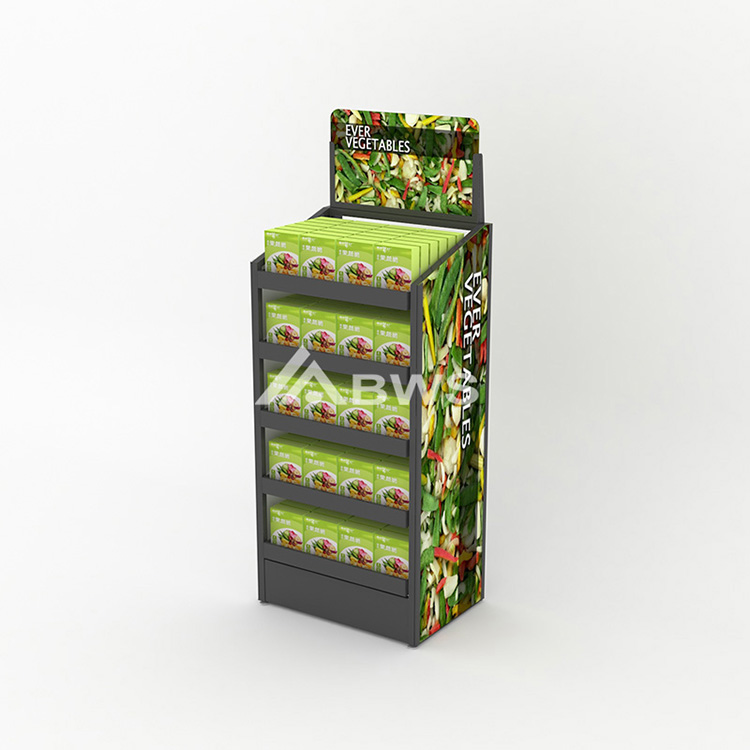 What are the features of this vegetable food display stand?
The first feature is space-saving and multi-function. This is one of the safety fruit and vegetable shop displays we have designed to display processed fruits and vegetables, such as dry fruits and dry vegetables, vegetable soup recipes and more. It is a 5-tier display stand with a base of 576*400mm only. You can put 4 of these displays in a CBM(cube meter), and there is space left. It can display more than ever vegetables, but also other dry fruits, nuts, snack foods and other products such as mugs, candles, etc.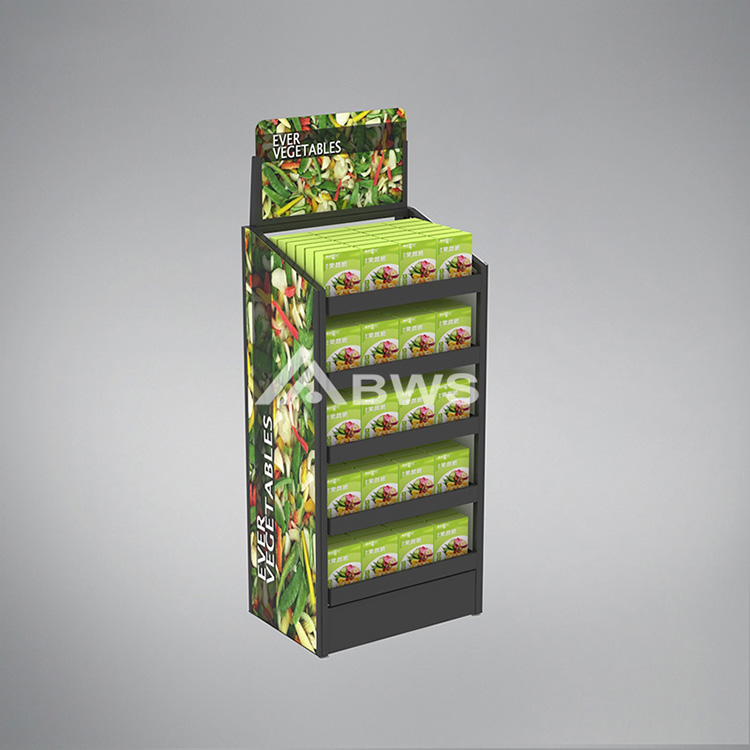 The second feature is strong and adjustable. It is the same as other fruit and vegetable shop displays, it is made of metal, which is strong and has a long life. It is powder-coated black, which is a classic color and easy to clean. But all 5 metal shelves are adjustable as there are many slots on the back frame. It can meet different display needs.
The third feature is cost-effectiveness. China has an advantage in iron, this food display stand is made of metal. Besides, we made two sides with metal frames to hold graphics, which saves material and cost is cheaper.
The fourth feature is it has a large capacity. It is a 5-tier display stand, with a height of 1471.6mm, which is easy for shoppers to get these products. It can display different products on every layer to meet different shoppers' tastes.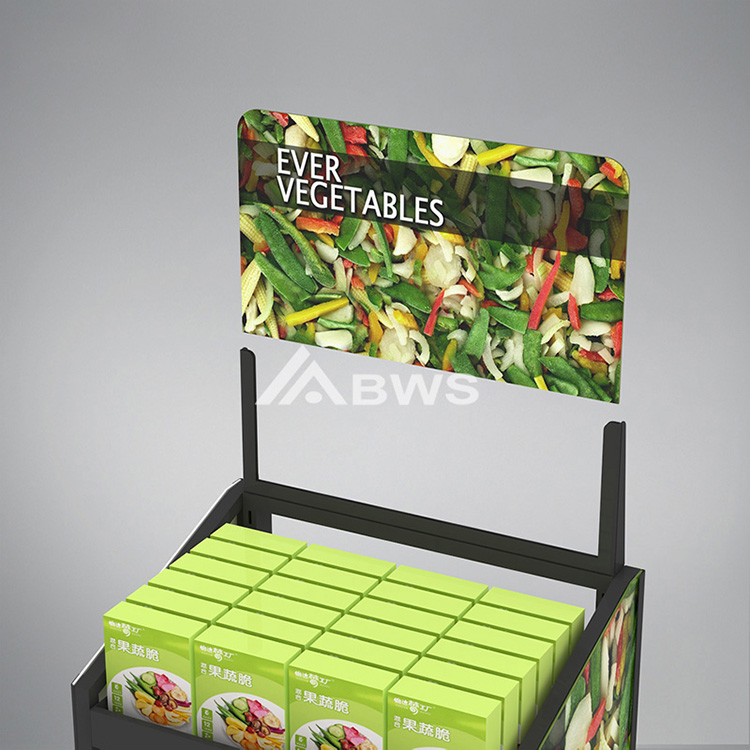 The fifth feature is eye-catching. As you can see there are custom colorful PVC graphics on two sides and the header. Shoppers are easy to attract by strong colors.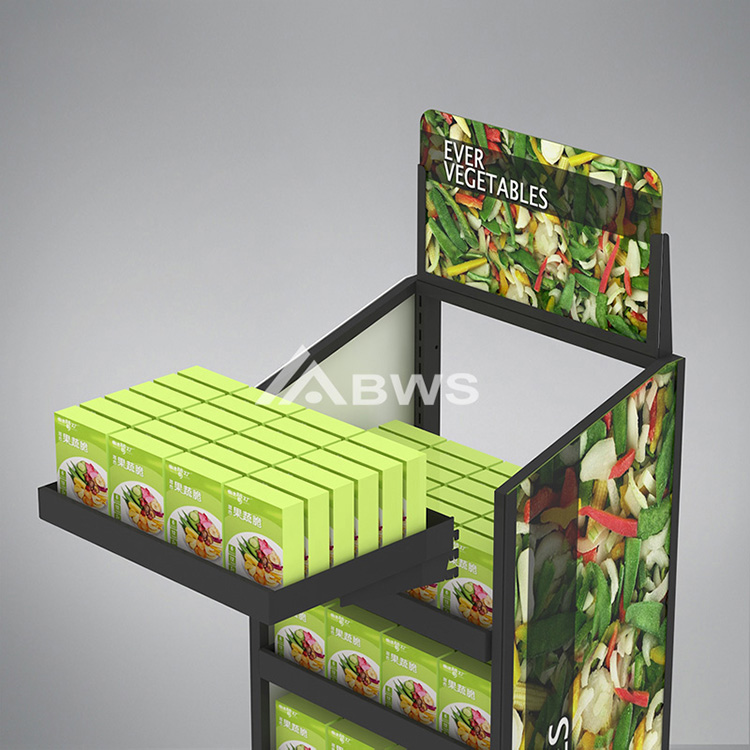 The last more important one is a knock-down construction. All the parts of this food display stand can be knocked down. They are combined with screws.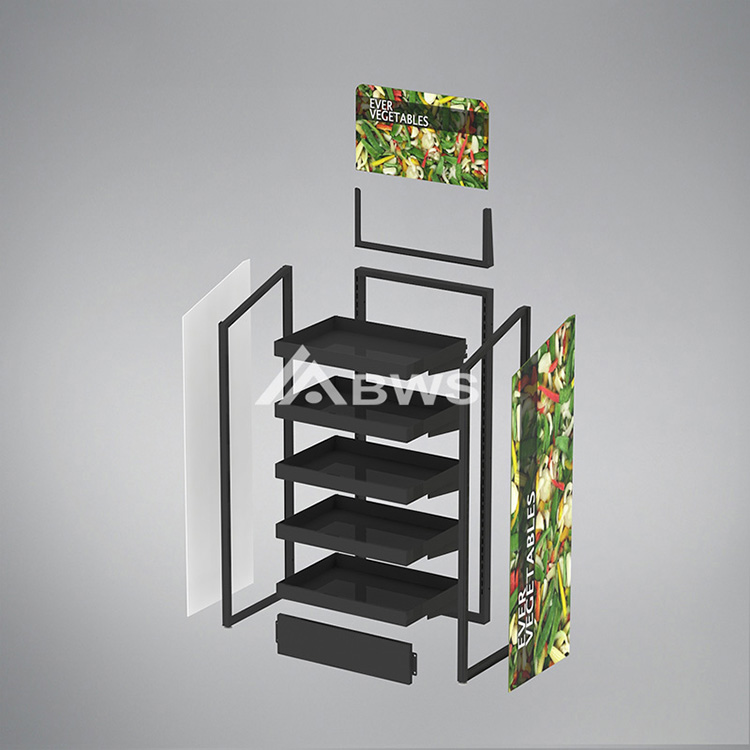 Of course, you can customize your fruit and vegetable shop displays, you customize the design, shape, tier, logo, color, size and accessories such as shelves, pegs, hooks or baskets. BWS displays Limited is a factory of custom displays with more than 10 years of experience, we can design and make the fruits and vegetable shop displays you are looking for. We make displays in wood, metal, acrylic as well as other materials, you can also LED lights, locks as well as LCD players.
How to make your fruit and vegetable shop displays?
All our displays are customized, there is no stock. No matter whether you need counter-top or floor-standing fruit and vegetable shop displays, we can make them for you. It is not difficult to make your brand fruit or vegetable shop displays, just follow below steps.
1. Understand your display needs. You can tell us your display idea, or send us a photo, a drawing or a reference design, we can design based on your requirements and know more about your products, such as product specifications, brand culture and more. If you can ship us samples, it will be more helpful.
2. Design and drawings. We will design and provide renderings and drawings to you. Below is the rendering for this food display rack, with products and without a product. You can make some changes or approve the design before we offer you a quotation. Below are some renderings for your reference vegetable display rack.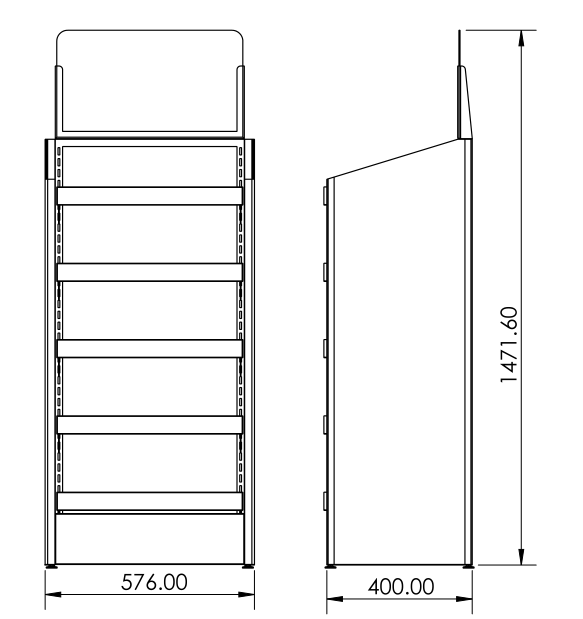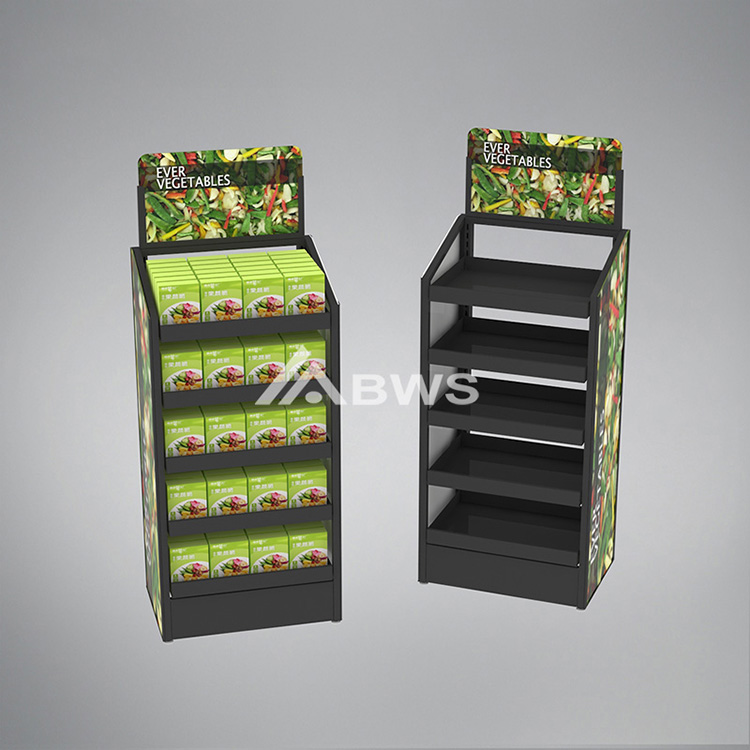 3. Make a sample. After you approve the design and price and place an order, we need to make sure this vegetable display rack is meet your needs as well as increases your brand influence and sales, we will make a sample for you. We will choose the right material and spend 7-10 days finishing the sample. We will take HD photos and videos before we ship the sample out to you.
4. Mass production. After the approved sample, our team will start producing your brand fruit and vegetable shop displays. Our Qc team will control all the details to make sure mass production is as good as the sample. At the same time, our project manager will follow up and update regularly. To make the best use of a carton and keep your displays safe, we also will provide package solutions before packing. We assemble the display rack and check the details, videos and photos will also be taken to send you.
5. Packing & container layout. We will give you a container layout after you agree with our package solution. Normally, we use foam and plastic bags for inner packages and strips even protecting corners for outer packages and put the cartons on pallets if necessary. A container layout is to make the best use of a container, it also saves shipping costs if you order a container. We provide drop tests of these fruit and vegetable shop displays before shipping too. And if you have a team for inspection, they will be welcome.
6. Arrange shipment. We also will help you arrange the shipment. We can cooperate with your forwarder or find a forwarder for you. You can compare these shipping costs before you make a decision.
7. After-sales service. We are not stopping after delivery. We will follow up on your feedback and solve your questions if you need any help.
Revenue in the Food market amounts to US$8.66tn in 2022. The market is expected to grow annually by 6.72% (CAGR 2022-2027). If you need more fruit and vegetable shop displays for reference, please contact us at any time, we can send you more.
Other food display racks
We make more than fruit and vegetable shop displays, but other food display racks.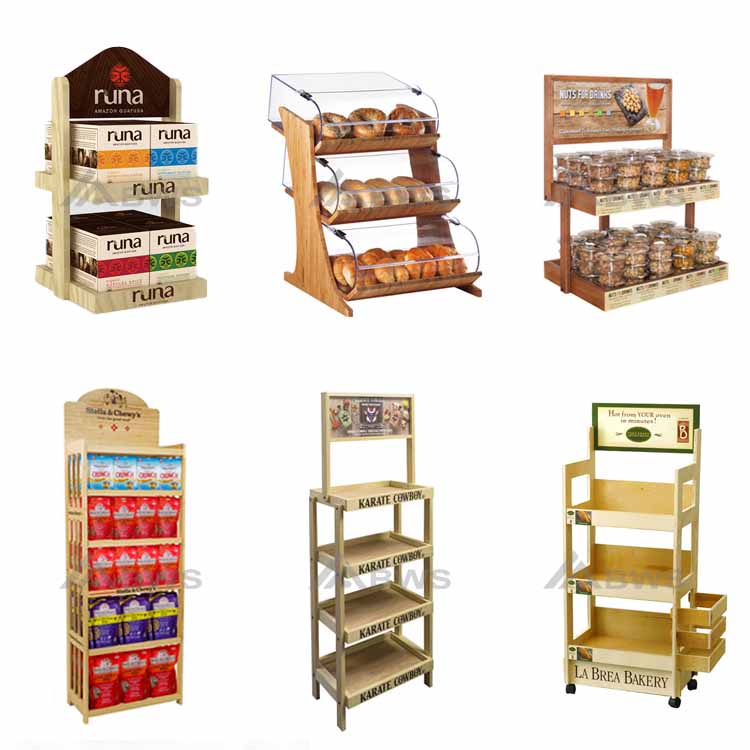 If you want to know more about us or try a sample with us, we are sure you will be happy as they do.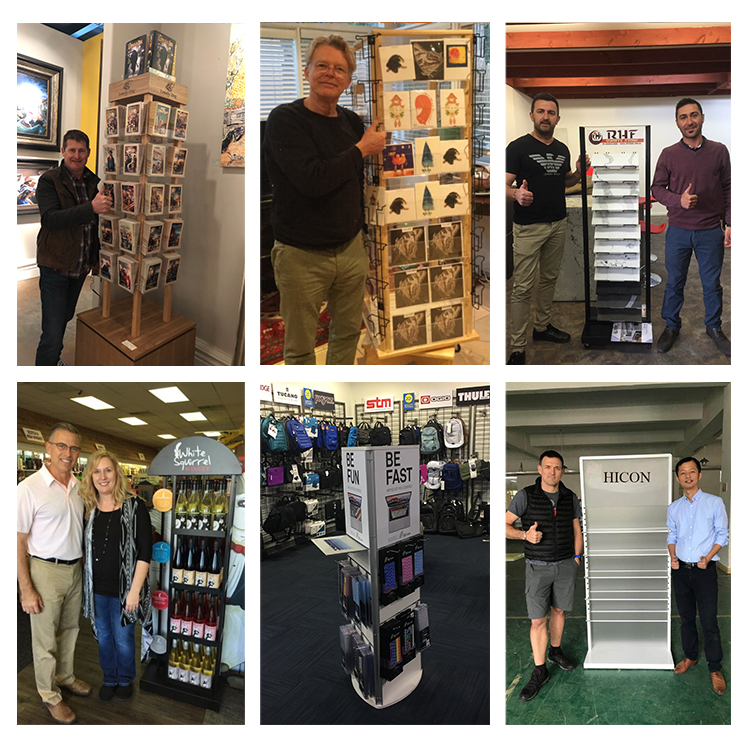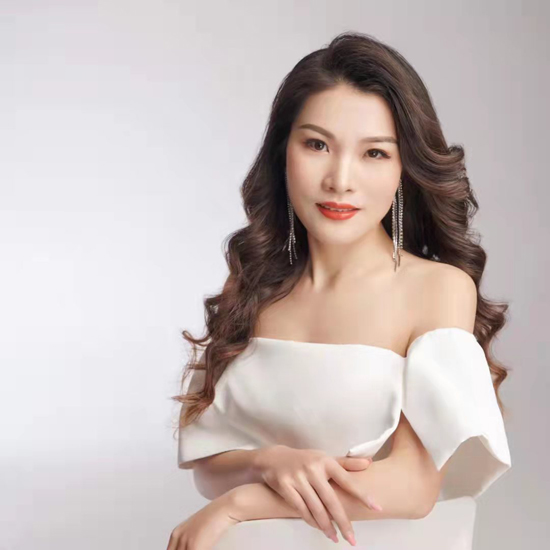 jessie huang
Love what we do and do what we love! Enjoy life, enjoy working in BWS DISPLAYS.