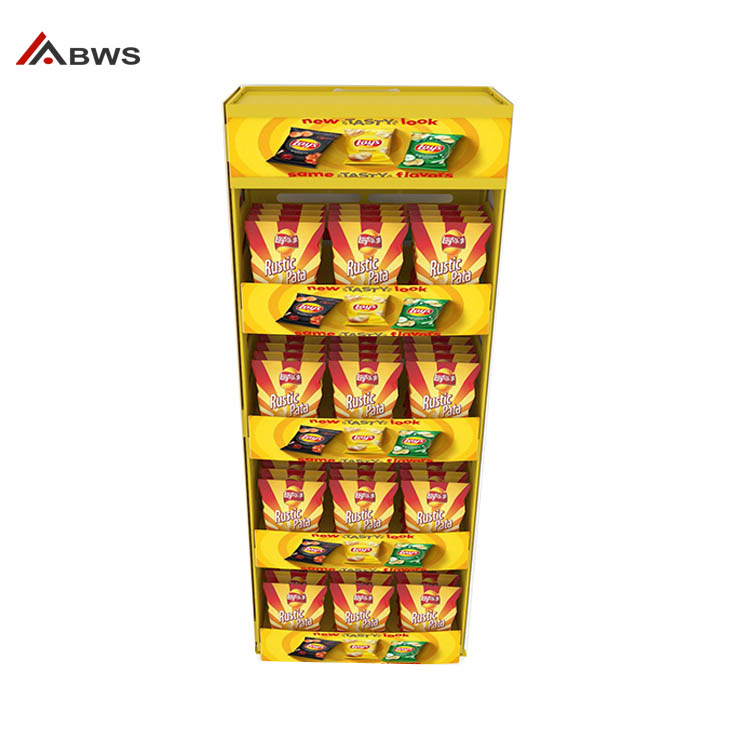 4-tier Food Display Rack Focused In-store Brand Merchandising
Order(MOQ):50
Payment Terms:EXW, FOB Or CIF
Product Origin:China
Color:Yellow
Shipping Port:Shenzhen
Lead Time:30 Days
Service:Customization Service, Lifetime After-sales Service.
How to display food on a tiered rack?
4 tier food display rack is a nice design in which you can display food products. You can display different food products in each tier or you can display different tastes of the same food products in each tier. In this way, the food products are classified and the shoppers can get what they like easily.
Today we share with you another food display rack for Lay's, we posted a 2-layer display stand for Lay's, if you are interested, please click snack display stand. As we all know, Lay's is the perfectly crispy chip that has been America's favorite snack for more than 75 years. Lays target every segment of society which includes every age group and every gender. It's the snack that is everyone's favorite. Its various flavors help its diverse audience to choose from a varying number of options. As chips were a staple diet in America, they soon started to be eaten by all.
Potato chips are one of the most convenient food options currently available for people to keep pace with their busy lifestyles. It shortens the meal preparation time and can be served in the form of a quick snack or part of the meal. Crisps are savory snacks that are particularly popular in Western countries, they constitute a significant part of the snack food market. And custom food display rack is one of the effective ways for in-store brand merchandising.
What are the features of this food display rack?
This food display rack is a floor-standing design that can display food products in 4 tiers. As China is the second market for snack food, this food display rack is designed for China retail stores. So you can see the Chinese brand on the sides graphics. The construction is not complicated, and the material is metal with digitally printed graphics. The shelves are detachable and there are graphics on the shelf barriers. The finishing of the metal frame and shelves is powder coating in yellow which matches the brand image. Besides, the yellow color is positive and attractive, which can get more attention.

How to make a tired food display rack?
At BWS Displays, you will find it is easy to make a tired food display rack, no matter you need a single tier or multilayer display. We are here to work it out for you.
We are professional in custom displays, so you can decide the material, size, shape, style and more after you share with us your snack package and how do you like to showcase your food products.
After knowing your needs,  the first important step is designing. Our team will work out the rough drawing and 3D rendering from different angles with products and without products within 2 days, and our sales will send it to you for confirmation.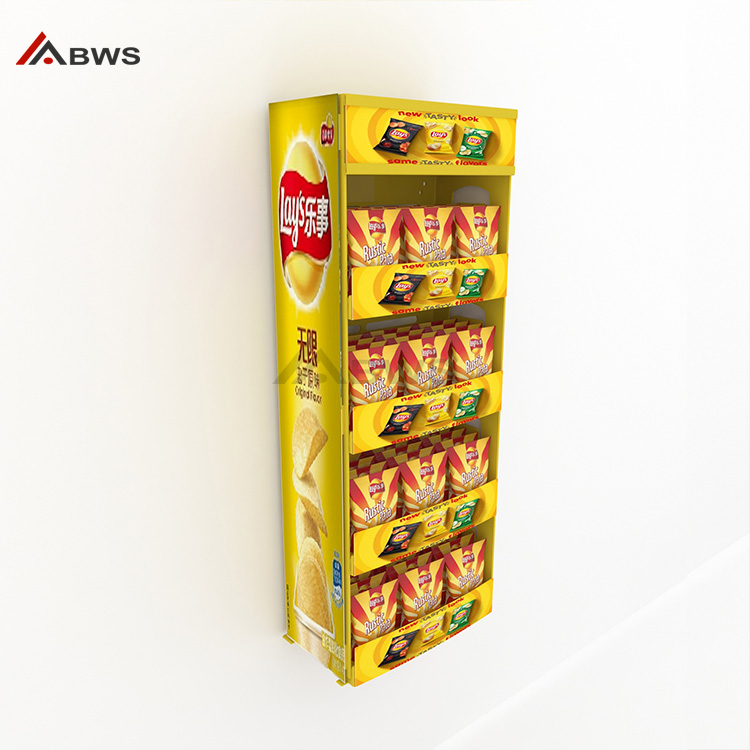 This is the right of the display stand, you can see side graphics are luring people to try some potato chips.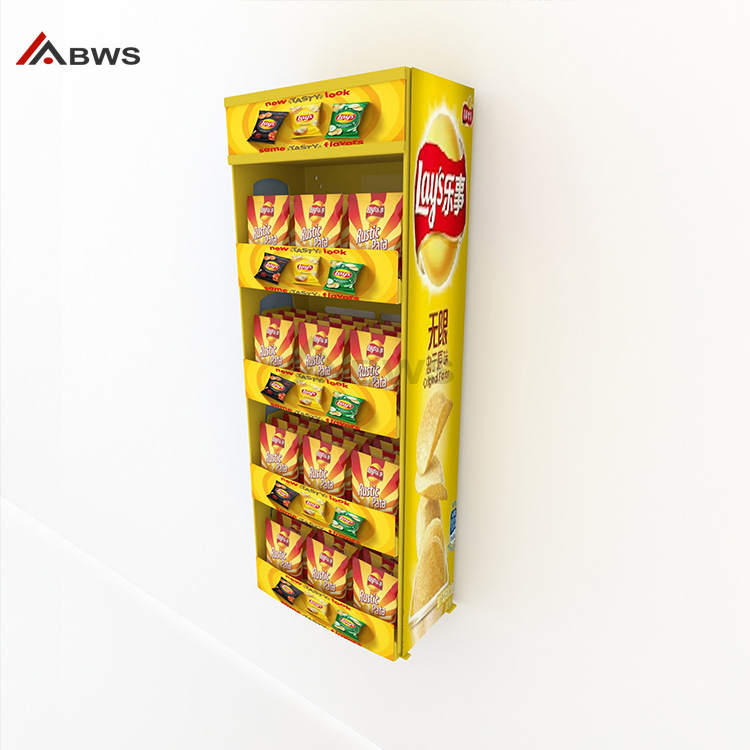 This is the left side of the display stand with potato chips.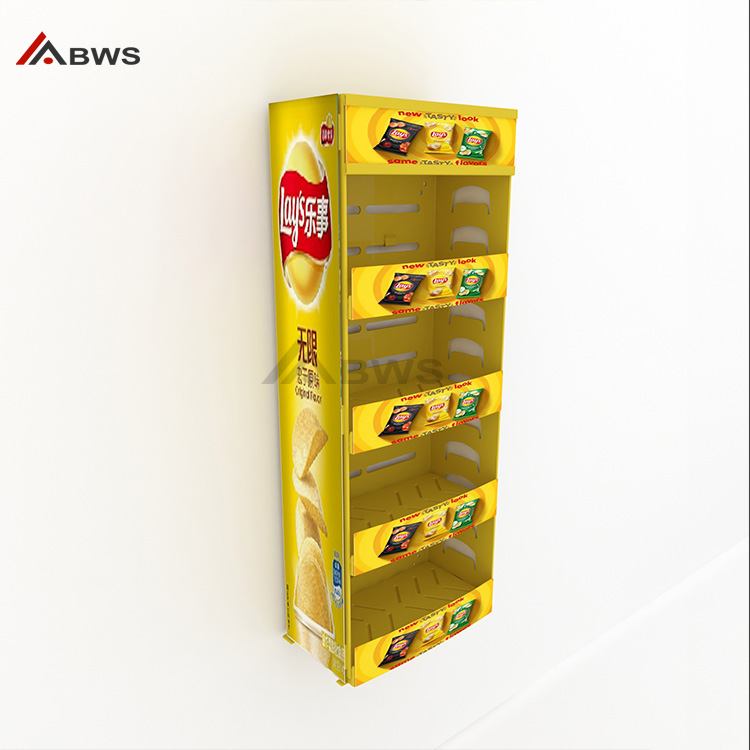 This is the rendering without products.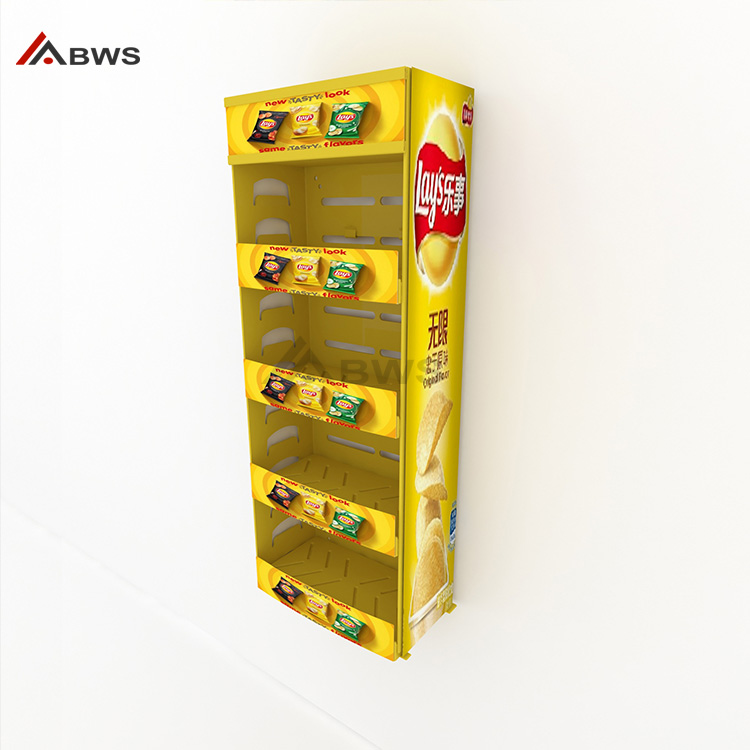 You can see the construction better from this rendering.
Secondly, If you need to modify the design, it will be finished within 48 hours. When the design is approved, and your sample order is placed, we will make a sample for you. It always takes 5-7days to finish the sample.
Thirdly, we will measure the food display rack dimension, check the construction, and surface finishing, and then assemble and test the sample to make sure everything meets your requirements. During this process, we will take photos and videos which will show you what the sample looks like before expressing the sample to you.
Fourthly, only the sample is approved, we will arrange the mass production. Normally we suggest a knock-down package to save packing costs and shipping costs. But you do not need to worry about the assembly as we provide assembly instructions within the package. For this design, it is a knock-down food display rack.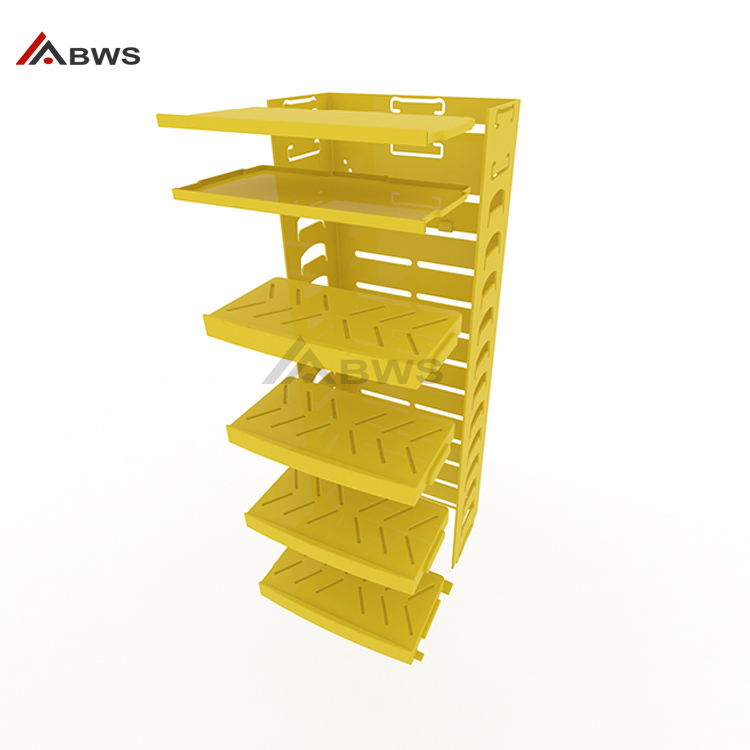 This shows the construction of the food display rack well. It is a knock-down design.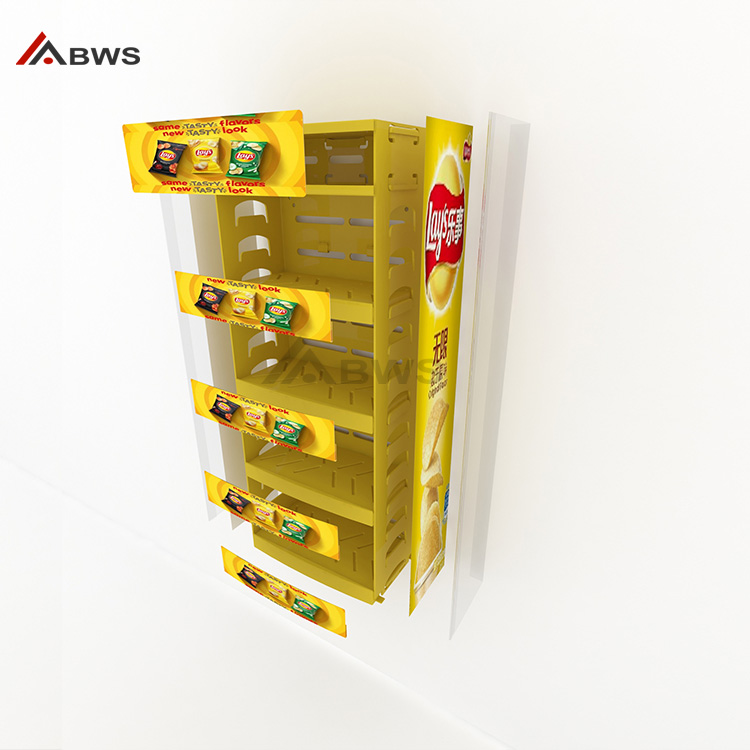 And this shows how the graphics are added to the display rack. And you can change the graphics to be your own brand, which increases brand impression.
Do you have other food display rack designs?
Yes, please find 6 designs which are made in different materials. We are a factory that produces custom displays in different materials, metal, wood, cardboard, acrylic and more. We can meet your different display needs.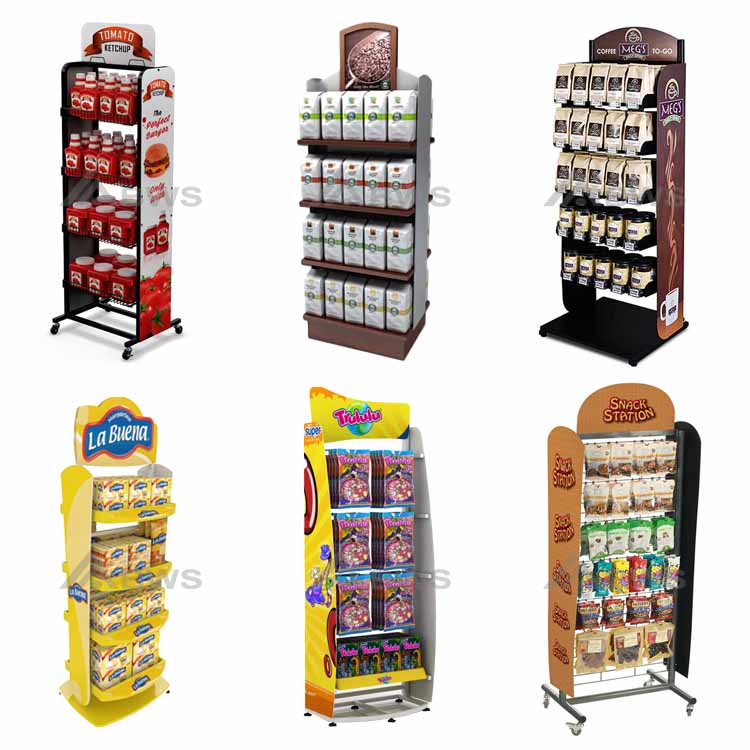 If you want to get more information or try your next project with us, feel free to contact us now. You will be happy as they do.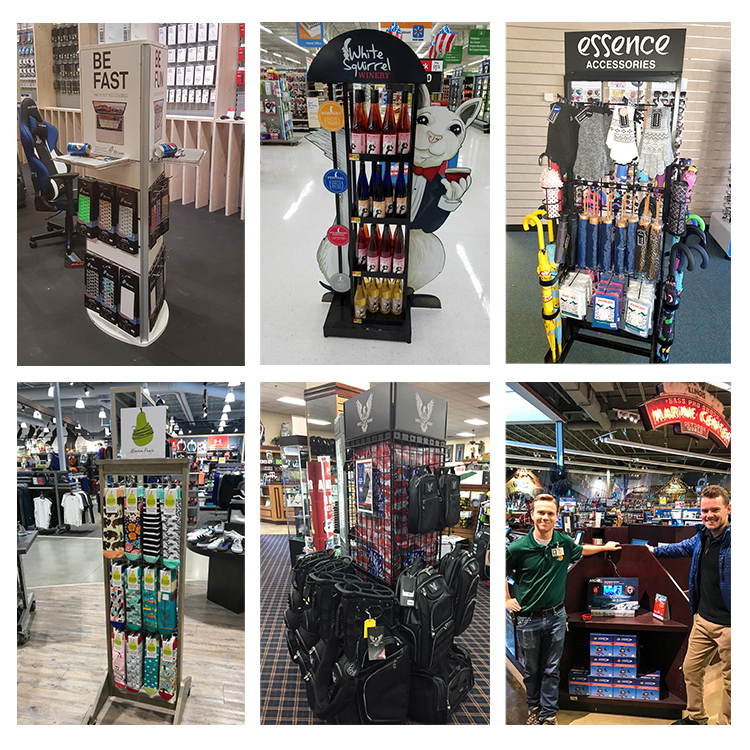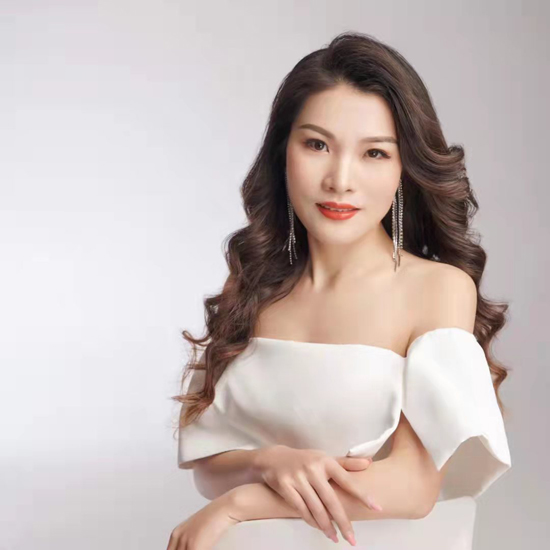 jessie huang
Love what we do and do what we love! Enjoy life, enjoy working in BWS DISPLAYS.