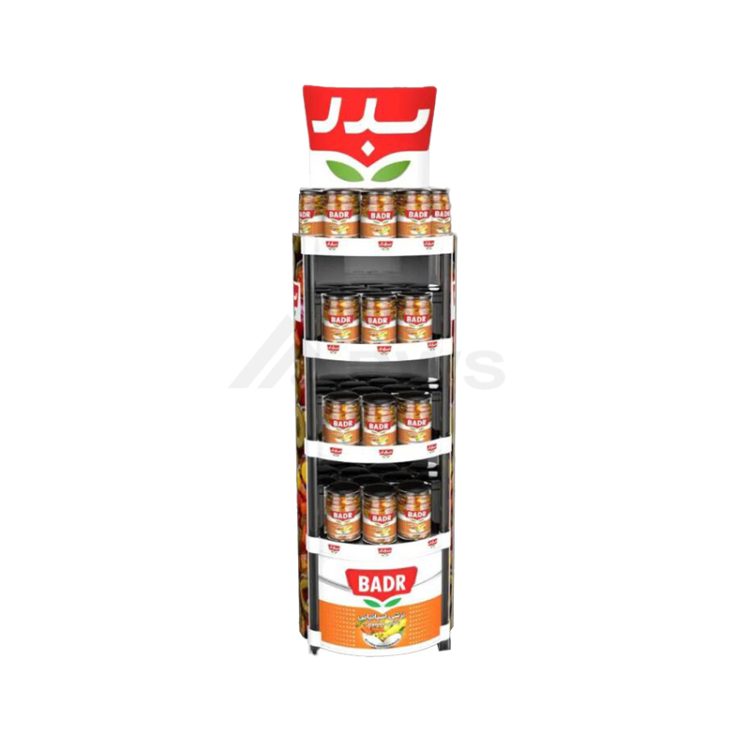 4-Tier Food Display Stand Attractive Tea Bag Display Rack Movable
Order(MOQ):50
Payment Terms:EXW, FOB Or CIF
Product Origin:China
Color:Gray
Shipping Port:Shenzhen
Lead Time:30 Days
Service:Customization Service, Lifetime After-sales Service.
What is the food display stand for?
Custom food display stands refer to display fixtures used in retail spaces to showcase food products. These display fixtures include display racks, display stands, display shelves, display cases, display boxes, and cabinets. BWS Displays is a factory of custom displays, we can make all these display fixtures according to your needs. Today, we are sharing a tea bag display rack.
The global tea market was valued at around 207.1 billion U.S. dollars in 2020 and is expected to rise to 266.7 billion dollars by 2025. Tea has a long history of popularity worldwide. There are Green Tea, Black Tea, Oolong Tea, Fruit/Herbal Tea, and Others. Because tea is rich in antioxidants that lower the risk of heart disease, promote weight loss, and protect against cancer as it contains healthy bioactive compounds.
Tea is also rich in nutrients such as vitamin C, B6, B12, and E and minerals such as potassium, calcium, magnesium, and others. More and more people drink tea. So tea bags, tea sets, and tea drinkware are increasingly popular. Displaying tea bags in a unique way is also important to win the competition.
What are the features of this food display stand?
This food display stand is for tea bags, it is made of metal and PVC which is freestanding. There are 4 shelves where you can showcase tea bags or tea tins. There is a brand logo on the header and shelf fenders. Besides, custom graphics are on two wings, back and base. It is visual merchandising. Furthermore, it is movable with 4 casters. It works well in hypermarkets/supermarkets, specialty stores, and convenience stores.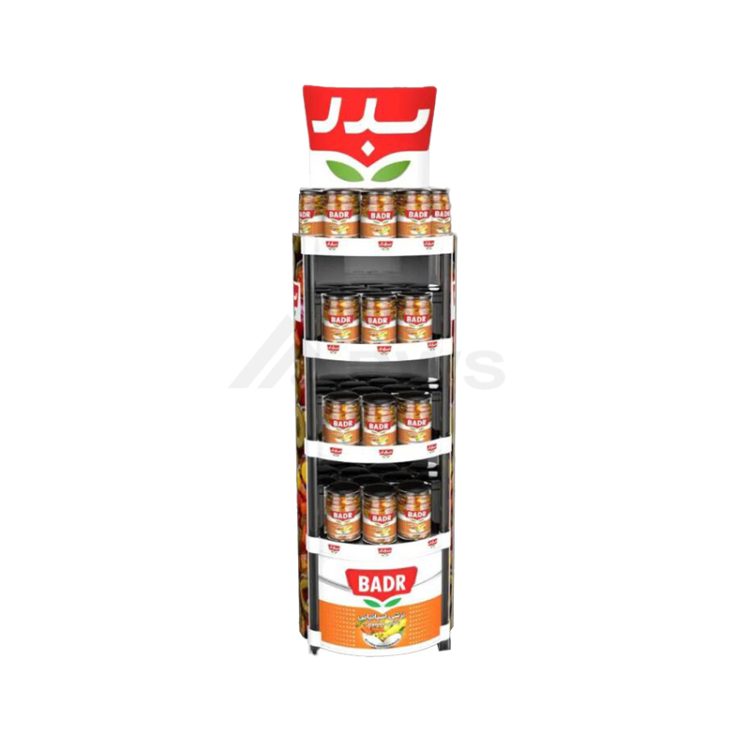 This food display stand is customized, you also can make your brand display stand. You can customize the size, shape, color, logo, material, style, etc. And we can help you with product development and design your logo too.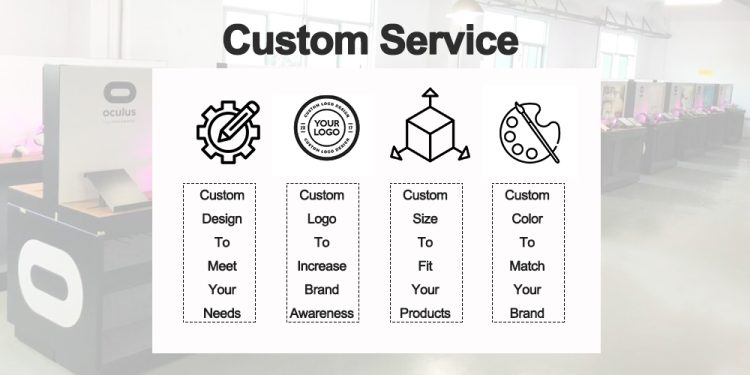 How to make your brand food display stand?
All displays we made are customized, and it is easy to make your brand food display stand. There are several steps.
1. We need to know your requirements first, such as what's the size of your items in width, height, and depth. And we need to know below basic information. What's the weight of the item? How many pieces you will put on the display? What material do you prefer, metal, wood, acrylic, cardboard, plastic or mixed?
What's the surface treatment? Powder coating or chrome, polishing or painting? What's the structure? Floor standing, countertop, hanging. How many pieces you will need for potential? You send us your design or share with us your display ideas. And we can also make designs for you, too. BWS Displays can customize the design as per your request.
2. We will send you a rough drawing and 3D rendering with products and without products after you confirm the design. 3D drawings to explain the structure clearly. You can add your brand logo on the display, it can be stickier, printed, burned or lasered, gold stamped, or backlit.
3. Make a sample for you and check everything about the sample to make sure it is meet your display needs. Our team will take photos and videos in detail and send them to you before delivering the sample to you. The sample will be finished within 7 days.
4. Express the sample to you and after the sample is approved, we will arrange the mass production according to your order. Mass production will be finished within 25-27 days. Normally, knock-down design is prior because it saves shipping costs.
5. Control the quality and check all the specifications according to the sample, make a safe package and arrange the shipment for you.
6. Packing & container layout. We will give you a container layout after you agree with our package solution. Normally, we use foam and plastic bags for inner packages and strips even protecting corners for outer packages and put the cartons on pallets if necessary. A container layout is to make the best use of a container, it also saves shipping costs if you order a container.
7. Arrange shipment. We can help you arrange the shipment. We can cooperate with your forwarder or find a forwarder for you. You can compare these shipping costs before you make a decision.
We also provide photography, container loading, and lifetime after-sales service.
If you need have any questions, you can contact us any time.
Why Choose us to make your food display stand?
BWS Displays has worked for many brands, such as Pepsi, Coca-Cola, Blue Q, Addidas, Nike, Nivea, Happy socks, Energizer, and much more. We are sure you will benefit from our experience and the custom pop displays will help you sell more and build your brand.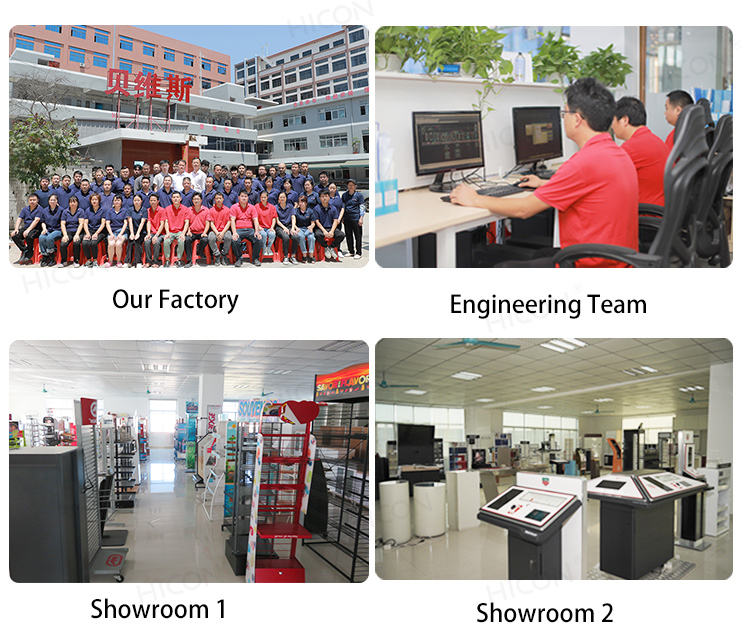 Our factory is over 30,000 square meters, and there are more than 300 workers. Our project managers can communicate with oversea customers directly to improve efficiency and accuracy. We take care of quality, we know the quality custom displays stand for the quality product you sell. If there are quality problems because of us, we guarantee compensation and free replacement.
So if you need food display stands, contact us now. You will be happy when you work with us. If you do not know what kind of food display stand you need, maybe these designs will give you some ideas. For more designs, contact us now.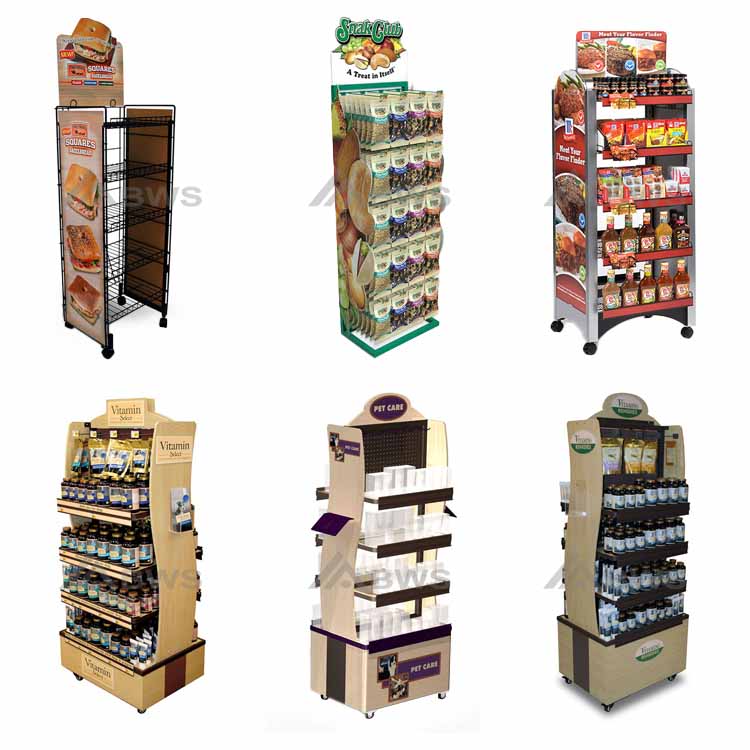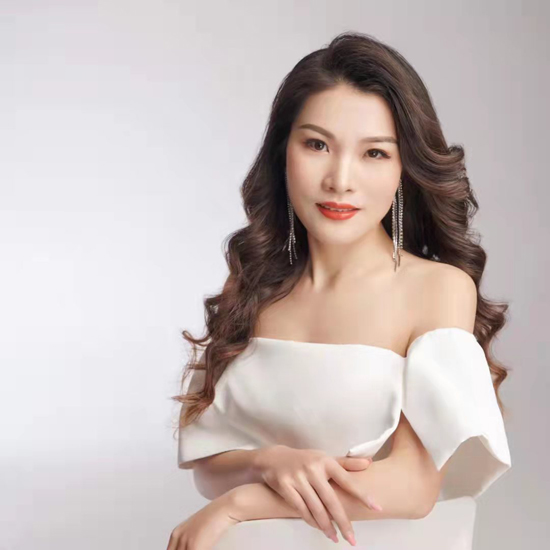 jessie huang
Love what we do and do what we love! Enjoy life, enjoy working in BWS DISPLAYS.