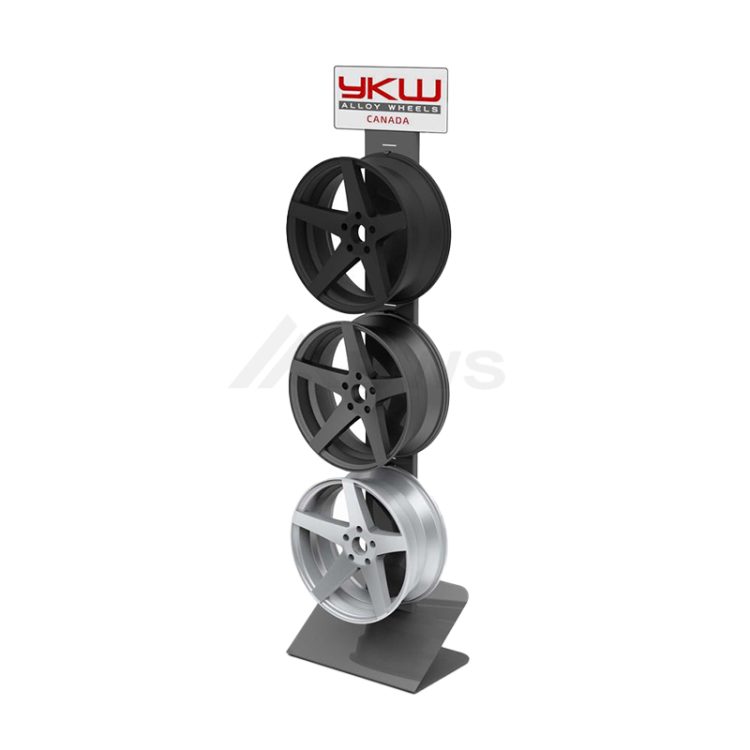 Nice Bold 3-Tier Wheel Display Rack Gray Floor Standing Metal Rack
Order(MOQ):50
Payment Terms:EXW, FOB Or CIF
Product Origin:China
Color:Gray
Shipping Port:Shenzhen
Lead Time:30 Days
Service:Customization Service, Lifetime After-sales Service.
What is a wheel display rack?
A wheel display rack is a store fixture that works at car products stores to showcase wheel products. Because wheels are made of metal or other hardware, they are kind of heavy. Most wheel display racks are made of metal which can bear the weight.
Due to the automotive industry's growth, the North American market is predicted to have the largest market share in the global automotive wheel rims market accounting for 25% of the total market share in 2022. It has registered skyrocketing growth with a CAGR of 6% over the assessment period from 2022 to 2032.
Today, we are sharing with you a wheel display rack to get all attention to the wheels and increase brand awareness. BWS Displays is a factory of store POP display fixtures, our core competence is to design and make custom displays to meet your display needs.
What are the features of this wheel display rack?
This wheel display rack is freestanding and is made of metal with custom graphics. It is designed for YKW in a Z shape, but it is strong enough and stable. Furthermore, it can display 3 rims at the same time. The brand logo header is detachable, which is easy to change according to your display needs.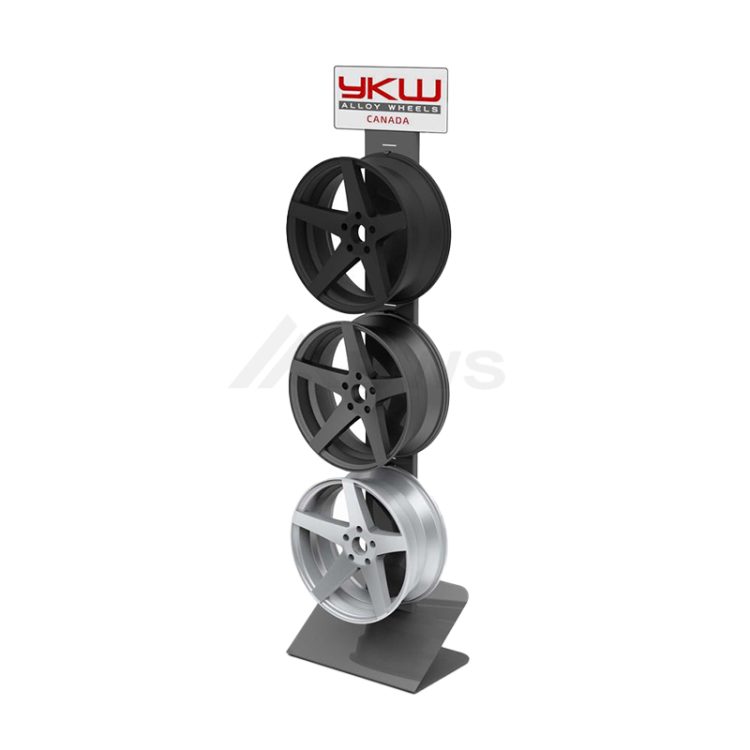 You can change the design according to your needs, including the shape, color, material, fishing, and logotype. Below here are two designs that may give you an idea to make your wheel display rack.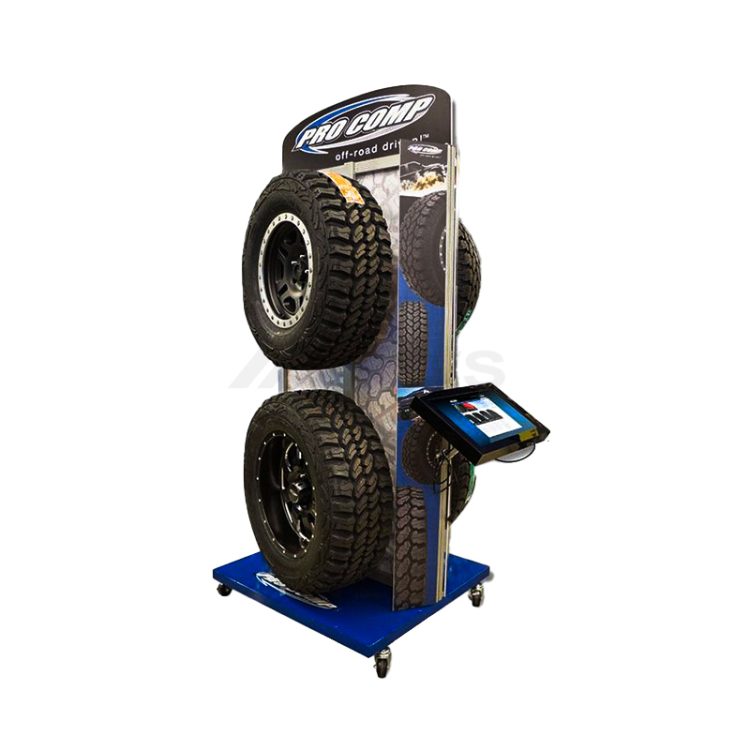 This is a movable tire display stand with an LCD screen, it is double-sided to showcase 4 tires at the same time. Custom graphics are attractive, and so does the arc header. It is in blue color, which matches the brand logo well. It is brand building.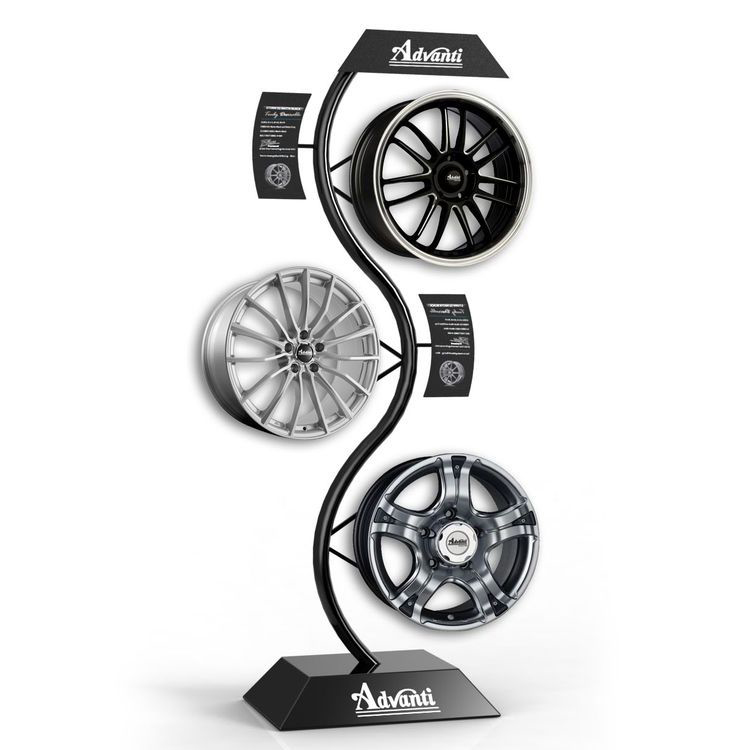 This wheel display rack design is special, it is dancing. It also can showcase 3 wheels at the same time. The black color with the white screen-printed brand logo is simple but impressive. And there are two signages to share wheel features, which are really nice for buyers. If you need more designs or more wheel display rack designs, you can contact our sales.
How to make your custom wheel display rack?
1. We need to know your requirements first, such as what's the size of your wheels in width, height, and depth. And we need to know below basic information.
What's the weight of the wheel? How many wheels you will put on the display? What's the surface treatment? Powder coating or chrome? What color do you like? How many pieces you will need for potential? You send us your design or share with us your display ideas. And we can also make designs for you, too. BWS Displays can customize the design as per your request.
2. We will send you a rough drawing and 3D rendering with products and without products after you confirm the design. 3D drawings to explain the structure clearly. You can add your brand logo on the display, it can be stickier, printed or burned, or lasered.
3. Make a sample for you and check everything about the sample to make sure it is meet your display needs. Our team will take photos and videos in detail and send them to you before delivering the sample to you.
4. Express the sample to you and after the sample is approved, we will arrange the mass production according to your order. Normally, knock-down design is prior because it saves shipping costs.
5. Control the quality and check all the specifications according to the sample, make a safe package and arrange the shipment for you.
6. Packing & container layout. We will give you a container layout after you agree with our package solution. Normally, we use foam and plastic bags for inner packages and strips even protecting corners for outer packages, and put the cartons on pallets if necessary. A container layout is to make the best use of a container, it also saves shipping costs if you order a container.
7. Arrange shipment. We can help you arrange the shipment. We can cooperate with your forwarder or find a forwarder for you. You can compare these shipping costs before you make a decision.
We also provide photography, container loading and after-sales service.
Why choose BWS Displays to make your wheel display rack?
BWS Displays is a factory with more than 20 years of experience. With over 3500 customers, we serve a mix of large nationally recognized brands and retailers to smaller emerging brands and retailers. We worked for Pepsi, Google, Nike, Adidas, Oakley, and much more.  Our displays include sunglasses displays, shoe displays, drinks displays, wine displays, electronic displays, tile displays, and much more.
We know these are what you care about.
1. Quality  We have a quality system and there are QA and QC departments to make sure the quality is good. All product display surfaces shall be smooth enough. Displays shall be packaged for shipment in such a manner as to minimize possible damage in shipment. Assembly instructions shall be clear and well-written. An exposed view showing correct assembly. The sequence should be provided. If there is any problem with the displays, we will take responsibility and replace them if necessary.
2. Leadtime  We provide samples within 5-7 days, and mass production within 25-30days according to the order quantity. We do not delay because we schedule well.
3. Payment  We accept a 50% deposit and balance before delivery for the first order and can make some changes when we trust each other. You can pay it through Alibaba or a wire transfer.
4. Service  We provide free design solutions, and we will provide you with a 3D rendering for free. During the production process, we will take videos and photos for you before delivery. Besides, our sales will reply to you within 12 hours and we can have video calls to confirm engineering questions. If you have any questions or need help with custom displays or other products in China, we can help you too.
We are sure you will be happy when you work with us. Contact us anytime if you need a custom display idea or display.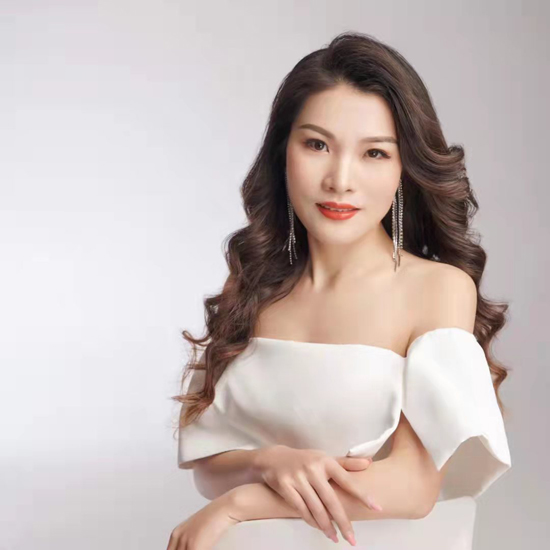 jessie huang
Love what we do and do what we love! Enjoy life, enjoy working in BWS DISPLAYS.