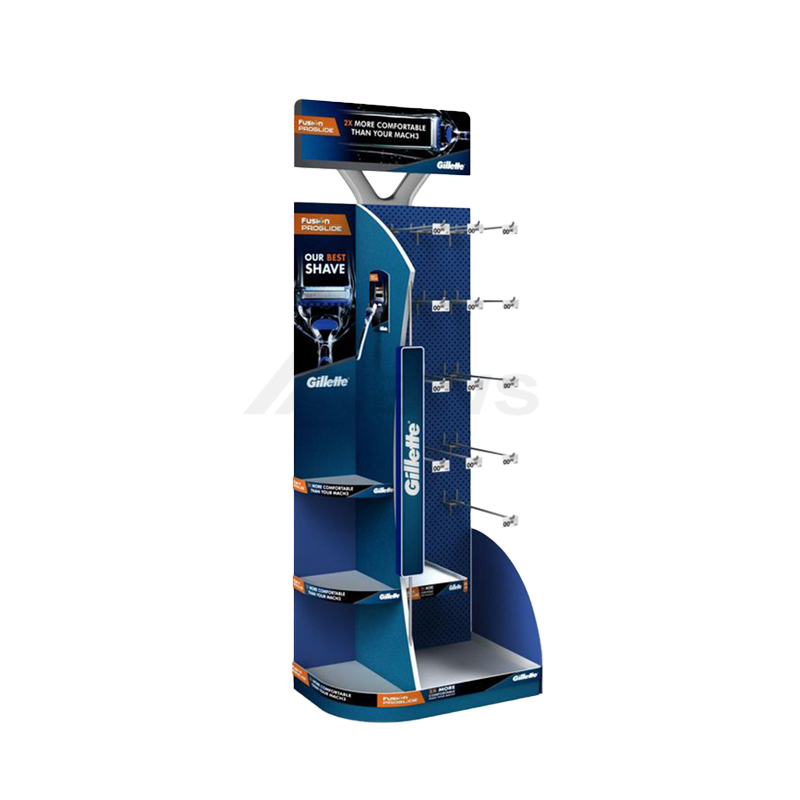 Multiple Straight Razor Display Stand 3-Tier Shaver Display Fixture
Order(MOQ):50
Payment Terms:EXW, FOB Or CIF
Product Origin:China
Color:Blue
Shipping Port:Shenzhen
Lead Time:30 Days
Service:Customization Service, Lifetime After-sales Service.
What is a razor display stand?
A razor display stand is designed to showcase shavers, blades, aftershave lotion, and creams. They are in different designs and sizes, these razor displays stand have custom brand graphic and logo. The global razors and blades market is estimated at US$ 3267.26 million in 2022 and is projected to reach US$ 4372.7 million by 2032, at a CAGR of 3.0% from 2022 to 2032. The demand share of the razor and blades market in the men's shaving market is approximately 33%-35%.
Today we are sharing with you a floor display stand for Gillette, which has been around for more than 115 years, built on the values of quality, innovation and trust.
What are the features of this razor display stand?
The first feature is stable and strong. It is a floor stand straight razor display stand and is made of metal and wood. The second feature is merchandising. The blue color is eye-catching. The third feature is functional. This razor display stand can showcase multiple shavers and aftershave lotion. Half of the display is with shelves, which is good for showcasing face washers and beard oil, shaver sets. The other half which has a pegboard back panel is good for hanging razors. The hooks are adjustable and detachable.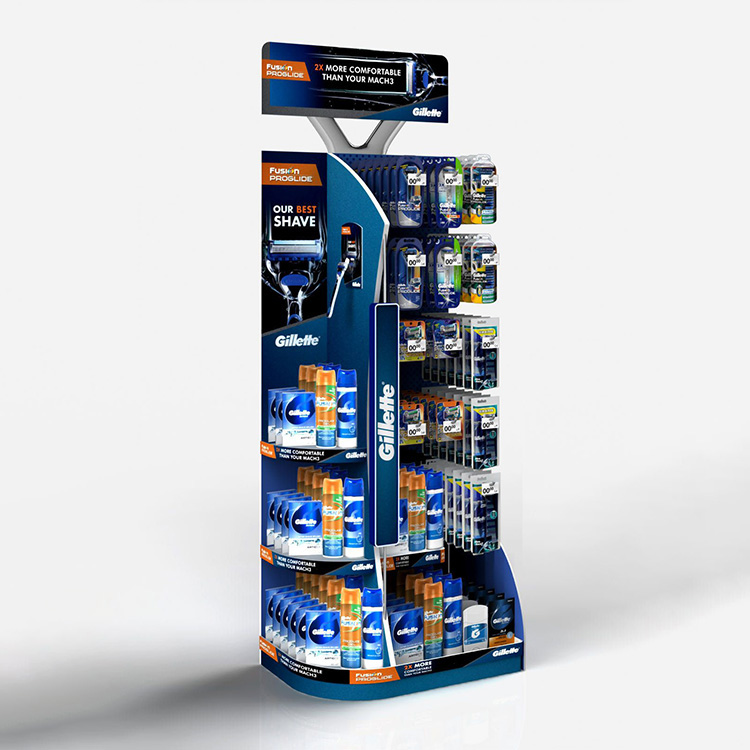 The fourth feature is this razor display stand is improving brand awareness. The header is with brand logo, so do the back panel, the base, the middle land and on hooks. They all leave a deep impression on shoppers. The fifth feature is a small package. It is in a knockdown design. We provide assembly instructions, so you can assemble these razor display stand easily by following the steps.
Of course, because all displays we made are customized, you can change the design in color, size, design, logotype, material and more. It is not difficult to make your brand razor display stand. Our core competence is custom displays, we can turn your display ideas into reality.
How to make your brand razor display stand?
1. We need to know your product specification by getting answers to these questions.
What's the size of your item in width, height, depth? What's the weight of the item? How many pieces you will put on the display? What kind of material do you prefer, different materials have different surface treatments, such as powder coating or chrome, painting or polishing? What's the structure, floor standing, countertop, hanging? And how many pieces you will need for potential? And then our team will work out the right solution for you.
2. We will send you a rough drawing and 3D rendering with products and without products after you agree with our display solution.
3. Make a sample for you and check everything about the razor display stands to make sure it is meet your needs. Our team will take photos and videos in detail and send them to you before delivering the sample to you. It takes 5-7 days to make a sample as it is hand-made.
4. Express the sample to you and after the sample is approved, we will arrange the mass production according to your order. Mass production needs 23-25 days as normal. If you need the displays urgently, we will help to speed them up. Normally, knock-down design is prior because it saves shipping costs.
5. Control the quality and check all the specifications according to the sample, make a safe package and arrange the shipment for you.
6. Packing & container layout. We will give you a container layout after you agree with our package solution. Normally, we use foam and plastic bags for inner packages and strips even protecting corners for outer packages and put the cartons on pallets if necessary. A container layout is to make the best use of a container, it also saves shipping costs if you order a container.
7. Arrange shipment. We can help you arrange the shipment. We can cooperate with your forwarder or find a forwarder for you. You can compare these shipping costs before you make a decision.
8. After-sales service. We are not stopping after delivery. We will follow up on your feedback and solve your questions if you have any. Below is some feedback we got from our clients.
Except for the razor display stand, we have made custom displays for sportswear, clothing, sunglasses, cosmetics, tiles, tools, umbrellas, electronics and much more. Below are 6 designs for your reference. They are displays for electronics.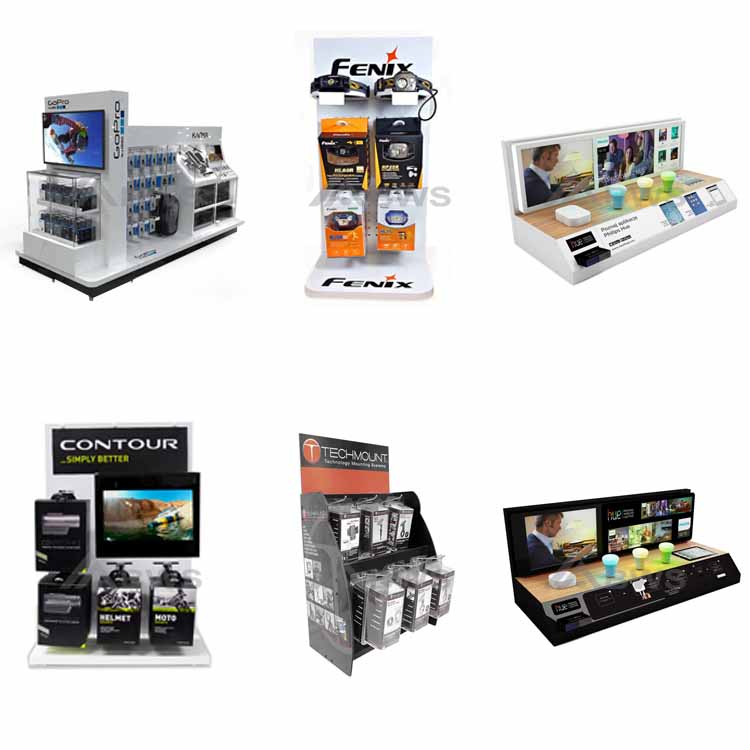 Why choose BWS Displays?
BWS Displays is a factory designing and manufacturing customized displays for more than 20 years, and we have more than 300 workers and a 30,000-square-meter factory. We have accumulated rich experience in designing and producing custom displays. There are a lot of materials that you can choose from, including metal, wood, acrylic, cardboard, PVC, plastic, etc. Many accessories can be added, such as locks, lights, LCD players, hooks, and shelves as well as casters.
We know how important to update the production status for you. We keep you posted and show you pictures and videos for every important step of production. Our project managers can communicate with oversea customers directly to improve efficiency and accuracy. To meet your deadline, we accept urgent orders. We have the experience to finish an order of 500 pieces of custom display rack within 15 days.
But we will control the quality as we have a complete and scientific quality management system team. If there are quality problems because of us, we guarantee compensation and free replacement.
Furthermore, we will provide long-term after-sales service from shipping. Our factory is near the Shenzhen port. Besides, we have oversea design teams and partners in the United States, Italy, and Australia. Display designs and display solutions are free, and so do professional photography and videos. Below are some custom displays we have made recently.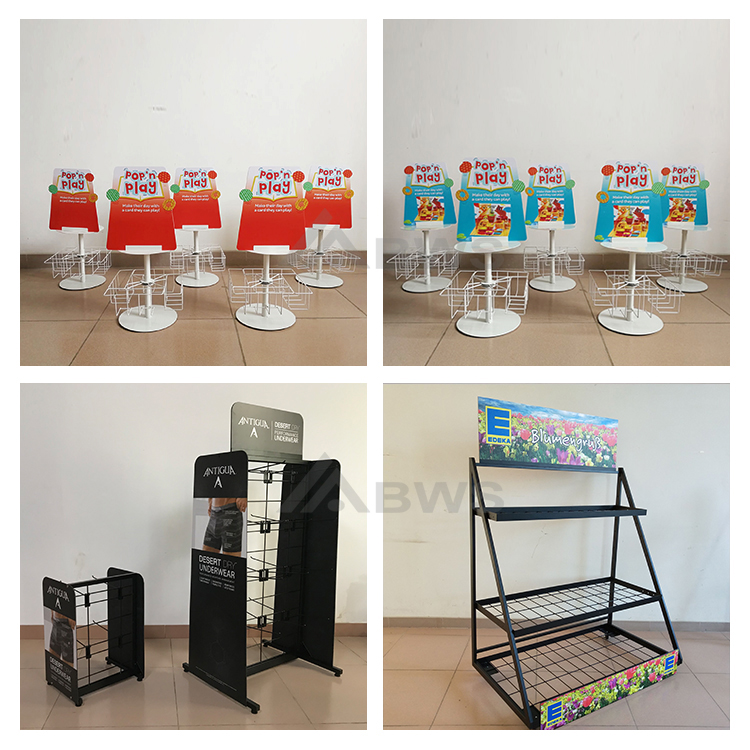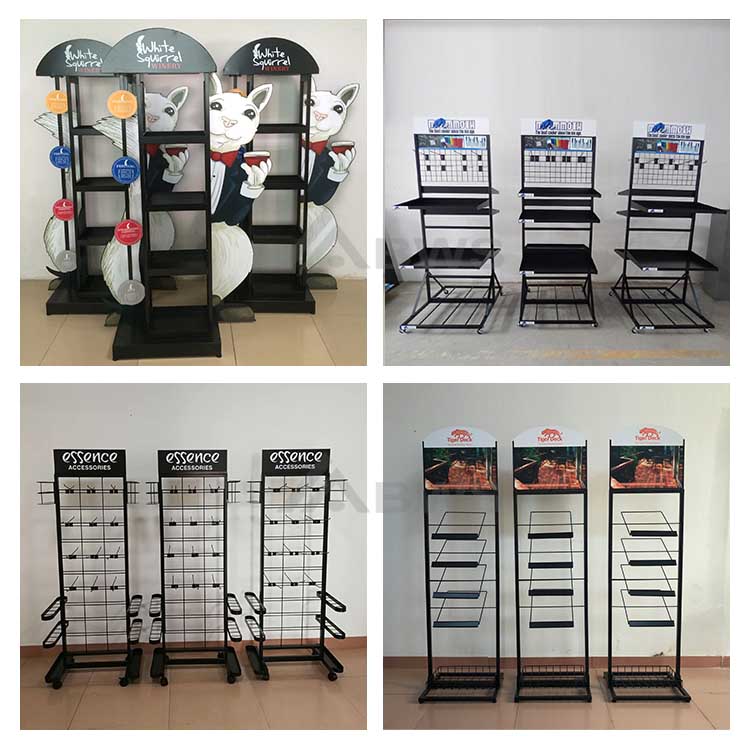 How to buy from BWS Displays?
You can contact us on our website, or you can visit Alibaba to know us better. We will be happy to work for you. If you need display ideas or want a free display solution, do not hesitate to contact us now.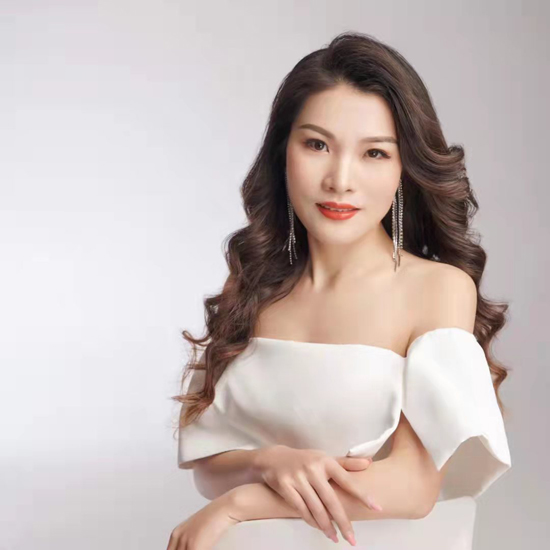 jessie huang
Love what we do and do what we love! Enjoy life, enjoy working in BWS DISPLAYS.