5 New Custom Battery Rack Displays for Retail Stores
Custom battery rack and fixtures are designed to showcase batteries. There are two brands of batteries that take up more than 65% market share since 2016. There are Duracell and Energizer batteries, both of which are the most well-known brands in the world for high-quality batteries. Their company produces long-lasting batteries because they use high-quality components.
BWS is a factory of custom displays, we have made battery display racks for both Duracell and Energizer. Today, we are sharing with you 5 battery display rack designs for Energizer.
What company owns Energizer batteries?
Energizer Holdings, Inc., headquartered in St. Louis, Missouri, USA, is one of the world's largest manufacturers of primary batteries and portable lighting products and is anchored by its globally recognized brands Energizer, EVEREADY, Rayovac, and VARTA.
Such famous brand battery, they are also shown on custom displays, because POP displays do more than the organization, but also for visual merchandising and brand building. We have made some custom displays for Energizer, here are 5 Energizer battery rack displays for your reference.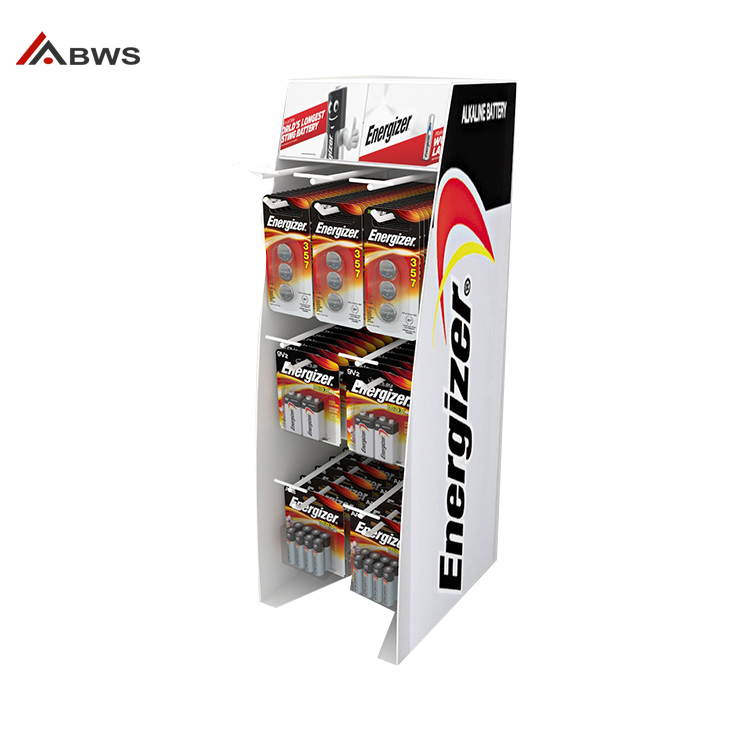 This Energizer battery rack display stand is made of metal sheets with 7 detachable hooks. The hooks are in 3 layers, the first layer 3 hooks for coin cells, and the second and third layers are 2 hooks for dry batteries. It is for the countertop. Custom logos and graphics are on the top and sides. The construction is simple, but it is strong enough and stable. It is powder-coated white, which is simple, so the batteries can be outstanding. It works well for electronic stores and shops, as well as supermarkets.
2. 3-Tier Battery Rack Display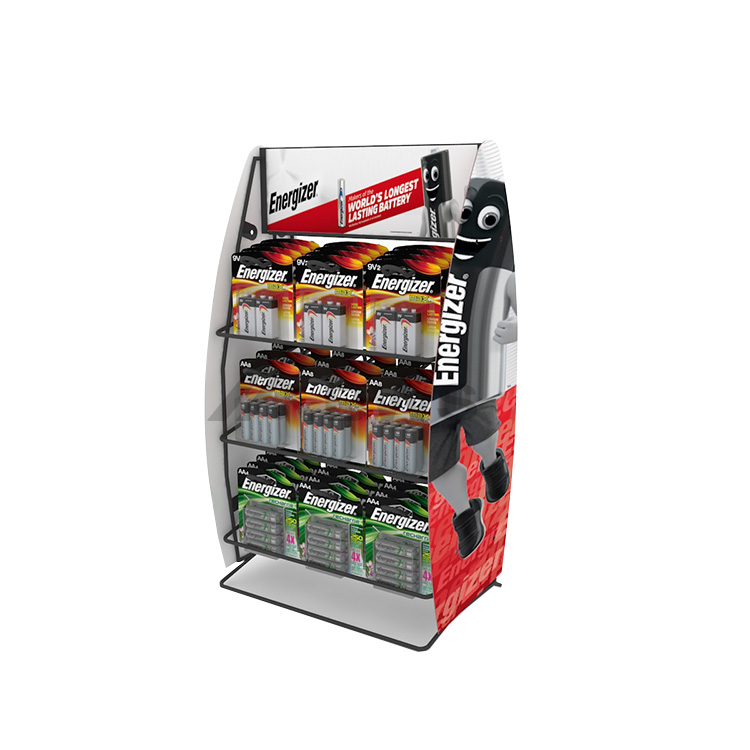 This battery rack display stand is also for tabletop. There are 3 hooks in every layer, in total, there are 9 hooks. And it can display 5 packages of dry cells on every hook, so it can display 45 packages at the same time. The size of this display rack is 322*217*560 mm, it is lightweight, and it is only 4.0 kg. The package size is 605*370*265 mm, it is one set per carton, and it can be used directly when it is taken out from the carton.
3. Floor Battery Rack Metal Display Stand
This battery rack is made of metal with a pegboard back panel. It is in black color, the header signage is detachable as it is fixed by screws. Two rose gold color metal tubes work as arms of the display rack, this makes it special. Hooks and shelves or pockets can be added to the back panel as it is open for hanging different products, which can meet the diverse needs of many retailers. With 2 adjustable feet, it is stable and sturdy on the floor. With 2 casters, it is easy to move around.
4. Floor Display Metal Battery Rack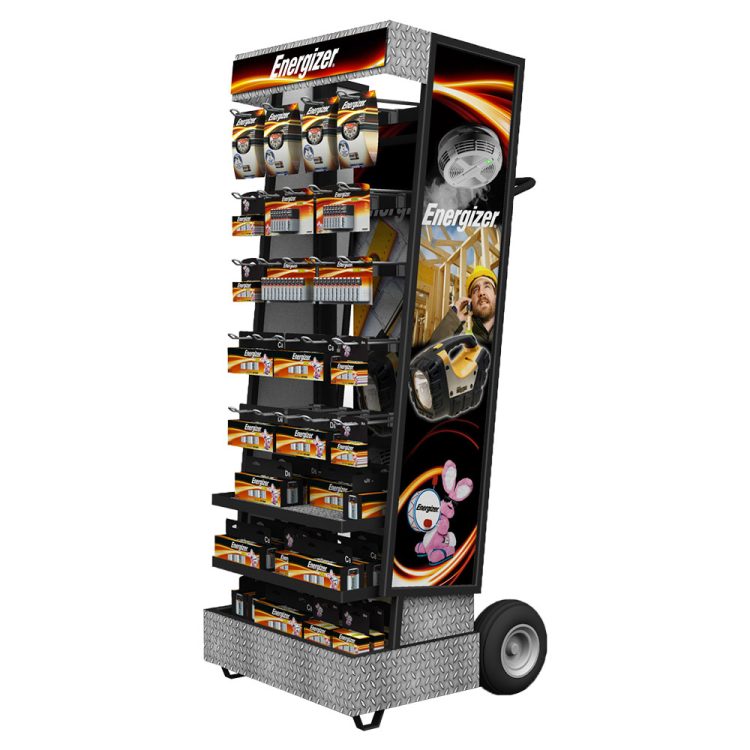 This battery rack is made of metal with two big wheels which are easy to move around. There are custom graphics on two sides and a back panel as well as a header, it is really brand merchandising. The pegs for adding to the back panel are detachable, and so is the shelf. It can showcase different batteries at the same time.
5. Metal Wire Display Battery Rack For Battery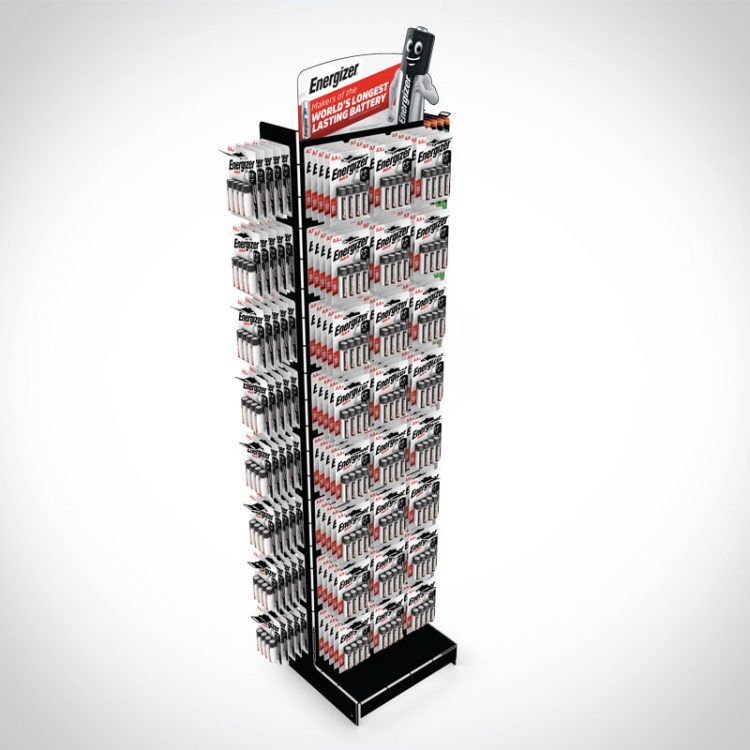 This battery rack has a big capacity, it can showcase batteries on 4 sides, that's hundreds of batteries. It is made of metal with pegs on 4 sides, it is strong enough and stable.  Besides, there are decorations on the edges.
BWS Displays is a factory with more than 10 years of experience in custom displays, we can make displays in metal, wood, acrylic as well as cardboard.
How to make your brand battery rack display fixture?
The process of making your brand custom battery rack is as follows.
Step 1. Understand your specific needs. You can share with us your display ideas with a photo, rough drawing or reference design, we will give you professional suggestions after we know more about your products, such as product specifications, brand culture, and more. If you can send us samples, it will be more helpful.
Step 2. Design and offer drawings. We will design and provide renderings and drawings to you.  You can make some changes or approve the design before we offer you a quotation. We need to know what kind of battery and how many you need to display at one time, where you want to use it, what material you need, where to add the logo, how many pieces you need, etc before we quote the EX-work price to you. If you need FOB or CIF price, we need to know where these displays ship to.
Step 3. Make a sample. We will make a sample for you after you approve the design and price and place an order. We need to make sure the battery display rack will increase your brand influence and sales. It always takes 7-10 days to finish the sample. And we will take HD photos and videos in detail, such as measuring the dimension, packing, logo, assembling, gross weight, net weight and more before we ship the sample out to you.
Step 4. Mass production. Our team will start mass production after you approve the sample. Our Qc team will control in detail to make sure mass production is as good as the sample. At the same time, our project manager will follow up and update regularly with photos and videos from laminating to packing. In order to make the best use of a carton and keep your literature display safe, we also will design a package solution before packing. The package solution is up to the design and material. If you have an inspection team, they can come to our factory during the whole production process.
Step 5. Packing & container layout. We will give you a container layout after you agree with our package solution. Normally, we use foam and plastic bags for inner packages and strips even protecting corners for outer packages and put the cartons on pallets if necessary. A container layout is to make the best use of a container, it also saves shipping costs if you order a container.
Step 6. Arrange shipment. We can help you arrange the shipment. We can cooperate with your forwarder or find a forwarder for you. You can compare these shipping costs before you make a decision.
Step 7. After-sales service. We are not stopping after delivery. We will follow up on your feedback and solve your questions if you have any.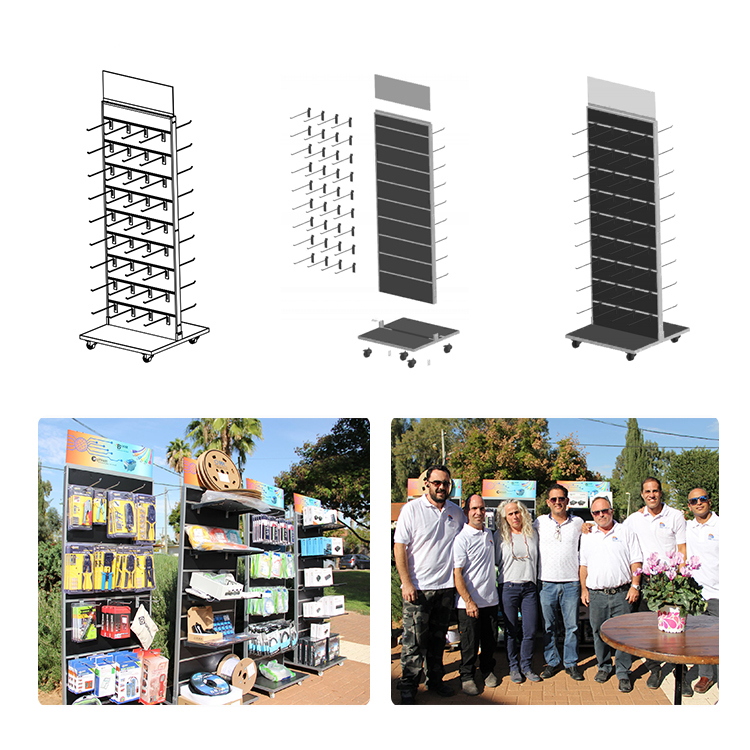 If you need more designs for reference or like to try a sample, please feel free to reach us. We will be happy to work for you.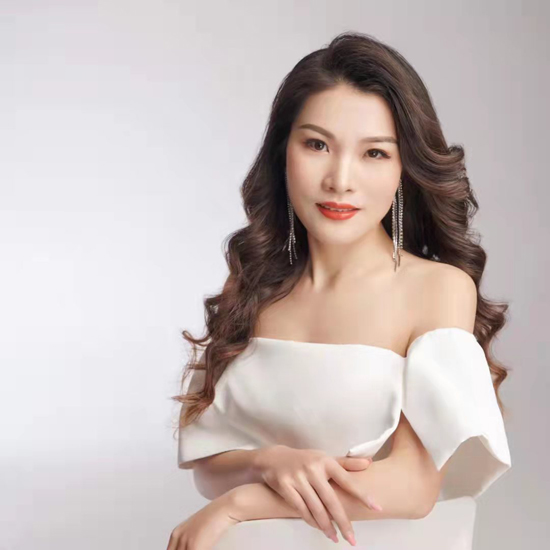 jessie huang
Love what we do and do what we love! Enjoy life, enjoy working in BWS DISPLAYS.