Using Acrylic Display Stands Will Benefit You In 5 Ways For Sure
Acrylic display stands are one of the acrylic display fixtures, acrylic displays (display stands, display racks, display cases, display boxes, display cabinets, etc.) come in a wide array of shapes and sizes and are easily customizable, so do acrylic display stands. They are used across various industries (cosmetics, food, electronics, tiles, and more) including retail and restaurants, and can even be used in homes and offices. Customized acrylic display stands with your brand logo and graphic, it is more attractive.
There are at least 5 benefits if you using acrylic display stands
Advantages 1: High Transparency
Acrylic plastic is often used because of its high transparency, which creates the illusion of space in tight environments while illuminating rooms and drawing attention to items on display. As you can see these acrylic display stands are used on countertops in cosmetic stores, sunglasses huts, and other situations. Transparency is key here. This allows people to see what they are ordering and leads to more impulse buys. The transparency and clarity of acrylic really make it perfect for any display.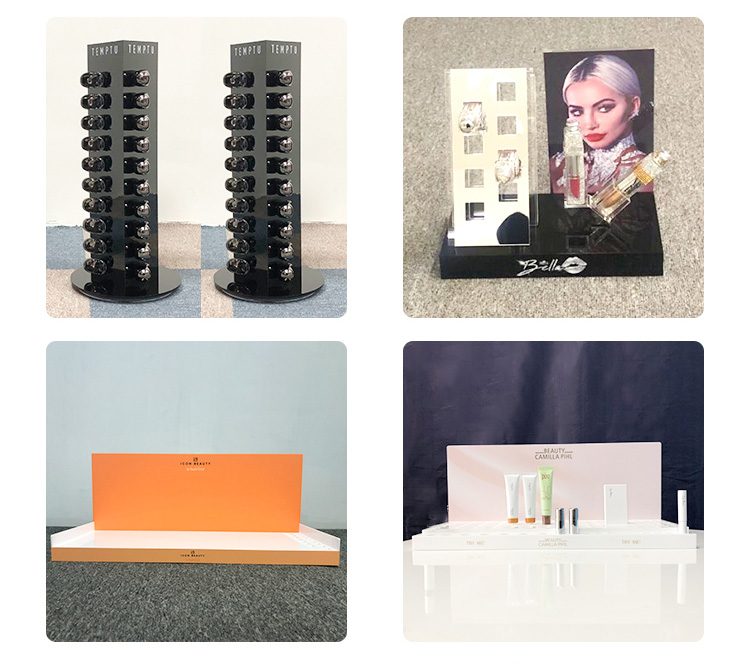 Advantages 2: Durability
Durability is one of the most important and liked benefits of acrylic. Acrylic display stands are more strong and more difficult to break which is compared with glass. Acrylic is also shatterproof and impact-resistant. If it were to get knocked over or bumped into, your items would remain protected and you wouldn't have to worry about cleaning up a big mess. Besides, acrylic display stands also won't rot or fade, making them useful for both indoor and outdoor displays.
Advantages 3: Protection
Durability and protection go hand in hand, giving acrylic another plus in the win column. One of the great things about acrylic display stands is they can protect items against things like fingerprints and even UV rays if you use an acrylic display stand with a door or drawer.
Advantages 4. Customization
One of the primary reasons we love acrylic is its customization abilities. Acrylic comes in a wide selection of colors, display options, and accompanying sizes. There are countertop acrylic display stands and floor acrylic display stands in different shapes, sizes, and layers to meet your different display needs. The high number of options businesses can choose from when selecting acrylic displays make it the perfect choice for creative display ideas that fit the exact needs of a room, product, or aesthetic.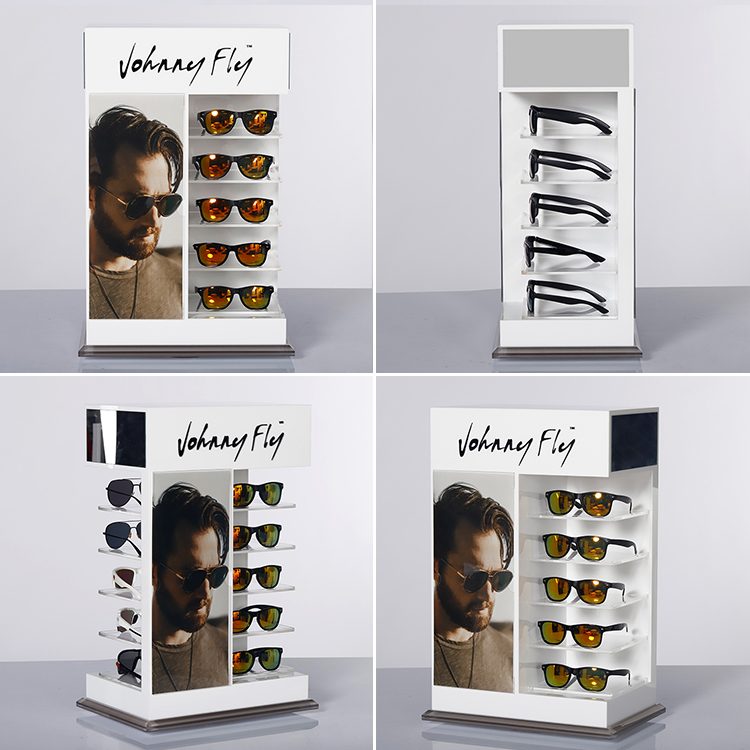 Advantages 5. Easy to Clean
Regardless of what your acrylic display stand is used for, it will require cleaning. After all, dust spares no one. The excellent news is acrylic is easy to clean. Acrylic display stands are smooth, you can only use a piece of cloth to mob it clean.
Advantages 6. Lightweight
Acrylic is light, easy to move, and also much cheaper to ship. For mobile displays or displays you are constantly shifting, weight becomes a factor. Glass has about twice the density of an acrylic sheet, making it much heavier and complicated to move.
In fact, there are more advantages, acrylic display stands can be finished in a short time, as the process is much less compared with metal displays or wood displays.  As normal, the production for metal displays or wood displays is about 30 days, but acrylic displays, they can be finished within 20 days or even less.
So if you need reliable, affordable, and eye-catching displays, acrylic display stands are one of your best choices. Bws Displays is a factory of custom displays for more than 20 years, we can design and manufacture acrylic displays, metal displays, wood displays, or mixed materials to meet all your display needs.
Below are some displays we have made for your reference.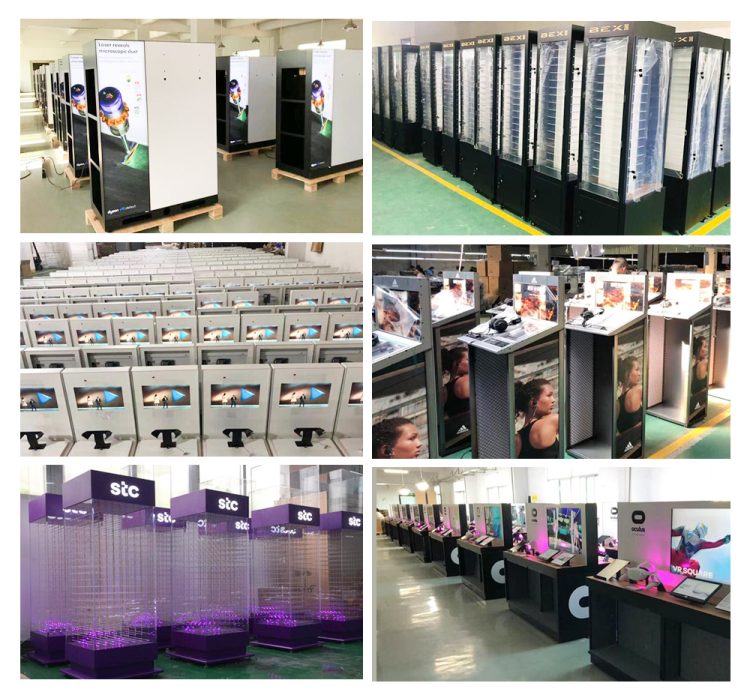 We are sure you will be happy if you work with us as they do.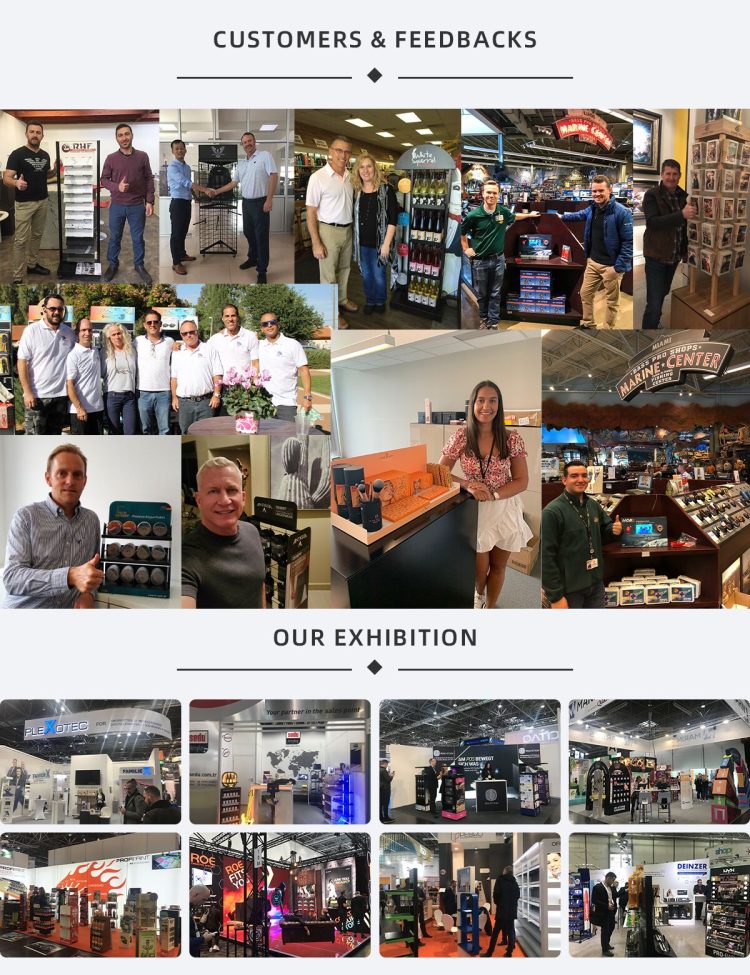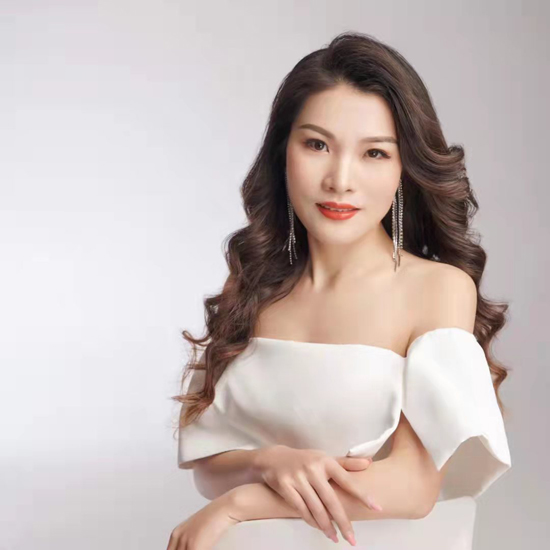 jessie huang
Love what we do and do what we love! Enjoy life, enjoy working in BWS DISPLAYS.