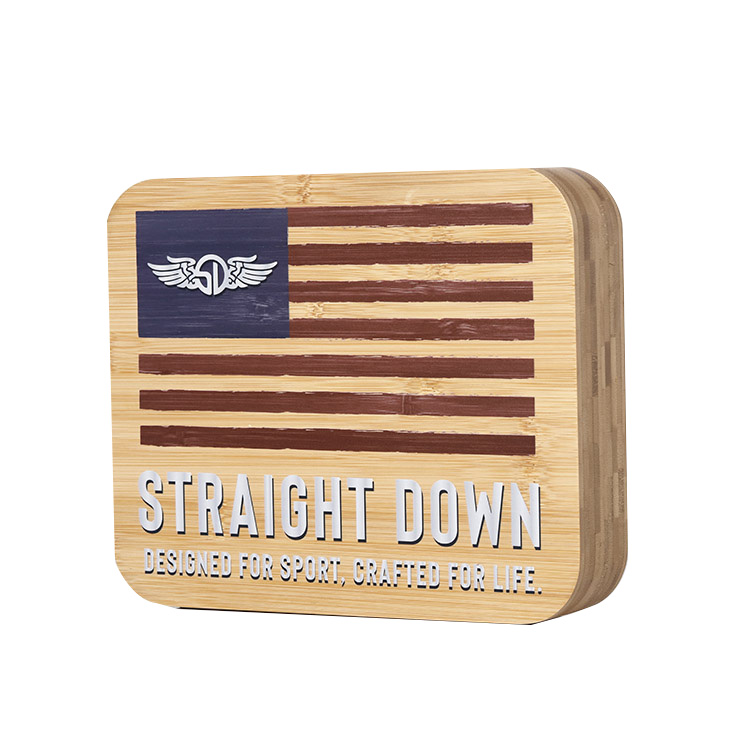 Personalized Wood Sign 2-way Sturdy Clothing Store Brand Logo Sign
Order(MOQ):50
Payment Terms:EXW, FOB Or CIF
Product Origin:China
Color:Wood
Shipping Port:Shenzhen
Lead Time:30 Days
Service:Customization Service, Lifetime After-sales Service.
Personalized wood signs, custom signs, 3D signs, word cut-outs, design your own, shelf sign decor, and freestanding signs come to BWS Displays, we are a factory of custom displays, and we can make your brand logo wood sign with our more than 20 years of experience to help you stand out. Today, we are sharing with you a wooden sign with a double-sided brand logo for clothing stores.
What are the features of this wood sign?
This wood sign is made of wood which is strong and long-lasting without fading. As you can see from the below photos, it is a square wooden block with a brand logo on both the front and back sides, it is brand merchandising. Besides, all the corners are round, which is friendly and protective for shoppers. It is really easy to put it on a table or shelf in retail stores. This wood sign is designed for Straight Down, which is a brand American clothing company. The brand logo 3D letter is white and screen printed blue and brown graphics which is outstanding on the wood.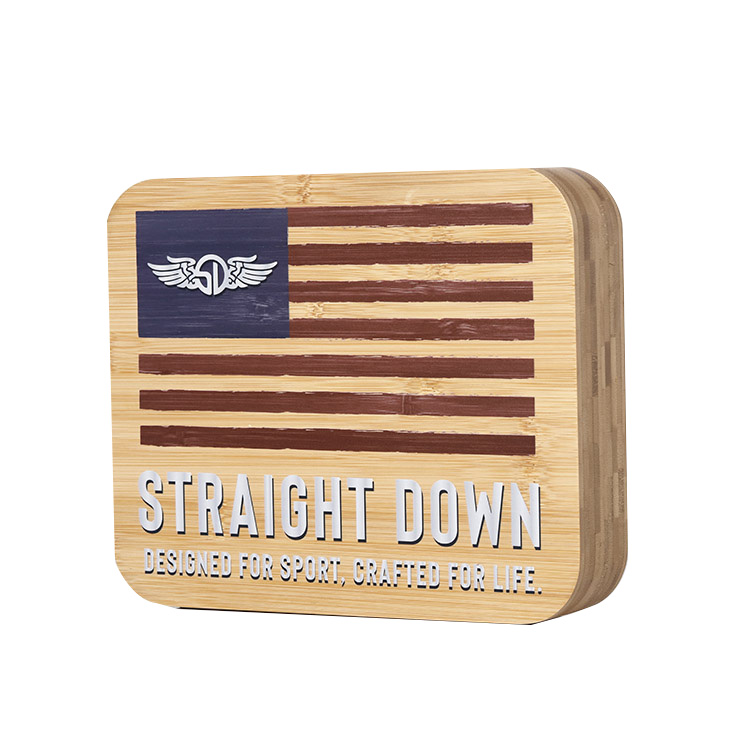 Here are different colored wood signs in the same design.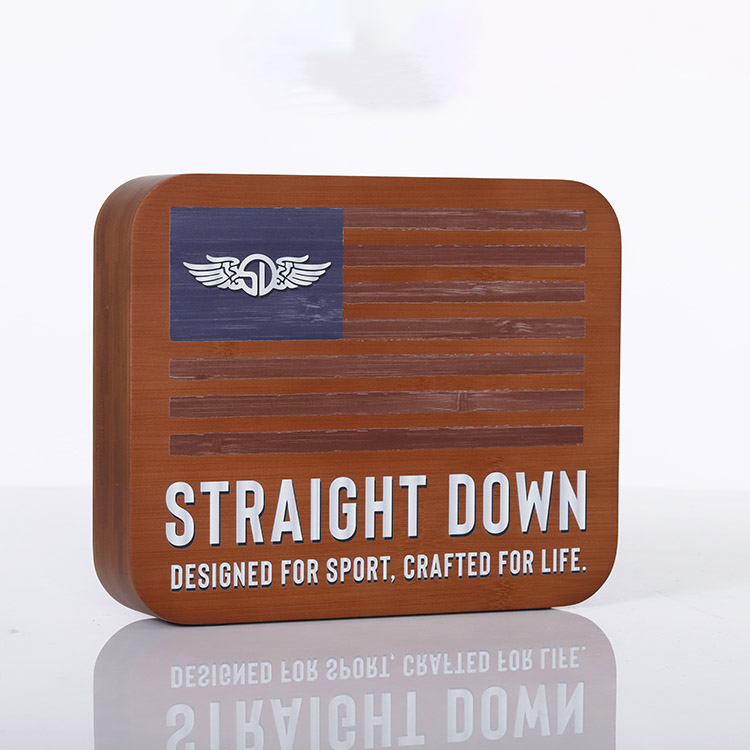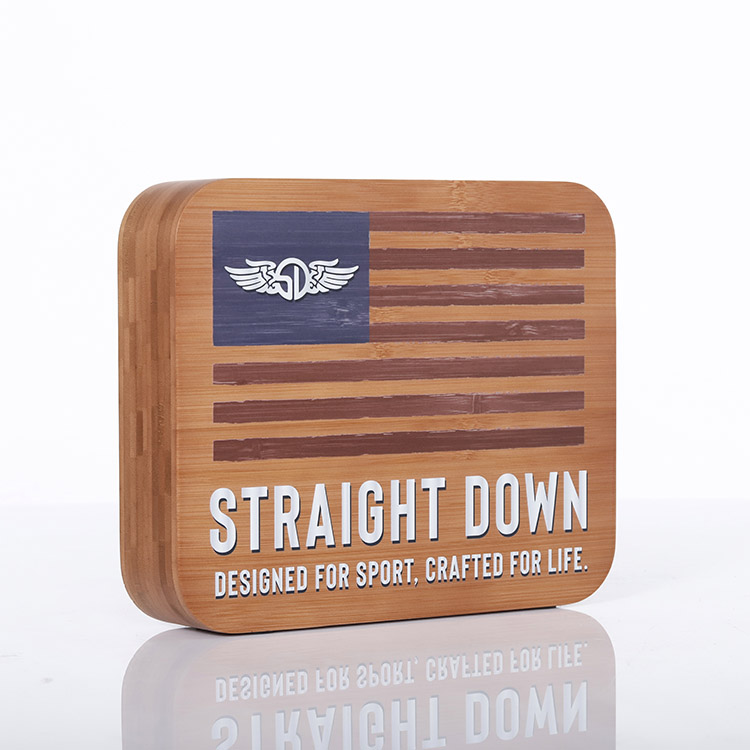 If you want to know more about this wood sign, please feel free to contact us. We can share the size and logo details. Of course, you can change the design and logo to be yours.  Our core competence is custom displays. We can make wood, metal, and acrylic as well as PVC, EVA, plastic, and cardboard displays. We are sure our experience will help you.
How to make your brand sign?
Signs are important for retail stores to emphasize the brand image. Making your brand sign is the same process as we make custom display fixtures.
Confirm your need: First, you should let us know your need and requirements in detail. Because all displays are customized according to each client's needs. You need to tell us what kind of sign you like. You can send us pictures or give us a rough drawing. And if you tell us your ideas, your brand logo file, your marketing plan, and your budget, they are helpful for us to customize and design for you.
Design: Our team will design rendering to match your need and give you an estimated price. We will send you 3D drawings before giving you a quotation. You can check whether this sign meets your expectation. In this case, this wood sign is what the clients looking for. They request us to make this wood sign in 3 different colors.
Make a prototype: A sample is needed to test function, size, looking, packaging, and more details. We will take photos and videos and send them to you, you can check everything before the sample reach you. The sample always takes around 7 days.
Confirm mass production order: Once you confirm the sample, price, quality, delivery, and all necessary information, as well as pay for the deposit,  we will start the mass production for you accordingly. It takes around 30 days to finish the order. If you need these signs urgently, we can finish them within 20 days. Below is one of the photos we took for the wood sign for the client.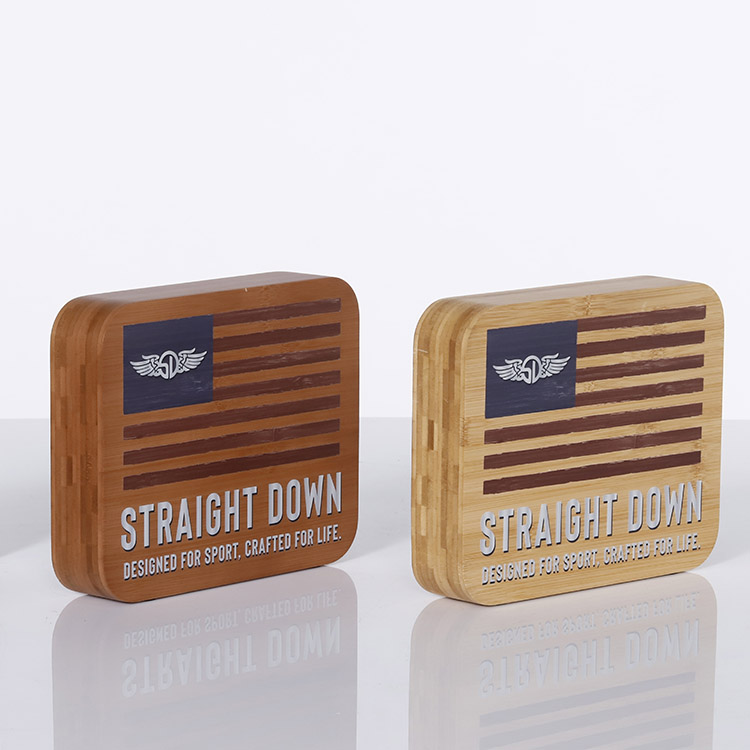 Quality control and inspection: We have a QC team to check the quality from beginning to end. Our people will provide you with photos and videos during the whole mass production, especially the important steps, and processes. You can inspect the finished mass production in our factory before paying the balance.
Shipping: If you need our help with shipping or delivery, our team can help you find suitable shipping solutions or cooperate with your own shipping agents to arrange loading and shipping for you.
You can contact us anytime if you need any help with custom displays or if you have any questions regarding the displays we made for you. We will provide you with the right solution within 48 hours.
Except for signs, custom display racks, display shelves, display cases, display cabinets or display boxes also are nice store fixtures to help you sell. If you need custom display fixtures for clothing, here are 6 designs for your reference.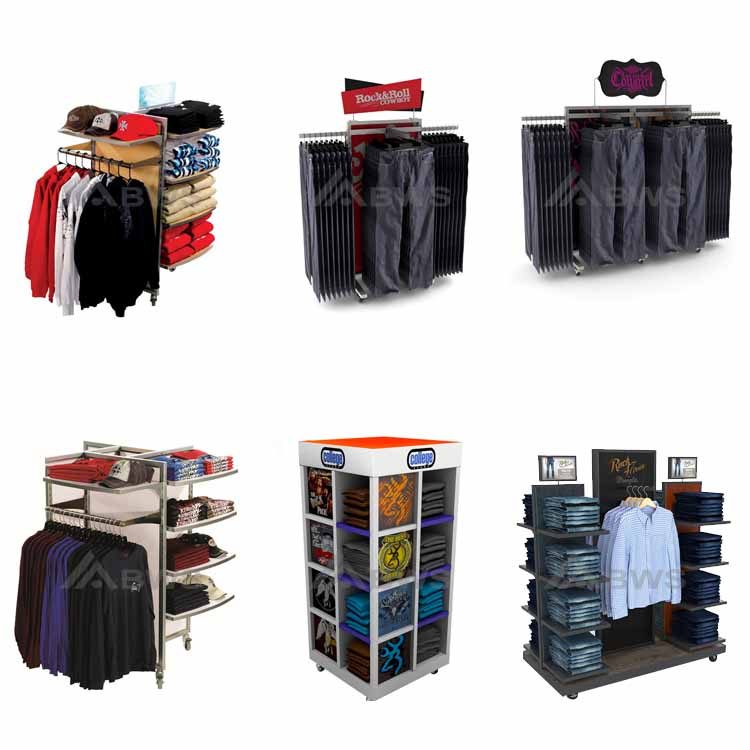 You can expect from our integrity, honesty, trustworthiness, dependability, professionalism, collaboration, accountability, expertise, quality, attention to detail, and open, honest communication. Put simply, if you want a partner who cares about your business, choose BWS Displays Limited, you will be happy as they are.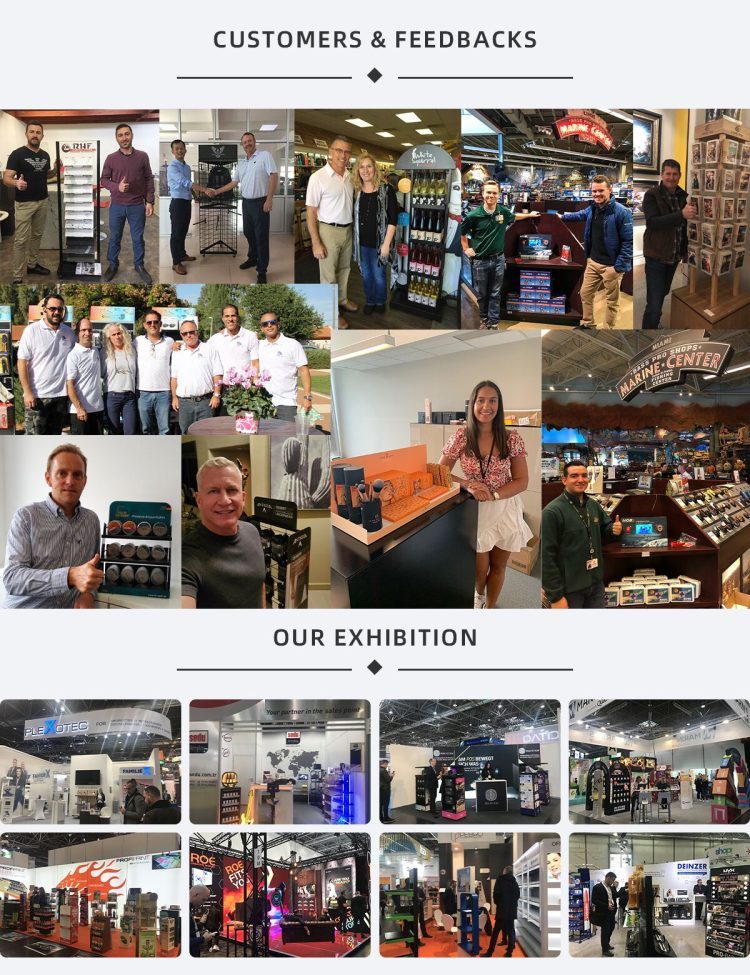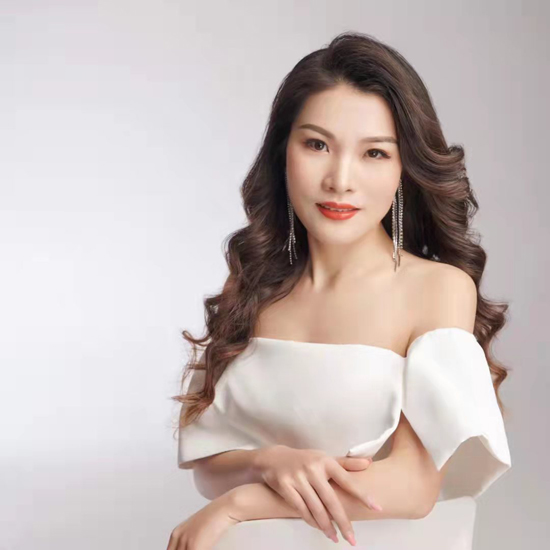 jessie huang
Love what we do and do what we love! Enjoy life, enjoy working in BWS DISPLAYS.