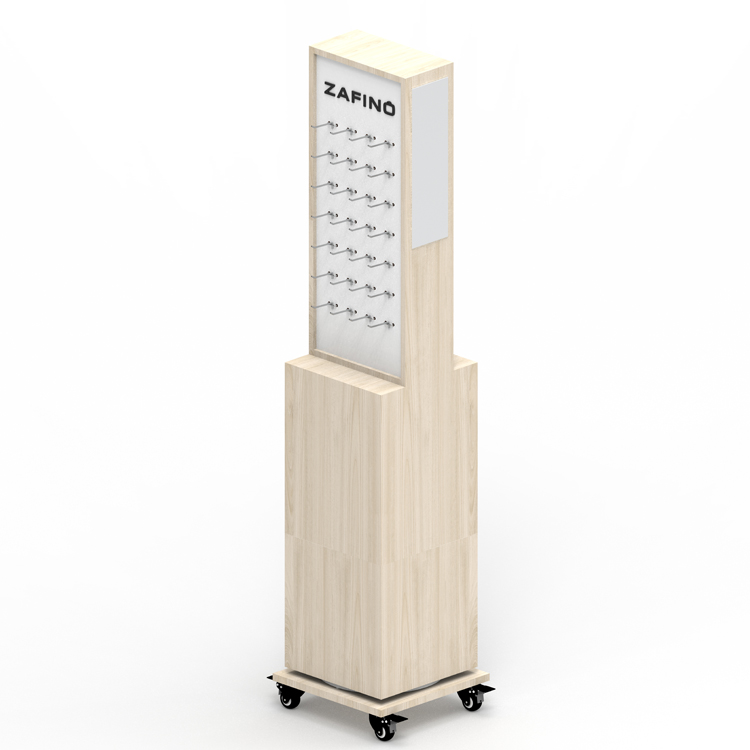 Movable Floor Cool Jewelry Display Stand Rotatable With 2 Mirrors
Order(MOQ):50
Payment Terms:EXW, FOB Or CIF
Product Origin:China
Color:Wood
Shipping Port:Shenzhen
Lead Time:30 Days
Service:Customization Service, Lifetime After-sales Service.
Jewelry display stands are physical fittings in a shop on which jewelry products are arranged. It is an advertising and merchandising tool that has a direct impact on product sales. They are designed to showcase your jewelry with your brand logo, jewelry displays include earring displays, ring displays, necklace displays, bracelet displays, and/or showcase risers. Today, we are sharing with you a floor-standing jewelry display stand for Zafino. Zafino is a much-loved Australian brand known for its gorgeous trends and affordable jewelry.
What are the features of this jewelry display stand?
This is a floor-standing jewelry display stand. It has these features. 1. Strong and stable. It is made of wood with metal hooks. Wood gives a warm, refined and quality appearance. Wood is associated with earth, roughness, and rural coherence. Therefore, wood evokes an authentic and traditional feeling. It is a good choice for products that promise quality, continuity, tradition, experience, and craftsmanship.
2. Functional. It is with 28 hooks on both sides to hang jewelry and other products. Besides, the base drawer is lockable so you can store many pieces of jewelry in it.  With a turntable, this jewelry display stand is rotatable which is convenient for shoppers to choose what they like.
3. Movable. As you can see from the photo, there are 4 casters under the base, which make this jewelry display stand can move around easily.
4. Consumer friendly. There are 2 mirrors on two sides, so shoppers can check what they look like when they are wearing a piece of jewelry.
5. Brand merchandising. The custom brand logo Zafino is on the top of the jewelry display stand which is outstanding and leaves a deep impression on shoppers.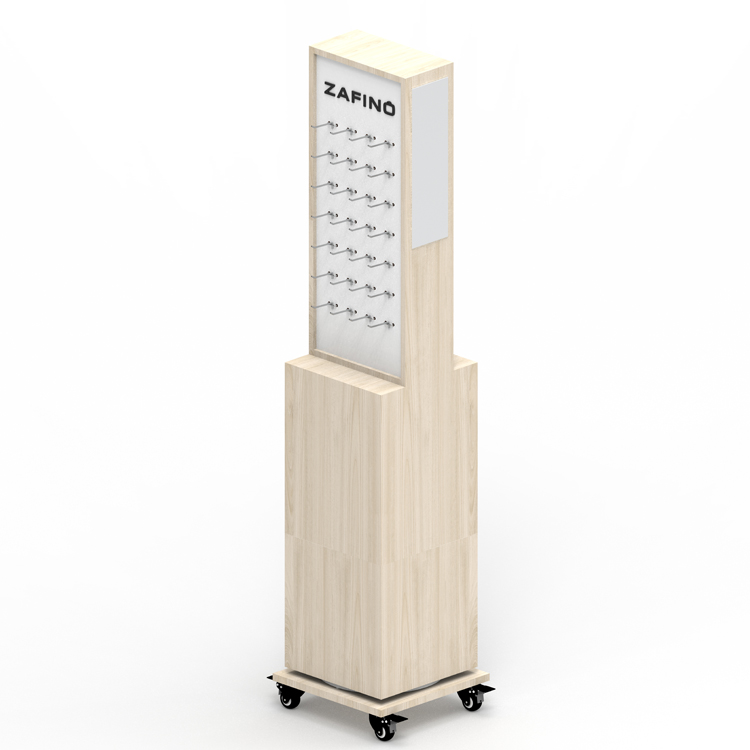 As for the size, you can customize it to meet your display needs. All the displays we make are customized, you can change the color, material, logo, surface finishing and more. Below is another type of finishing of the same jewelry display. You can share your requirements with us, we can design and craft the jewelry display stand for you.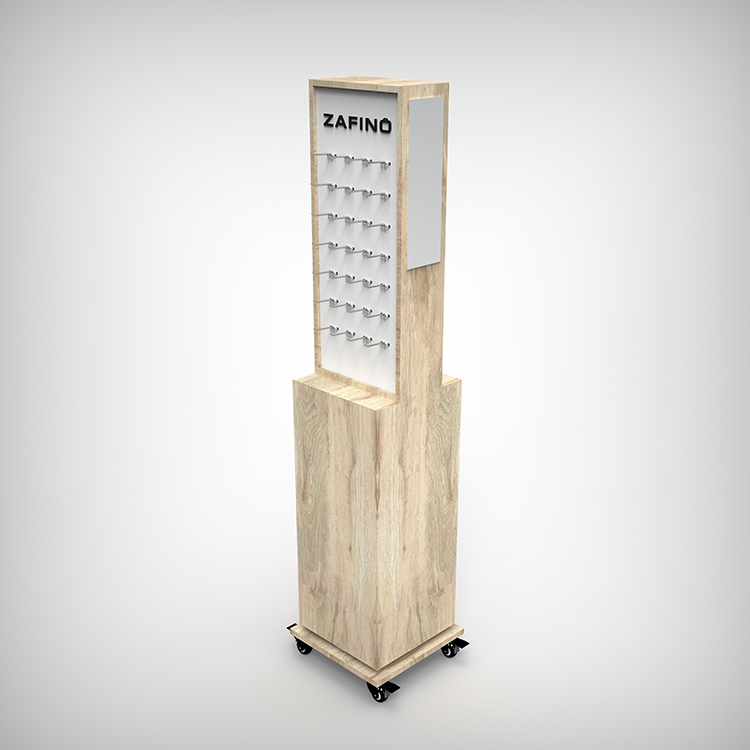 How to make your brand jewelry display stand?
No matter what kind of custom displays you need, we can meet your needs with our 20+ years of experience. Below are the basic steps to make our brand jewelry display stands.
First of all, we need to understand your needs, for example, what kind of displays you like, a countertop jewelry display stand, or floor displays. What material do you like, metal, wood, acrylic, or other materials? How many items do you want to showcase at the same time? Etc.
And the second is to design or modify the design you like. You can send us a reference design or just share your display idea with us, we will come out with the right display solution for you, no matter whether you need a countertop display or a floor display. We will send you drawings from different angles, so you can see what the jewelry display looks like.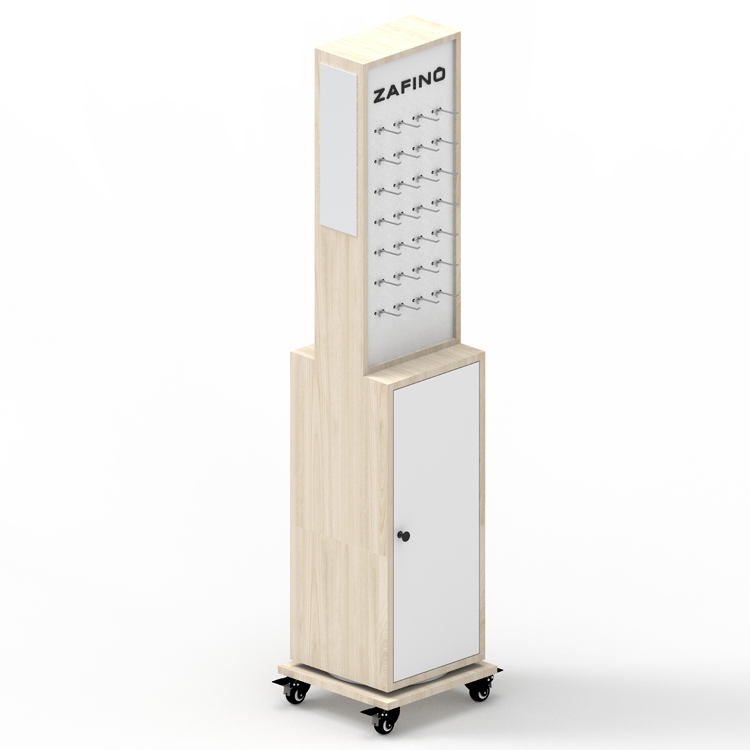 The third step is to make a sample. A  sample is important to check how the displays work for your products, and how the clients think about the sample. Does this jewelry display stand match your items?
Only after the sample is approved, we will process mass production. We have a professional team to control the quality and our project manager will update the status for important steps with pictures and videos.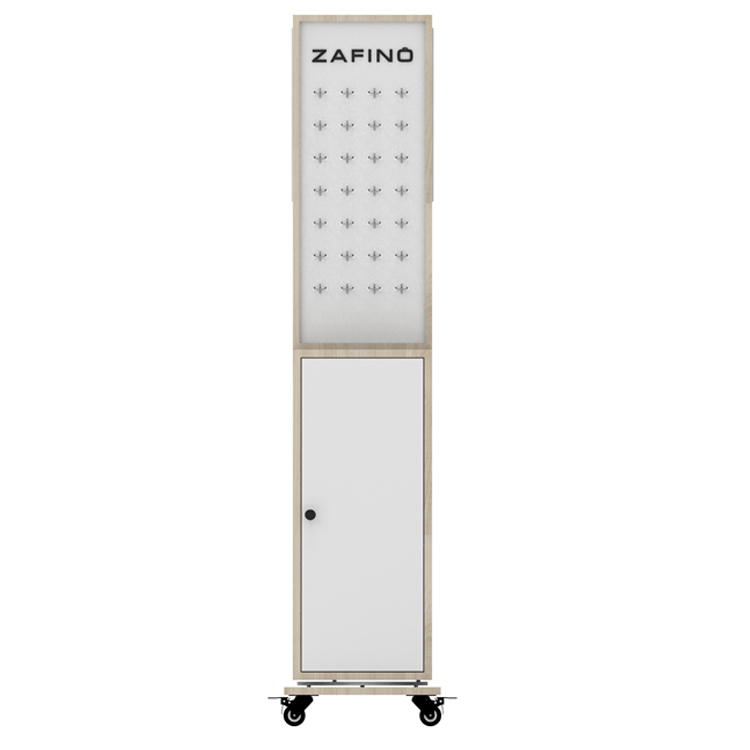 The fifth step is to check the quality and arrange safe packing. We will give you a container layout after you agree with our package solution. Normally, we use foam and plastic bags for inner packages and strips even protecting corners for outer packages, and put the cartons on pallets if necessary. A container layout is to make the best use of a container, it also saves shipping costs if you order a container.
The sixth step is to help you arrange the shipment. We can cooperate with your forwarder or find a forwarder for you. You can compare these shipping costs before you make a decision.
And last is long-term after-sales service. If you have any questions about this jewelry display stand or other custom displays, send us an e-mail, and we will give you the right solution within 24 hours.
The proliferation of new brands and packages in today's retail environment makes getting your products the exposure they need tougher than ever. Custom POP Displays are a substantial value add for the Brand, Retailer, and Consumer: Generating sales, trial, and convenience.
Other jewelry display designs
Below are some other jewelry displays for your reference which may help you get an idea to showcase your jewelry.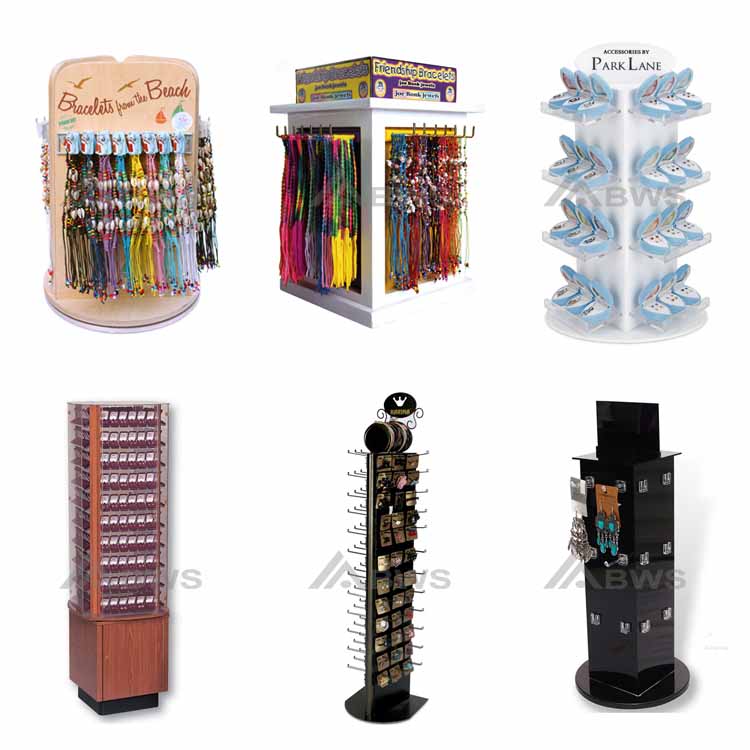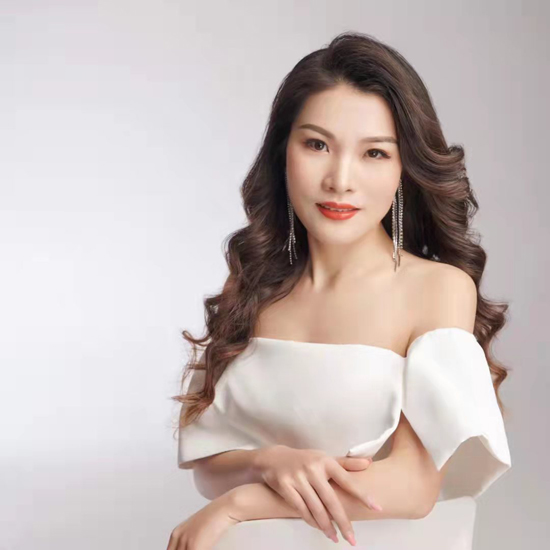 jessie huang
Love what we do and do what we love! Enjoy life, enjoy working in BWS DISPLAYS.