5 Useful Book Display Ideas For Library And Bookstores
Book display ideas are useful for libraries, bookstores, and other literature retail environments. Book display ideas also work for cards,  leaflets, and pamphlets. There is a book display for every month, from January to December. And book display ideas are the solutions to showcase them in a special way.
What is the purpose of book display ideas?
Book displays play an important role in helping draw customers' attention (students and staff) to new books, special collection material, the items that are under-circulated, and especially the items that are important for reading and studying but often left unseen. Book display ideas are more than display racks. But custom book display racks are the most simple ones. Today we are sharing with you 3 book display ideas which are included 5 custom book display racks.
1.  Create a theme for every month. For example, some romantic books for Feb, Mother Love book for May, and Father Love for June.
2. Use posters or blackboards to list the hot sale books.
3. Using display racks to showcase the books you want to impress buyers.
How to display books?
BWS Displays is a factory of custom displays, we can make different material book displays to meet your needs. Here are 5 book display ideas in display rack designs for your reference.
1. Movable book display stand.
This is a rotatable book display stand, it is convenient to book buyers or readers to choose what they like. It is painted yellow, which is conspicuous and a lovely color for kids. The cute header is interesting and makes readers want to know more about the books. It is made of wood which has a long lifetime. Besides, there is a drawer on the base, which can store more books. There are 4 casters under the drawer, which make it easy to move this book display stand.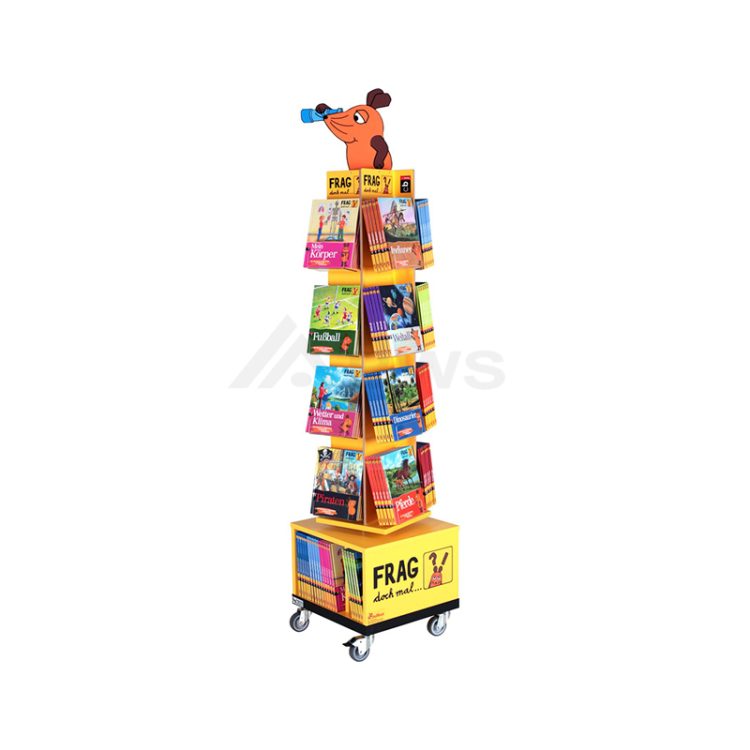 2.  Countertop book display rack.
This counter book display rack is made of wood and metal, which has a long lifetime. This display rack gives a natural feeling to buyers and creates an eye-catching display for guests to browse through easily. The header is interchangeable, which is useful when you showcase different products.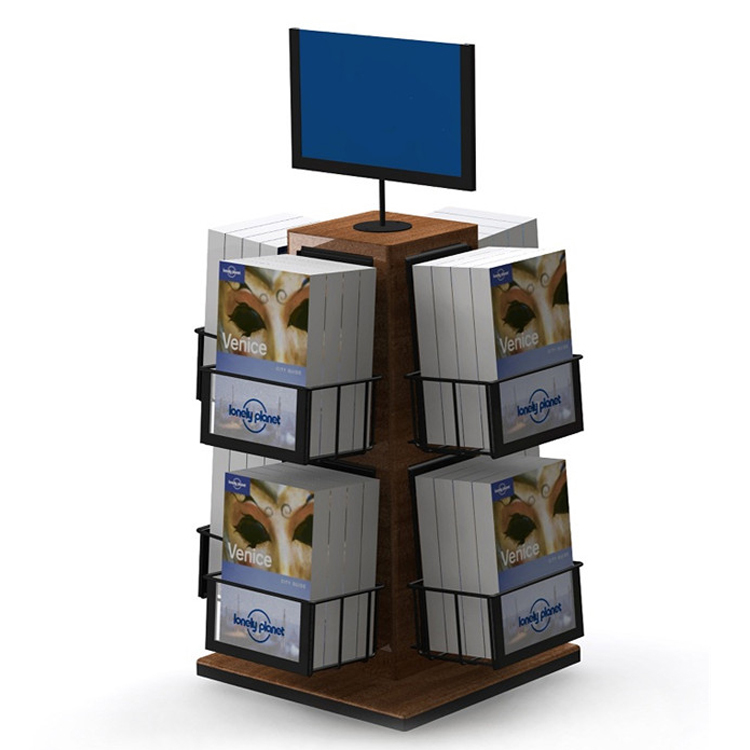 3. Metal book display rack with pockets
This is a functional book display idea. This book display rack is made of metal wire which is also rotatable. It is lightweight and easy to carry. The header is detachable and it can display more than books, but also greeting cards, and more.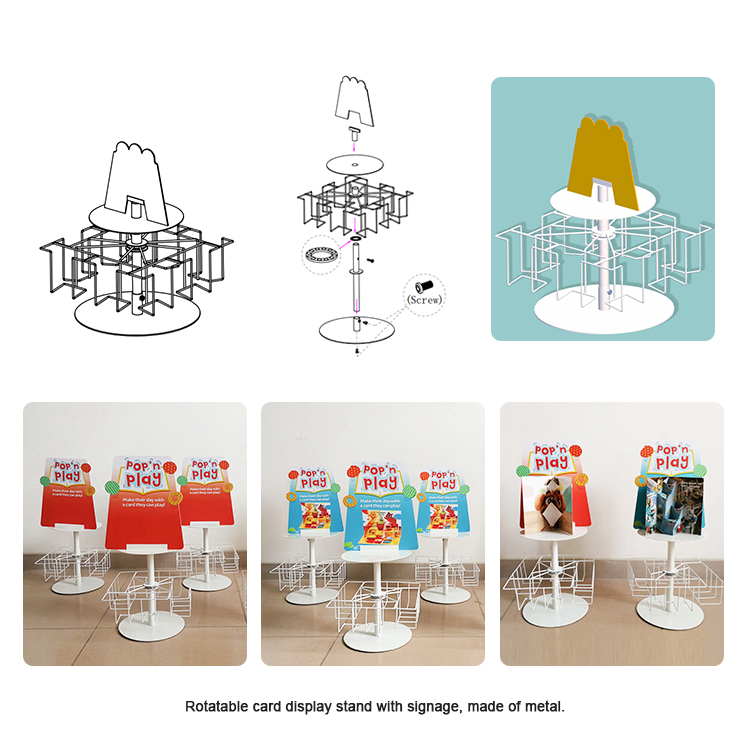 4.  Wooden acrylic book display stand
It is a freestanding book display stand made of wood and acrylic. It can hold different merchandise while occupying minimal space on your selling floor. It has 7 acrylic shelves to hold up to five pounds per shelf. Designed with a full 360-degree swivel rotation, this literature display stand offers patrons an unobstructed view of showcased products like books, greeting cards, art prints, and more.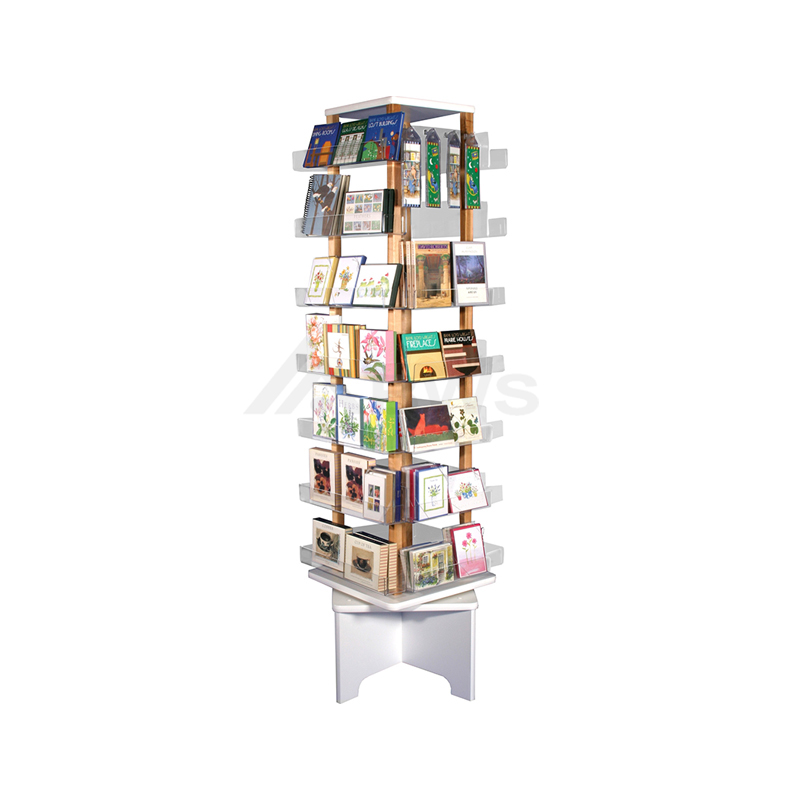 5. L shape book display stand
This book display idea is a freestanding L shape display stand. The overall size is 1484 mm, while the first acrylic magazine holder is at an altitude of 668 mm. This book display stand is convenient for kids to get the brochure and it is also easy for people who are sitting. This brochure display stand is made of metal which stays on the floor steadily. There is a header where you can insert your graphic for advertising, it is visual merchandising.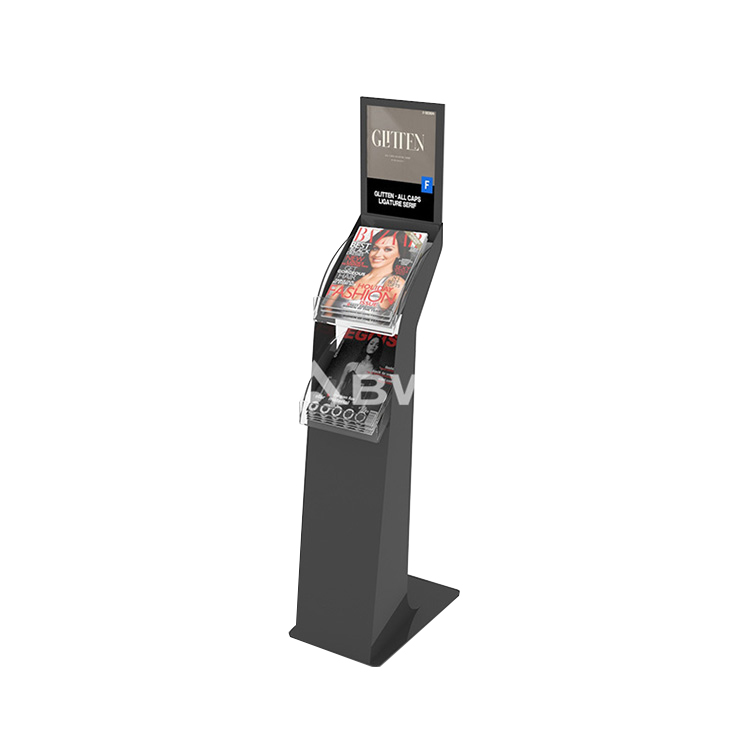 If you need more designs or more book display ideas for how to display in libraries or bookstores, come to us today. We will be glad to offer you a proper display solution.
How to turn your book display idea into reality?
After you get a display solution or display design, you need to turn it into reality. BWS Displays can turn your book display ideas into real display racks. We have metal workshops, wood workshops, acrylic workshops that can make your displays all in-house. There are 7 steps to make your displays.
Step 1. Understand your specific needs. You can share with us your book display ideas with a photo, rough drawing or reference design, we will give you professional suggestions after we know more about your products, such as product specifications, brand culture and more. If you can send us samples, it will be more helpful.
Step 2. Design and offer drawings. We will design and provide renderings and drawings to you. Below is the rendering for this literature stand, with magazines and without magazines. You can make some changes or approve the design before we offer you a quotation. We need to know what kind of literature and how many you need to display at one time, where you want to use it, what material you need, where to add the logo, how many pieces you need, etc before we quote the EX-work price to you. If you need FOB or CIF price, we need to know where these displays ship to.
Step 3. Make a sample. We will make a sample for you after you approve the design and price and place an order. We need to make sure the literature stand will increase your brand influence and sales. It always takes 7-10 days to finish the sample. And we will take HD photos and videos in detail, such as measuring the dimension, packing, logo, assembling, gross weight, net weight and more before we ship the sample out to you.
Step 4. Mass production. Our team will start mass production after you approve the sample. Our Qc team will control in detail to make sure mass production is as good as the sample. At the same time, our project manager will follow up and update regularly with photos and videos from laminating to packing.In order to make the best use of a carton and keep your literature display safe, we also will design a package solution before packing. The package solution is up to the design and material. If you have an inspection team, they can come to our factory during the whole production process.
Step 5. Packing & container layout. We will give you a container layout after you agree with our package solution. Normally, we use foam and plastic bags for inner packages and strips even protecting corners for outer packages and put the cartons on pallets if necessary. A container layout is to make the best use of a container, it also saves shipping costs if you order a container.
Step 6. Arrange shipment. We can help you arrange the shipment. We can cooperate with your forwarder or find a forwarder for you. You can compare these shipping costs before you make a decision.
Step 7. After-sales service. We are not stopping after delivery. We will follow up on your feedback and solve your questions if you have any.
If you have any questions or want to share your book display ideas with us, contact us now.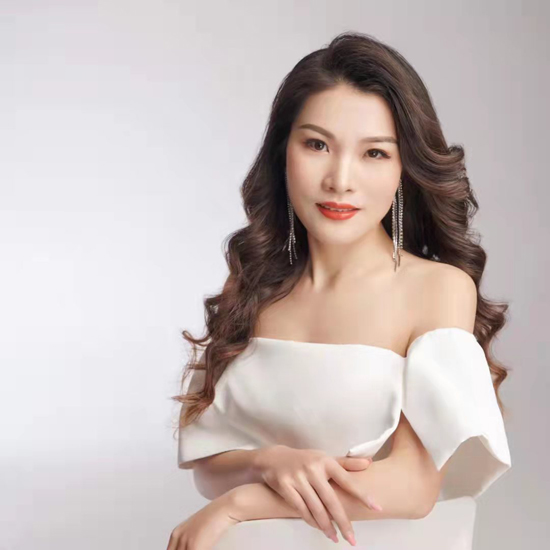 jessie huang
Love what we do and do what we love! Enjoy life, enjoy working in BWS DISPLAYS.