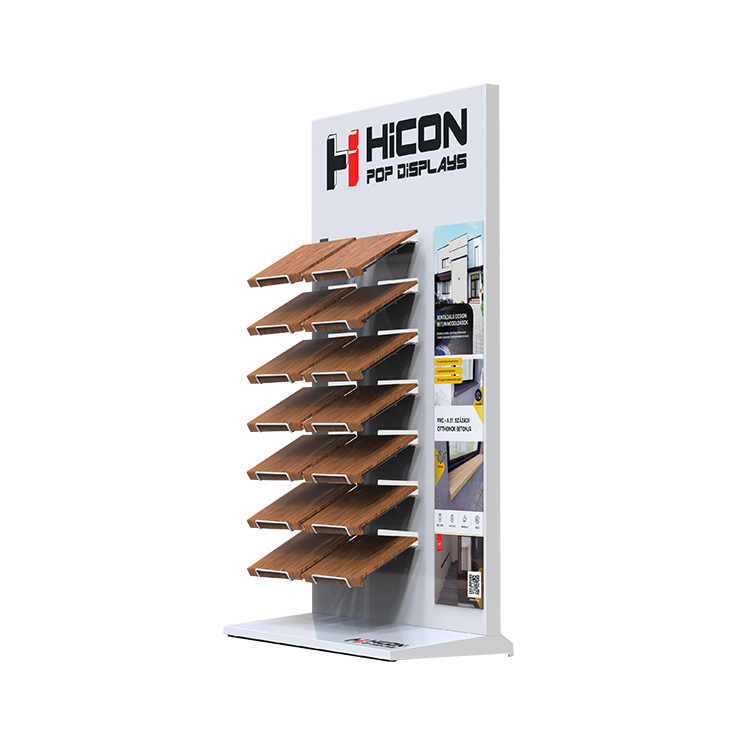 14 Hooks Flooring Tiles Display Showroom Sturdy Metal Display Rack
Order(MOQ):50
Payment Terms:EXW, FOB Or CIF
Product Origin:China
Color:White
Shipping Port:Shenzhen
Lead Time:30 Days
Service:Customization Service, Lifetime After-sales Service.
Tiles display showroom display racks are made to showcase stone file samples or flooring tiles samples in the showroom. Buyers can see the material, surface, thickness, and size of your tiles when you showcase tiles on the display racks. The global flooring market size was valued at USD 266.48 billion in 2022 and is expected to grow at a compound annual growth rate (CAGR) of 5.2% from 2023 to 2030.
Increasing demand for aesthetic, superior, and durable floor covering solutions and changing consumer trends in floor design have aided the growth of the flooring industry over the past few years. The expansion of offices & workspaces, improving consumer lifestyle, and rapid urbanization are factors that have also contributed to the market growth. The fast-paced infrastructural development owing to the rising population in developing countries further contributes to the growth of the flooring industry.
We have made many tile displays for showroom merchandising, please go to this tile display page to view more designs. Today, we are going to show you one more tiles display showroom design for wood flooring tiles.
What are the features of this tile display?
This tile display showroom merchandising rack is made of metal sheets and 10-peg metal holders, so it is stable and strong, has a long lifetime. And this tiles display showroom design is powder-coated white, which makes the flooring tiles outstanding. Besides, it can showcase stone tile samples too as it has strong metal wire holders. There is the brand logo on the head and a full-length graphic beside the metal pegs, which is visual merchandising and building brand image. Furthermore, tiles display showroom racks are always in knock-down design to save shipping costs, and so it is.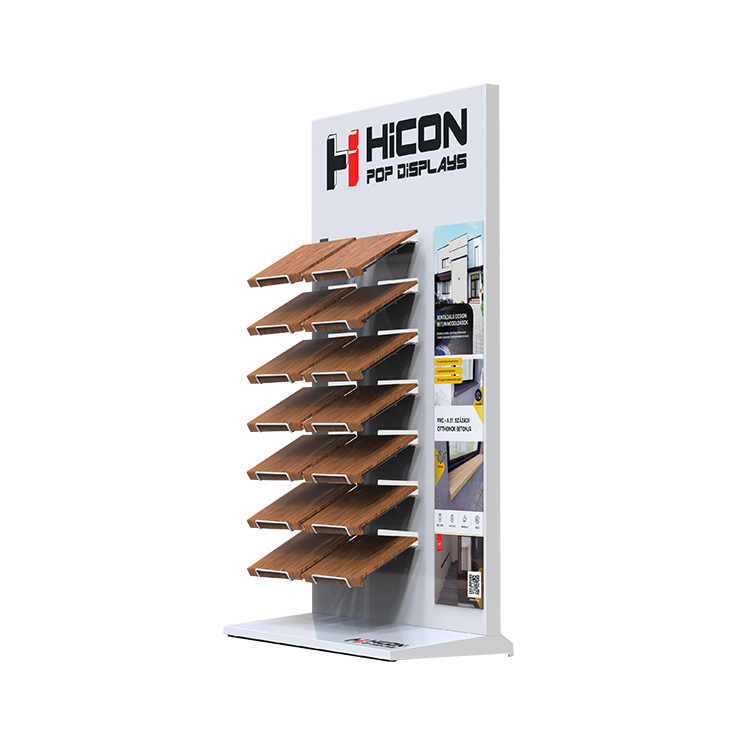 All displays we make are customized to fit customers' specific needs. You can change the design or tell us your specific need, we will work out a display solution for you. Below are more photos of this tile display.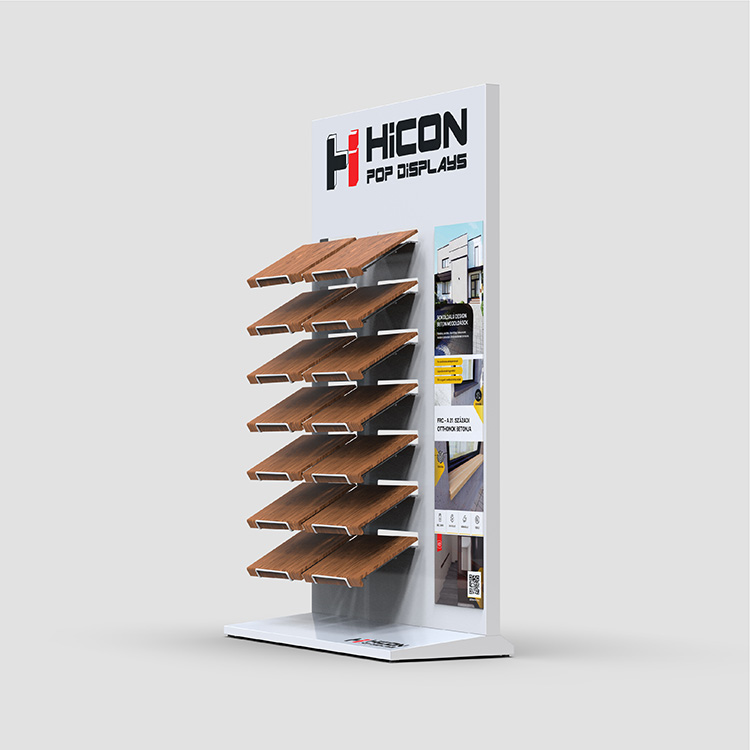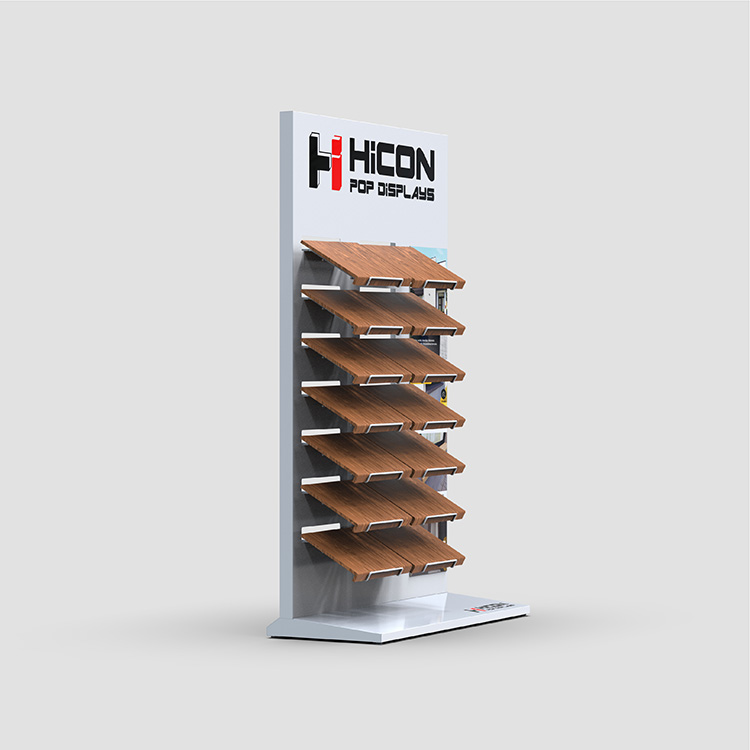 How to make your brand tiles display showroom racks?
Normally tiles display showroom racks are made of metal as tile products are heavy and hard. Metal in China is cheaper than in other countries. The process of making your brand tiles display showroom rack in the same steps as we make other custom POP displays.
1. Understand your needs. You tell us your display requirements in words or send us a reference design or display idea or rough drawing of the display rack you are looking for. And we will work out the right display solution for you. And if you share us below information before we ask, it is helpful and saves communication time.
The dimensions and weight of the tiles; the tile quantities that you want to display at the same time; what color you prefer; where to show your brand logo on the display; what styles of display racks do you need, floor standing or countertop; how many do you need; do you have a logo file? If yes, you can send us, we will add them to the drawing and 3D rendering for you before prototyping.
2. Design and drawing. We may send e-mails or call you to confirm all the details, and we will design and provide the drawing to you. Below is the drawing of this tile display showroom rack we post today.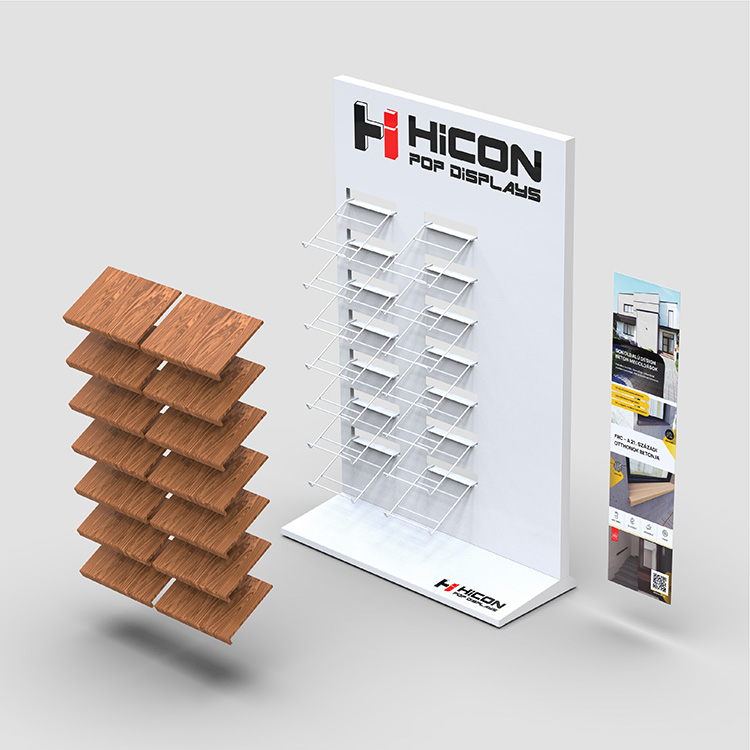 3. Sample. Only after you confirm the design and the drawing, we will make a sample for you. It will take around 7 days to finish a sample. We will assemble and test the tiles display showroom rack sample for you. If you need a change, we will make another sample before mass production.
4. Mass production. We will send you pictures and videos of the display with products on. So you do not need to spend too much time on this project after you confirm the details. For mass production, we will assemble and test the displays too. All we want is to make sure the display meets your needs. We will help you arrange the shipment after the mass production is finished. Normally, it takes 20-25 days for mass production, while it is up to the quantity and construction of the display.
5. Safety package and container layout. We will give you a container layout since the package design is settled. To pack safely, we will use foam or strips even protect corners, and pallets according to the material and design of your pet store display. A container layout is to make the best use of a container, it also saves shipping costs if you order a container. Detailed assembly instructions will be within the carton.
6. Arrange shipment and provide after-sales service. We can cooperate with your forwarder or find a forwarder for you. You can compare these shipping costs before you make a decision. We come to after-sales service after delivery.
Here are more designs for your reference if you do not have an idea of what kind of tiles display showroom rack you are looking for.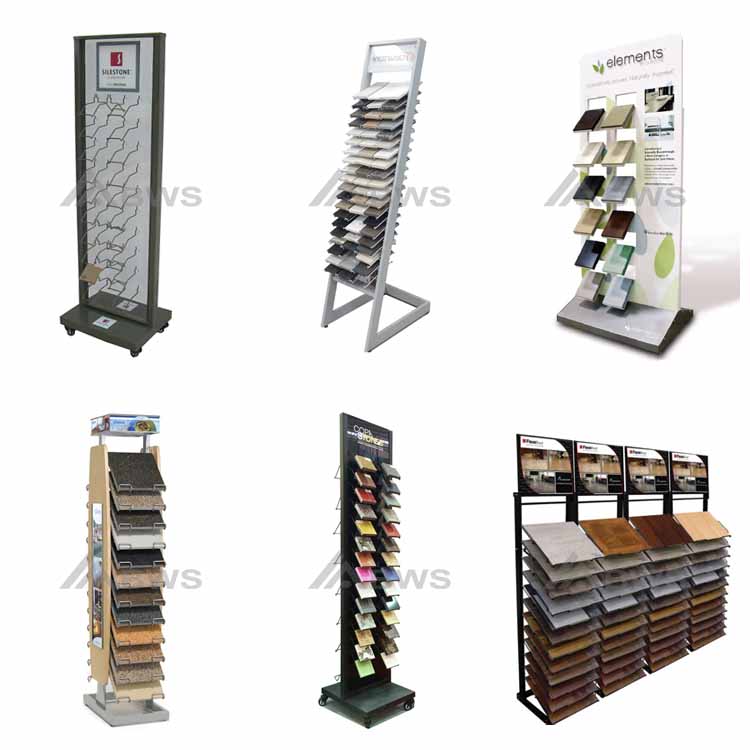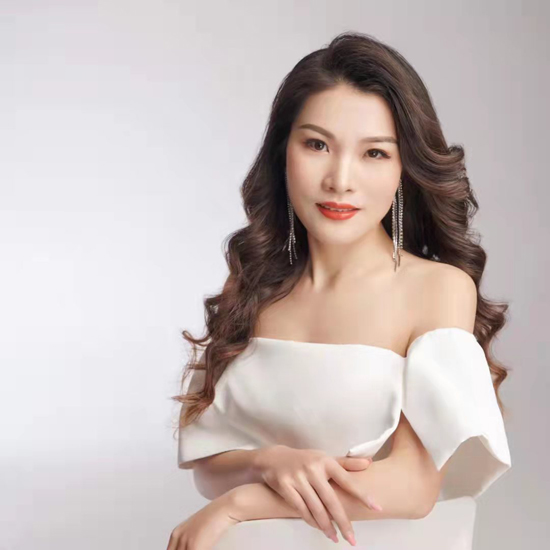 jessie huang
Love what we do and do what we love! Enjoy life, enjoy working in BWS DISPLAYS.