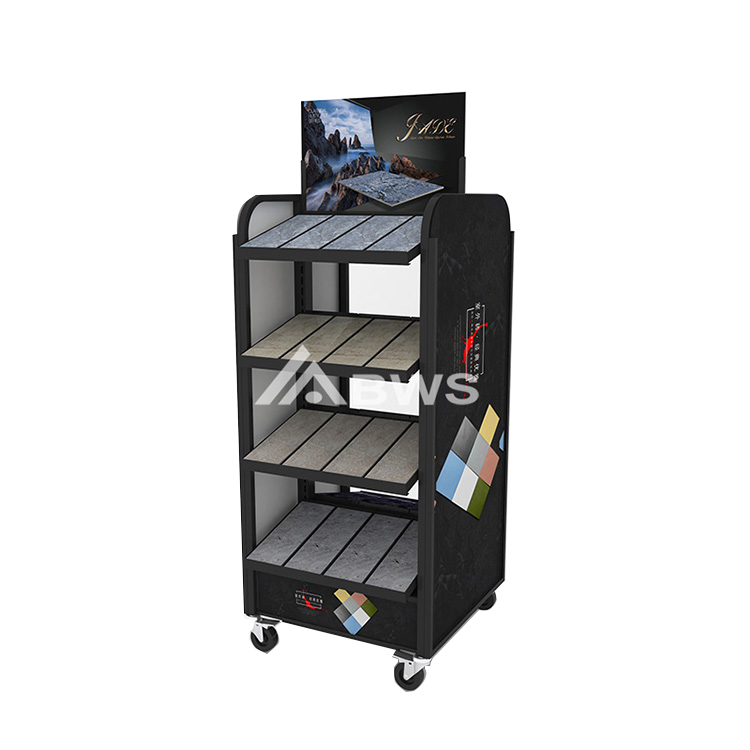 Profitable 2-way Floor Metal Tile Display Stand 4 Wheels Movable
Order(MOQ):50
Payment Terms:EXW, FOB Or CIF
Product Origin:China
Color:Matt black
Shipping Port:Shenzhen
Lead Time:30 Days
Service:Customization Service, Lifetime After-sales Service.
How to display ceramic tiles?
Ceramic tiles are heavy and hard and they are in different sizes and thicknesses, custom tile display stands, tile display racks as well as tile boxes are useful fixtures to showcase ceramic tiles, never mind whether it is wall tiles or floor tiles. We are a professional factory of custom displays, we have made tile boxes, tile display racks as well as tile showroom displays.
We make tile display stands according to your specific need. Here is one example, below is a 2-way metal tile display stand with 4 wheels.
How did we make this tile display stand?
1. Understand clients' display needs. This tile display stand is designed as a permanent stand. The client told us that they need to display their ceramic samples in their showroom. And the tile size is 150mm*300mm*10mm, and there are 4 colors of tiles that they wanted to display. And they hope this display stand can be moved around.
2. Design and provide drawings. After knowing the basic requirements, we started designing and sent some reference designs to them. After several e-mails, after the client confirmed the design, we sent drawings. We made this tile display stand 558**540*1370mm in 4 layers, as there are 4 colors of tiles to showcase. In order to make it convenient for shoppers, we made it double-sided. To meet the movable function, we added 4 wheels at the base.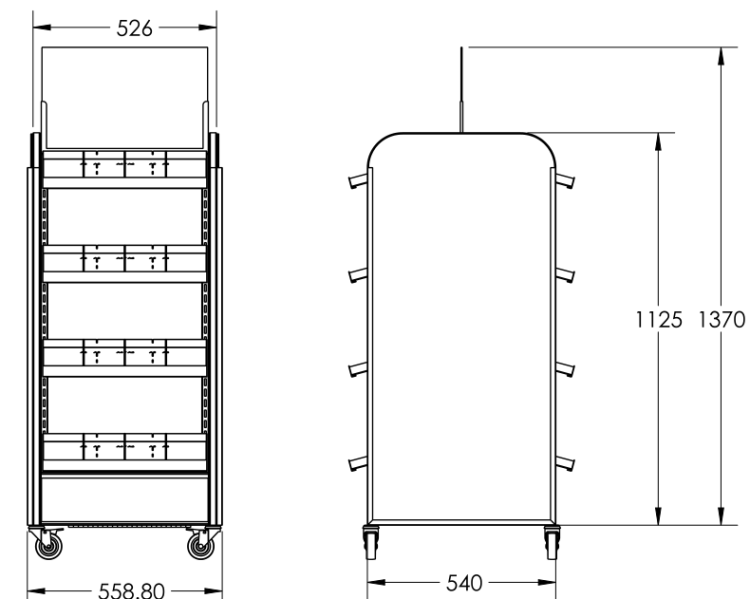 To save shipping costs, we designed this tile display stand to be a knock-down design. There are 8 shelves that are detachable. And the side frames and header are inserted into the U-tube frame. We put the assembly instruction with parts lists and steps in the carton, which is really easy to assemble it.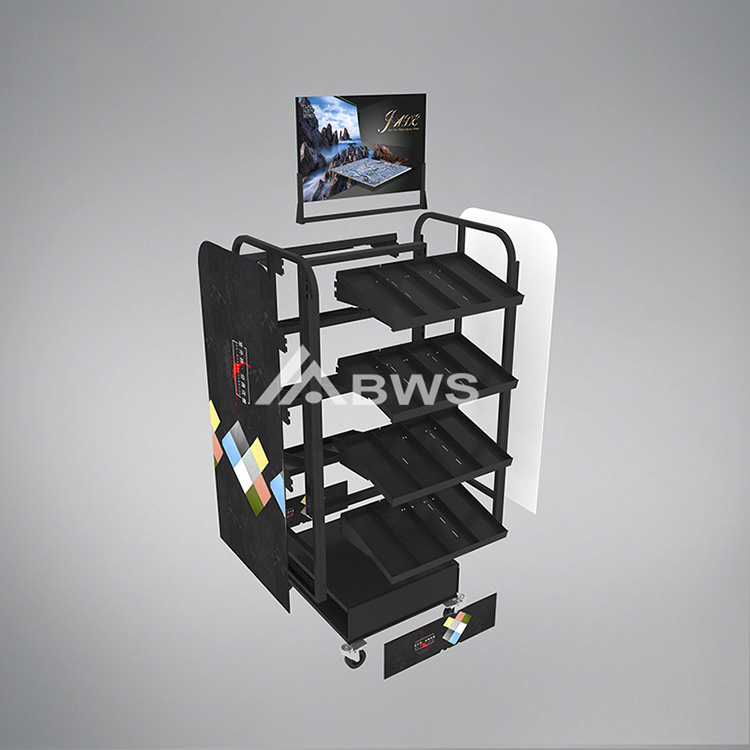 Because custom displays are made to showcase tiles, it is also for brand visual merchandising. So we added a header graphic, base graphic as well side panels for graphics. And the header is interchangeable, so the side graphics do.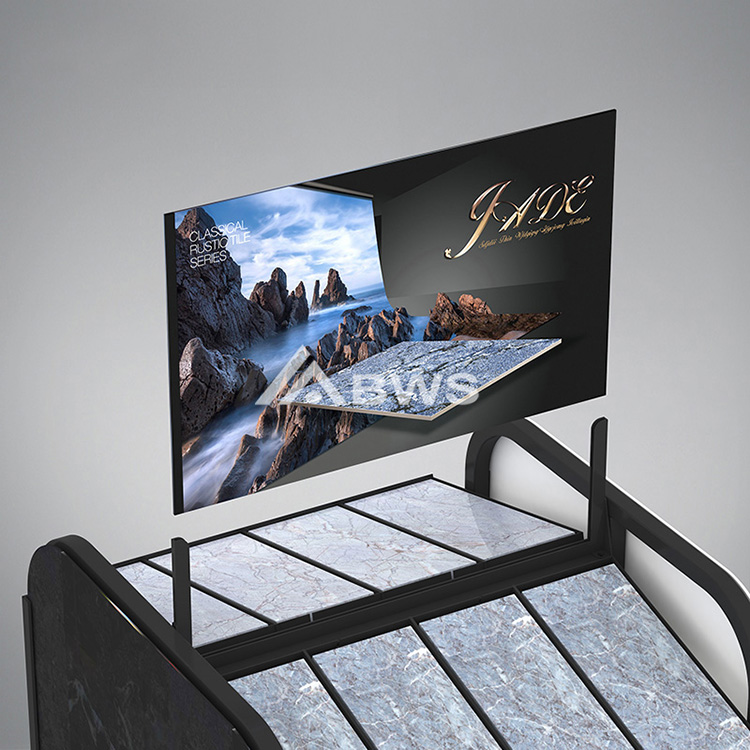 3. Make a sample. After the design is confirmed, we quoted a breakdown price, the more, the cheaper. After the client placed an order, we made a sample for them before mass production. We took photos and videos and assemble the sample to test function and construction.
4. Mass production. Our Qc team will control all details and our project manager will follow up closely and update regularly. In order to make the best use of a carton and keep your display table safe, we also will design a package solution before packing. And we assembled and measured the dimension before we took photos and videos. If you have your own Qc team, we will contact them when mass production is finished.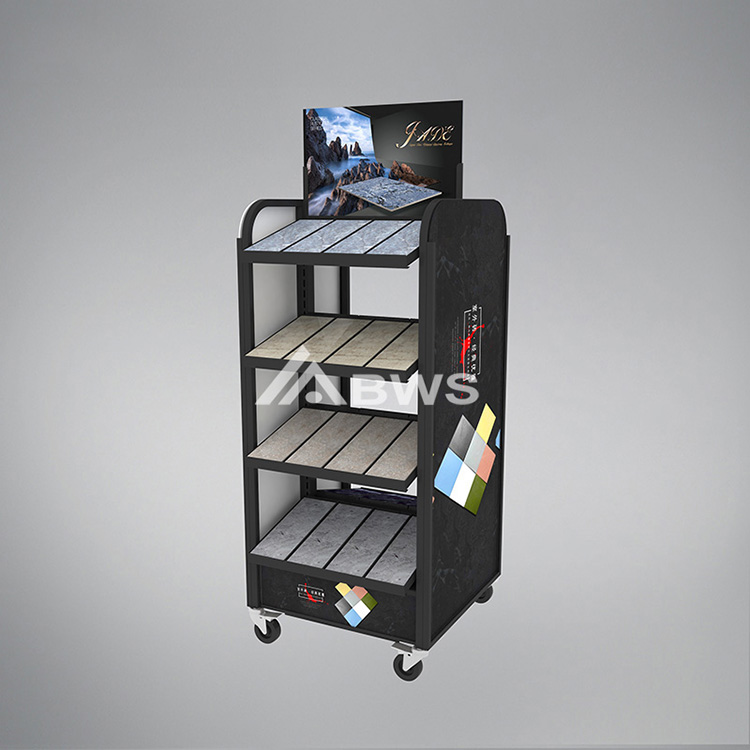 5.  Packing & container layout. The packing solution was given when the sample was approved. Normally, we use foam and plastic bags for inner packages and strips even protecting corners for outer packages and put the cartons on pallets if necessary. We provided a  container layout when the order was placed. A container layout is to make the best use of a container, it also saves shipping costs if you order a container.
6. Arrange shipment. We helped the client arrange the shipment because they contacted their forwarder. If you do not have a forwarder. We can find a forwarder for you. You can compare these shipping costs before you make a decision.
7. After-sales service. We are not stopping after delivery. We will follow up on your feedback and solve your questions if you have any. Our aim is to make you satisfied.
In fact, you can customized tile display stand in style, shape, size, logo, color, tier, and header as well as accessories, such as shelves, hooks, pegs, waterfalls and more.
What are the features of this tile display stand?
As you can see above, these are the features.
1. this tile display stand has a long life because it is made of metal.
2. It is brand merchandising, there are graphics on the header, base, and two sides.
3. Movable, this tile display stand has 4 wheels, which is easy to move around.
4. 2-way merchandising, takes a small footprint.
5. Knock-down design, small package.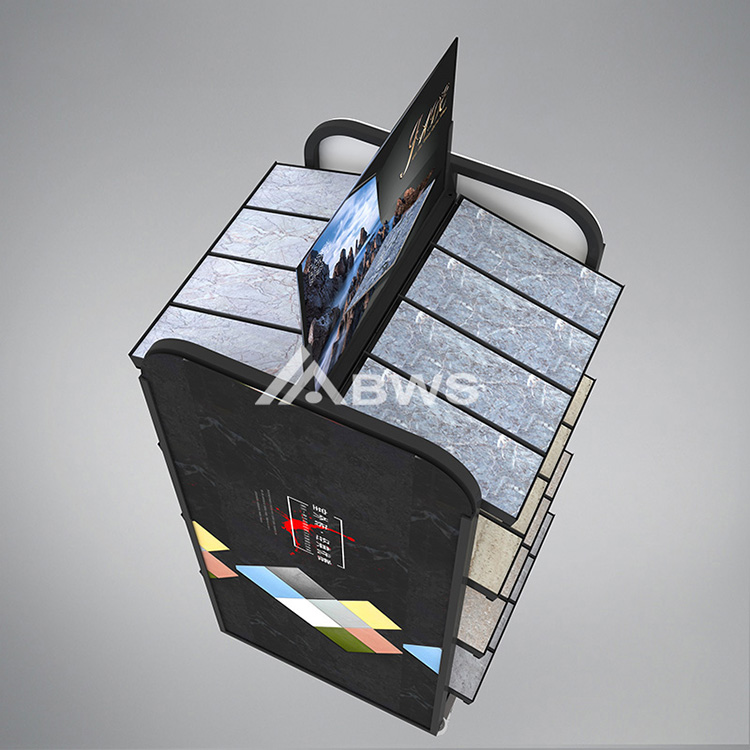 If this tile display stand is what you are looking for, we can give reference designs.
Other designs for reference.
Below are 6 designs for your reference, if you need more tile display ideas or designs, you can contact us any time.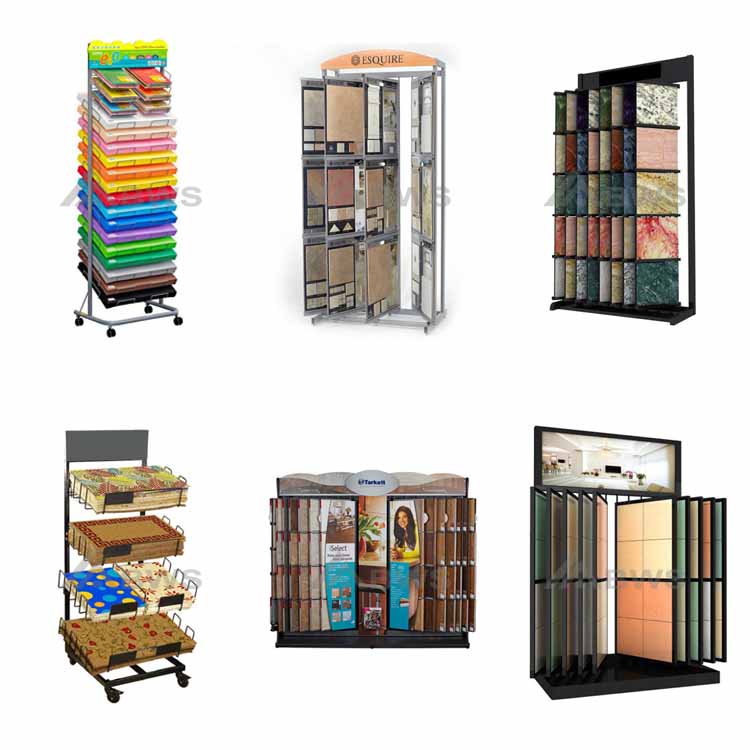 How big is the tile market?
The global ceramic tiles market is expected to reach USD 656.25 billion by 2030, expanding at a CAGR of 7.1% during the forecast period. Increasing demand for aesthetic improvement in flooring and walling is anticipated to support the demand for ceramic tiles during the forecast period. There is a big market for tile products, so you need custom tile displays to stand out and win in the competition.
BWS Displays is a factory with more than 10 years of experience in custom displays. We have worked for clothing, sunglasses, cosmetics, electronics, tools and other industries. We can use metal, wood, acrylic, and zinc material to make your brand tile display to help you sell. You will be happy if you try your next project with us. Below are 4 we have made. If you need help, contact us now.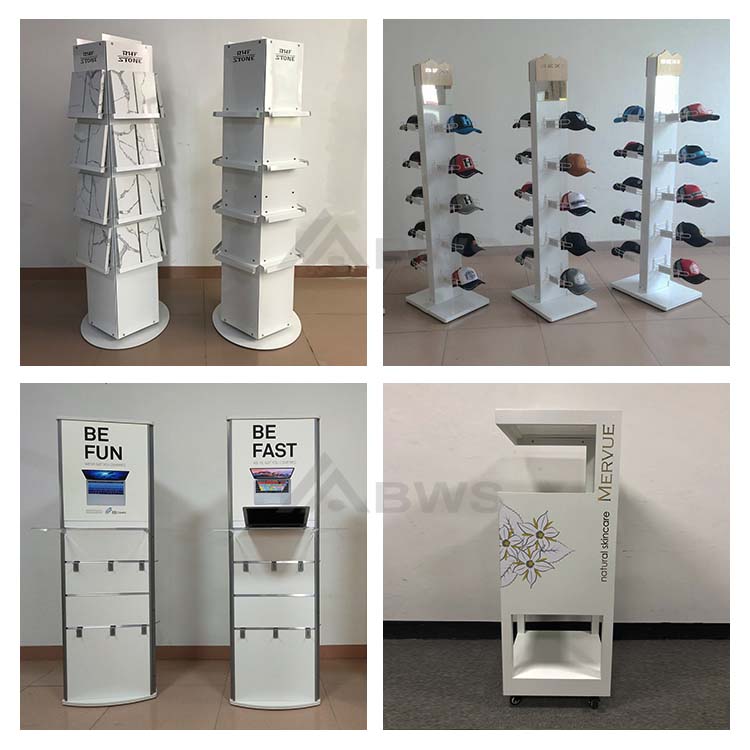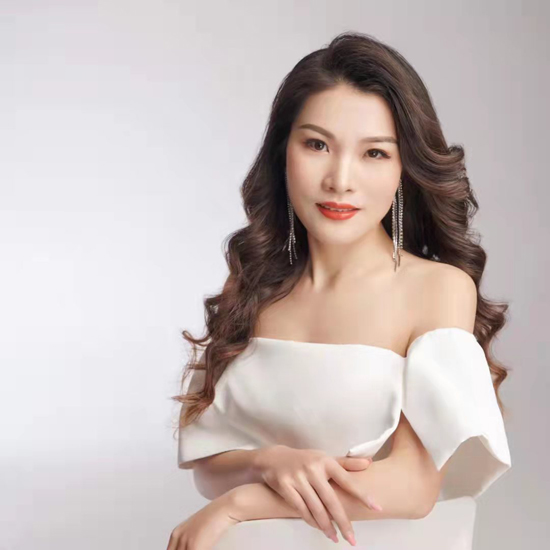 jessie huang
Love what we do and do what we love! Enjoy life, enjoy working in BWS DISPLAYS.