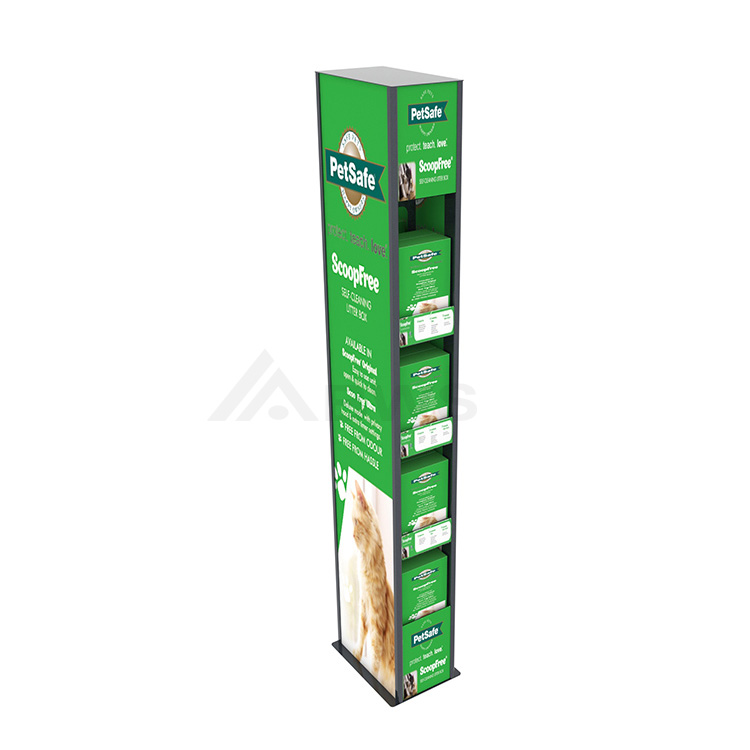 4-tier Pet Shop Display Stands Custom Freestanding Display Solution
Order(MOQ):50
Payment Terms:EXW, FOB Or CIF
Product Origin:China
Color:Black
Shipping Port:Shenzhen
Lead Time:30 Days
Service:Customization Service, Lifetime After-sales Service.
How to display pet products to sell?
Pet shop display stands are one of the display solutions to display pet products to sell. BWS is a factory of custom display fixtures, you can make different display fixtures for pet stores, including custom store displays, display stands, display racks, gondola shelving, retail wall units, end unit fixtures, and more.
Pets are part of the family. Pets are wellness companions, protectors, or best friends, sometimes all three. People are spending more money on their pets, and this is reflected in the growing pet industry. The global pet market is worth $261 billion. It is projected that people in the USA will spend close to $109.6 billion on their pets in 2022.
And there are so many pet products to display, the most popular pet products are novelty pet beds, multifunction biting toys, hamster cages, cat litter mats, personalized collars, dog harnesses, car seat protectors, pet food and more. Custom pet shop display stands can meet different display needs with your brand logo.
Today we are sharing with you one of the 4-tier pet shop display stands that we made for pet safety products, which can display pet foods as well.
What are the features of this 4-tier pet shop display stand?
This is a 4-tier display stand that is designed for pet safe, which is the largest manufacturer of electronic pet training products in the U.S., its pet products after innovative research and advanced design have made paws happier and safer from customers across 52 countries (and growing). PetSafe® Brand is the world's leader in containment, training, and lifestyle solutions to give pet owners more great moments with their pets.
As you can see from below picture, the overall size is 130*180*892mm. Brand logo pet safe shows on the top and base of the display stand, as well as two full-length side PVC graphics. The side graphic is the same graphic as the package of the products in green color, which gives a healthy and natural feeling to shoppers. The frame of this display stand is made of a metal frame with acrylic shelves and pockets to hold graphics. The products can be put both in front and back. Of course, you can change the design according to your needs.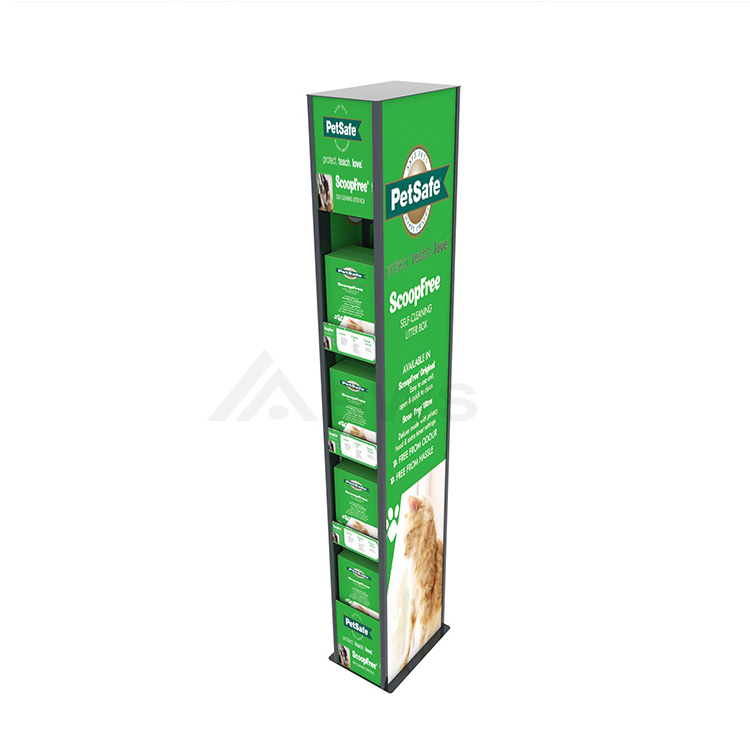 How to make custom pet shop display stands?
It is simple to make your brand pet shop display stands as well as other pet display fixtures at BWS Displays, we can combine metal, wood, acrylic, cardboard and more to make the display stands you are looking for. And we will guide you step by step.
Firstly, You need to share your requirements or display ideas, a picture, or a rough drawing with us, and we need to understand your display needs in detail, so we can give you display suggestions or designs for you.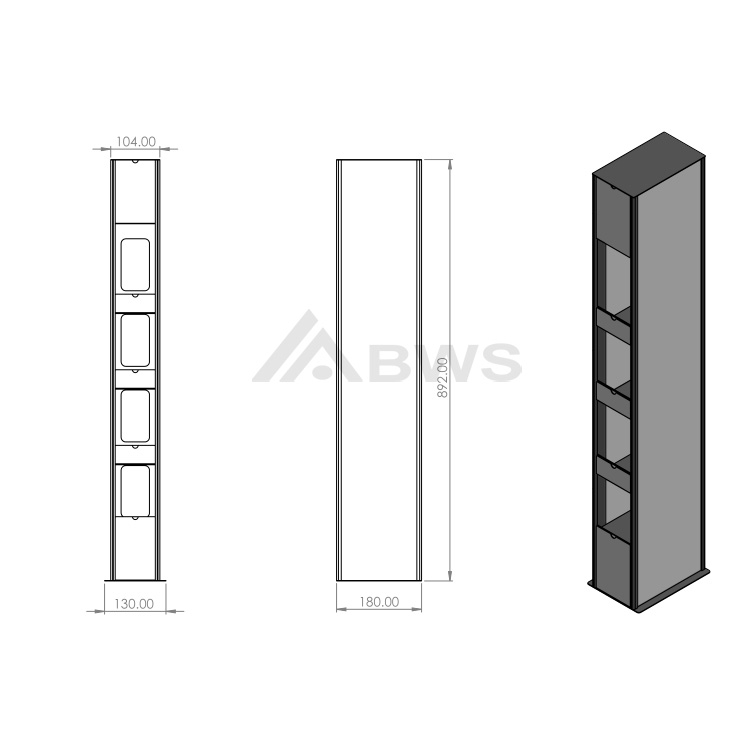 Secondly, after we confirm your needs, we will send you a rough drawing and 3D rendering for confirmation with products and without products.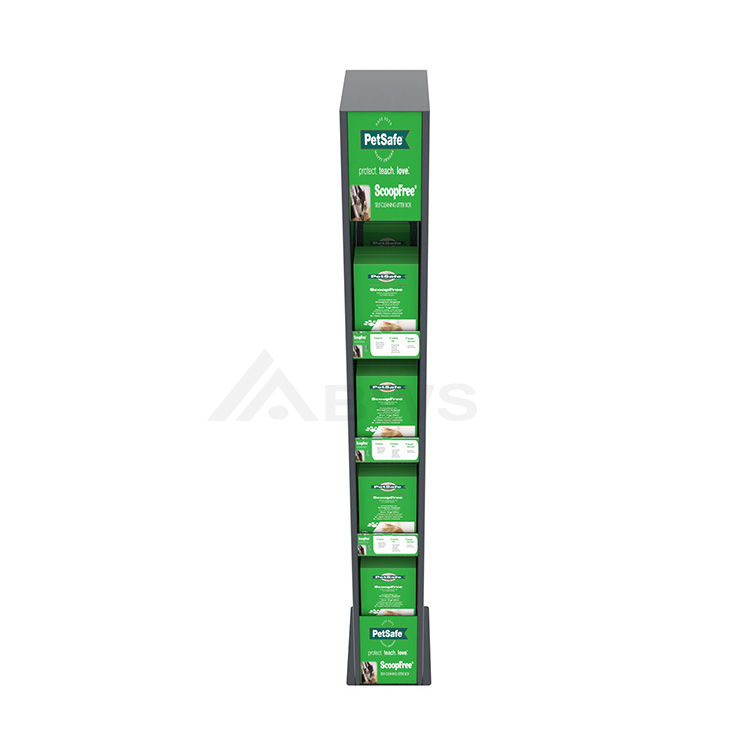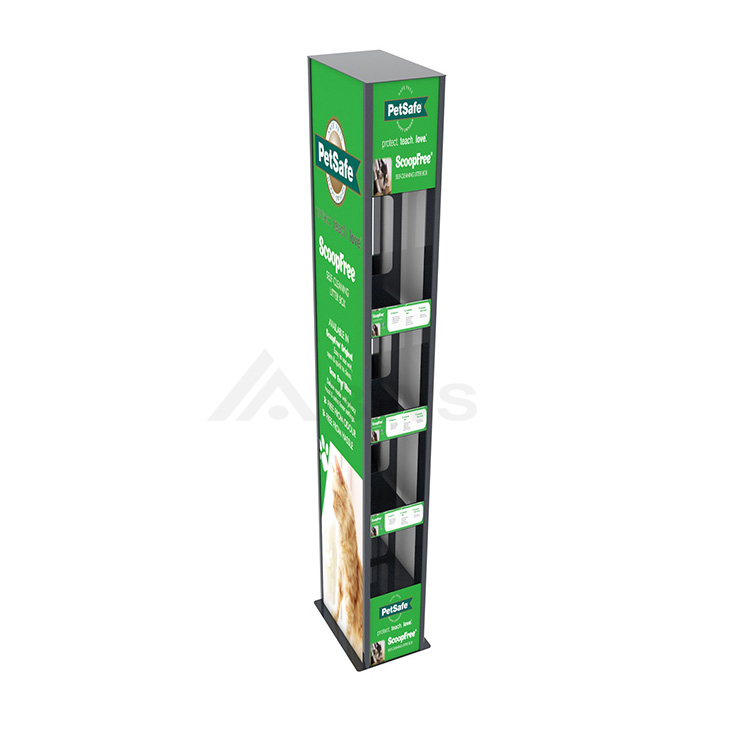 Thirdly, If you do not like the design, we can modify it according to your instructions; if you like, we will make the sample for you. It takes around 5-7days for a sample after the sample order is paid and engineering. We will assemble and test the sample pet shop display stand for you, and photos and videos will be taken which we will send to you. Below shows the construction of the pet shop display stand.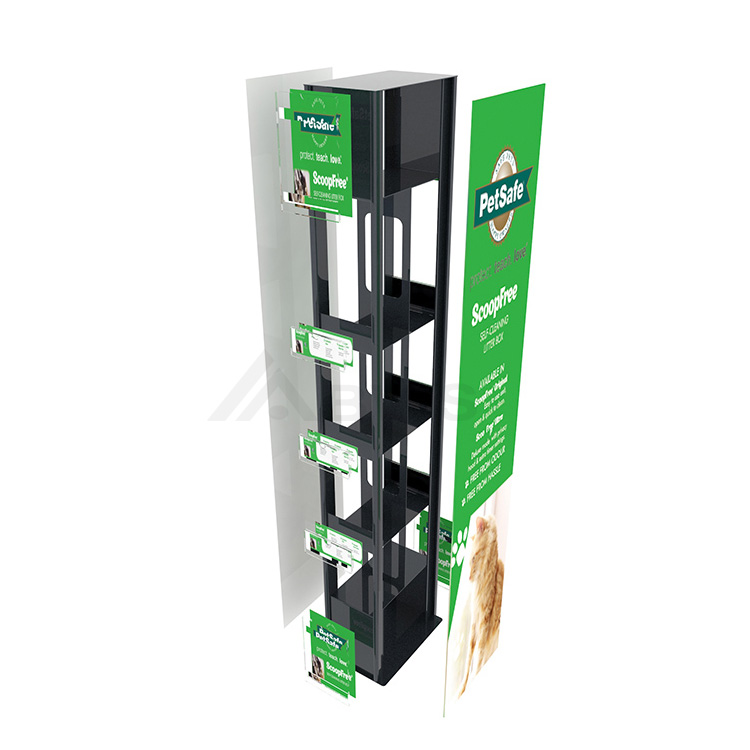 Fourthly, We will arrange the mass production for pet shop display stands as you are confirmed for the sample. At last, We will make a safe package and arrange the shipment for you. And if you have any questions, you can contact us any time as we provide one-stop service from consultant to after-sales service.
Do you have other designs for reference?
Yes, please check below two pet shop display stands for your reference. One is a display cage, and the other is the same brand display we made for petsafe. You can make your brand logo display fixtures to make a big difference and educate shoppers.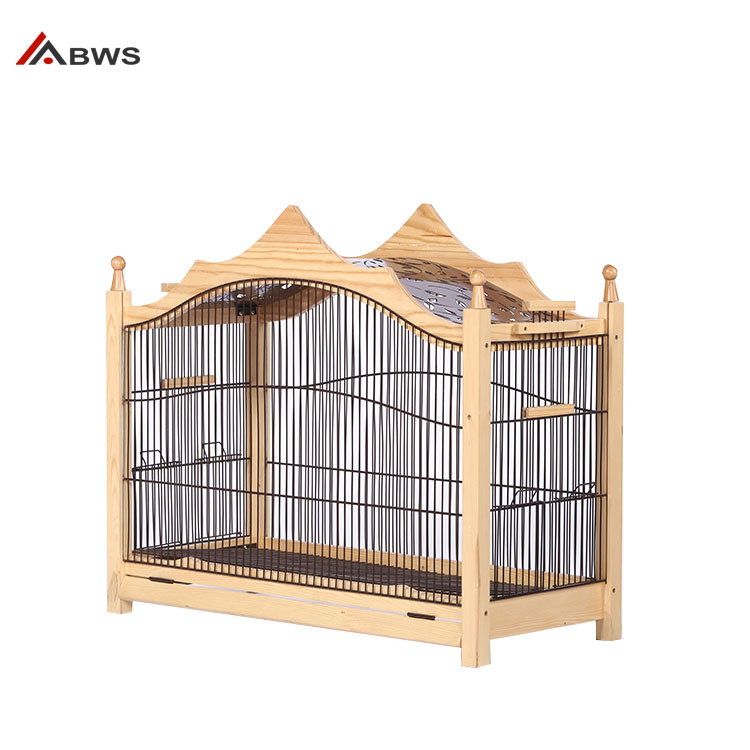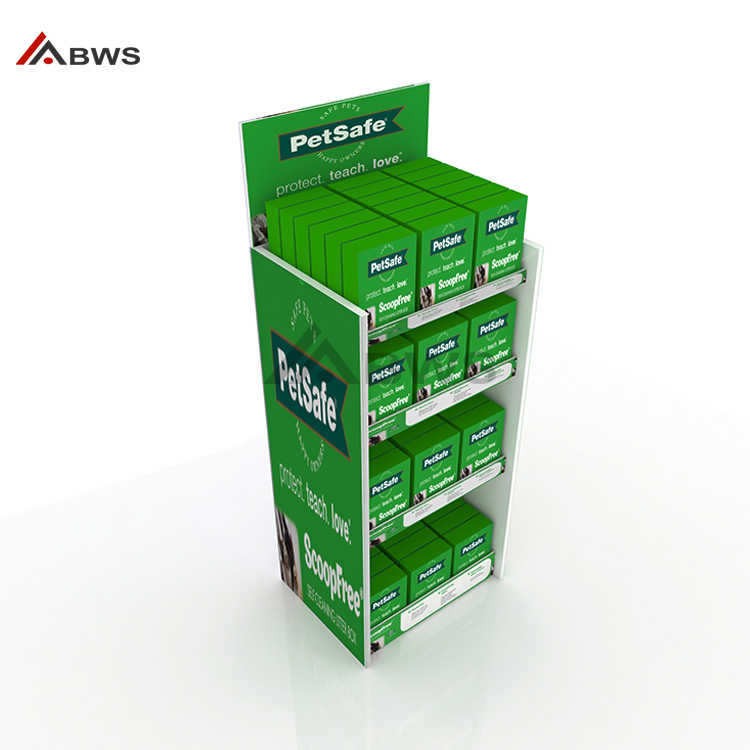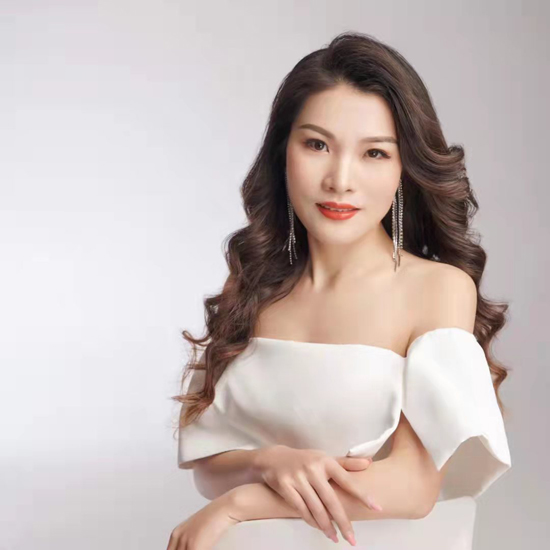 jessie huang
Love what we do and do what we love! Enjoy life, enjoy working in BWS DISPLAYS.