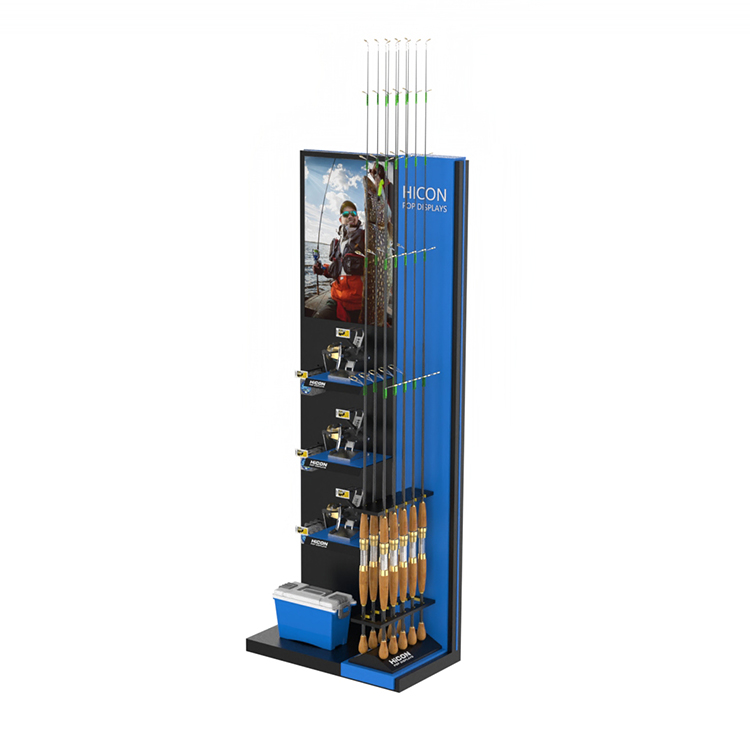 Functional Beautiful 10 Fishing Reel Display Rack Brand Merchandising
Order(MOQ):50
Payment Terms:EXW, FOB Or CIF
Product Origin:China
Color:Blue, black
Shipping Port:Shenzhen
Lead Time:30 Days
Service:Customization Service, Lifetime After-sales Service.
Fishing reel display racks are attractive and well-organized displays can play a big role in attracting customers and driving sales. Customized fishing reel display racks are designed and crafted to showcase and protect the reels from damage, ensuring they stay in tip-top condition. They are sturdy and can accommodate different sizes and types of reels; they can be adjustable stands, they can be rotatable display stands, and enable customers to view the reel from different angles. Today, we are sharing with you floor standing fishing reel display rack that can showcase more than reels.
What are the features of this fishing reel display rack?
This fishing reel display rack is designed with products, customers' attention, and emotional connection in mind. To provide buyers with a one-stop service, there are more products than fishing reels, so we designed this fishing reel display rack with other functions.
1. Help you build your brand.
As you can see, this fishing reel display rack is in blue and black, the blue is like the sky and the sea. And there is a big place for your brand graphic, you can see how happy when a fishing lover catches the fish, and it triggers the fishing lover's emotion at the same time. And your brand is easy to remember. Besides, there is the brand logo on every hook and shelf, and so does the base, which impresses buyers with your brand logo.
2. Showcase as many products as you need.
You can display fishing reels, fishing lures, fishing cases as well as fishing line, fishing bait, and more at the same time, as this fishing reel display stand has a place for fishing reels, and shelves for fishing cases and fishing lures, hooks for fishing lines and baits.
3. Long lifetime and nice design.
It is made of metal with smooth powder coating, it is strong and stable and has a long lifetime. This design will not be out of fashion as it has a nice looking.
4. Space-saving.
It showcases a fishing reel on a vertical side, it makes full of your store space. It showcases 10 fishing rods, one or more fishing cases, 3 fishing reels, and other fishing accessories. The base of this fishing reel display rack is 400*700mm, and it has a small footprint. Besides, it is a knock-down design, which saves shipping costs.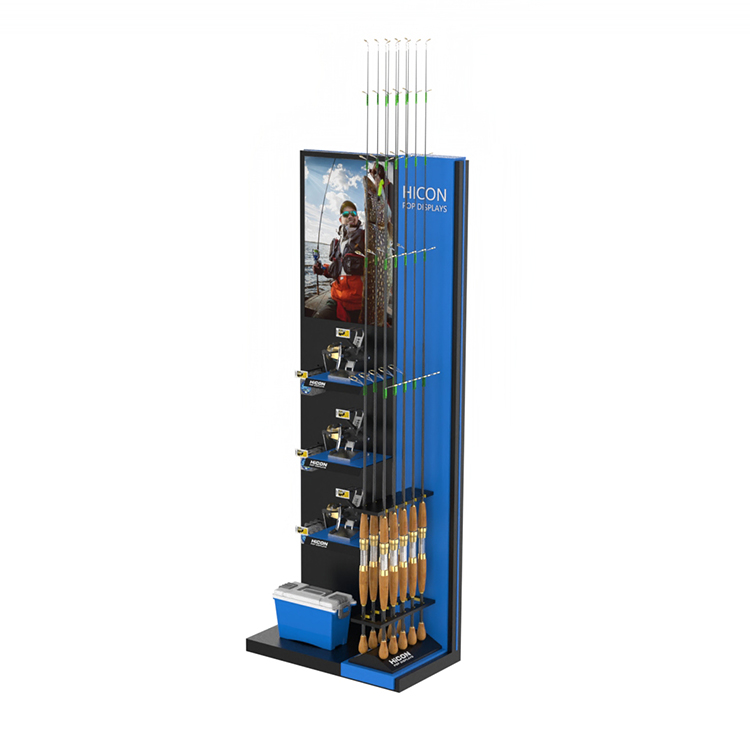 Here are more photos of this fishing reel display rack.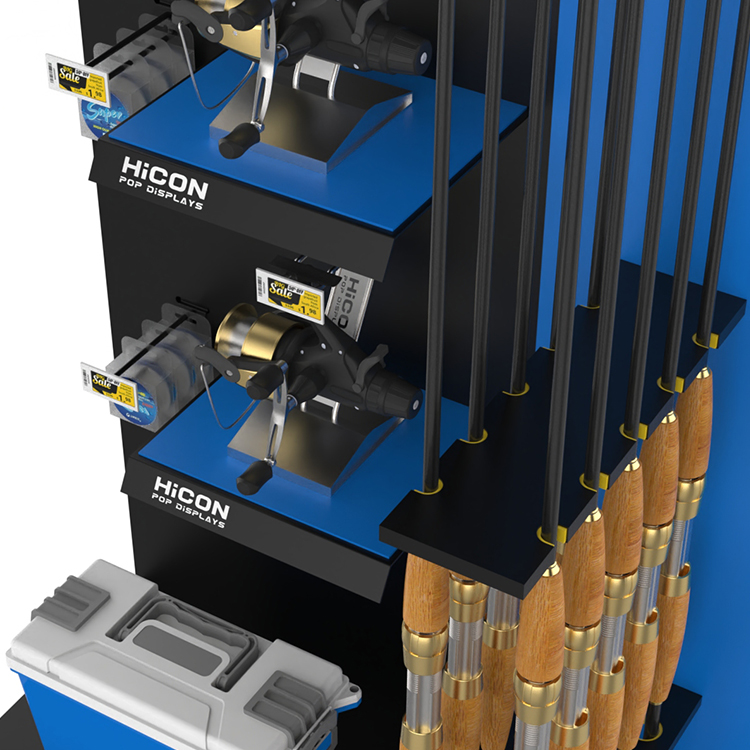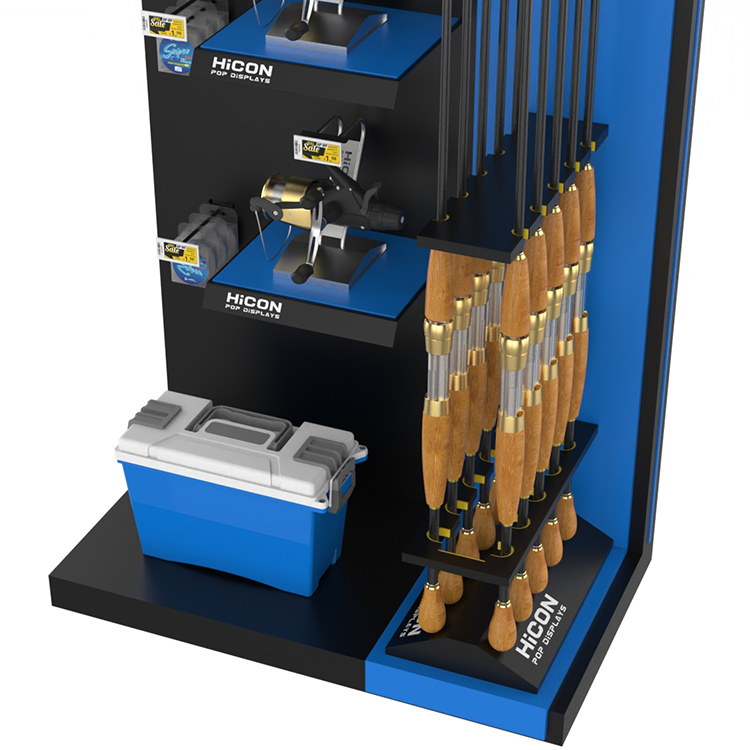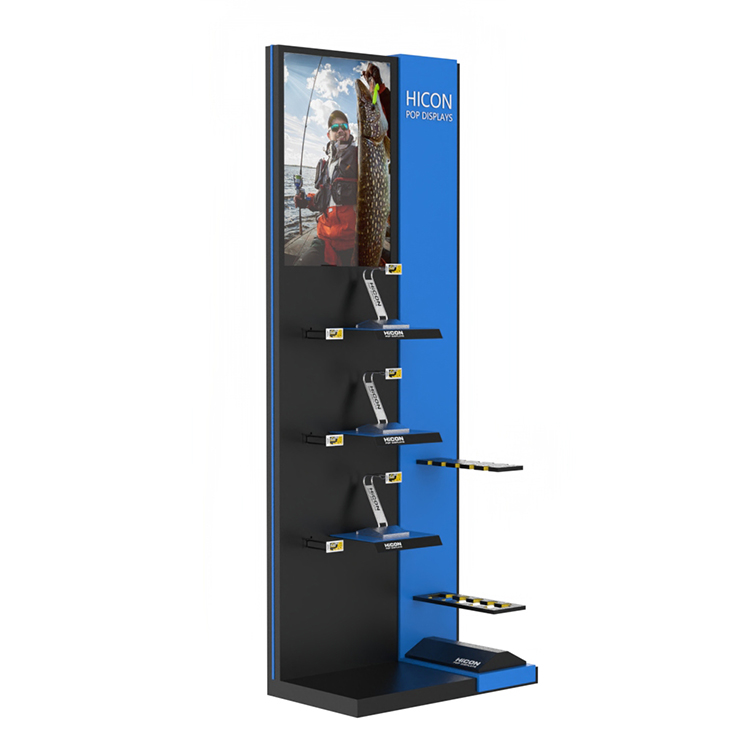 How to make your brand fishing reel display?
All displays we made are customized, so you can change the design or modify the design to fit your products. Below are the general steps which are simply described. You can contact us for details at any time.
1. We need to know display needs in detail first. You can send us a reference design or rough drawing if you have one. Or you can share your display ideas, we can design for you.
2. We will send you a rough drawing and 3D rendering with products and without products when the design or display solution is settled.
3. Make a sample for you and check everything about the sample to make sure it is meet your display needs. Our team will take photos and videos in detail and send them to you before delivering the sample to you. The sample will be finished within 7 days.
4. When the sample is approved, we will arrange the mass production according to your order. You can the deposit and we will finish the order within a month.
5. Control the quality and check all the specifications according to the sample, make a safe package, and arrange the shipment for you.
6. Packing & container layout. We will give you a container layout after you agree with our package solution.
7. Arrange shipment. We can help you arrange the shipment. We can cooperate with your forwarder or find a forwarder for you. You can compare these shipping costs before you make a decision.
8. After-sales service. We are not stopping after delivery. We will follow up on your feedback and solve your questions if you have any.
If you need more designs, you can view these two posts where are shared you with 8 designs.
You will be happy to work with us because we are a factory of custom POP Displays with more than 20 years of experience.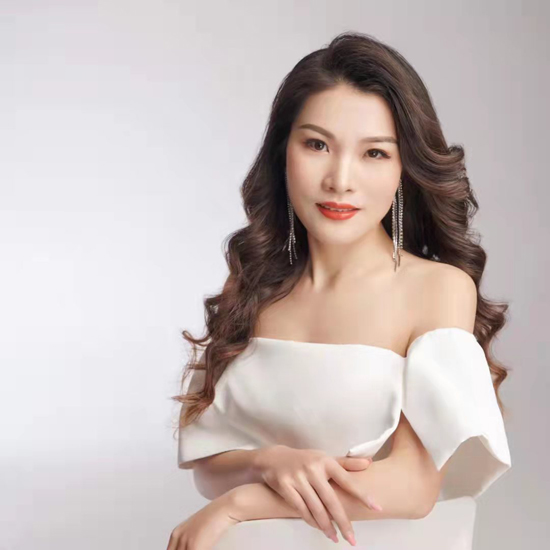 jessie huang
Love what we do and do what we love! Enjoy life, enjoy working in BWS DISPLAYS.