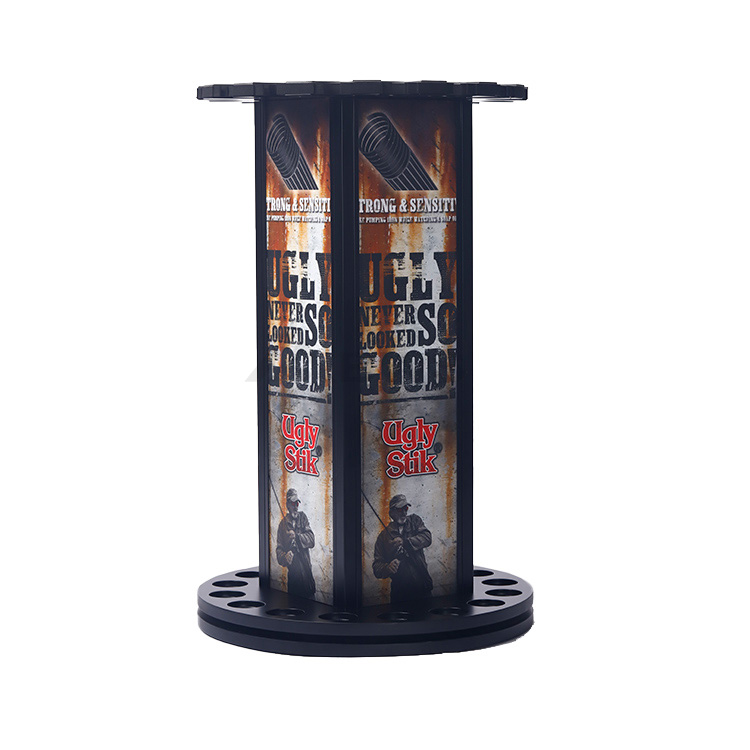 Practical Retail Fishing Rod Display Rack Protects 16 Fishing Rods
Order(MOQ):50
Payment Terms:EXW, FOB Or CIF
Product Origin:China
Color:Black
Shipping Port:Shenzhen
Lead Time:30 Days
Service:Customization Service, Lifetime After-sales Service.
Why do you need a fishing rod display rack?
A fishing rod display rack is necessary because fishing rods need protection. Most fishing rods are made of carbon, which is easy to be damaged if we do not take care of them. A fishing rod display rack will keep them organized and safe.  No matter what kind of fishing rods, we can design and craft the right display rack for you.
BWS is a factory of custom displays, we make different displays to meet clients' specific needs.
How to display fishing rods?
Fishing is a healthy sport, and more and more people love to go fishing. Fishing rods are in different sizes and lengths, so a custom display rack is a good choice. A fishing rod wall display, fishing rod display case, fishing rod display holders, and fishing rod display stand are all available for displaying your fishing rods. Today, we will share with you a round shape fishing rod retail display, which is really useful for retail stores.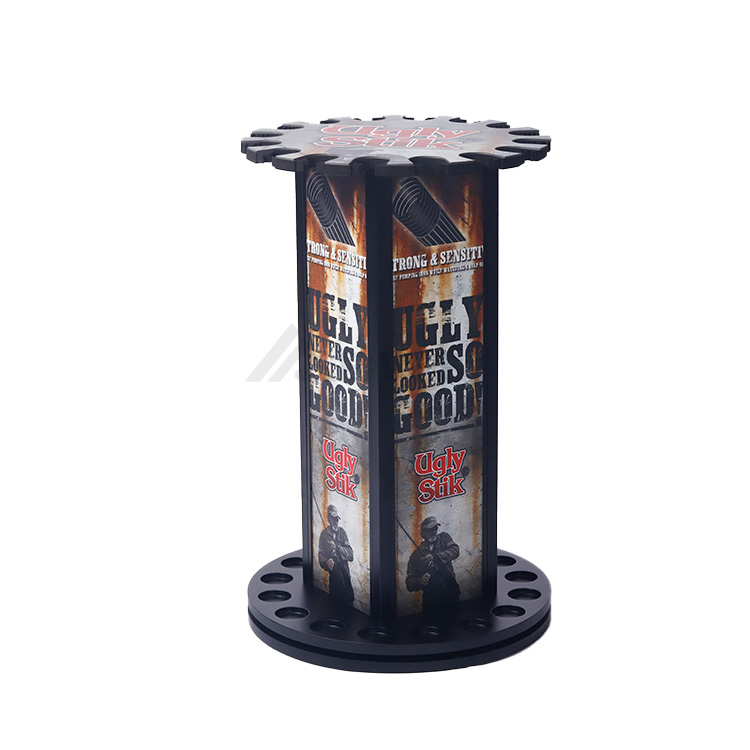 What are the features of this fishing display rack?
First of all, it is a round shape freestanding fishing rod display rack that is made of metal, wood, and PVC graphics. It is 550*550*800mm which fits the fishing rods. Both the top and the base are made of wood, and the top is with custom graphics and brand logos. The base part is with die-cut holes to hold fishing rods. The middle body is made of a metal frame with interchangeable PVC graphics, which get more attention from fishing lovers.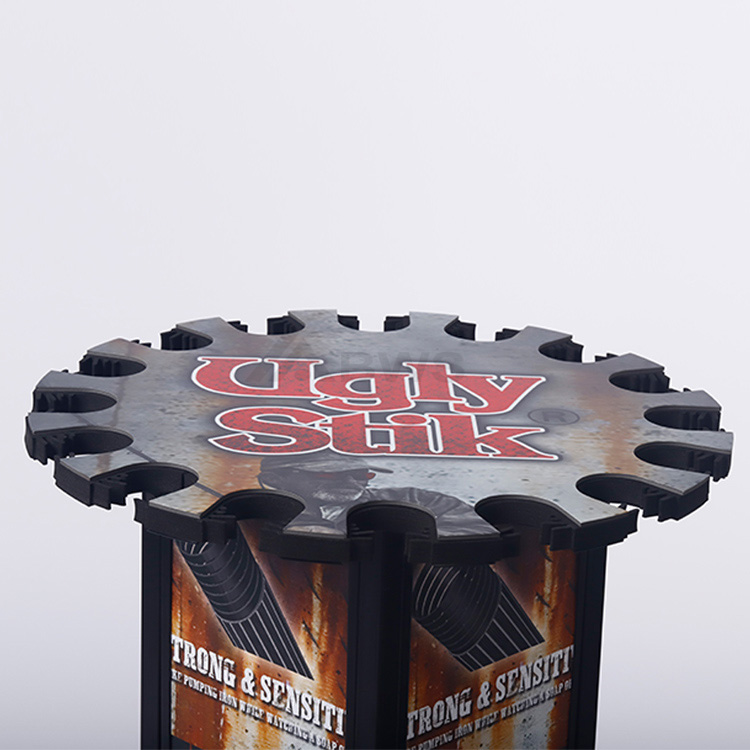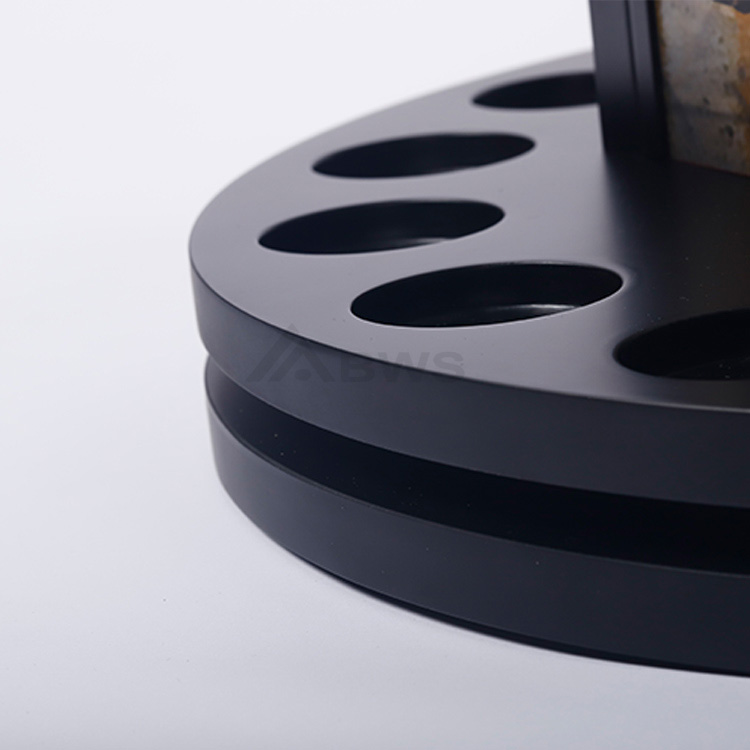 Metal parts are powder-coated black, to make a big match, and wood parts are painted black too. It can display 16 fishing rods at the same time. In order to protect the fishing rod, we added foam to the holder which is softer and safer. In order to save shipping costs, this fishing rod display rack is a knock-down design, which is packed in a flat package. But it is easy to assemble, as the spare parts and assembly instructions are within the carton. The carton size is 795*580*200mm.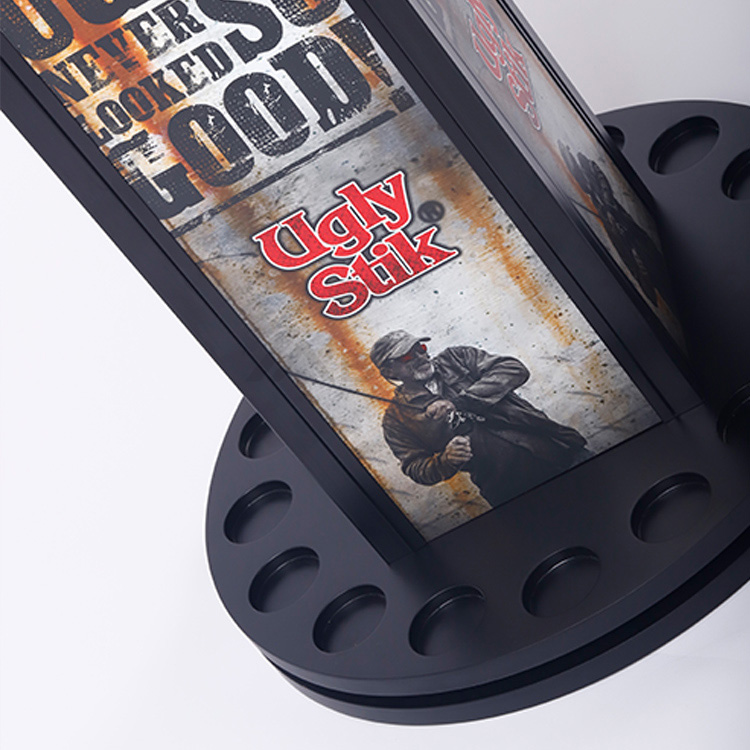 This is the base of the fishing rod display rack, you can see it is rotatable.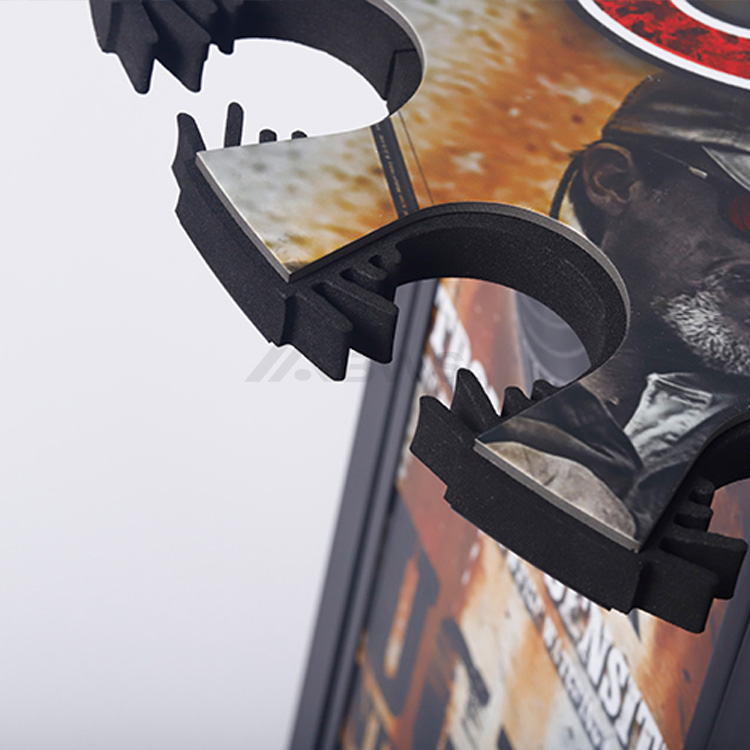 How to make your brand fishing rod display?
It is the same as we did for other projects. We need to know your fishing rod specification first.
If it is possible, you can express us a sample to modify the design and test the function. Or you can send us pictures with dimensions. And secondly, we would like to know your display needs, wall rack or display stand, fishing rod display rack or display case. What material do you prefer, and how do you like to display your fishing rods, where to show your brand logo and graphics? Of course, your order quantity will help us give a professional suggestion on choosing materials and provide exact price, the more, the cheaper.
Thirdly, we will send you a rough drawing and a 3D drawing after you confirm all information. And a sample will be made after your order. We will assemble and test the sample, during this process, we will take photos and videos, which we will send to you.
Fourthly, only the sample is approved, we will arrange mass production. We will control production according to the data of the sample.
Fifthly, we will design a safety package before finishing, and we assemble and check all the details before package and delivery.
We also help clients arrange shipments. So if you need help with shipping, we will do it for you. We don't finish after delivery, we provide after-sales service. If you have any questions, you can contact us at any time.
Do you have other fishing rod display ideas?
Below are some designs for your reference which may help you get some display ideas. If you need more designs or more information about this fishing rod display rack, reach us now.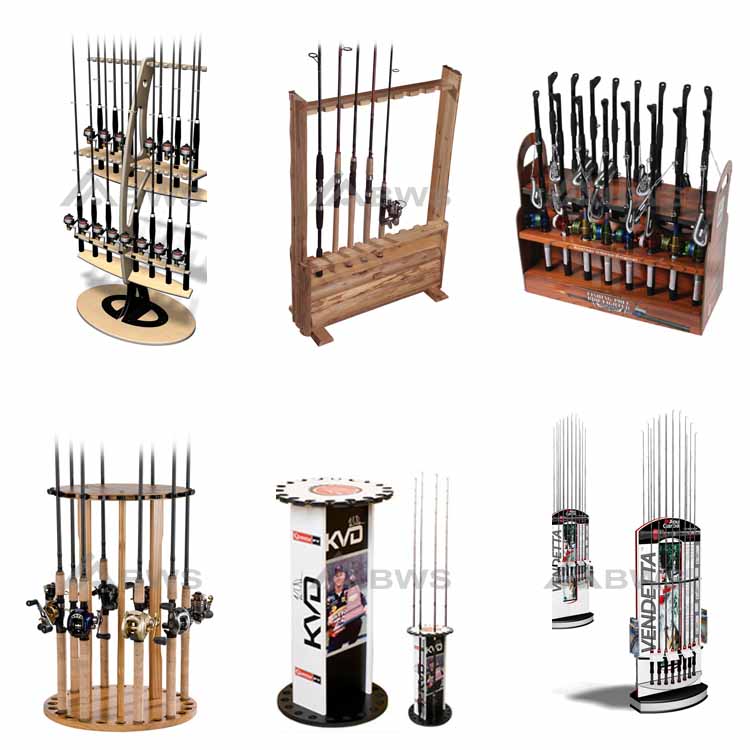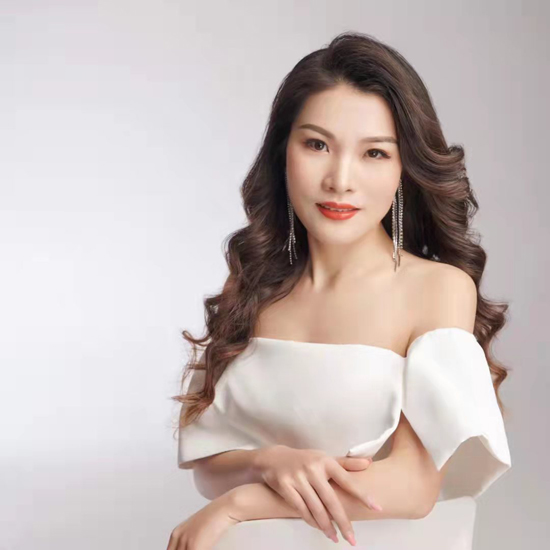 jessie huang
Love what we do and do what we love! Enjoy life, enjoy working in BWS DISPLAYS.