Countertop Wrist Watch Display With 5 Watch Holder To Increase Sale
Order(MOQ):50
Payment Terms:EXW, FOB Or CIF
Product Origin:China
Color:Wood
Shipping Port:Shenzhen
Lead Time:30 Days
Service:Customization Service, Lifetime After-sales Service.
What does wrist watch displays do for you?
Wrist watch displays are designed to organize and showcase wrist watches with brand logo for retail merchandising. They are customized to help you build the brand and increase sales. The watch display stands will help you in these ways as they are part of POP displays.
Catch customers' attention: the most crucial aspect of POP display marketing in business is to attract customers' attention every other time they come into the store. POP display marketing takes advantage of customers who aimlessly maraud the store aisle and are in a dilemma on which products to purchase. These displays are often more prominent and visually appealing than the original product packaging and are therefore easy to spot and often very attractive.
Educate buyers: buyer information is vital in convincing customers to purchase products in a store. The POP display designs are therefore there to give essential information to the customer regarding the products on the shelves. A client who walks into the store with minimal details on specific products would find these displays very beneficial and eventually purchase the products.
Target impulse buyers: POP displays are practical tools for targeting impulse buyers in a store. Some people enter the store without knowing what they want to buy. The signs would take advantage of such clients because a conspicuous sign showing distinct features of a particular product might give the clients a reason why they should buy the products.
Reduce marketing costs: a good point of purchase marketing strategy will effectively reduce the marketing cost of a business. Most of the POP displays used in the market are simple and cost-effective; thus, the business owners would save money that would otherwise go into expensive advertisements.
Product placement flexibility: point of purchase displays offer retailers more flexibility in product placement and help boost flexibility. Instead of placing items in hidden locations in the store, point of purchase displays allows for placement of the items on high traffic areas where customers are likely to spot and buy them.
Today we are sharing with you a countertop wrist watch display stand.
What are the features of this wrist watch display stand?
This wrist watch display is crafted from a combination of wood and metal, this stand is durable and beautiful. It is a nice design that is sure to catch the eye of shoppers. One of the standout features of this watch display stand is the 5 watch holders that can display watches at different heights. To further emphasize your branding, we've included a custom metal 3D logo on the back panel of the stand. Not only does this help build brand recognition, but it also adds an extra touch of professionalism and sophistication to the overall presentation.
Besides, this wrist watch display stand is with interchangeable back panels. This means the stand is easy to pack and transport, ideal for a trade show or pop-up store. Whether you want to display your watch collection in a retail store or at a trade show, this wrist watch display is a good choice. So if you're ready to take your watch marketing to the next level, be sure to grab our new watch display stand today!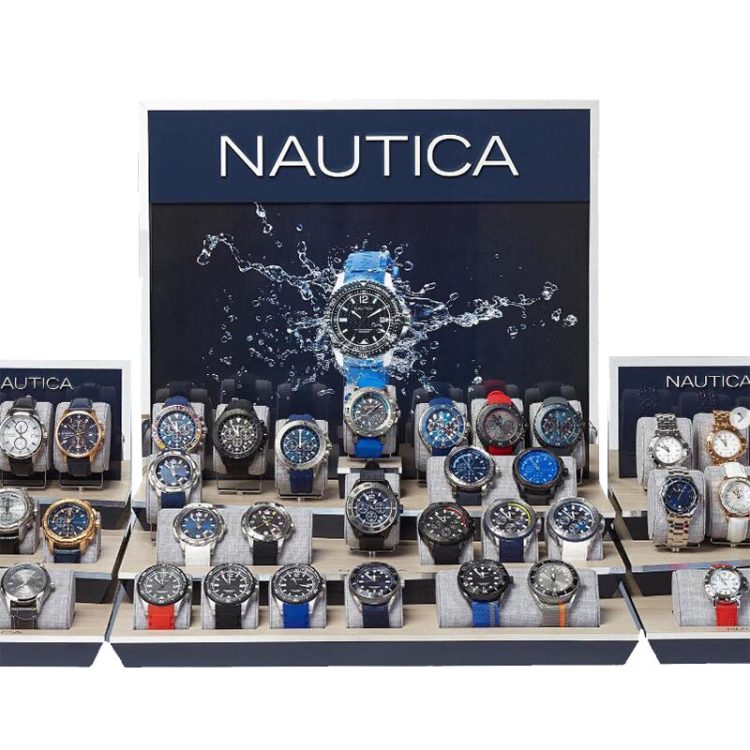 If you need more watch display designs, you can contact us at any time. Below are 7 designs for your reference.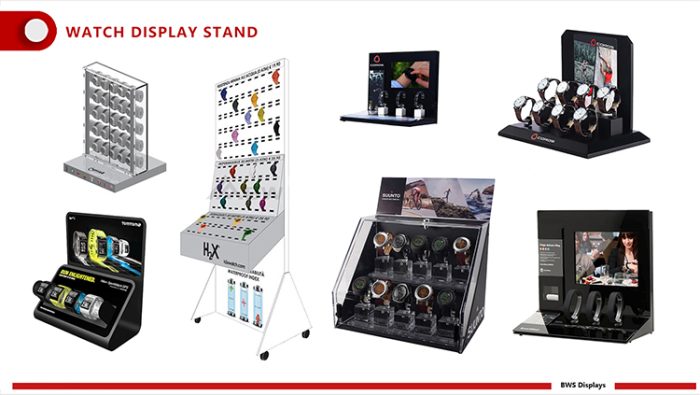 How to make your brand logo wrist watch display stand?
It is the same process as we made other custom displays. First of all, we need to understand your needs, for example, what kind of displays you like, a tabletop wrist watch display stand or a floor wrist watch display stand, even a watch display case or watch display box. What material do you like, metal, wood, acrylic, EVA or other materials? How many watches do you want to showcase at the same time? Etc.
And the second is to design or modify the design you like. You can send us a reference design or just share your display idea with us, we will come out with the right display solution for you.
The third step is to make a sample. A  sample is important to check how the displays work for your products, and how the clients think about the sample. Does the wrist watch display match your store and watches?
Only after the sample is approved, we will process mass production. We have a professional team to control the quality and our project manager will update the status for important steps with pictures and videos.
The fifth step is to check the quality and arrange safe packing. We will give you a container layout after you agree with our package solution. Normally, we use foam and plastic bags for inner packages and strips even protecting corners for outer packages, and put the cartons on pallets if necessary. A container layout is to make the best use of a container, it also saves shipping costs if you order a container.
The sixth step is to help you arrange the shipment. We can cooperate with your forwarder or find a forwarder for you. You can compare these shipping costs before you make a decision.
And we provide after-sales service if you have any questions, you contact us anytime. We are sure you will be happy with us when you try your next project with us.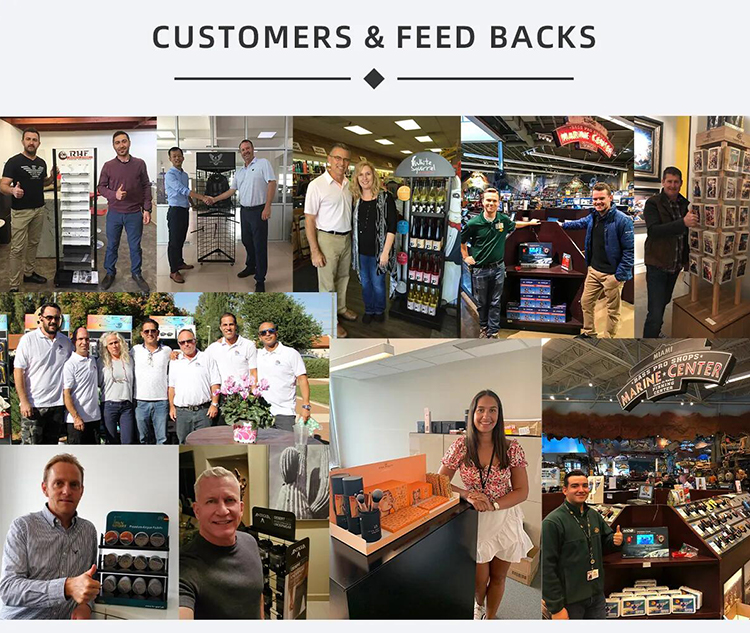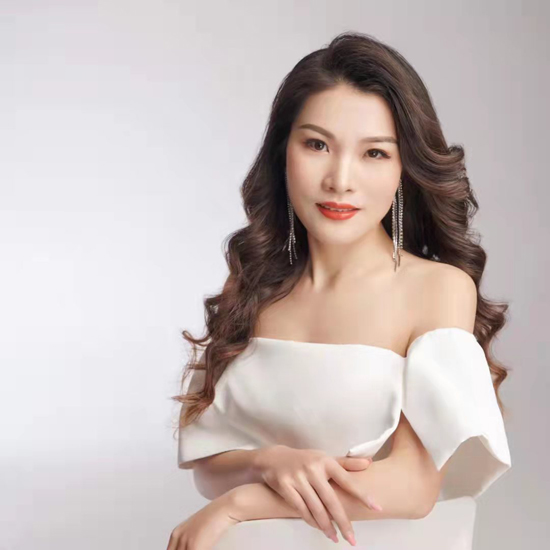 jessie huang
Love what we do and do what we love! Enjoy life, enjoy working in BWS DISPLAYS.