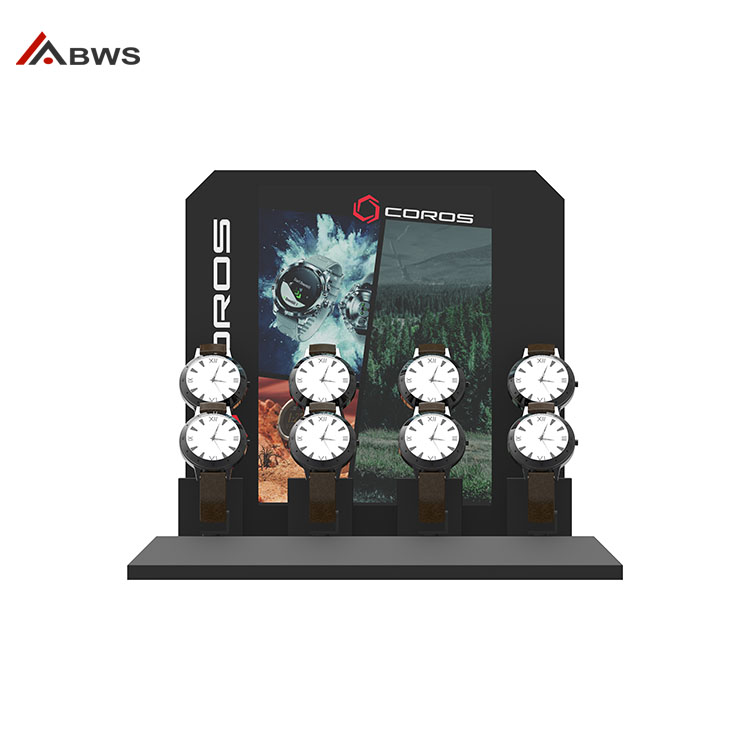 Custom Metal Watch Display 2-Row Tabletop Solution
Order(MOQ):50
Payment Terms:EXW, FOB Or CIF
Product Origin:China
Color:Black
Shipping Port:Shenzhen
Lead Time:30 Days
Service:Customization Service, Lifetime After-sales Service.
How to choose displays for your watches?
There are so many watch displays to choose from, watch stands, watch display racks, watch display cases, watch display cabinets, watch display boxes, watch display trays and more. They show watches in different ways. Besides, displays are different in sizes, designs, functions, styles, but it is not difficult to choose the right display solutions for your watches.
These are basic elements that will help you choose the right display.
1. Where do you want to display your watches, floor, or tabletop?
2. How many watches do you want to display at the same time?
3. Where does your logo or graphics be added to the display?
4. What materials do you like?
5. Do you need a lock or rotating or video player function?
As for the color, there are many colors available. Here is one example for you. The watch display stand we made for COROS.
Why did we make this watch display?
This watch display matches COROS brand culture. COROS is a performance sports technology company. Their products help athletes train to be their best. They are all about the outdoors, mountains, and a passionate active lifestyle. And their users have set World Records and been to the highest point on earth, pushing their products to the extremes.
The buyer told us they needed a countertop display stand, it should display 8 watches at the same time. And the logo and graphic should be shown on the back panel. They preferred to make the watch display in black color.
After knowing their needs and their watch's specification, we made a rough drawing as below. There is a space for a passionate lifestyle shot in the middle of the back panel.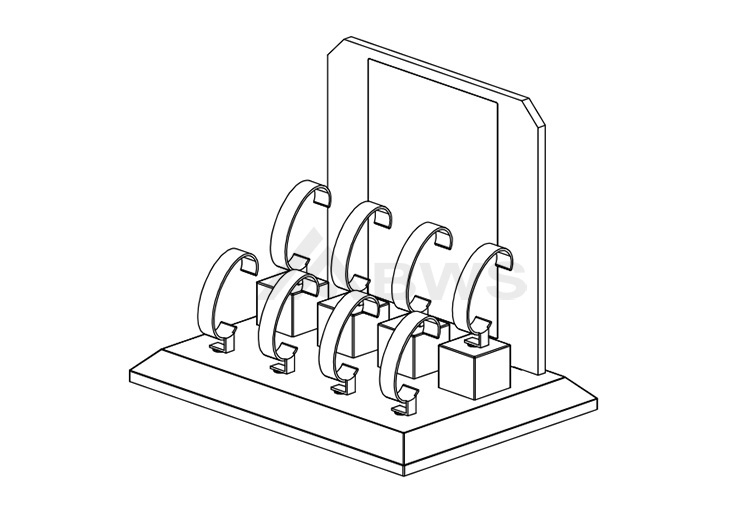 The rough drawing gives a general look of this display.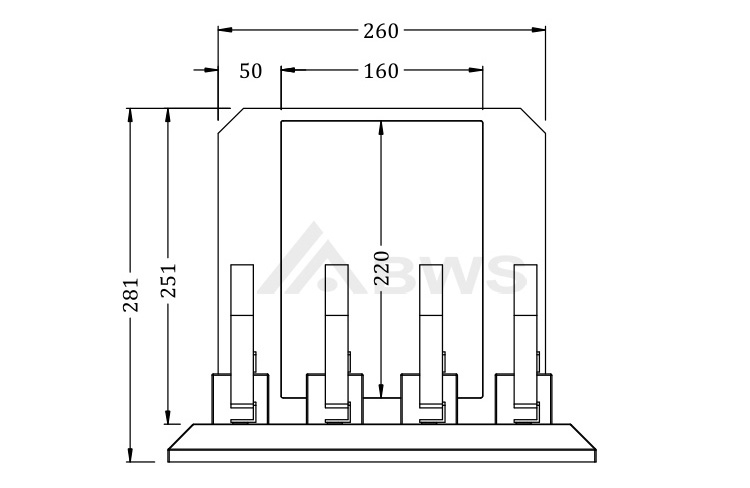 The overall dimension is 340*281*240mm while the pack panel size is 281*260mm.
What are the features of this watch display?
This display is made of metal with black powder-coated finishing. It is has a special shape in slant. The back panel is with custom logo, and the central PVC graphic is interchangeable. Complete logo (red symbol and white written) is put on the back panel and the front of the base. There are 4 parallelepiped bases, measurements are 50mm x 50mm, height is 40mm. Another 4 C rings for watches are in plastic, and there is a 75mm gap among them. In total, it can display 8 watches at the same time.
Do you have more photos of this watch display?
Here are more photos for your reference.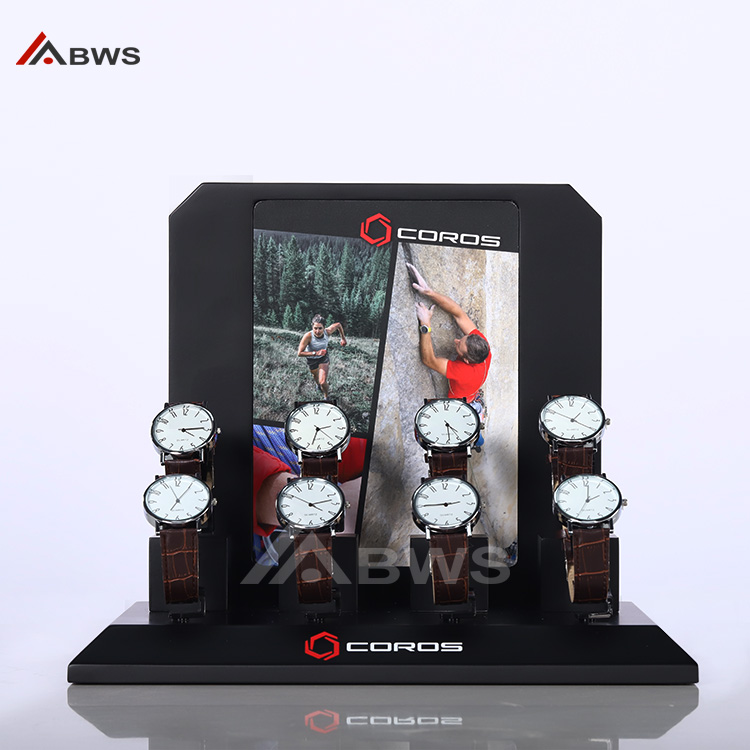 The overall appearance of the display stand is elegant and gorgeous. The lifestyle shot graphic is interchangeable and educates the shoppers.
The nice finishing tells the quality of both watches and display stand.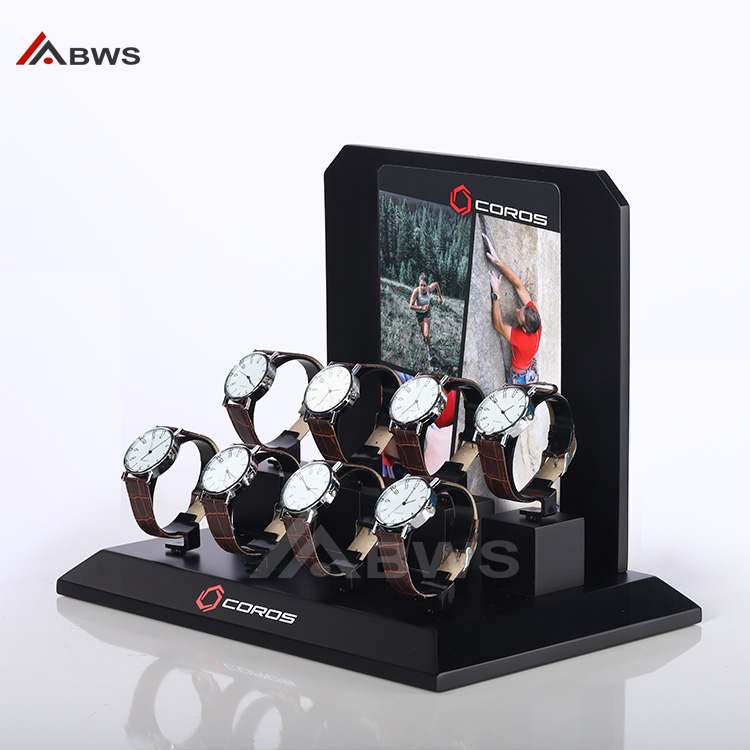 This photo is taken from the side, watches are on the display. 8 watches are in two rows, 4 of each row.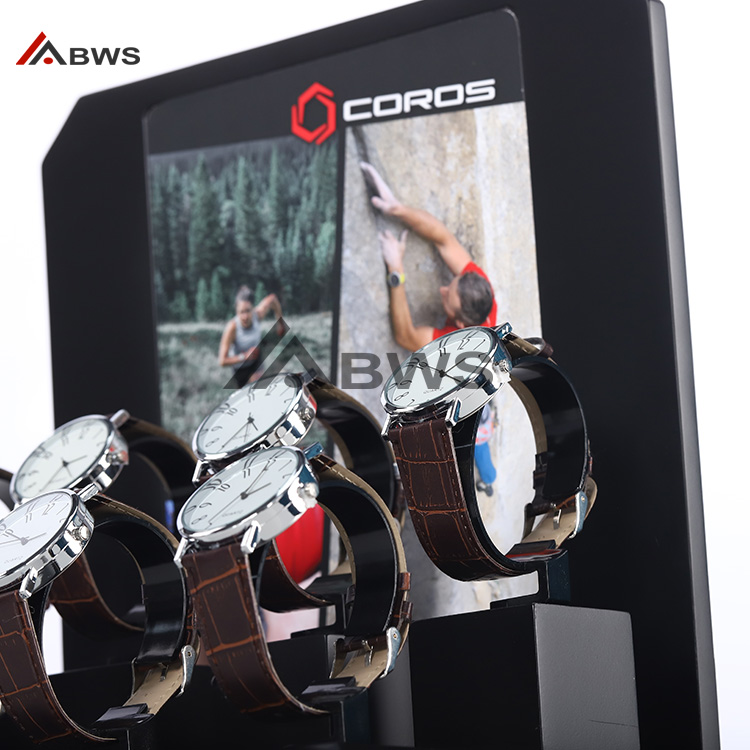 From this photo, you can see that the C-ring is black, it matches watches well.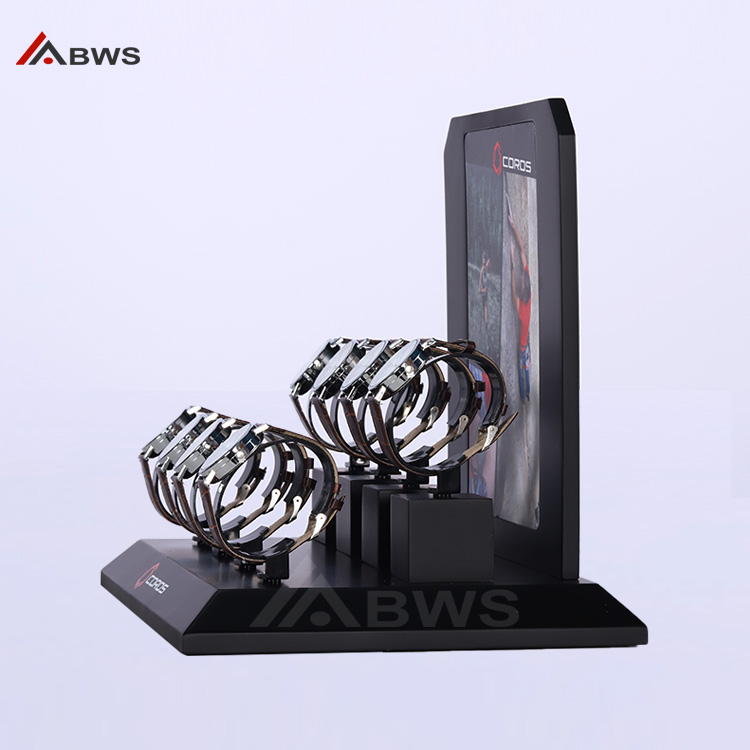 From this photo, we can see a special shape base that is very nice and active.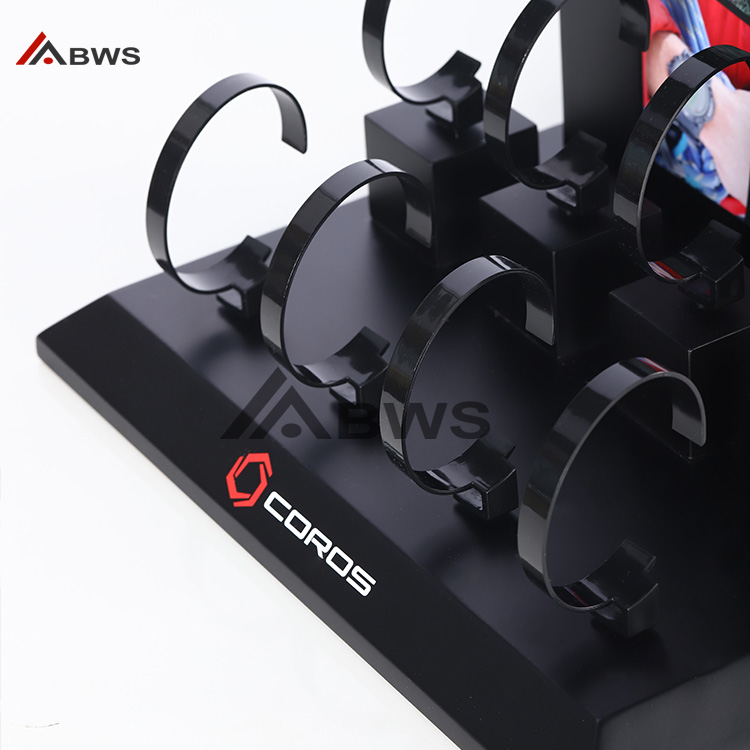 From this picture, you can see the C-ring holders, this shows how the C-ring is fixed to the base.
How to make custom watch displays?
It is simple to make custom watch display stands. After you confirm the basic elements ( refer to the beginning of this post), we will design the watch displays for you. The color you choose should match your watches. As usual, we will send you a rough drawing and 3D rendering, so you can see what the display stand is like.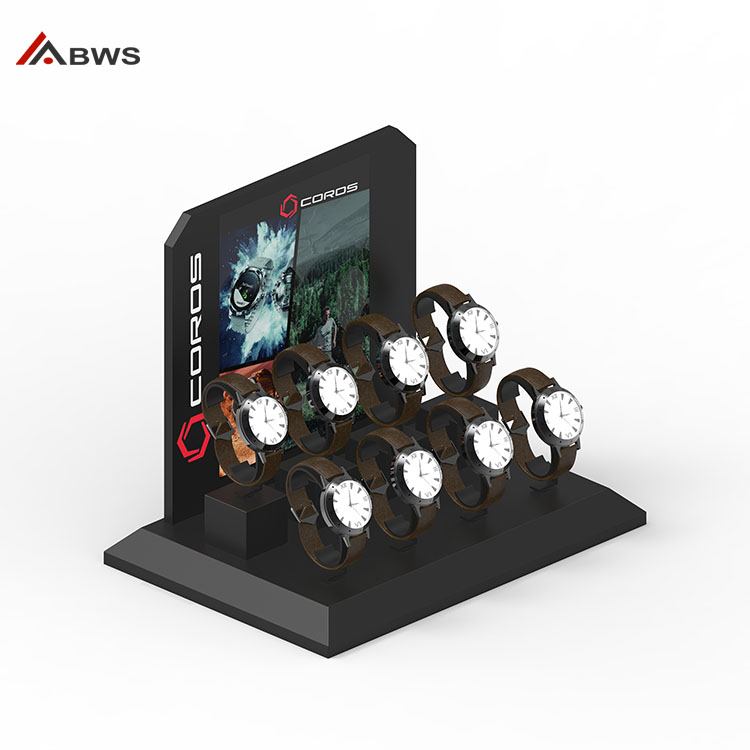 Above is a rendering. You can make some changes to the rendering. For this Coro's watch display, the buyer changed the left side logo of the back panel to be on the front of the base. Then we make a sample according to the change. After the sample is confirmed, we will arrange production according to the details of the sample. And we will assemble, test, and take photos of watch displays for you before delivery. We will help you arrange the shipment too.
How long does it for sample and mass production?
Normally, it will take around 20-25 days to complete the mass production. And 5-7days for sample. For complicated products, it will be 3-5 days longer.
Are there any other designs for reference?
Yes, there are another two watch displays for your reference.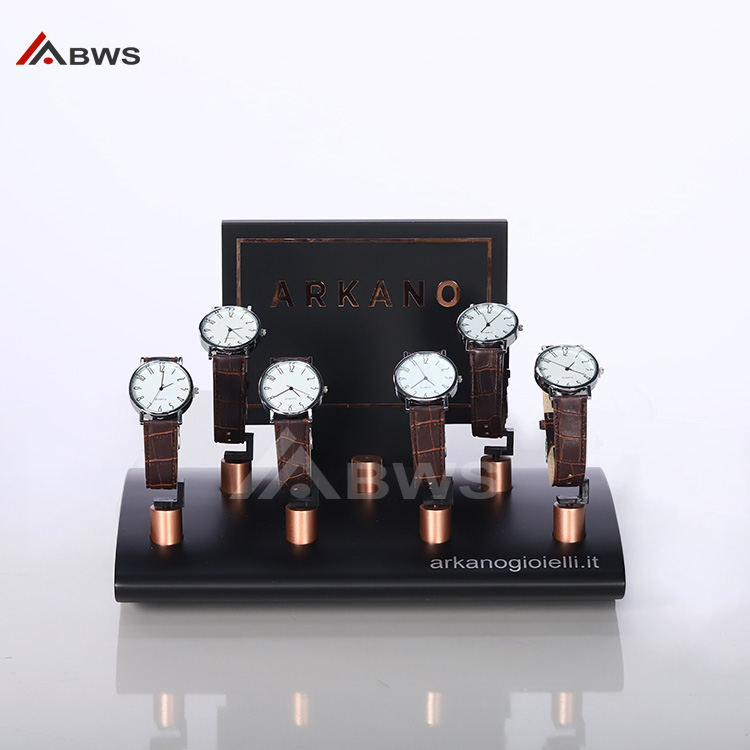 This display is designed for ARKANO to display 7 watches. It is made of MDF with black painting.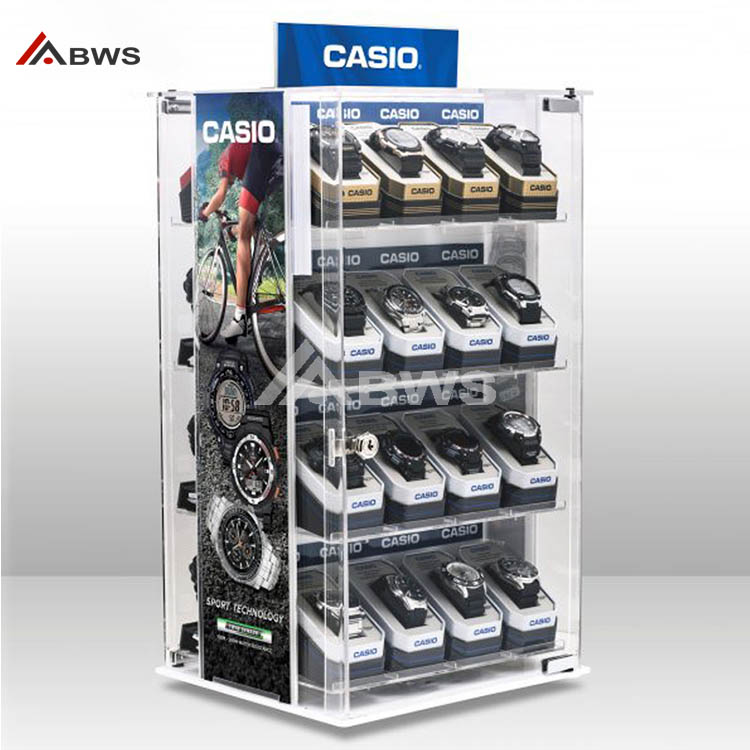 This display case is with locks for CASIO. It keeps the watches from theft and dust but shows the real beauty of watches.
What have we made?
We are a factory of custom displays with more than 10 years of experience. Customers are satisfied with what we made. The below photo is one of these feedbacks.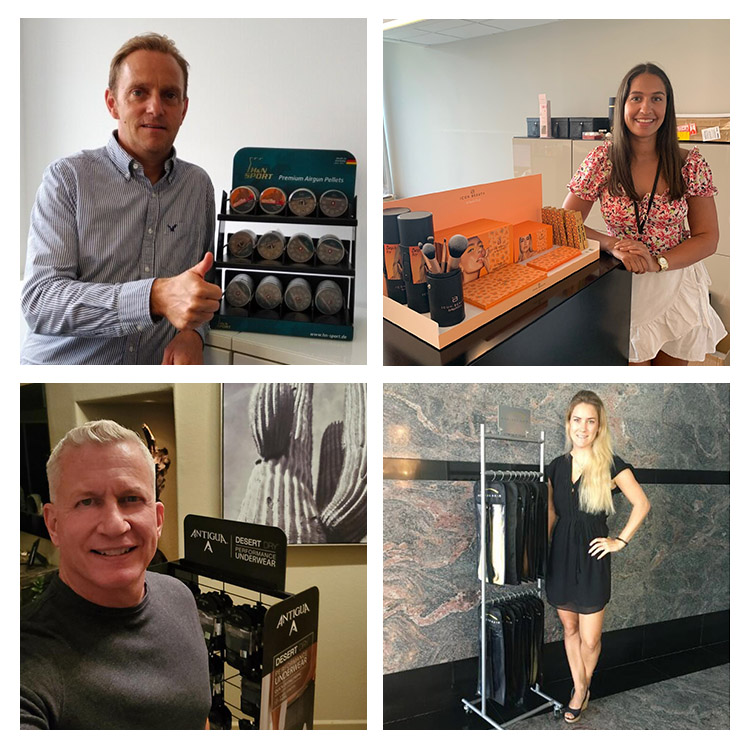 If you have any questions or want to start your project with us, please mail to Jessie at jh@bwsdisplays.com now.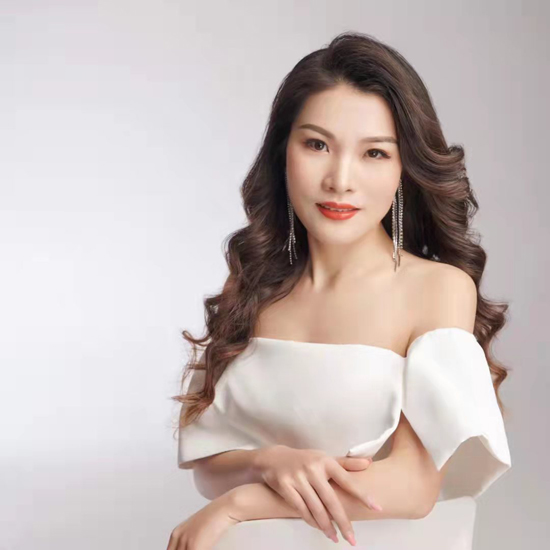 jessie huang
Love what we do and do what we love! Enjoy life, enjoy working in BWS DISPLAYS.