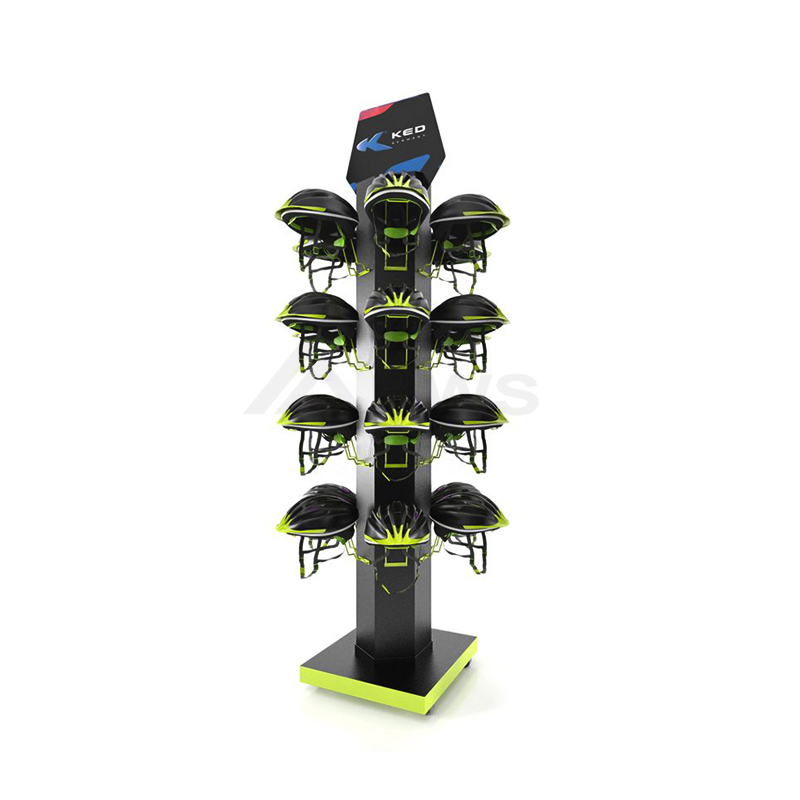 6 sides Helmet Display Stand Freestanding In Metal
Order(MOQ):50
Payment Terms:EXW, FOB Or CIF
Product Origin:China
Color:Black
Shipping Port:Shenzhen
Lead Time:30 Days
Service:Customization Service, Lifetime After-sales Service.
What is a helmet display stand?
A helmet display stand is a fixture used to showcase and sell helmets in sports gear stores. A helmet display stand can be made from different materials such as plastic, metal, or wood. For helmet display cases, they can be made of acrylic. The helmet display stand can be featured a number of hooks, shelves, or holders where the helmets can be put or placed.
These display stands are designed to be both attractive and functional, with the goal of drawing customers' attention to the helmets and making it easy for them to make a purchase. Some display stands may also add mirrors or lighting, even an LCD player to enhance the customer experience.
Using the correct type of display stands around your store will allow you to make the most of the floor space that you have. It also allows you to display as many products as possible without your store looking cluttered or messy. Today, we are sharing with you the helmet display stand.
What are the features of this helmet display stand?
1. Nice Design
It is in a unique shape. The middle pole for the helmet holder is a polygon. And it can showcase helmets in 4 ways. The header is also in hexagon shape, double-sided with brand and helmet information to educate buyers.
2. Large Capacity
There are 5 helmet stand holders per side, it can display more than 20 helmets at the same time.
3. Small footprint.
The base is 400 mm*400 mm, and it takes up a small space. It makes full use of the vertical space.
4. Sturdy and Movable
It is freestanding and is made of metal with a PVC header. Besides, there are 4 casters under the base, which make this helmet display stand movable. But the package is small because of the knock-down design. But we will provide you assembly instructions, which make it easy to assemble it.
How to make custom helmet displays?
There are several types of helmet displays, including:
Countertop displays: Countertop displays are compact and designed to fit on a counter or tabletop. Hemlet display cases and helmet stands are always used on a tabletop.
Freestanding displays: Freestanding displays are standalone fixtures that can be placed anywhere in a store. They are often larger than countertop displays and may feature several shelves or compartments for organizing and displaying a large number of helmets.
Wall-mounted displays: Wall-mounted displays are mounted on a wall, either using hooks, pegs, or shelves. They are ideal for stores with limited floor space and can be used to maximize wall space.
Rotating displays: Rotating displays are freestanding displays that rotate, allowing customers to easily view all sides of the helmets. They are often used in high-traffic areas to attract attention and make it easy for customers to see a variety of helmets.
No matter what type of helmet displays, BWS displays can make them for you. Below are the steps to make your helmet display stand.
1. We need to know your requirements first, such as what's the size of your items in width, height, and depth. And we need to know below basic information.
What's the weight of the item?
How many pieces you will put on the display? What material do you prefer, metal, wood, acrylic, cardboard, plastic, or mixed?
What's the surface treatment? Powder coating or chrome, polishing or painting? What's the structure? Floor standing, countertop, hanging. How many pieces you will need for potential?
You send us your design or share with us your display ideas. And we can also make designs for you, too. BWS Displays can customize the design as per your request.
2. We will send you a rough helmet display stand drawing and 3D rendering with products and without products after you confirm the design. 3D drawings to explain the structure more clearly. You can add your brand logo on the display, it can be stickier, printed or burned, or lasered. We also can make caps display racks with mirrors, lighting, or LCD player.
3. Make a sample for you and check everything about the sample to make sure it is meet your display needs. Our team will take photos and videos in detail and send them to you before delivering the sample to you.
4. Express the sample to you and after the sample is approved, we will arrange the mass production according to your order. Normally, knock-down design is prior because it saves shipping costs.
5. Control the quality and check all the specifications according to the sample, make a safe package, and arrange the shipment for you.
6. Packing & container layout. We will give you a container layout after you agree with our package solution. Normally, we use foam and plastic bags for inner packages and strips even protecting corners for outer packages, and put the cartons on pallets if necessary. A container layout is to make the best use of a container, it also saves shipping costs if you order a container.
7. Arrange shipment. We can help you arrange the shipment. We can cooperate with your forwarder or find a forwarder for you. You can compare these shipping costs before you make a decision.
We also provide photography, container loading, and after-sales service.
Here are some ideas for creating effective helmet displays.
Use lighting: Adding lighting to your helmet display stand can help draw attention and make your helmets more appealing to customers. Consider using spotlights, LED lights, or other types of lighting to highlight specific helmets or areas of the display.
Use color: Consider using color to create a visually appealing display. You can use colored backdrops, and coordinated props to create a bold and eye-catching display.
Utilize wall space: If you have limited floor space, consider using wall space to display your helmets. Wall-mounted displays or shelves can be a great way to showcase a large number of helmets in a compact and space-saving way.
Highlight new arrivals: Make sure to highlight any new arrivals or limited edition styles. This will help keep your display fresh and exciting for customers and can also help you promote specific styles or brands.
By incorporating some of these ideas into your display, you can create a visually appealing and effective display that will help you reach your goals.
Where to buy a helmet display stand?
There are several places where you can buy helmet display stands, including:
Wholesale suppliers: Wholesale suppliers, such as Uline or Darice, offer a wide range of display stands and fixtures at bulk prices. This can be a good option if you are looking to purchase multiple displays or if you have a larger retail operation.
Custom manufacturers: If you are looking for a custom-made helmet display stand, you can work with a manufacturer to create a display that meets your specific needs and requirements. Custom manufacturers can be found through a Google search or by contacting trade associations such as the Retail Display and Fixture Association.
Before making a purchase, it is important to consider the size and style of the display you need, as well as your budget. You may also want to consider factors such as the material and durability of the display, as well as any additional features you may need, such as lighting or rotation.
Bws is one of the custom display factories in China, we have these advantages. 1. Cost-effective manufacturing: we have more than 20 years of experience, which allows for lower production costs and more competitive pricing. This can be a significant advantage for businesses looking to purchase helmet display stands at a lower cost.
Wide selection of materials:  Metal, wood, acrylic, plastic and more can be used to make custom helmet display stands.
Convenient shipping: China is located close to many major markets, which allows for fast and convenient shipping. This can be a significant advantage for businesses that need to receive their displays in a timely manner.
If you need more designs or more information, contact us now. Below are two more for your reference.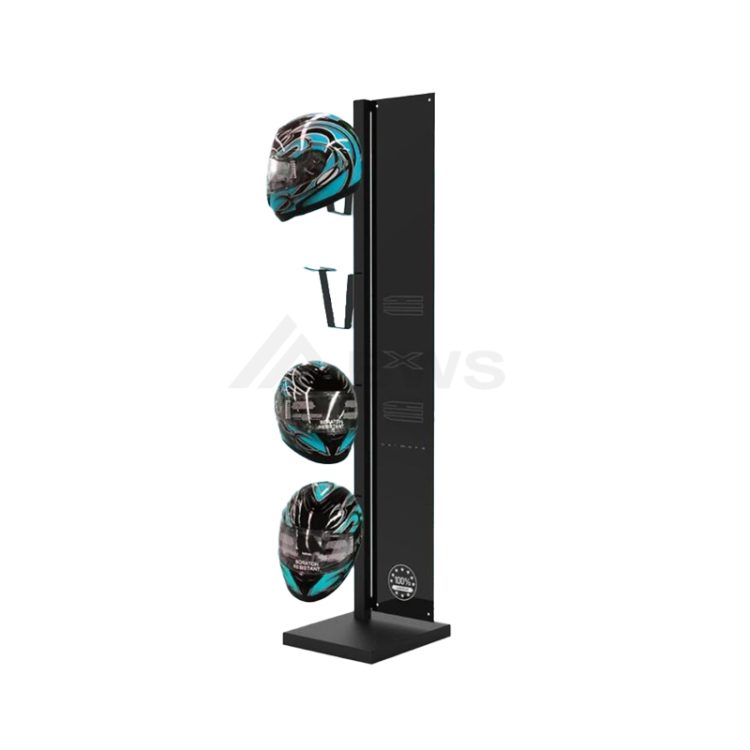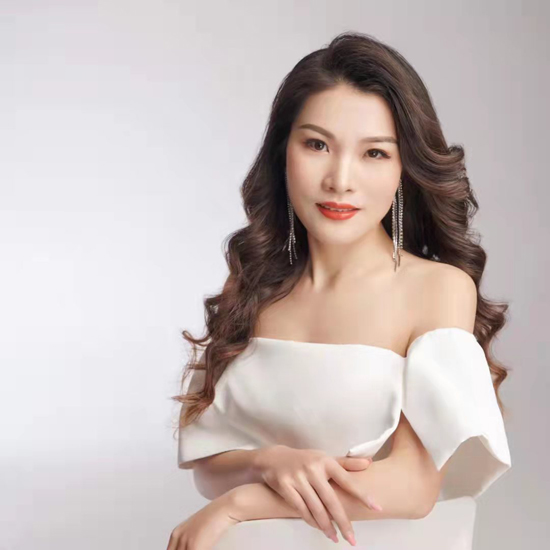 jessie huang
Love what we do and do what we love! Enjoy life, enjoy working in BWS DISPLAYS.