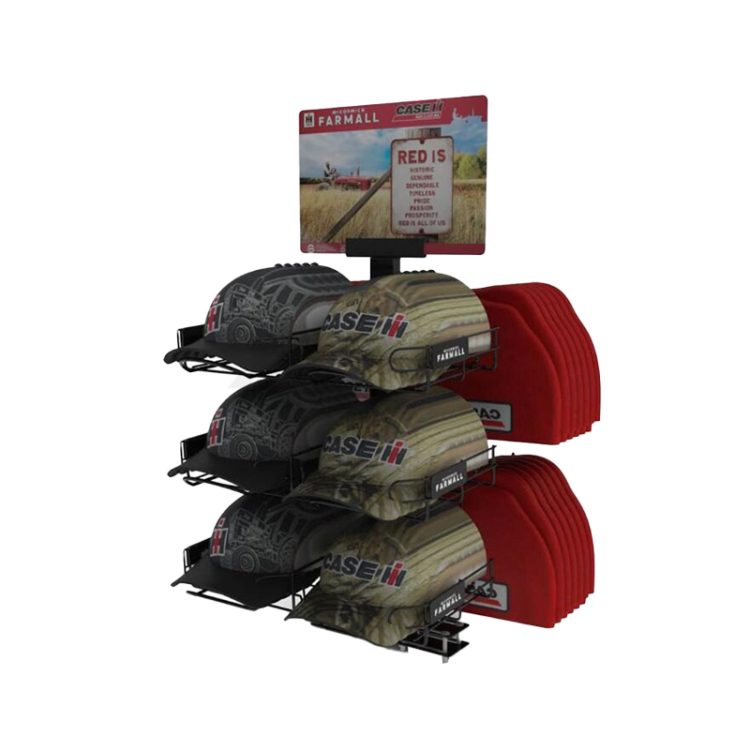 Table Top 2-Way Hat Display Rack Black Metal Beanie Rack Economical
Order(MOQ):50
Payment Terms:EXW, FOB Or CIF
Product Origin:China
Color:Black
Shipping Port:Shenzhen
Lead Time:30 Days
Service:Customization Service, Lifetime After-sales Service.
What are hat display racks?
Hat display racks are designed to showcase caps, and hats, beanies. Caps and hats are types of headwear available in different sizes, styles, and designs. They can be used in both casual and formal settings. And beanie is kind of hats. In the early 1900s, adult workers and young men commonly wore beanies, which eventually evolved into today's baseball cap. The hat was probably named beanie after the bean-sized, cloth-covered button in the center of the cap. There are a lot of people who love beanies.
The most effective way to hang your beanies without stretching them. It's simple and easy to display them on a custom beanie display rack.  And the most way to showcase your caps or hats is to put them on hat display racks in rows. We have made a lot of cap displays, and hat display racks during the past years. Today we are sharing with you a tabletop hat display rack which is also can display beanies at the same time. If you love the design, we can share more details.
What are the features of this hat display rack?
This is a countertop hat display rack that is made for CASE IH. It is made of metal wire with 6 caps pockets on one side and a metal wire holder for beanies on the other side. Every cap pocket can hold 10 caps or hats. There are 4 beanie holders, which can showcase 20 beanies. Besides, the custom graphic header is detachable. It is a double-sided header, which shows more information about the brand and the products. It is in black color, which is common, more attention will be on the caps and beanies.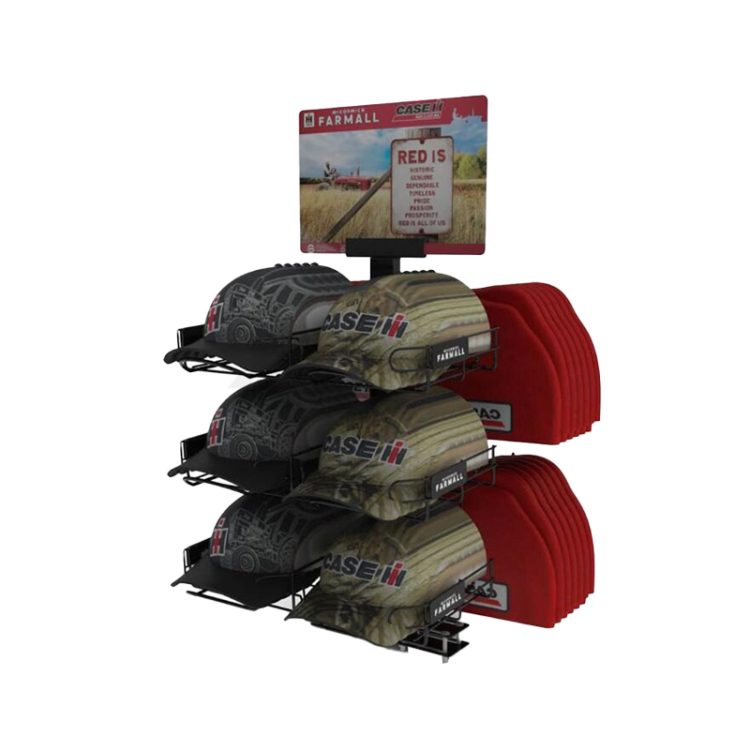 In order to save shipping costs, it is a knockdown design. All the beanie holders and cap pockets can be taken down.
Of course, because all displays we made are customized, our core competence is custom displays, we can turn your display ideas into reality. Below are other hat display rack designs for your reference.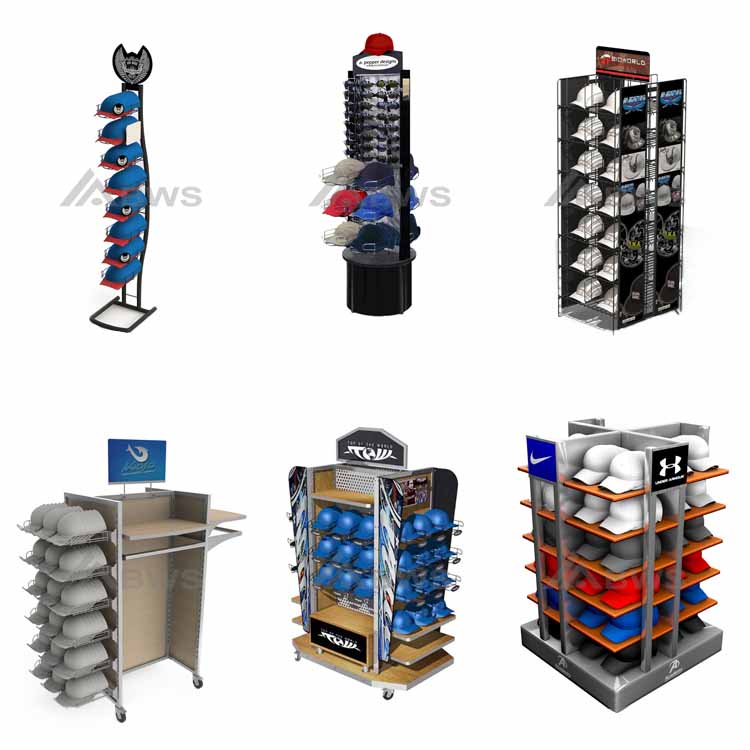 How to make your custom hat display rack?
1. We need to know your requirements first, such as what's the size of your hats in width, height, depth. And we need to know below basic information.
What's the weight of the item? How many hats you will put on the display? What material do you prefer, metal, wood, acrylic, cardboard, plastic, or mixed?
What's the surface treatment? Powder coating or chrome, polishing or painting? What's the structure? Floor standing, countertop, hanging. How many pieces you will need for potential? You send us your hat display rack design or share with us your display ideas. And we can also make designs for you, too. BWS Displays can customize the design as per your request.
2. We will send you a rough drawing and 3D rendering with products and without products after you confirm the design. 3D drawings to explain the structure clearly. You can add your brand logo on the display, it can be stickier, printed or burned or lasered. You can add a mirror or even an LCD player on the hat display rack to make a difference. Below is one design we have added mirrors on 2 sides.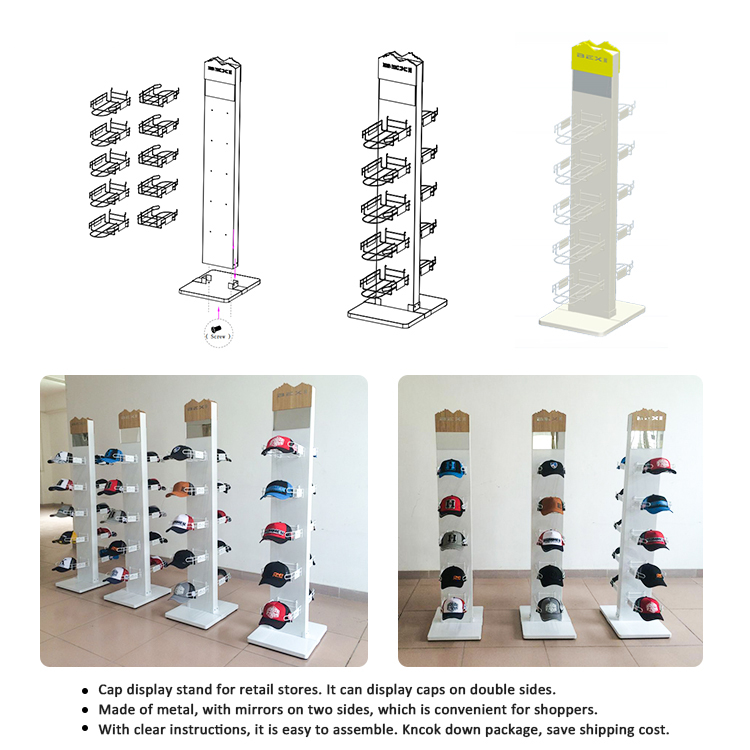 3. Make a sample for you and check everything about the sample to make sure it is meet your display needs. Our team will take photos and videos in detail and send them to you before delivering the sample to you.
4. Express the sample to you and after the sample is approved, we will arrange the mass production according to your order. Normally, knock-down design is prior because it saves shipping costs.
5. Control the quality and check all the specifications according to the sample, make a safe package, and arrange the shipment for you.
6. Packing & container layout. We will give you a container layout after you agree with our package solution. Normally, we use foam and plastic bags for inner packages and strips even protecting corners for outer packages and put the cartons on pallets if necessary. A container layout is to make the best use of a container, it also saves shipping costs if you order a container.
7. Arrange shipment. We can help you arrange the shipment. We can cooperate with your forwarder or find a forwarder for you. You can compare these shipping costs before you make a decision.
We also provide photography, container loading, and after-sales service.
Why choose BWS Displays to make your hat display rack?
BWS Displays is a factory with more than 20 years of experience. We worked for Pepsi, Google, Nike, Adidas, Oakley, and much more. Our displays include sunglasses displays, shoe displays, drinks displays, wine displays, electronic displays, tile displays, and much more. With over 3500 customers, we serve a mix of large nationally recognized brands and retailers to smaller emerging brands and retailers. We know these are what you care about.
1. Quality  We have a quality system and there are QA and QC departments to make sure the quality is good. All product display surfaces shall be smooth enough. Displays shall be packaged for shipment in such a manner as to minimize possible damage in shipment. Assembly instructions shall be clear and well-written. An exposed view showing correct assembly. The sequence should be provided. If there is any problem with the displays, we will take responsibility and replace them if necessary.
2. Leadtime  We provide samples within 5-7 days, and mass production within 25-30days according to the order quantity. We do not delay because we schedule well.
3. Payment  We accept a 50% deposit and balance before delivery for the first order and can make some changes when we trust each other. You can pay it through Alibaba or a wire transfer.
4. Service  We provide free design solutions, and we will provide you with a 3D rendering for free. During the production process, we will take videos and photos for you before delivery. Besides, our sales will reply to you within 12 hours and we can have video calls to confirm engineering questions. If you have any questions or need help with custom displays or other products in China, we can help you too.
We are sure you will be happy when you work with us. Contact us anytime if you need a custom display idea or display.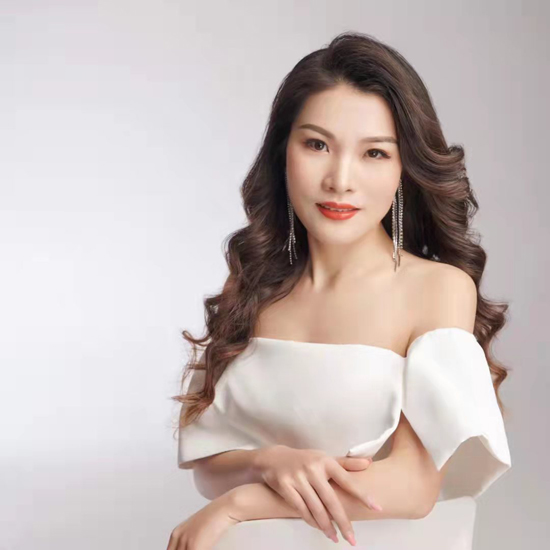 jessie huang
Love what we do and do what we love! Enjoy life, enjoy working in BWS DISPLAYS.