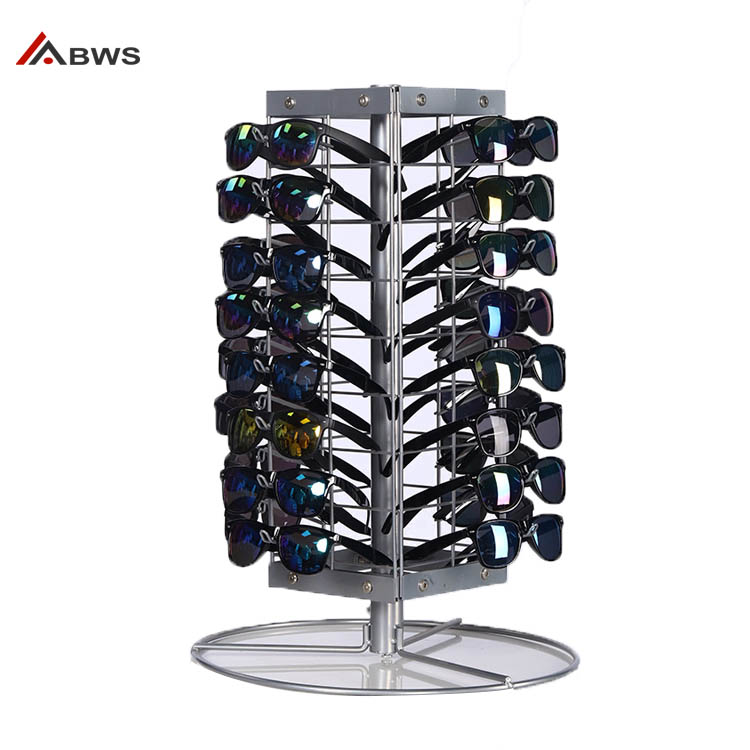 Basic Cheap 32 Pairs Sunglasses Display Stand Rotatable Made in Metal
Order(MOQ):50
Payment Terms:EXW, FOB Or CIF
Product Origin:China
Color:Silver
Shipping Port:Shenzhen
Lead Time:30 Days
Service:Customization Service, Lifetime After-sales Service.
Why do you need sunglasses displays?
You want to display all the hot sale products to your customers,  the sunglasses display stand is one of your solutions to show as much as sunglasses even though the space of your stores and shops is limited.
What are the usages of sunglasses displays?
Sunglasses displays are designed to display sunglasses, opticals, reading glasses and other eyewear products in stores. You can find the displays are commonly used in eyewear stores, sunglasses stores, optical stores, fashion stores, sportswear shops, etc.
Sunglasses displays keep the eyewear products in order and show their real beauty and fashion to shoppers. With the brand logo on, it can help you impress shoppers with your brand.
What styles of sunglasses displays do we make?
We are a factory of custom display fixtures, we make sunglasses display stands, sunglasses display racks, sunglasses display cases, sunglasses display cabinets, sunglasses display box, sunglasses display tray as well as sunglasses display rods and accessories. Below is one of the sunglasses display stands we have made.
What's the feature of the sunglasses display stand?
This sunglasses display is made of metal with powder-coated silver finishing. It is a 4-way rotatable display stand. Every side has 8 hooks for hanging sunglasses. The construction is simple, while it can display 32 pairs of sunglasses on a tabletop at the same time. The metal wire circle base is strong enough to bear the sunglasses as sunglasses are lightweight. The metal pole in the middle is inserted into the base. And the 4 sides panel are fixed to the metal frame by screws. And you can add signage on the top, just make a frame insert to the metal pole.
As for the package, it is small as all the parts are knocked down. It is easy to assemble, just use the screws and insert the top and base on both sides of the pole. Here are more photos of the sunglasses display stand, you can view more details.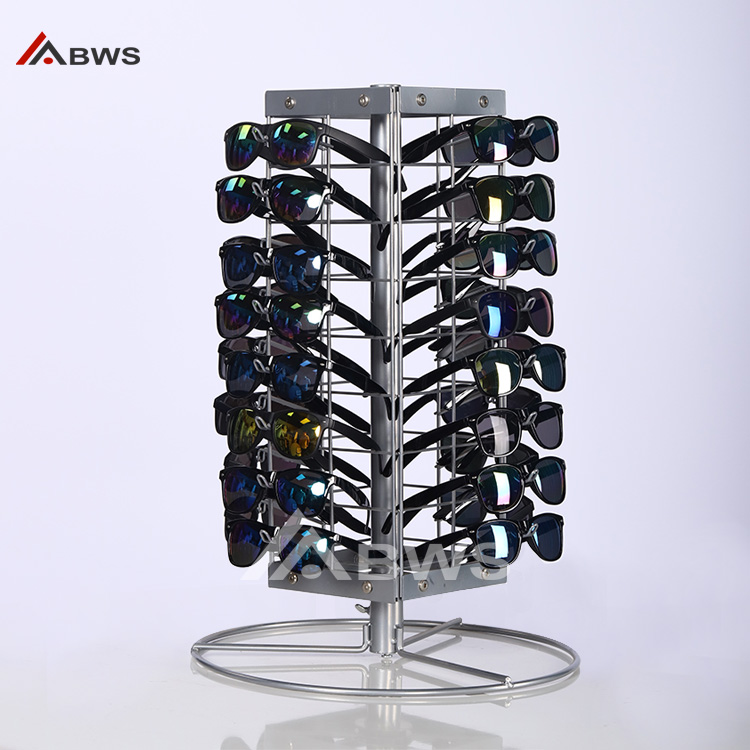 The above picture shows the overall appearance of the sunglasses display stand with sunglasses on, it is simple but useful.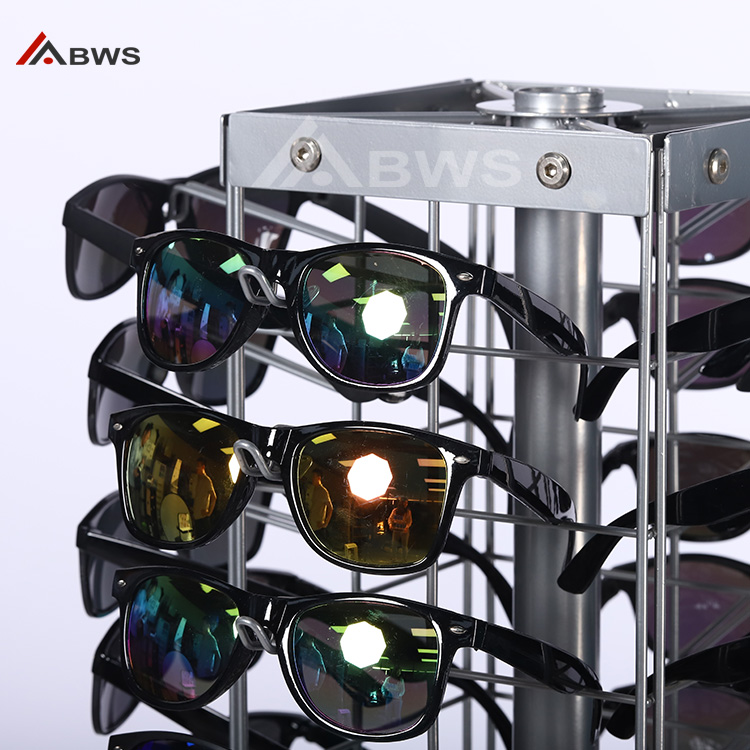 From this picture, you can see how the sunglasses are displayed on the display stand, and the sunglasses are very fashionable and beautiful.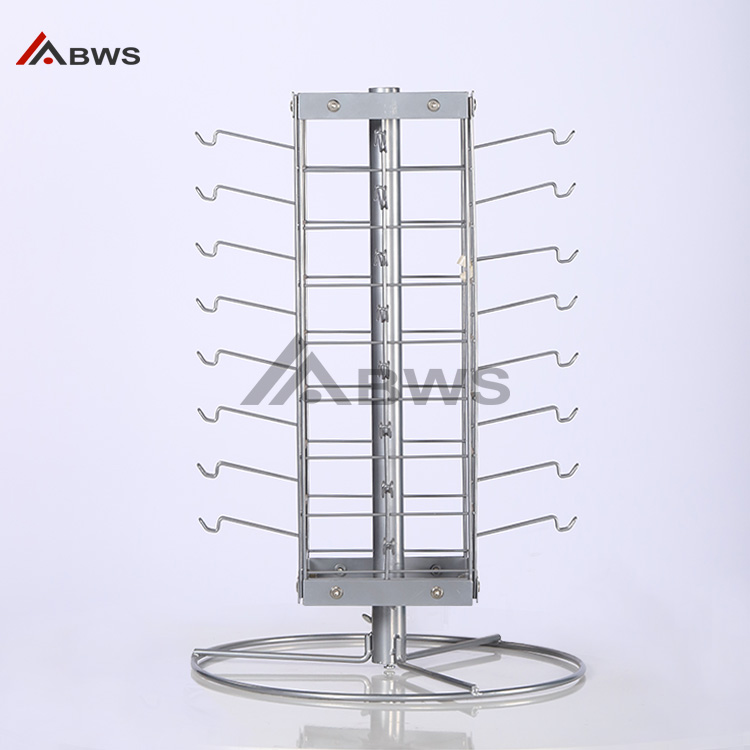 Here you can see the display stand without sunglasses, you can see more details about the display stand.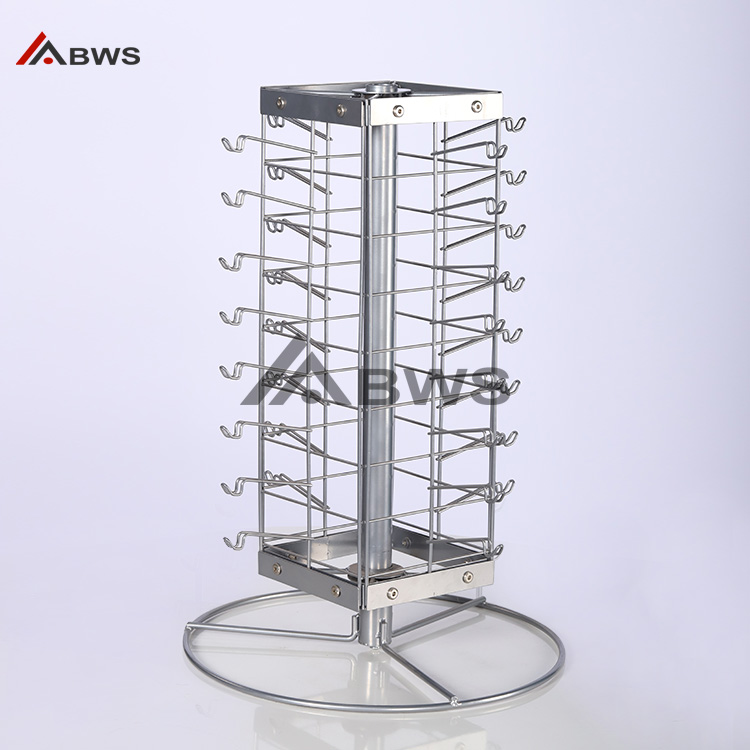 From this picture you can see the sunglasses is 4 sides, every side has eight hooks. In total, it can display 32 pairs of sunglasses.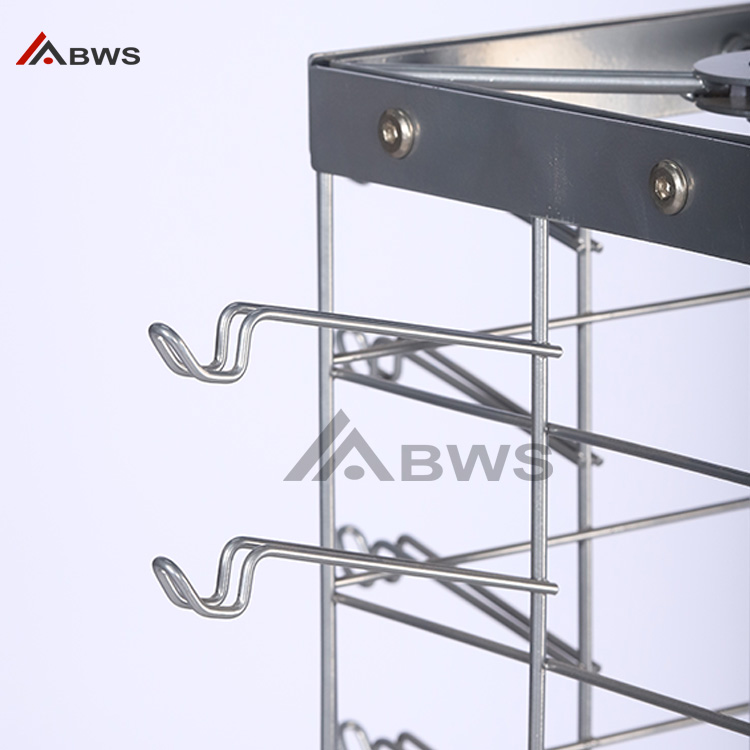 This picture shows how the hooks are fixed on the grid wall panel to hold sunglasses.
How do we make it?
It is simple to make the sunglasses display stand you are looking for. The below picture shows we made the sunglasses from design to assemble.
We need to know your requirements first, and then our team will design for you.
1. What types of display stand do you need? Floor standing or countertop style?
2. How many sunglasses display you like to display at the same time?
3. What material do you prefer? What color do you like?
4. How do you want to show your brand logo on the displays?
5.  Do you need other functions such as rotating or led lighting, or lockable?
6. How many do you need?
These are the basic information we like to know. After confirming all the details, our team will design for you. And we will send you the rough drawing and 3D rendering.
After you confirm the drawing, a sample will be made. After the sample is confirmed, we will arrange the production according to the details of the sample. And we will assemble, test and take photos of the sunglasses display stand for you before delivery. And you do not need to worry, we will help you arrange the shipment too.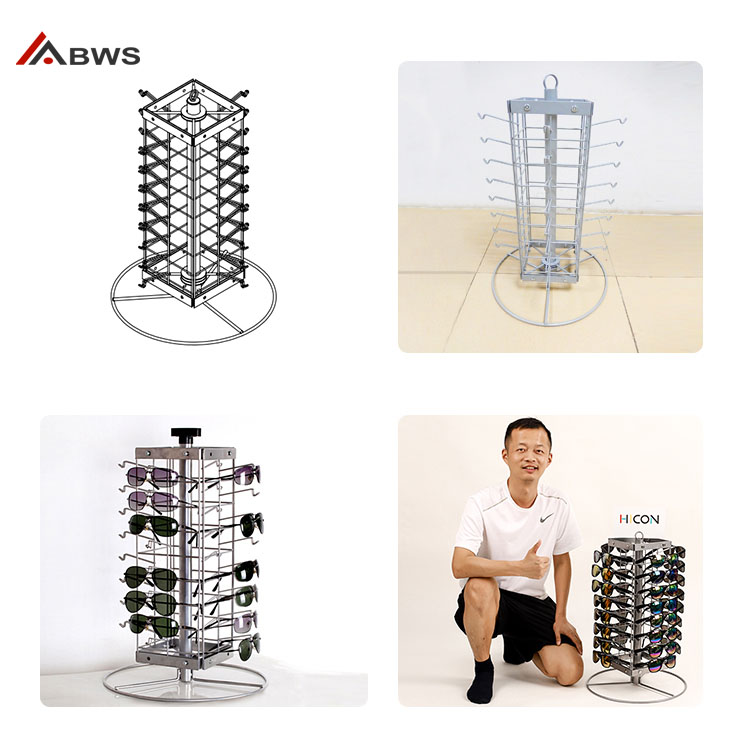 Are there any other designs for reference?
Yes, we have made thousands of sunglasses display stands, here are two designs for your reference.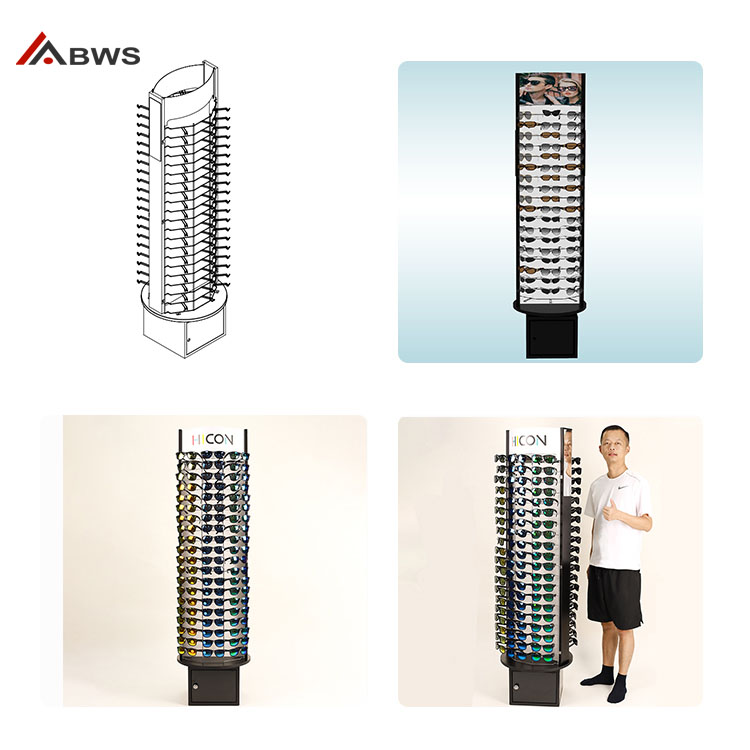 This sunglasses display stand is designed to display 120 pairs of sunglasses at the same time.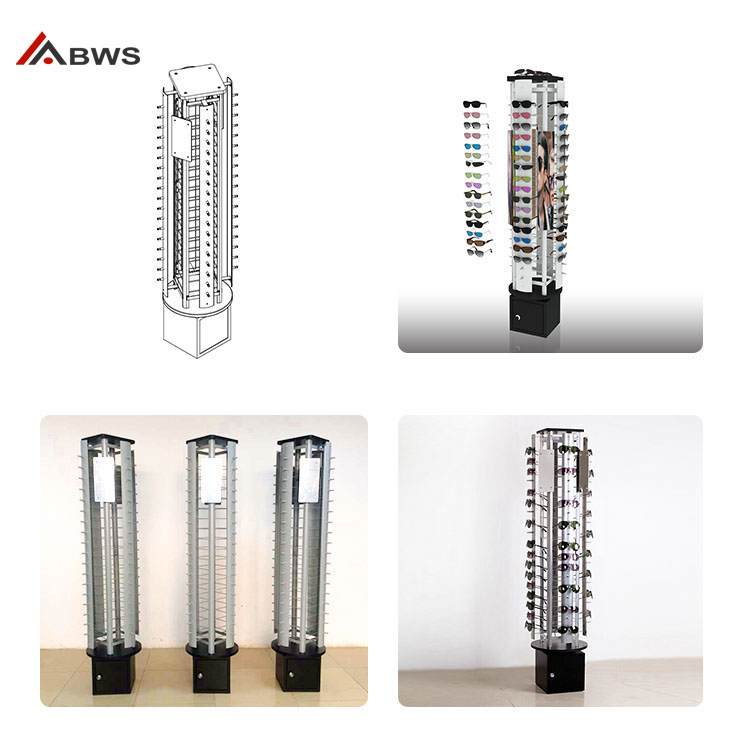 This sunglasses display stand is designed to display 72 pairs of sunglasses at the same time.
How do customers think about the display stand we made?
Customers are satisfied with what we have made. The below photo is one of these feedbacks.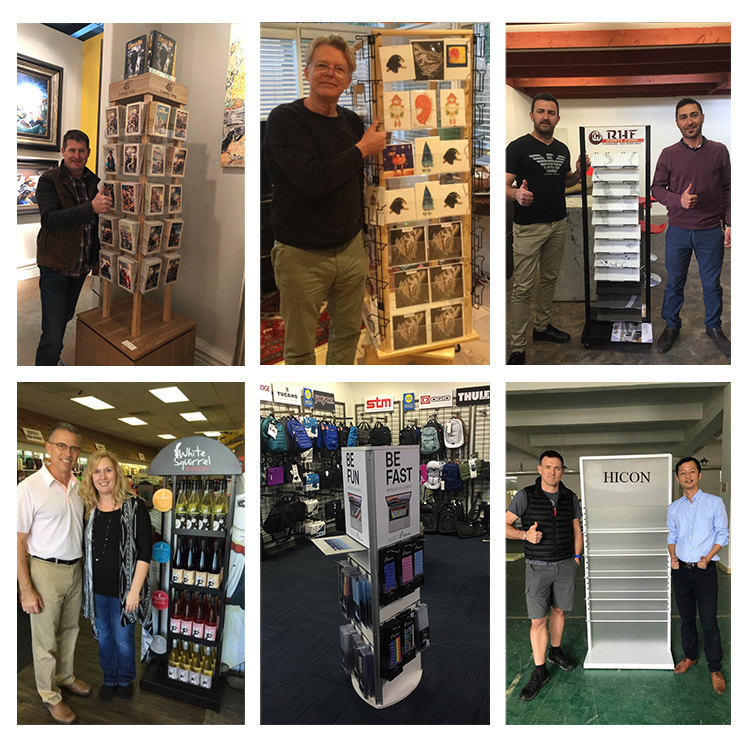 Start your project with us now?  Mail to Jessie at jh@bwsdisplays.com now.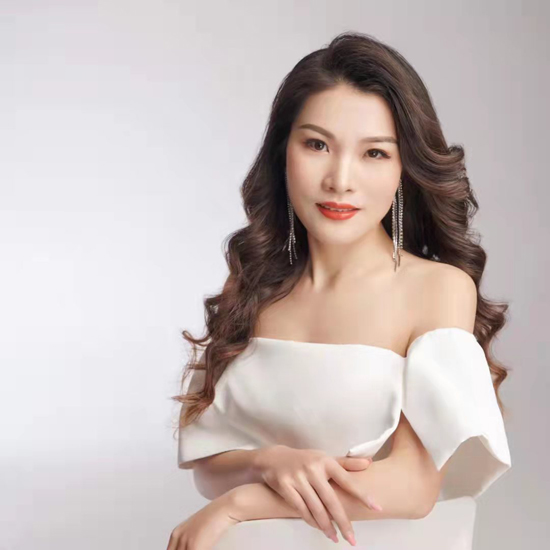 jessie huang
Love what we do and do what we love! Enjoy life, enjoy working in BWS DISPLAYS.