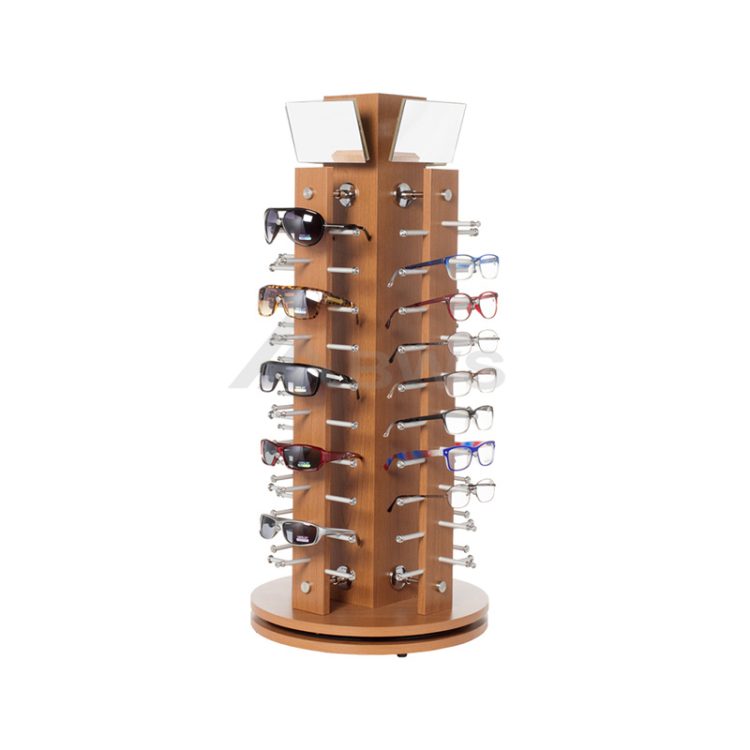 Wood Sunglass Display Rack Practical Countertop 40-Pair Sunglass Stand
Order(MOQ):50
Payment Terms:EXW, FOB Or CIF
Product Origin:China
Color:Wood
Shipping Port:Shenzhen
Lead Time:30 Days
Service:Customization Service, Lifetime After-sales Service.
What do sunglass display racks do for you?
Sunglass display racks are an essential part of any retail store that sells sunglasses. These racks play a vital role in increasing the visibility of your sunglasses while also providing a convenient and organized way to store and display them.
Sunglass display racks are an excellent way to attract customers to the sunglasses section of your store. A well-designed display rack can attract the attention of passers-by and make them stop to take a closer look at the products on display. A visually appealing display of sunglasses helps to create a warm atmosphere in the store, encouraging customers to browse the sunglasses on offer.
Besides, sunglass display racks are designed to showcase different styles, designs and brands of sunglasses, making it easier for customers to find what they are looking for. By using display racks, retailers can also showcase the latest trends and styles in eyewear, encouraging customers to try on and buy new trendy sunglasses.
Sunglass display racks are also a great way to keep your store organized and tidy. Due to the wide variety of sunglasses on the market, it is important to designate a storage location for each pair of sunglasses. The sunglass display racks allow retailers to categorize sunglasses in designated spaces, making it easier for employees to find and retrieve them when needed. This in turn helps improve customer service, as employees can better find the right sunglasses for each customer.
Furthermore, sunglasses display racks help protect sunglasses from damage. By storing your sunglasses in a display stand, they are less likely to get damaged or scratched than if they were stored in a drawer or on a shelf. This extra protection helps ensure the sunglasses stay in perfect condition when customers try them on, making them more likely to buy.
With so many benefits, it's no wonder that more and more retailers are choosing to use sunglasses display racks in their stores. So, if you sell sunglasses, get a quality sunglass display stand today to increase your sales and customer satisfaction.
Today we are introducing a practical wooden tabletop sunglass display rack to you.
What are the features of this wooden sunglass display rack?
This sunglass display rack has these features. 1. This sunglasses display rack is made of wood with aluminum bars to hold sunglasses. It has a long lifetime. 2. Rotatable. There is a rotating table under the base, so buyers can choose the sunglasses they like easily. 3. Convenient. There are mirrors on 4 sides, the buyer can see how they look like when they try on a pair of sunglasses. 5. Small footprint but showcase 40 pairs of sunglasses at the same time. It is really nice to showcase sunglasses, eyeglasses, and other eyewear products.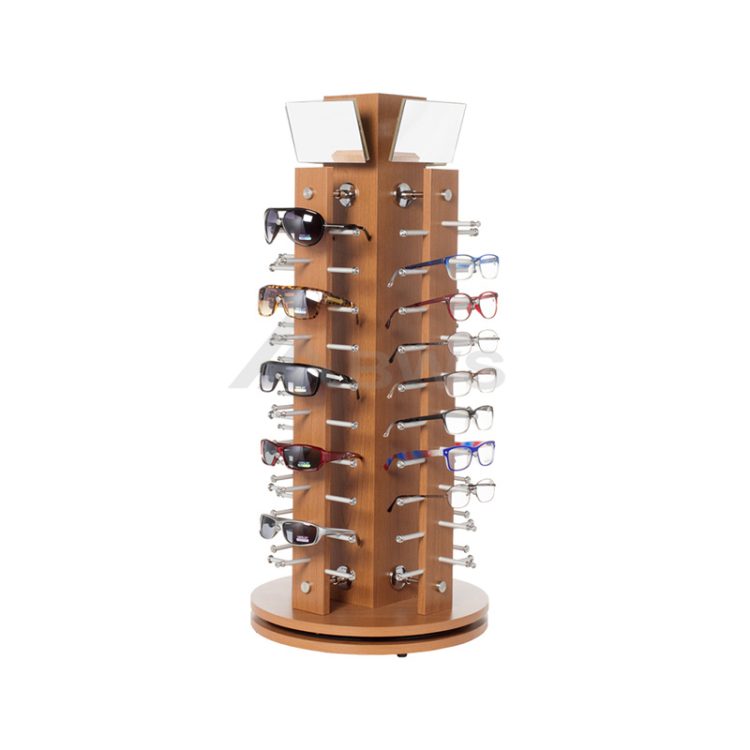 Here are more photos of this wooden sunglass display rack as follows.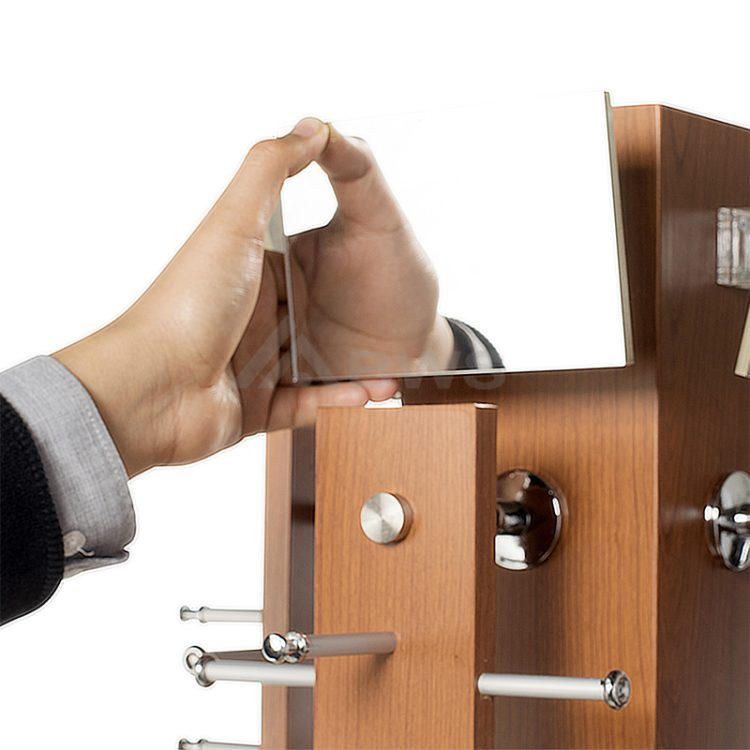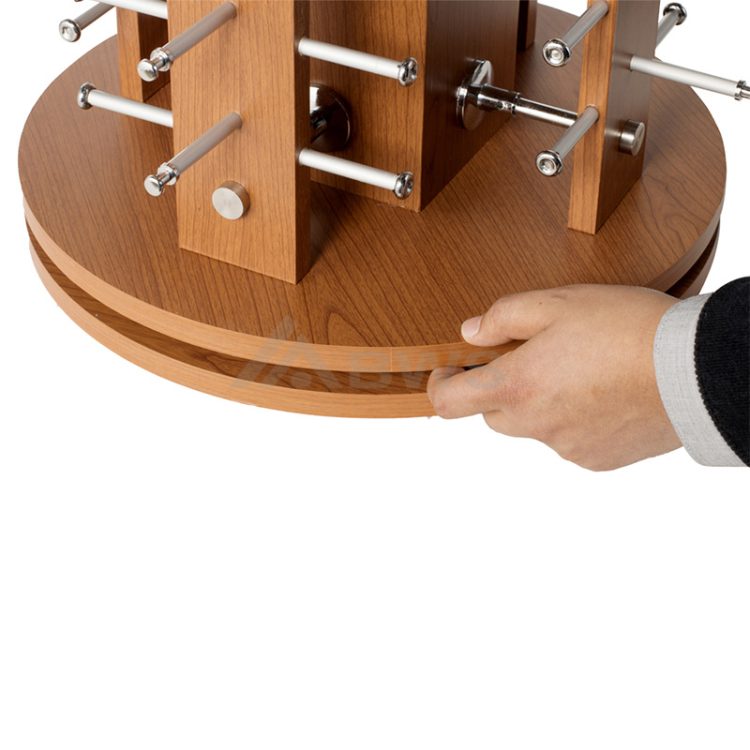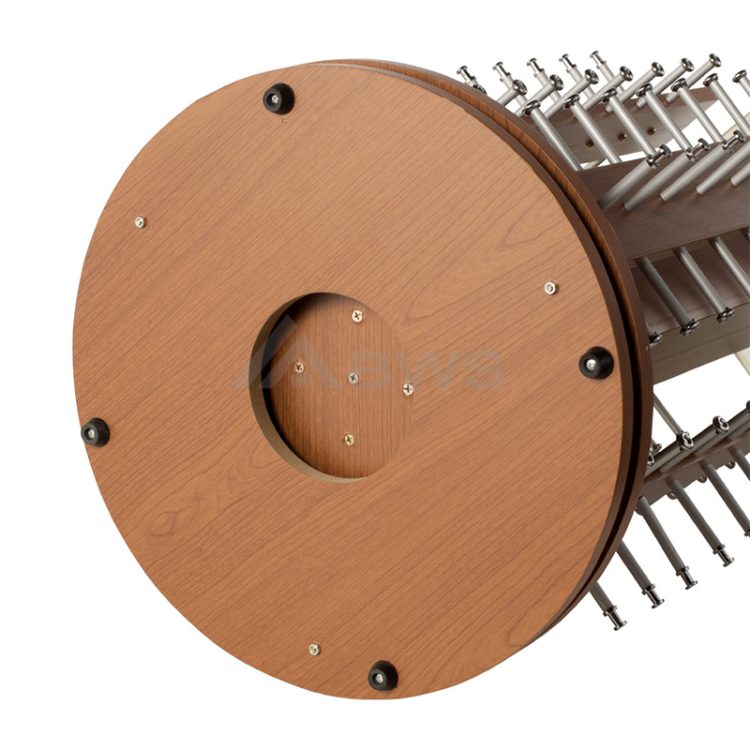 All displays we made are customized, you can customize your brand logo display rack at BWS Displays to meet your specific needs. Below are 6 designs for your reference.
How to make custom sunglass display racks?
It is easy to make your band logo sunglass display racks. Below are general steps.
Step 1. Understand your specific needs. You can share with us your display ideas with a photo, rough drawing or reference design, we will give you professional suggestions after we know more about your products, such as product specifications, brand culture and more. If you can send us samples, it will be more helpful.
Step 2. Design and offer drawings. We will design and provide renderings and drawings to you. You can make some changes or approve the sunglass display design before we offer you a quotation. We need to know what kind of item and how many you need to display at one time, where you want to use it, what material you need, where to add the logo, how many pieces you need, etc before we quote the EX-work price to you. If you need FOB or CIF price, we need to know where these displays ship to.
Step 3. Make a sample. We will make a sample for you after you approve the design and price and place an order. We need to make sure these sunglass display racks will increase your brand influence and sales. It always takes 7-10 days to finish the sample. And we will take HD photos and videos in detail, such as measuring the dimension, packing, logo, assembling, gross weight, net weight, and more before we ship the sample out to you.
Step 4. Mass production. Our team will start mass production after you approve the sample. Our Qc team will control in detail to make sure mass production is as good as the sample. At the same time, our project manager will follow up and update regularly with photos and videos from laminating to packing. In order to make the best use of a carton and keep your literature display safe, we also will design a package solution before packing.
Step 5. Packing & container layout. We will give you a container layout after you agree with our package solution. Normally, we use foam and plastic bags for inner packages and strips even protecting corners for outer packages, and put the cartons on pallets if necessary. A container layout is to make the best use of a container, it also saves shipping costs if you order a container.
Step 6. Arrange shipment. We can help you arrange the shipment. We can cooperate with your forwarder or find a forwarder for you. You can compare these shipping costs before you make a decision.
Step 7. After-sales service. We are not stopping after delivery. We will follow up on your feedback and solve your questions if you have any.
We are a factory of custom displays with more than 20 years of experience, we can help you design and turn your display idea into reality.  Our sales and customer service team will give you quick responses within 24 hours to ensure that you are working with a partner who is reliable and easy to work with. Finally, we have a scientific pricing structure to ensure that it is a good fit for your budget.
You can try a sample with us, and you will be happy as they do.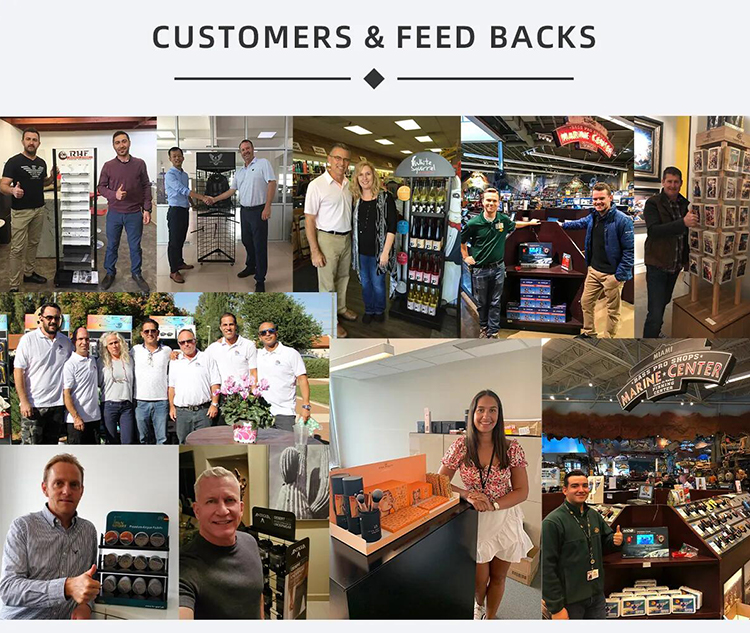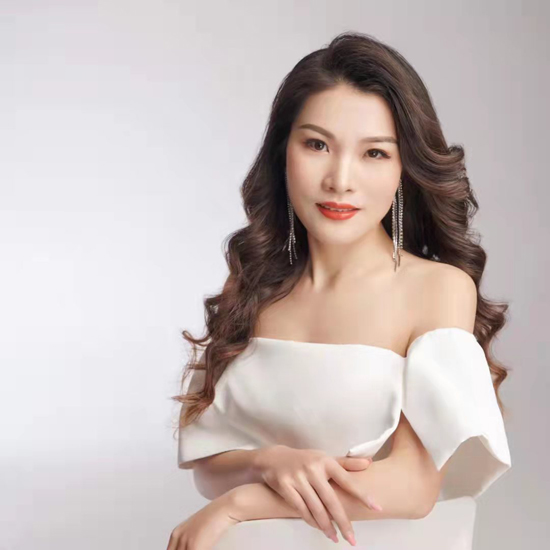 jessie huang
Love what we do and do what we love! Enjoy life, enjoy working in BWS DISPLAYS.