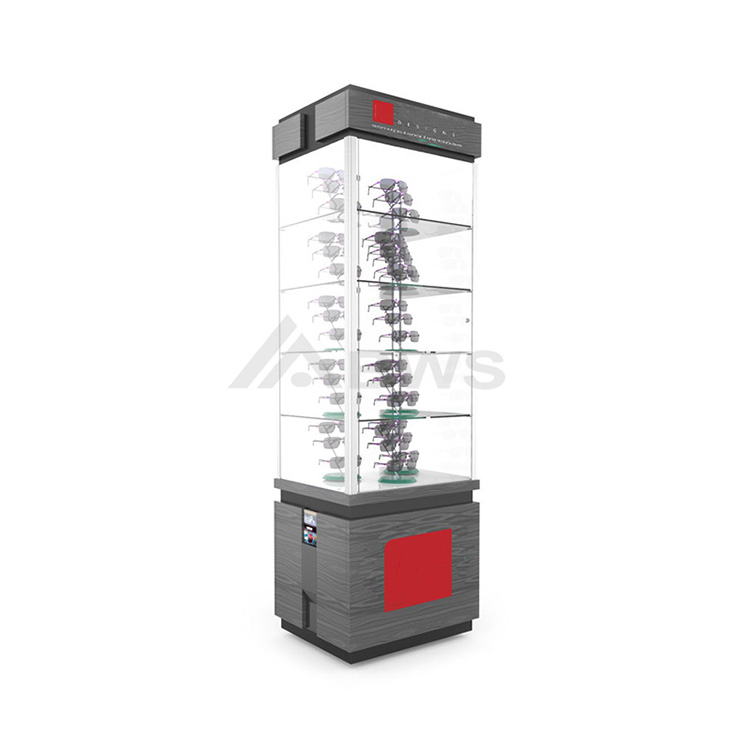 Creating Cool Sunglass Display Case With 4 Acrylic Shelves Lockable
Order(MOQ):50
Payment Terms:EXW, FOB Or CIF
Product Origin:China
Color:Gray
Shipping Port:Shenzhen
Lead Time:30 Days
Service:Customization Service, Lifetime After-sales Service.
Sunglass display cases are one of the display fixtures for retail stores. They are always lockable and functional. Today we are sharing with you a floor sunglass display case that may fit your sunglasses too.
What are the features of this sunglass display case?
Like many product categories, the sunglass market is both highly competitive, highly fragmented, and highly diverse. Most companies compete by carving out a niche and focusing their resources on building a brand identity within that niche. And this sunglasses display case is building brand identity by adding your brand logo on. These are its features.
1. LED lighting on top of this sunglass display case will make your sunglasses shine and attract shoppers from every angle. LED lighting is adjustable to set the perfect display environment for your glasses. It is made of metal, wood and acrylic to keep your sunglasses safe and dust-free. The door is lockable, ensuring your valuable glasses are always safe.
2. Not only is this sunglass display case functional, but it also adds an element of luxury to your retail environment. It can help create different retail environments, including small sunglass frames, risers, and other fixtures. This sunglass display case is ideal for retail environments that want to market their brand while ensuring their products are presented in an original manner.
3. This sunglass display case showcases eyewear products in a unique and eye-catching way. It is a great investment for any business owner who wants to stand out from the competition, as well as add a touch of elegance to their retail environment.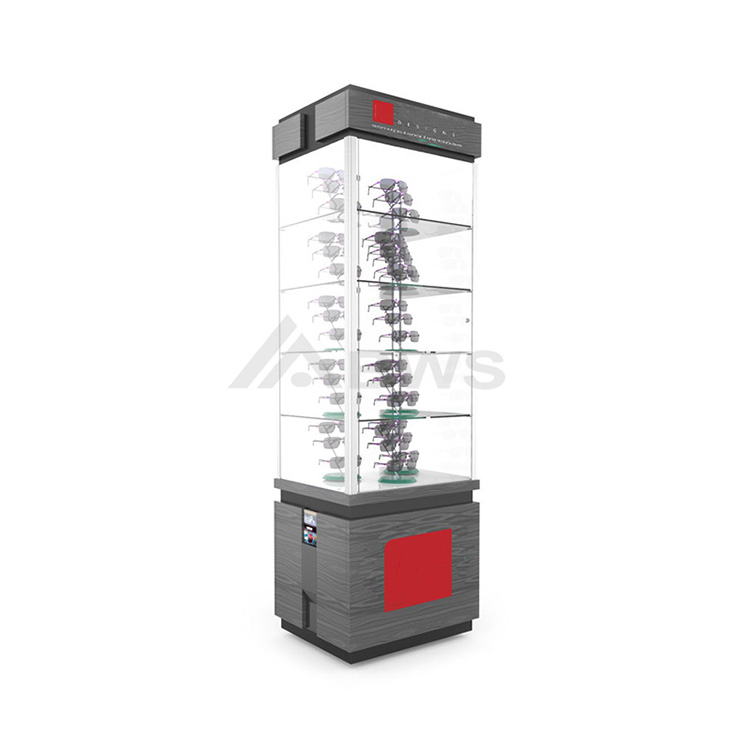 If you need your brand logo sunglass display fixtures, contact us now. Here are 6 more sunglass display designs for your reference.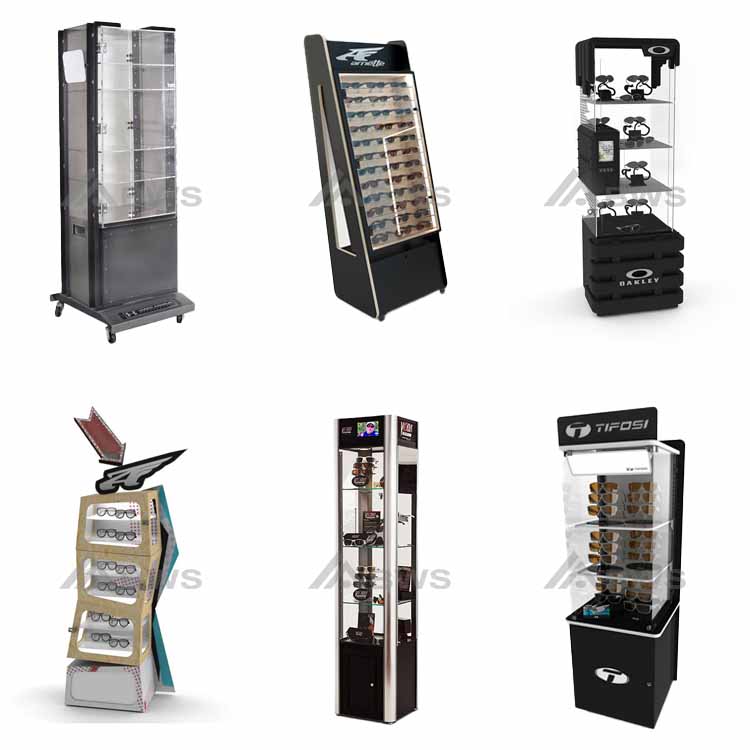 BWS Display is a factory of custom displays with 20 years of experience. Here we share with you a few points to help you choose a sunglass display.
Small footprint– Both displays feature a relatively small footprint which contributes to higher sales per square foot for a retailer.
Mobile– We designed these displays to be on casters which not only makes it easier for store personnel to handle and clean, but it provides greater flexibility in moving the displays around in the store to different areas that may help to keep things fresh and drive impulse sales.
Base Storage– We incorporated a pull-out drawer which we loaded with overstock, making it convenient for store employees to reload the display which is key to preventing SKU out-of-stocks while also keeping the display looking good.
Spinning– Since we designed the display to be 2-sided, we incorporated an aluminum bearing so that the display could spin. This enabled the display to be placed almost anywhere in the store, including against a wall or in a corner, while still providing shoppers with 360-degree access.
Side Mirrors– We mounted acrylic mirrors on each side of the display so as to encourage shoppers to try different styles and check themselves out.
Interchangeable Curved Header Signs– We digitally printed header signs which we designed to be curved to provide added dimensionality to the display.
How to make your brand sunglass display case?
First of all, understand your display needs. If you share with us your display ideas with a photo, drawing, or reference design, it is more helpful.
Secondly, Design and drawings. We will design and provide renderings and drawings to you. You can make some changes or approve the design before we give you a quotation.
Thirdly, after you approve the design and price and place an order, we will make a sample for you. A sample is very important, it is the basement for mass production. We will use the right material and spend 7-10 days finishing the sample. And we will take HD photos and videos before we ship the sample out to you.
Fourthly, our team will start mass production after you approve the sample. Our QA team will control all the details to make sure mass production is as good as the sample and our project manager will follow up and update regularly. When mass production is finished, we will assemble and check everything, and take photos and videos too. We also will design a package solution to make the best use of a carton and keep your displays safe.
Fifthly, safety package and container layout. We will give you a container layout since the package design is settled. To pack safely, we will use foam or strips even protect corners, and pallets according to the material and design of the display. A container layout is to make the best use of the container, it also saves shipping costs if you order a container.
We also will help you arrange the shipment. We can cooperate with your forwarder or find a forwarder for you. You can compare these shipping costs before you make a decision. So, we come to after-sales service after delivery. We are not stopping as we provide after-sales service. Our aim is to make you satisfied. If you do not like this design, we also can give you more designs for reference.
Above are general steps to make your brand sunglass display case or other sunglass display fixtures. We can make different kinds of sunglass displays to meet your display needs, we are a factory of custom displays with more than 20 years of experience.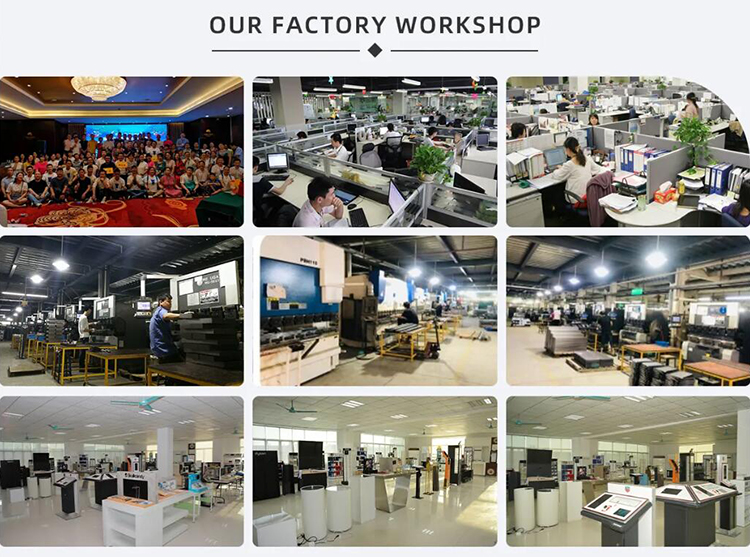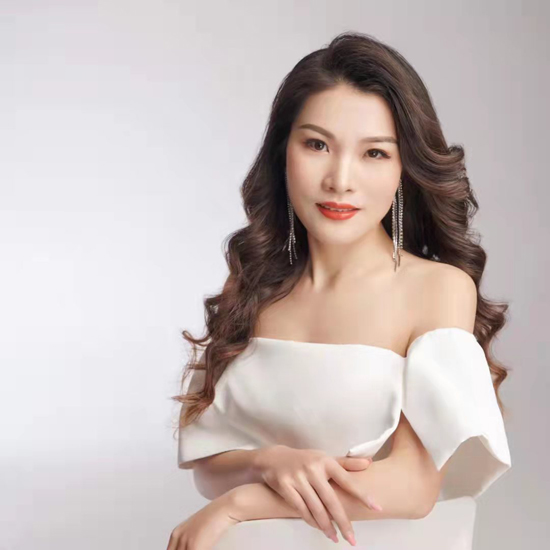 jessie huang
Love what we do and do what we love! Enjoy life, enjoy working in BWS DISPLAYS.