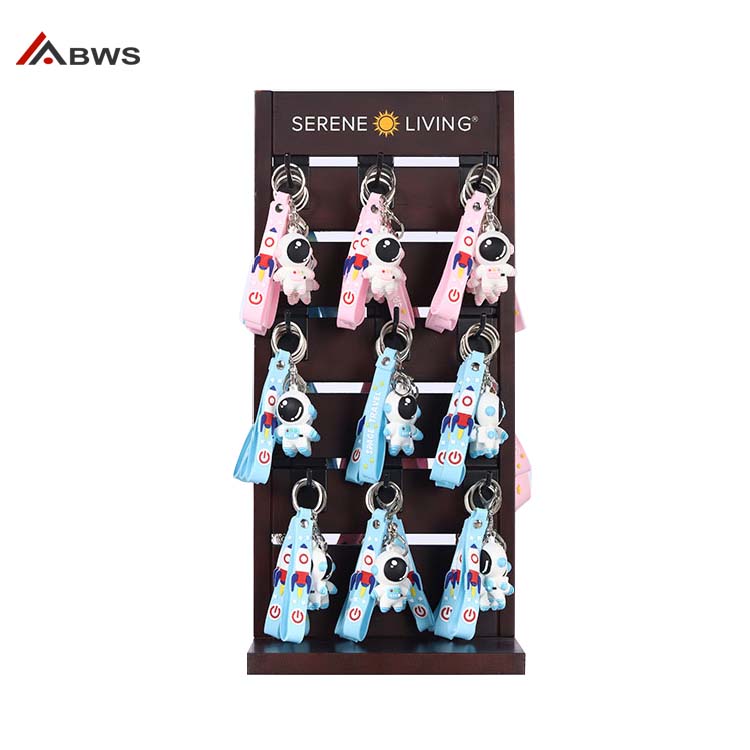 Steady 2-way Slatwall Keychain Display Rotatable
Order(MOQ):50
Payment Terms:EXW, FOB Or CIF
Product Origin:China
Color:Brown
Shipping Port:Shenzhen
Lead Time:30 Days
Service:Customization Service, Lifetime After-sales Service.
How to display keychains?
Custom keychain display is one of the effective ways to display keychains or key rings to shoppers in stores and shops. The common way is that you hang your keychains on a wall mount rack or hooks. But that's not the way to stand out among competitors. If you use custom displays with custom graphics or logo that will make a big difference. The shoppers will know more about your keychain from the graphics, and if you use a rotatable display for your keychains, it is more convenient for shoppers to choose the keychains they like and creates a positive shopping environment.
What types of keychain displays will meet your need?
There are many different keychain displays to meet different needs. For example, the countertop keychain display rack is for tabletop, which is easy to catch attention from shoppers if you use it near the cashier counter. For floor-standing keychain displays, they are hanging for a big amount of keychains. While all of them should be with customized graphics and logo. And if you need a rotating function, both countertop displays or freestanding displays are ok. Besides, you can add wheels to freestanding displays to move around easily.
You know your keychains and needs, so you will choose the right display for your keychains. No matter what kinds of keychains you choose, we can manufacture it for you with over 10 years of experience. Below is one of the keychain displays we made for your reference.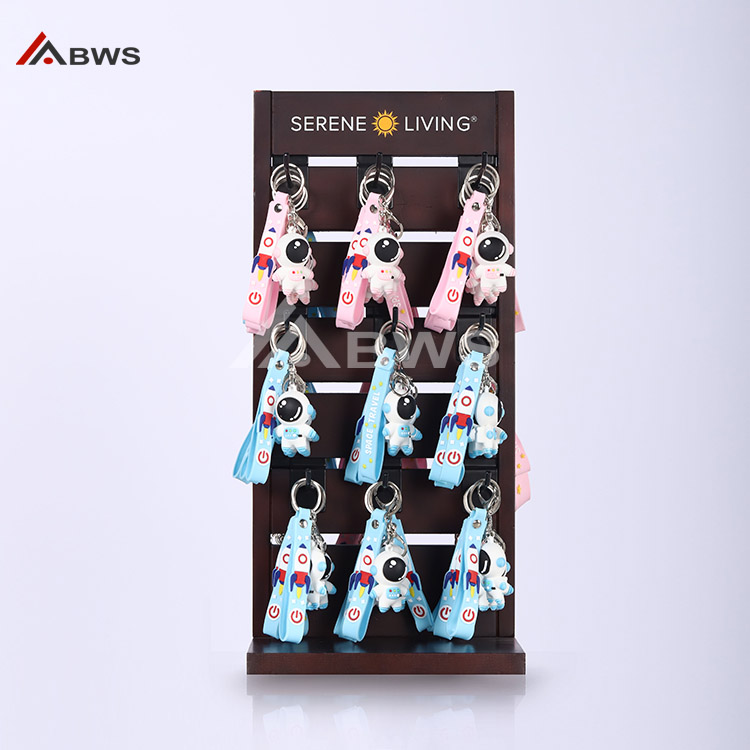 What are the features of this keychain display?
This keychain display is designed for Senere Living and it is made of wood with slats for metal hooks. It is a countertop style to display keychains on double sides. And the metal hooks are detachable and adjustable to meet different display needs. The color of the display stand is painted brown which is a contrast color of the keychain ring light blue, which makes the keychain more outstanding. Besides, there is a logo on the head, which is in yellow and white, it is simple but brand building.
Furthermore, there is a lazy Susan on the base, so shoppers can turn it around to get what they need. This keychain display is functional, it can display other products like toys, snack foods and others instead of keychains.
Do you have more details of this keychain display?
Here are more photos to show you more details of this keychain display.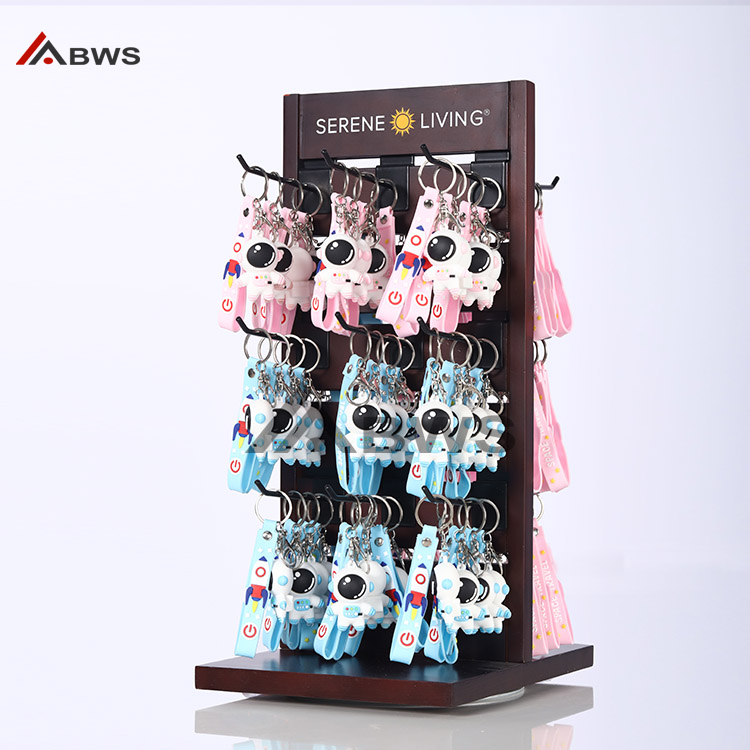 From this photo, you can see this display can display keychains at 3 tiers, 3 hooks every tier, 4 keychains every hook, in totally can display 72 pieces of keychains at the same time.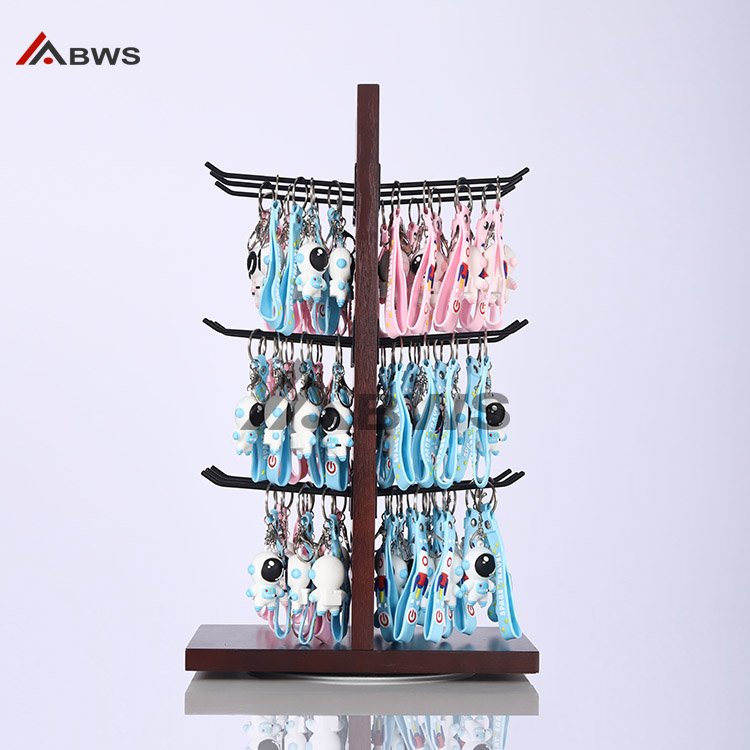 This photo clearly shows that the keychains are displayed on both sides, and a lazy Susan on the base, so the display can be rotatable.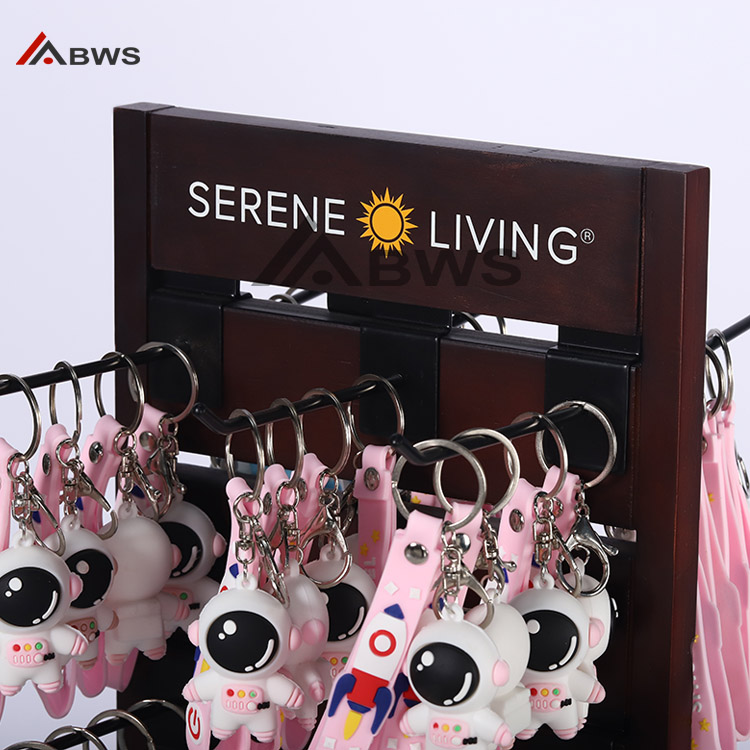 This photo shows how the hooks are attached to the slat panel. And the silk printed logo is attractive.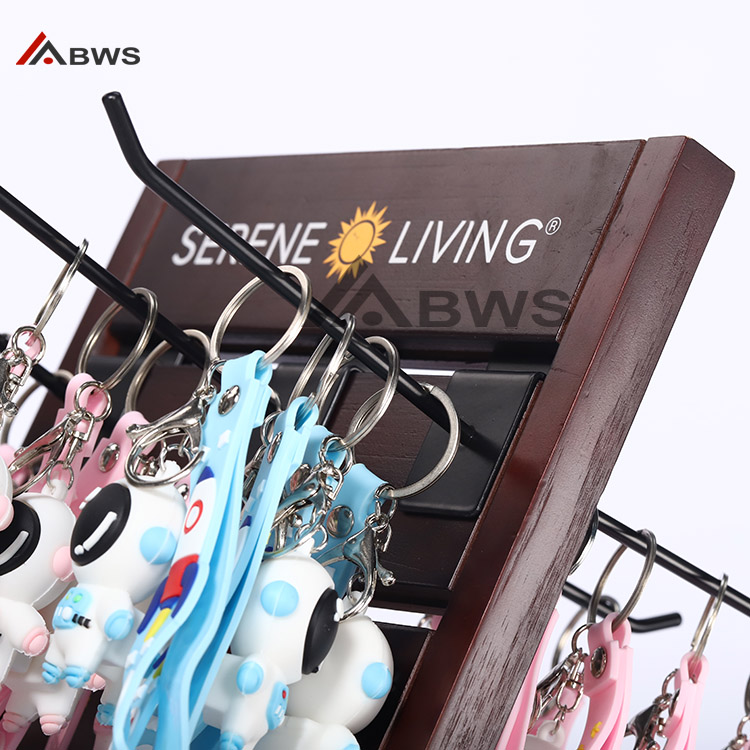 From this photo you can see the hooks are fixed very well, they are not easy to drop down even the display is leaning down.
How to make your brand keychain display?
It is not complicated to make your brand keychain display at BWS, because we are a factory of custom display fixtures with over 10 years of experience.
After you send us a reference design or rough drawing of the display rack you are looking for, we will give you the right display solution. You need share us below information before we offer you a display solution. As it is customized, your needs decide all the below details.
1. What's the dimension of your keychains?
2. How many keychains do you like to show at the same time?
3. What material do you prefer? What color do you like?
4. How do you want to show your brand logo on the displays?
5. What types of display racks do you need? Floor standing or countertop style?
6. How many do you need?
When you confirmed all the details, we will provide you a rough drawing and 3D rendering to check whether the display is what you are looking for.
And a sample will be made if you need it. After sample confirmation, the mass products will be the same as the sample.
We will assemble and test the display for you before delivery. So you do not need to spend too much time on this project after you confirm the details. We will help you arrange the shipment too.
Do you have other designs for reference?
Yes, we can send you more designs for reference. Below are two of them.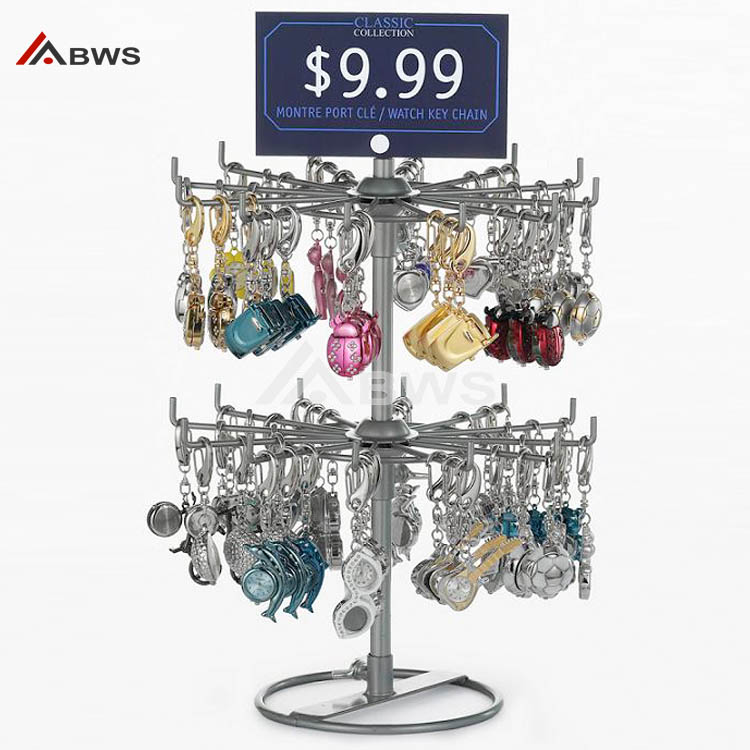 This keychain display rack is made of metal tubes and wire, it is simple but practical.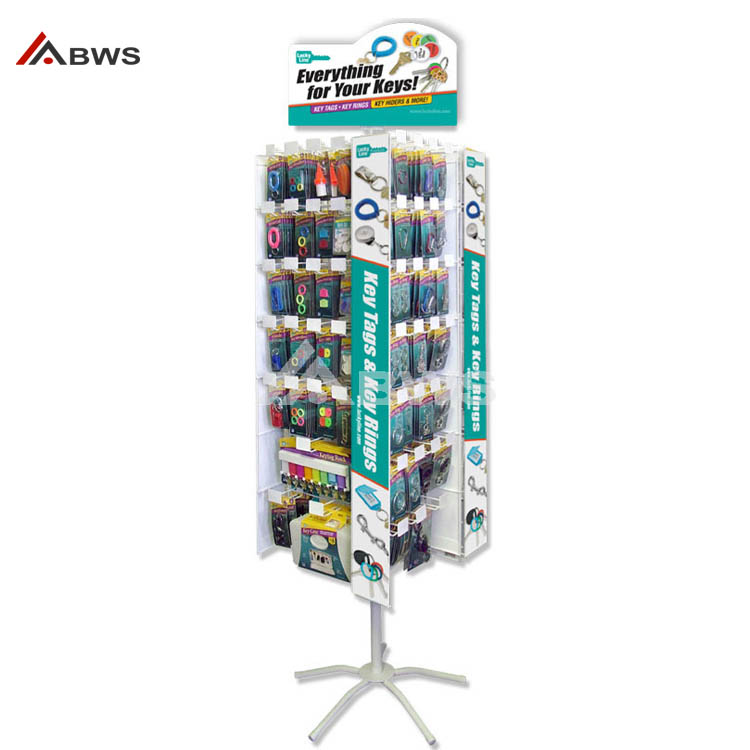 This is a freestanding style display stand, you can display keychains or other products on 4 sides.
What have we made?
Here are 6 designs we made, and the buyers are happy with them.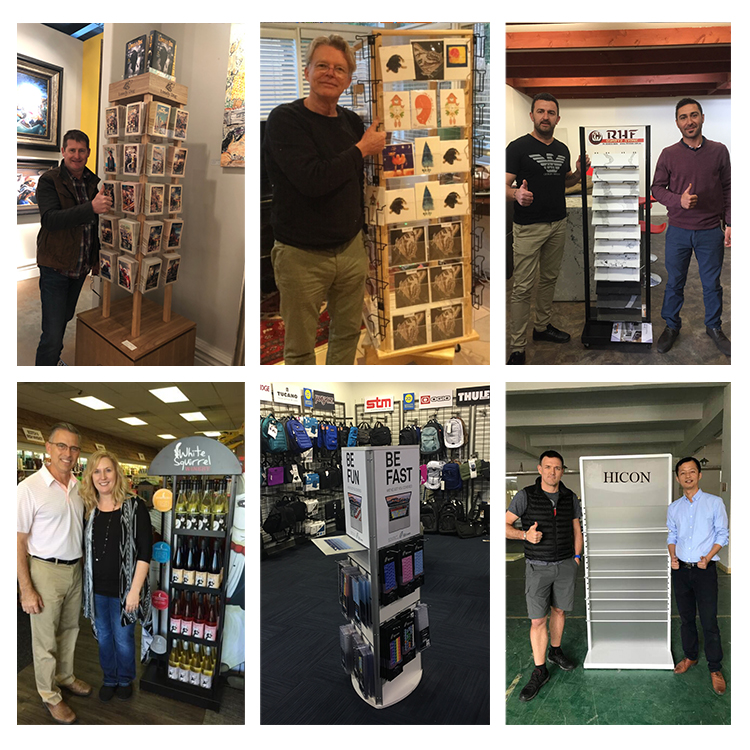 If you start your next project with us, we are sure you will be satisfied. Just mail at jh@bwsdisplays.com to get your unique display solutions.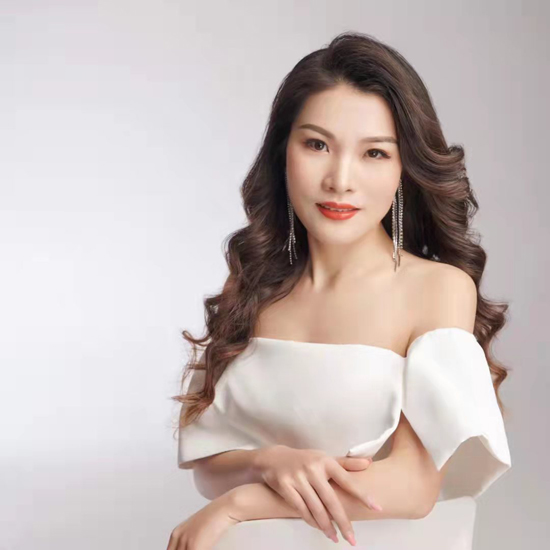 jessie huang
Love what we do and do what we love! Enjoy life, enjoy working in BWS DISPLAYS.