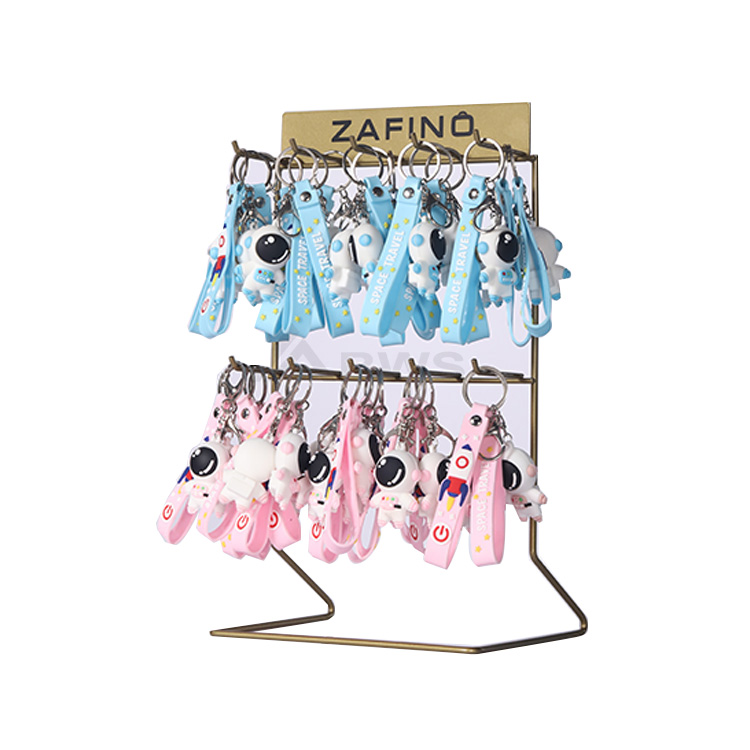 Gift Stores 4 Layer Keychain Collection Display Rack With 20 Hooks
Order(MOQ):50
Payment Terms:EXW, FOB Or CIF
Product Origin:China
Color:Brassy
Shipping Port:Shenzhen
Lead Time:30 Days
Service:Customization Service, Lifetime After-sales Service.
How to display keychain collections?
Keychain collection display is one of the display solutions, among keychain display walls, countertop keychain displays, pegboard keychain displays, keychain display cards and more. No matter whether you need to display souvenirs or other small items, keychain collection displays will be one of your choices to keep them organized and well displayed. Keychains are small items, but you can make a surprising amount of money selling keychains!
As a matter of fact, keychains can even be a great item to resell if you don't want to make them from scratch.
How much can you make selling keychains?
Normally keychain retail prices range from $7 – $20. Pricing should depend on the base cost of your keychains and how much you think your audience will pay for this custom product. For example, you source 1,000 keychains with a base cost of $2.80 each. Keychains are unique and interesting items. One of the most popular keychain types in 2021 has been resin keychains, and the epoxy resin market is set to grow by 7% within the next six years.
Today we share with you one more keychain collection display rack as below.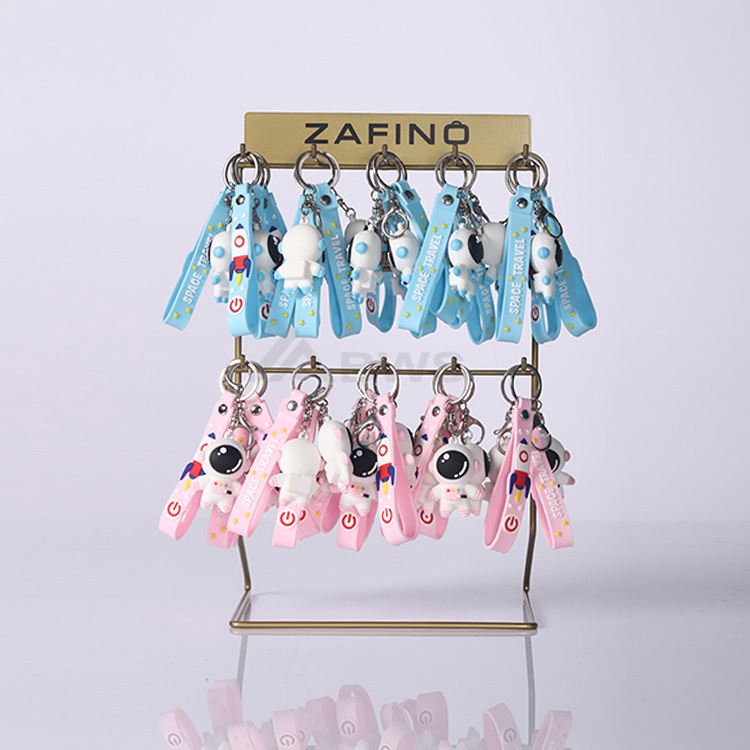 What are the features of this keychain collection display?
This brassy metal wire keychain collection display is designed for ZAFINO, an Australian brand jewelry wholesale. Their fashion jewelry is for all women because everyone deserves beautiful life. It is designed to display earrings, but it also works for keychain collections well.
It is a 4-tier display rack, there are 5 hooks per tier. This keychain collection display showcases earrings, keychains, and other hanging items on tabletop. It is in brassy color which is fashionable and high-end. Custom brand logo ZAFINO which is screen-printed in black and can be changed according to your brand. As you see, it is welding as one set, it can be used after you take it out from cartons. While the packing size is not very big as there are 10 sets per carton.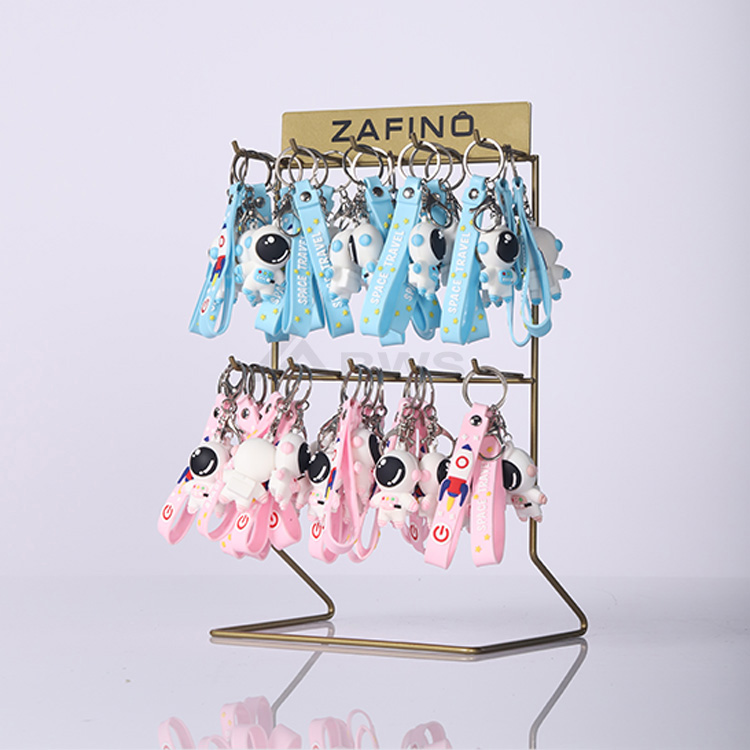 More details of this keychain collection display
Here are more photos of this keychain collection display. Below was taken from side, with keychains.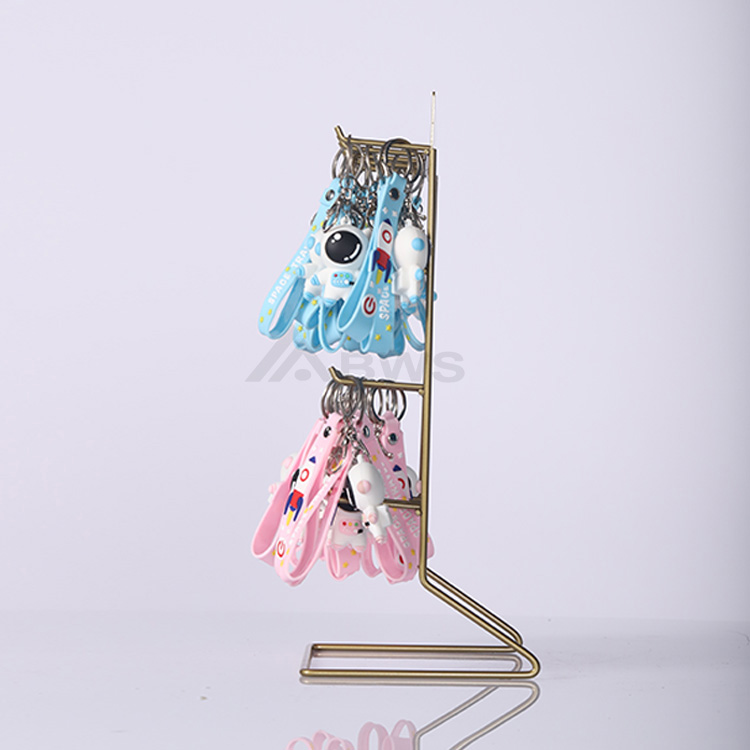 Below is the header which is with brand logo.
Below is without keychains.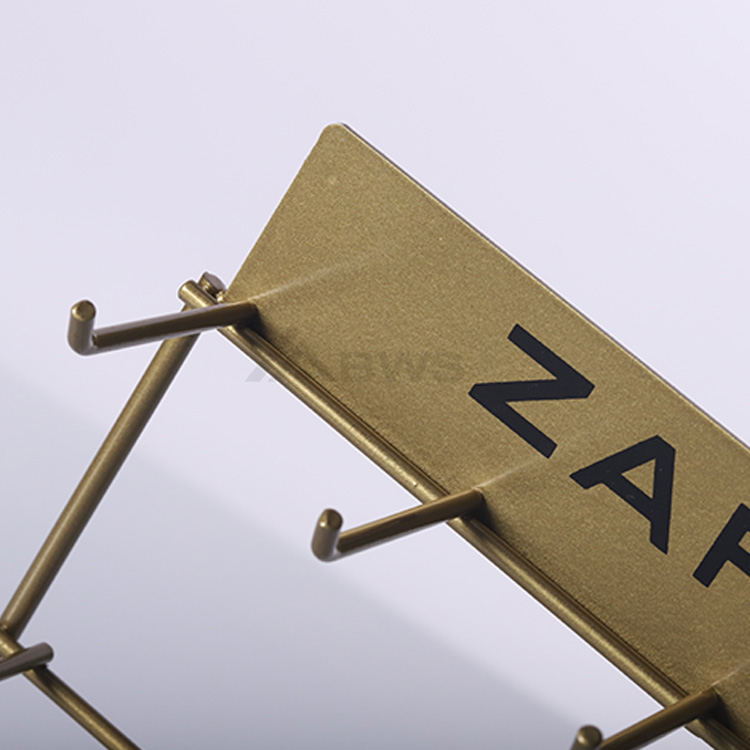 This was taken from the back, it is sturdy.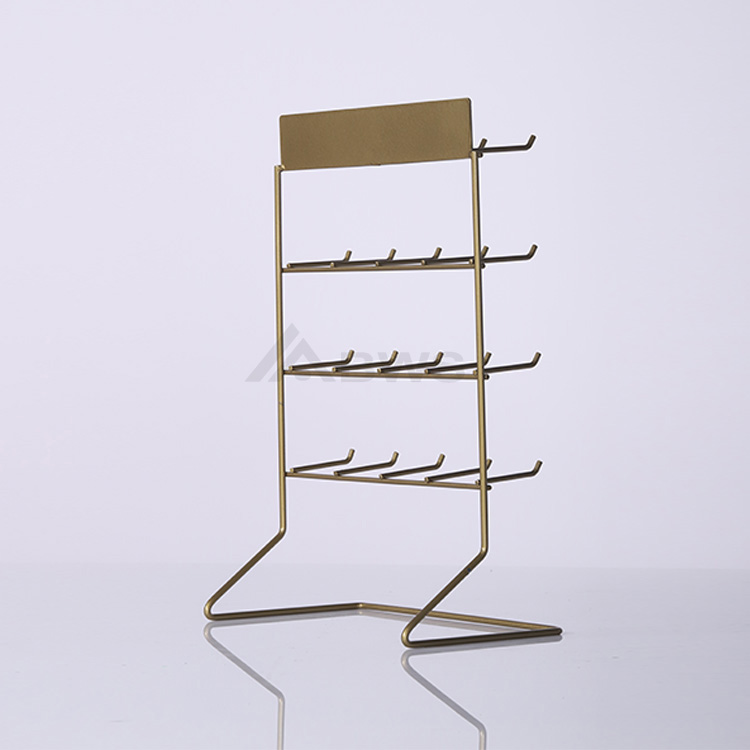 Below was taken from the side, hooks are a little bit up, so hanging items will not drop easily.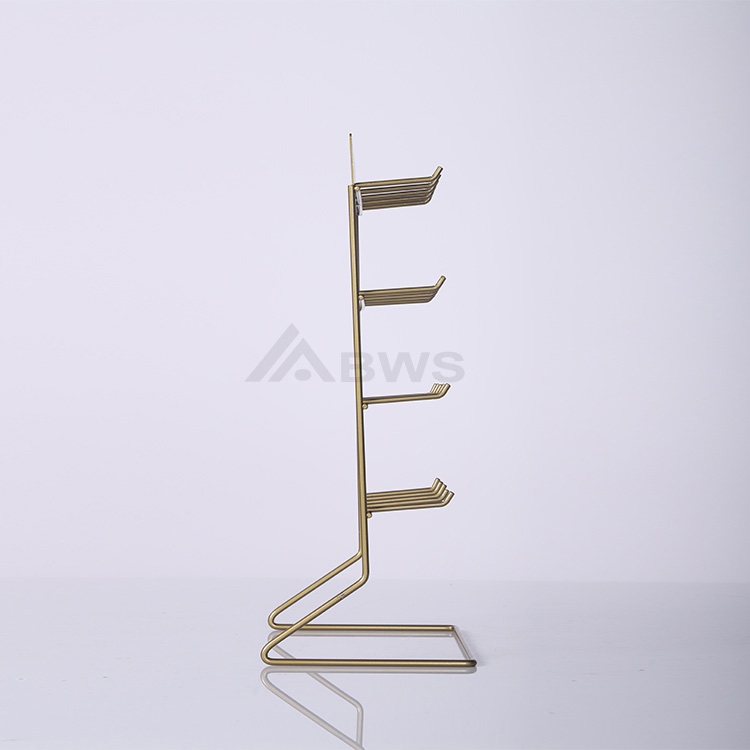 Below is from front side, custom brand logo ZANIFO is shown.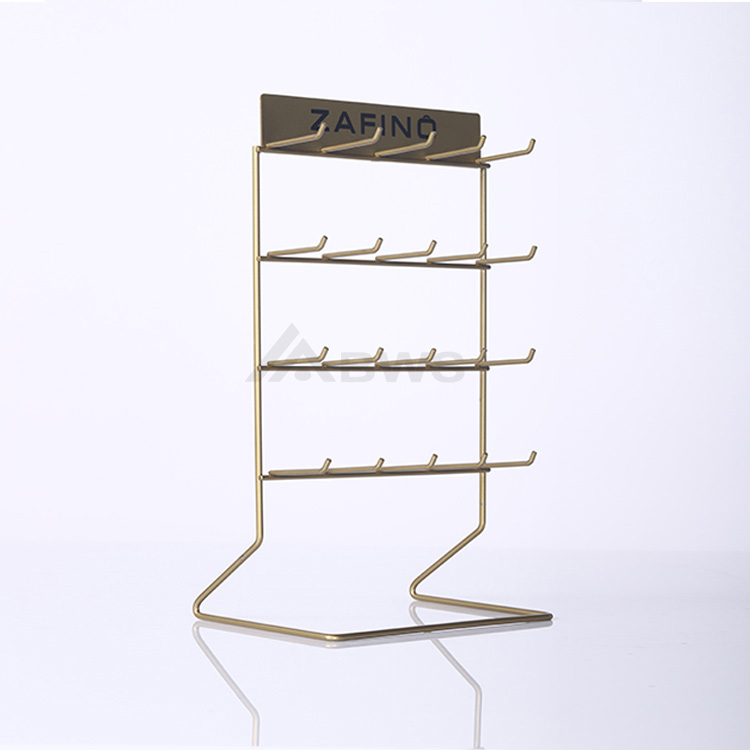 Below is from the right front, so you can see what is like without products and more details.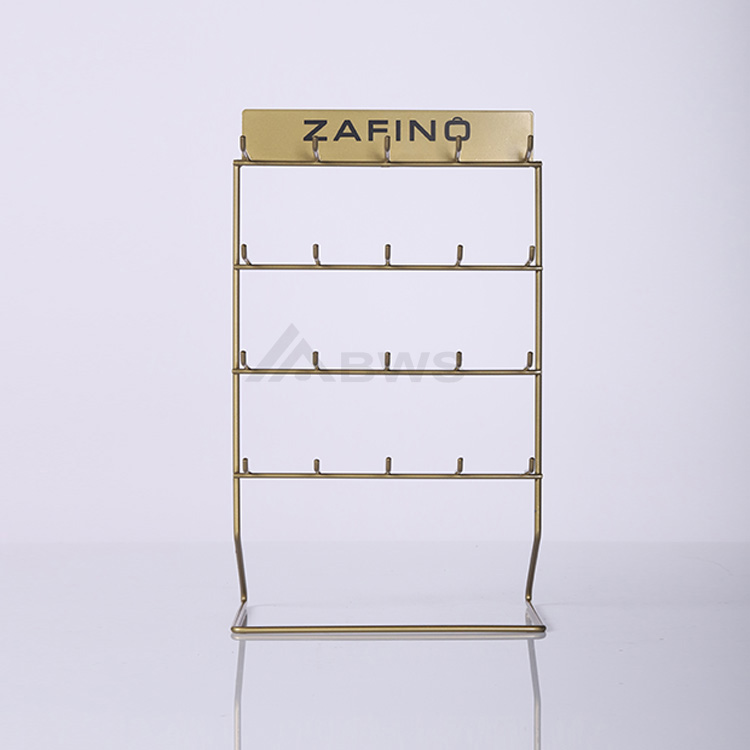 How to make custom keychain displays?
If you have a keychain display idea or reference design that you want to make it out, BWS can help you. We are a factory with more than 10 years of experience in custom displays.
We can provide you rough drawing or 3D drawing after we confirm more details with you. Because keychain displays are customized, they are created to meet your display needs. You decide all detail in size, material, style, logo, finishing and more. And below questions are helpful to understand your needs better, so we can optimize your display idea or provide you with a design according to your need.
1. What are the dimensions of your keychains?
2. How many keychains do you like to display?
3. What material do you prefer? What color do you like?
4. Where and how do you like to show your logo?
5. What types of display racks do you need? Floor standing or countertop style?
6. How many do you need?
We will make a sample when the design is confirmed. Only the sample is approved, we will arrange production after your order. In order to offer you better service, we also will help you arrange the shipment after mass production is finished. You may care about the quality and safety of package, we will test and assemble your displays before packing and will send photos and videos to you. And we design the packing carton according to displays in advance.
Do you have keychain display ideas?
Yes, please find below reference keychain displays to get more keychain display ideas, you also can draw a keychain rack draft, we can design based on your draft. If you need more designs or make your brand displays, reach us now.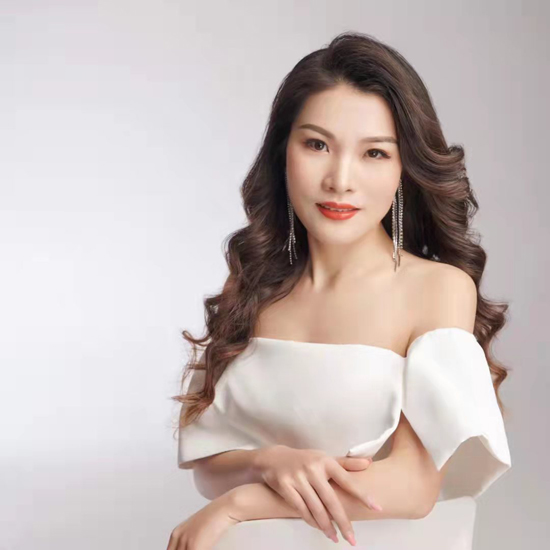 jessie huang
Love what we do and do what we love! Enjoy life, enjoy working in BWS DISPLAYS.