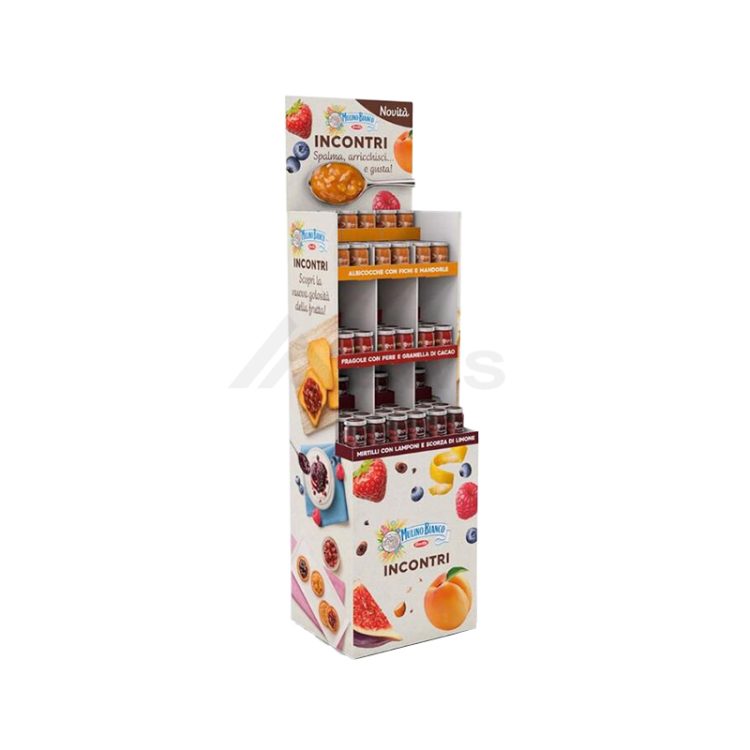 3-tier Cardboard Floor Display Portable Light Snack Display Rack
Order(MOQ):50
Payment Terms:EXW, FOB Or CIF
Product Origin:China
Color:White
Shipping Port:Shenzhen
Lead Time:30 Days
Service:Customization Service, Lifetime After-sales Service.
What are the advantages of cardboard floor displays?
Cardboard floor displays are made of cardboard, they are different from metal displays, acrylic displays, and wood displays.  Cardboard floor displays are lightweight and portable. Besides, they are recyclable and can be colorful. Cardboard displays include cardboard display boxes, cardboard countertop displays, floor displays, and more. Today, we share cardboard floor displays for snacks. It also can display other products.
What are the features of this cardboard floor display?
This is a floor-standing cardboard floor display for food products, which is a 3-layer potato chips display rack, it also works well for jar snacks. It can bear 5 kg per layer so that you can display different snacks according to your display needs. The printed graphic is customized, it is colorful and attractive to show your brand logo and educate clients about your products. It is really lovely for snack promotion and visual merchandising.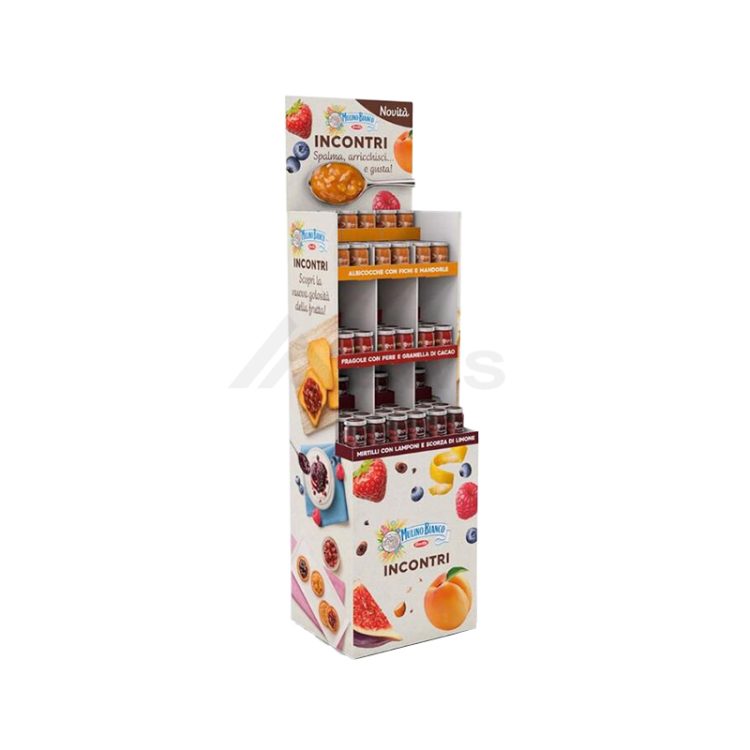 Because it is made of solid cardboard, it is portable and easy to assemble (Assembly instructions will be provided). A small package means lower shipping costs, potato chips display rack is a knock-down design, so the shipping cost is much cheaper. It's an excellent design for trade shows, outdoor promotions, and in-store hot sale events.
As all displays we made are customized, you can change the display according to your specific needs, we can turn your display ideas into reality. Here are two more cardboard floor display designs for your reference.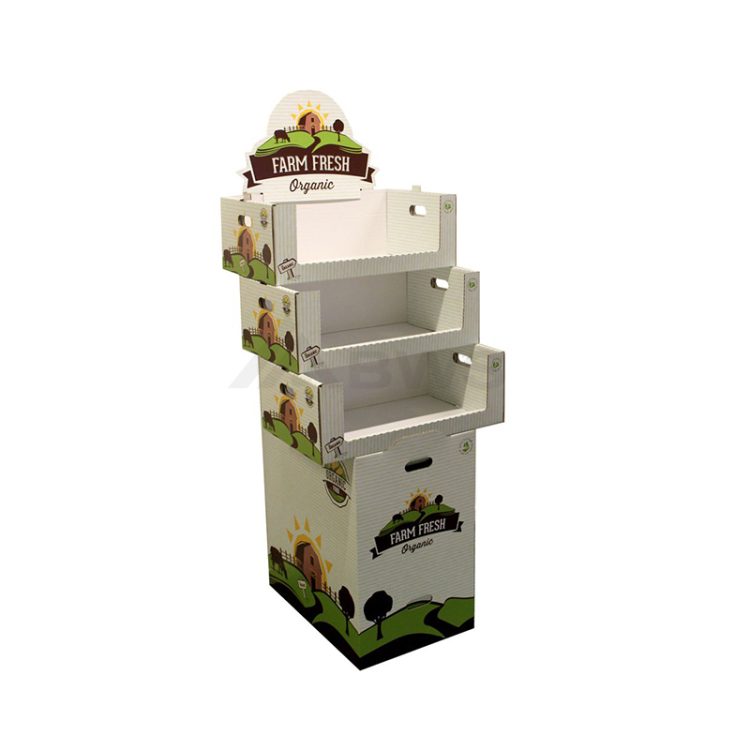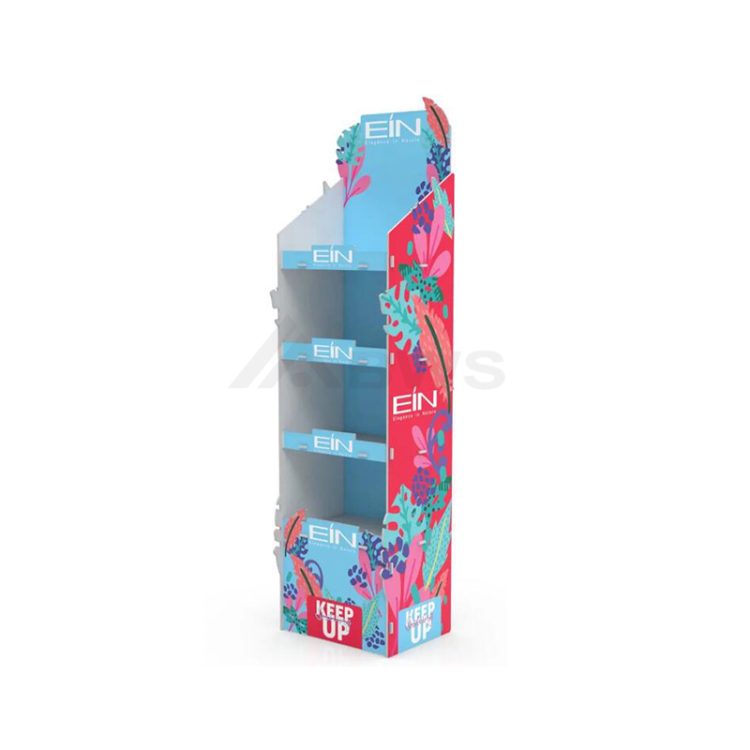 How to make your brand cardboard floor displays?
We design and make custom cardboard floor displays to meet all your display needs.
1. You share with us your design or display ideas. We need to know your requirements first, such as what's the size of your items in width, height, and depth. And we need to know below basic information.
What's the weight of the item? How many pieces you will put on the display? What material do you prefer, metal, wood, acrylic, cardboard, plastic, or mixed? What's the surface treatment?  What's the structure? Floor standing, countertop, hanging. How many pieces you will need for potential?
2. We will send you a rough drawing and 3D rendering with products and without products after you confirm the design. You can add your brand logo on the display, it can be stickier, printed or burned, or lasered.
3. Make a sample for you and check everything about the sample to make sure it is meet your display needs. Our team will take photos and videos in detail and send them to you before delivering the sample to you. It takes around 3-5 days to make the sample.
4. Express the sample to you and after the sample is approved, we will arrange the mass production according to your order. Normally, knock-down design is prior because it saves shipping costs. It takes around 15-20 days to finish mass production.
5. Control the quality and check all the specifications according to the sample, make a safe package, and arrange the shipment for you. Though cardboard displays are not easy to be damaged and they are is no gap between them, we also need to make sure the package is safe.
6. Packing & container layout. We will give you a container layout after you agree with our package solution. Normally, we use foam and plastic bags for inner packages and strips even protecting corners for outer packages, and put the cartons on pallets if necessary. A container layout is to make the best use of a container, it also saves shipping costs if you order a container.
7. Arrange shipment. We can help you arrange the shipment. We can cooperate with your forwarder or find a forwarder for you. You can compare these shipping costs before you make a decision.
We also provide photography, container loading, and after-sales service.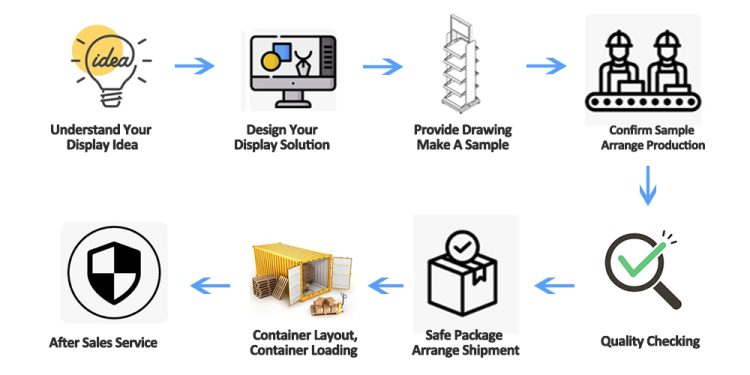 Why you can trust BWS Displays?
BWS Displays is a factory with more than 20 years of experience in ODM/OEM customized POP displays, your one-stop supplier for design, prototyping, manufacturing, logistics, and after-sales service. We have made more than 3,000 customized display designs. Below are part drawings we made.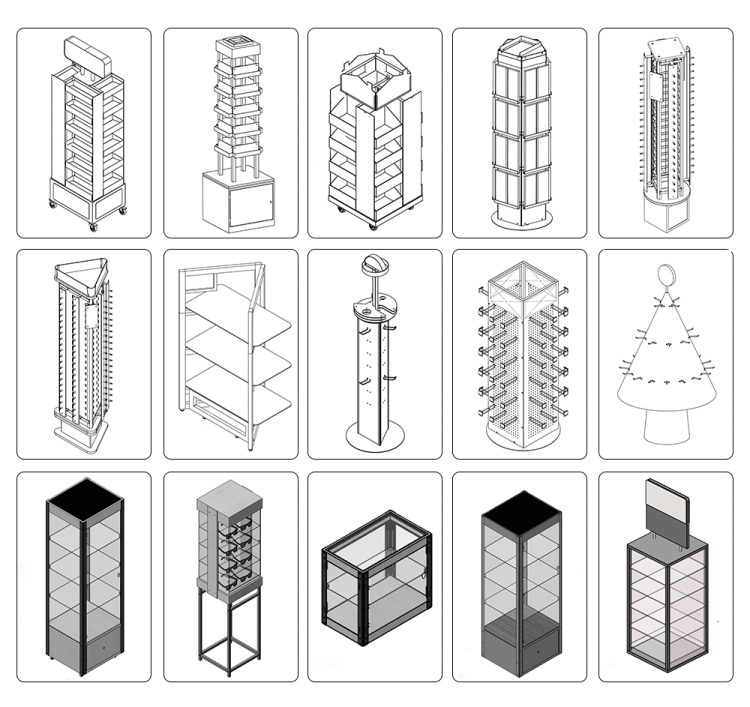 Besides, we have more than 300 workers and a 30,000-square-meter factory that can handle comprehensive materials including metal, wood, acrylic, cardboard, PVC, plastic, glass, etc. Furthermore, we have oversea design teams and partners in the United States, Italy, and Australia.
Quality is guaranteed, and we keep you posted and show you pictures and videos of important steps. And BWS Displays provides lifetime after-sales service on time and accept urgent orders. All we do is to make you satisfied as they do.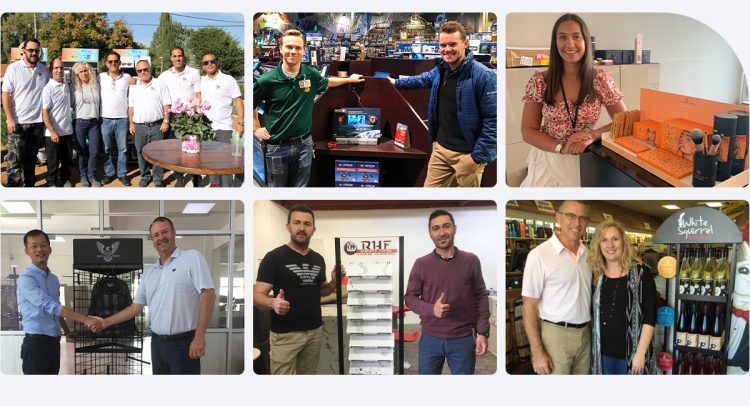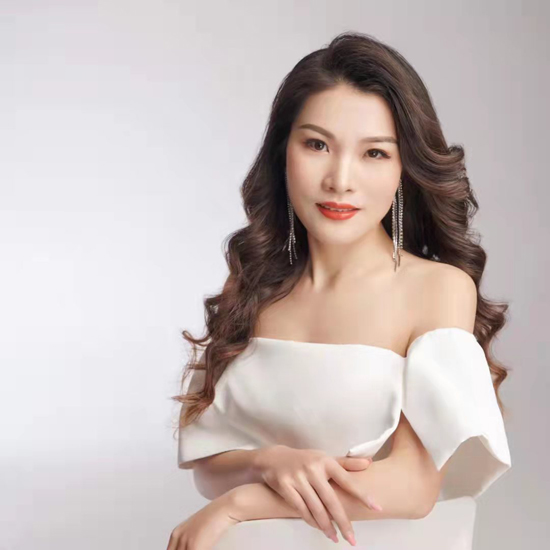 jessie huang
Love what we do and do what we love! Enjoy life, enjoy working in BWS DISPLAYS.